The CardFellow Code is a handy feature we offer to help you keep pesky salespeople at bay while ensuring you can still find out if they're really offering a better deal.
How often do you get calls and visits from processing reps promising to save you money? Daily? Weekly?
These reps use a number of tactics to get you doubting your current processing solution.
They may tell you that they can save you money, or that a new law means you're now eligible for better rates, or promise that their exclusive relationship with the credit card companies gives you access to wholesale pricing.
You don't want to drop what you're doing for these cold calls, but in the back of your mind, you may be wondering if they're correct that you're overpaying for processing. You may have even been burned in the past, signing up with a processor that promised to save you hundreds of dollars, only to find out that the savings never materialized. We can help you avoid making the same mistake twice.
CardFellow Code
The CardFellow Code means you won't have to wonder.
You simply provide the rep with your personal code so that they can enter a quote for you in your CardFellow account. We'll notify you when they've placed the quote and you can sign in to your account to review it at your convenience instead of theirs.
There are two ways to get a quote with your CardFellow Code. You can give the code to the rep, or you can email them through your CardFellow account.
Providing the Code
Giving your personal code to the processing rep is the most hands-off option. You simply need to locate your code and provide it to anyone from whom you would like a quote. You can even write down your code and keep it by your phone or register so that it's handy for those unexpected calls or visits.
Your personal code is located in the blue box on the right-hand side of your CardFellow account. (See below.)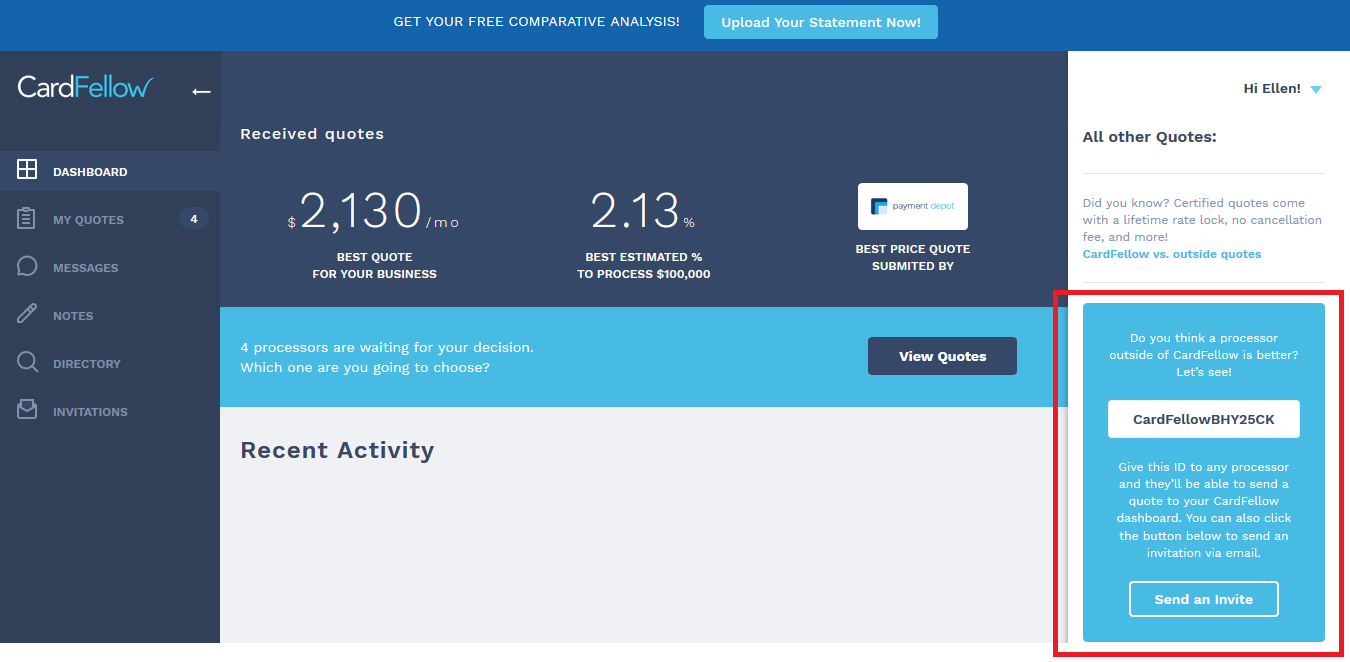 Your CardFellow Code stays the same and can be used as many times as you'd like.
Emailing a Rep
The second option allows you to email a sales rep through your CardFellow account. This has the added bonus of allowing you to keep your email confidential while still communicating with the rep on your terms.
To send the email invite, click "send an invite" in the bottom of the blue box that contains your CardFellow Code. From there, you'll be asked to fill out a short form with the rep's name and email address. You'll also have the option to customize the text of the email or use our pre-filled text.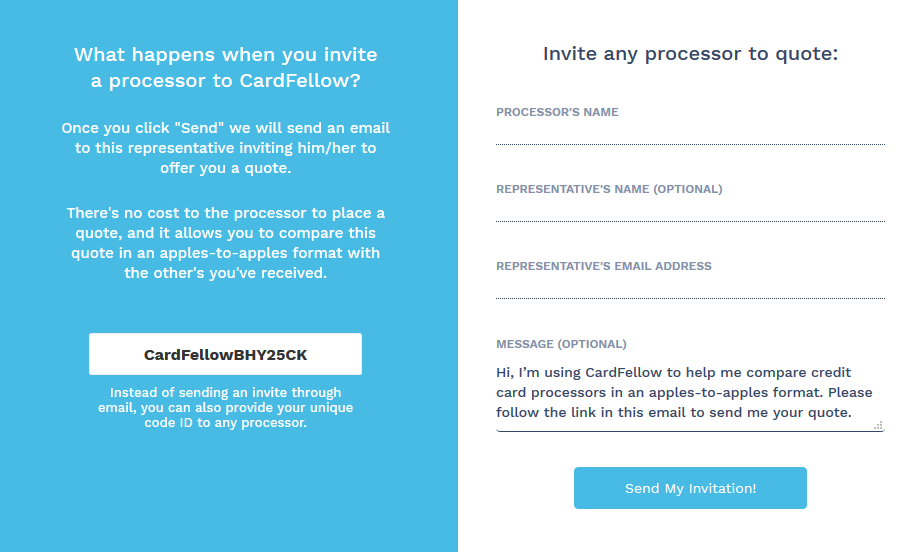 When you send an email invitation, the pending request will show in your "invitations" tab. Quotes that have been placed will show with the "view quote" option, while outstanding requests will show "waiting for quote." You'll also receive an email from CardFellow when you have a new quote waiting for your review.

From your invitations tab, you can choose to delete quote invitations if you change your mind or no longer need a quote from a particular company.
Don't have a CardFellow account? It's free and no obligation. Get one today!
---
Frequently Asked Questions about the CardFellow Code
The CardFellow Code is unique in the world of credit card processing, and that means questions. Here are some of the most common. Not seeing the answer you need? Give us a call or hop on livechat.
Can I use the CardFellow Code even if I didn't choose a processor through CardFellow?
Yes.
The CardFellow Code is designed to make it easy for you to compare quotes – any quotes – even if you're already processing with a company you didn't select through CardFellow's marketplace.
Why are quotes within CardFellow lower than the quotes placed with the CardFellow Code?
Processors that place "certified" quotes through CardFellow price aggressively to try to "win" your business. The blind auction format we use ensures that processors place quotes with best pricing first since they're directly competing with the other processors in our marketplace.
What's the difference between "certified" quotes and the quotes I invited?
CardFellow-certified quotes are the only quotes in our marketplace that are backed by CardFellow's legal agreement. Certified quotes have to meet certain requirements, including a lifetime rate lock, no cancellation fee, pass-through pricing at cost, and more.
However, uncertified quotes do not necessarily meet CardFellow's requirements and we can't guarantee the pricing or terms.
Note that it's possible to invite more certified quotes. In our processor directory, companies that are able to place certified quotes are designated by a green triangle with a checkmark. You can also filter the directory to only show options for certified quotes.

On the other hand, companies that don't currently place certified quotes will have a red triangle with an X.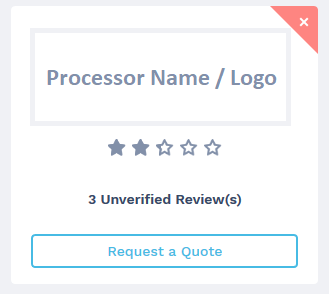 You can compare certified and uncertified quotes, but only certified quotes come with CardFellow's protections.

I'm currently with a processor through CardFellow and think I've found a lower quote. Should I switch?
Before you switch, give us a call. In some cases, hidden fees and sub-optimal pricing models can make costs appear artificially low. However, if a processor truly offers a lower price, we'll tell you that. Our goal is to educate you so you can make informed choices for your business.
Why do some processors refuse to place quotes using the CardFellow Code?
We can't speak for those processors, but there's no good reason not to place a quote through CardFellow. It makes it easier for you to compare and it's fast and free for the processor. (They don't even need to create an account!)
If a company won't show you all of its rates and fees in an independent comparison tool, what else will they hide?