Group Purchasing Solutions (GPS) is a buying group based in San Jose, CA. It was founded in 2008. Unlike other purchasing groups which are dedicated to particular industries or niches, GPS accepts all types of members. There are no industry or location requirements to join.
Buying Group Name: Group Purchasing Solutions (GPS)
Industry/Specialty (if applicable): No particular industry
Number of members: 1,000+
Website: http://www.grouppurchasingsolutions.com/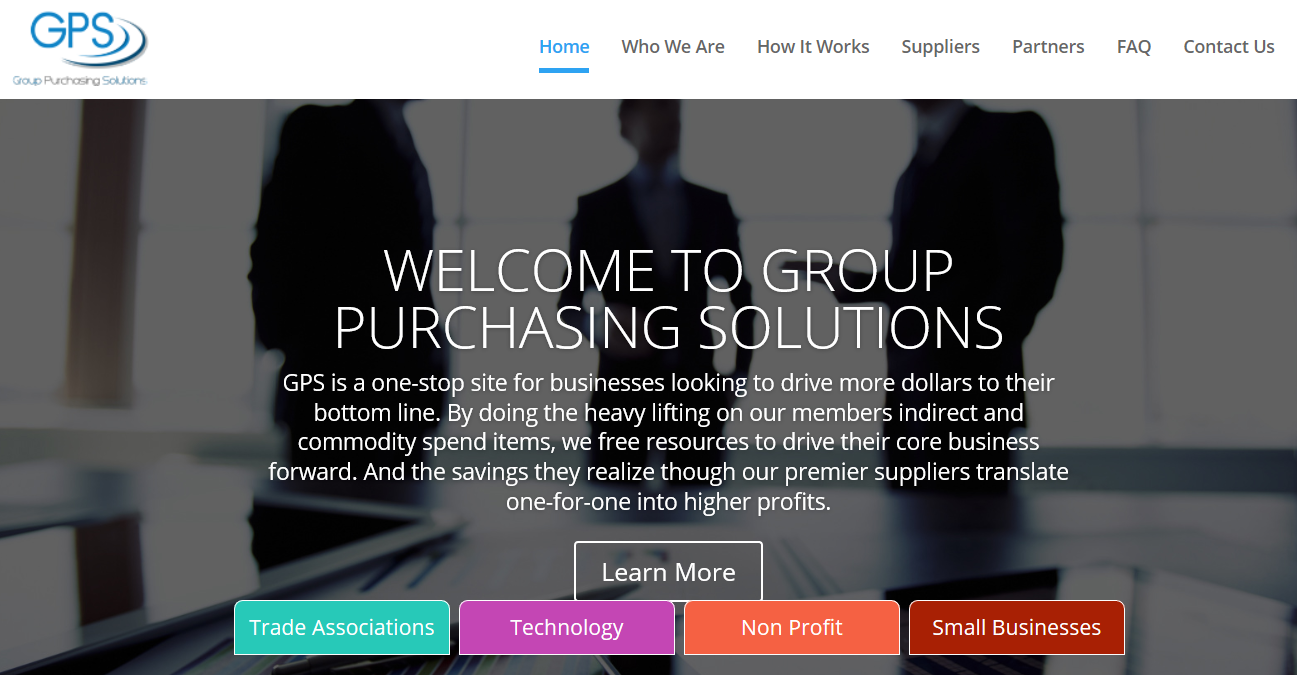 How does the group work?
There aren't too many details on GPS' website about how the group functions. What information there is seems pretty straightforward: members receive discounts on services and products. Like most group purchasing organizations, the power lies in the ability of the group to secure better pricing due to combined member spend. GPS pre-negotiates discounts and pricing agreements on behalf of group members, so members enjoy the savings without having to do the additional leg work of trying to secure better pricing on their own.
What is its focus?
The sole focus of the group is to save members money on mission-critical goods and services for their businesses, helping streamline purchasing and eliminating the need for yearly RFPs. The group strives to establish relationships with vendors in multiple categories of products and services and creates direct pricing agreements for its members.
How does it work in terms of the purchasing process?
GPS' website doesn't offer very much information on how the purchasing process works, although it appears there's an online portal for members to sign into and view offers. The vendor bears responsibility for shipping you the goods or distributing the services. The group's website also claims that you aren't required to use specific vendors, and that most vendors don't impose minimums on spending.
How does the buying group choose vendors?
GPS requires vendors to quote based on the group's buying potential. Vendors wishing to sell to GPS members can submit requests on its website. GPS has a few requirements for vendors: they must have national sales and delivery reach, a web presence so members can access product or service information, and they should be accountable to customers (though the website doesn't specify what GPS expects in terms of accountability).
Current Suppliers
Group Purchase Solutions lists suppliers in 4 general categories, including business services, facility products, IT, and marketing. The group also maintains a list of suppliers, which currently includes:
Constant Contact
Airgas
OfficeMax
First Data
Verizon
ADP
YRC Freight
…And more.
How much does it cost to join?
There is a cost to join GPS, but the group doesn't disclose that information to the public. There is also no cancellation fee, and you can cancel at any time.
Group Purchasing Solutions Reviews
This is where we come up short. There aren't any testimonials on GPS' website. Furthermore, the Better Business Bureau doesn't have a profile on the group, nor are there any other reviews anywhere else online.
If you've used GPS, let us know! We'd love to hear about your experience in the comments section, below.
Related Article: Introduction to Group Purchasing Organizations (GPO's).