Gift cards are a wildly popular option in the United States, with GiftCards.com claiming that 93% of consumers purchase or receive a gift card each year. But some businesses aren't sure how to sell them and stick to paper gift certificates. Upgrading to a gift card program doesn't have to cost a lot or take a ton of work.
Let's take a look at the benefits, costs, and options for implementing a gift card program at your business, as well as laws to be aware of and fraud tools to avoid issues when you begin selling gift cards.
---
Why You Should Offer Gift Cards
Gift cards are a great way to encourage additional sales. Credit card processor First Data claims that an estimated $313 billion has been loaded onto gift cards in past years and that the typical customer went to the store 3 or more times to redeem their gift card.
Additionally, GiftCards.com states that 72% of customers will spend more at your store than the value of their gift card – sometimes up to 20% more! By offering gift cards, you're not only encouraging sales – you're encouraging larger sales than the customer would otherwise make.
Your customers may pick one up for a variety of gift-giving occasions, including birthdays, holidays, graduations, anniversaries, and more. GiftCards.com also reports that 83% of corporations use gift cards or prepaid cards as employee incentives. By offering gift cards, you can take advantage of these markets.
Lastly, if you have gift cards available in your store, you can consider a policy to refund purchases not accompanied by a receipt onto a gift card, encouraging the customer to select a different item and prevent that lost sale.
See Also: How to Start a Customer Loyalty Program.
---
Types of Gift Cards
There are two primary types of gift cards: closed loop and open loop.
Closed loop gift cards can only be used at your store.
Open loop gift cards can be used at multiple businesses unless specifically restricted. Open loop gift cards are frequently co-branded with a credit card network, like Visa. That means they can be used anywhere that Visa is accepted.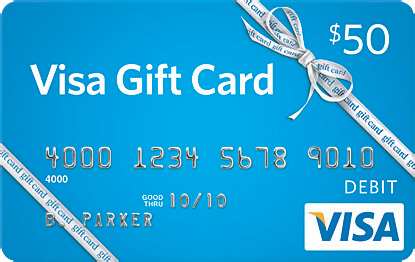 While many retailers sell only closed loop gift cards, some offer both types for maximum customer satisfaction.
In addition to physical cards, many retailers have started offering digital gift cards, also known as "egift cards." Digital gift cards offer a code that can be entered at checkout on your website, allowing customers to make purchases without coming in to your store. If you sell items and services online, even if you also have a brick-and-mortar location, it's  a good idea to offer digital gift cards, but be sure to consider the risks of fraud, as noted below.
Gift Cards and Fraud
Gift cards are an increasing target for fraud. Some thieves simply steal physical gift cards, while more advanced scammers clone cards or hack digital cards to use the numbers. Additionally, some scammers use stolen credit card information to purchase gift cards online, attempting to make it more difficult to trace subsequent purchases.
Fortunately, there are steps you can take to limit your risk of fraud associated with gift cards. For physical cards, use a program that requires activation through your register or POS system. This helps ensure that even if a thief steals cards from your counter display, they won't be able to use them. Additionally, consider only allowing gift cards to be purchased with cash.
For online gift card sales, implement anti-fraud tools like 3D Secure technology, which requires the cardholder to enter a passcode at the time of purchase, or country restriction, which can help you ensure that purchases from countries with known fraud are flagged for review before the purchase is approved.
Gift Card Laws
Remember that gift card sales and redemption is still a financial transaction and subject to state and federal laws. Here are some key federal guidelines:
Activation fees are allowed as long as you disclose the fee before purchase.
Inactivity fees are not allowed until there has been no card activity for at least 12 months.
After 12 months of no activity, inactivity fees can be charged once per month as long as fee terms were disclosed prior to gift card purchase.
Gift cards cannot expire for at least 5 years. You must disclose expiration dates before purchase.
Note that state laws may be more stringent than federal laws. For example, California, Connecticut, Florida, Minnesota, Montana, New Hampshire, Rhode Island, and Washington prohibit expiration dates for gift cards purchased by consumers.
The National Conference of State Legislatures (NCSL) has compiled the relevant state laws regarding gift cards into a table, which can be viewed here.
Escheat Laws
At the NCSL website, linked above, there's a column for state laws regarding escheatment. Escheatment refers to transferring unclaimed "property" – in this case, the value of the gift card. In some cases, unused gift card funds do not go directly to the retailer, but rather to the state.
The American Bar Association has a detailed article on escheat laws and considerations for businesses, which you can read here. It's important to familiarize yourself with the laws for your state. Alternately, work with an accountant or attorney to ensure you're complying with applicable regulations.
Be sure to consult your processor, gift card program provider, or a licensed attorney for specific legal advice about selling or redeeming gift cards, or for retaining the unused portion of funds left on a customer's gift card.
Starting a Gift Card Program
Starting your own gift card program may seem intimidating, but there are plenty of services that help make it quick and painless. The two most common options to implementing a gift card program are going through your processor or using a "universal" gift card service.
Gift Cards Through Your Credit Card Processor
If you accept credit cards already, you can contact your processor for information about their program. Generally, processors offer closed loop gift cards, meaning they can only be redeemed at your business.
Many processing companies offer the choice of pre-designed cards that you can minimally customize with your business name, or fully customizable cards that match your brand. Some companies also offer signage and display racks to draw attention to your gift cards and promote sales.
When you go through your credit card processor, you can usually get up and running with a program in a few business days. However, it's a good idea to get started well in advance of major gift-giving occasions, like graduations and holidays. Remember that as those days get closer, more businesses will be placing orders for gift cards with processors. It's best to have everything you need long before your expected high sales days.
Looking for a credit card processor that offers a gift card program? Use CardFellow's free quote request tool to see pricing from leading processors.
---
Universal Gift Card Programs
If your processor doesn't offer gift cards, or if you'd just prefer to use an unaffiliated service, you have options. In those cases, you can work with universal gift card program companies like SwipeIt or Loyalty Gator.
Universal programs provide the same options as processor-based programs. However, you'll want to double check for compatibility with your processor and credit card equipment before committing to a particular program.
With a universal program, you'll have more flexibility. You can find options with lower costs per card, more design choices, or other factors that may be important to you. Additionally, you won't need to worry about having to start a new gift card program in the future if you decide to switch processors.
Costs for Gift Card Programs
Exact costs for your gift card program will vary depending on the company you work with. Many processors offer gift card programs with no setup fees and low costs. Typically, the largest cost will be purchasing the cards themselves. Basic, pre-designed costs that are customized with your business name and logo will cost less than fully customized cards. Purchasing more cards will generally lower the price per card.
Universal loyalty programs that don't go through your processor may have different fees. Some companies charge a monthly fee in addition to the costs of cards. Others charge transaction fees each time a customer uses the card. Services like Loyalty Gator let you pick between a month-to-month payment option or pre-paying in 12-month increments.
Cards themselves start around 25 cents per card for basic designs in larger quantities. However they can run to a few dollars per card for fully customized designs or small batches.
However, many credit card processors have trial offers where you can "test drive" a gift card program. In that case, you'll try pre-designed cards free of charge. You'll typically receive 250 or 500 cards to get started; enough to help you determine if a gift card program will be a good fit for your business.
Integrating Gift Cards with Your POS System
If you use a POS system for accepting credit cards, you'll want to ensure that it can process and track gift cards as well. With an integrated gift card option, you'll be able to swipe the card through your reader as easily as you would a credit card. Many systems can also be configured to print the remaining balance (if any) on the customer's receipt.
Reloadable gift cards allow your customers to add money to their card as their balance runs low. An integrated POS system makes this process easy, showing the new totals as soon as a customer adds funds to the card.
POS systems that offer detailed reporting capabilities and support gift cards can allow you to easily track how well your program is doing. Depending on the system you use, you'll be able to view gift card sales, redemptions, peak purchase days of cards, and more.
Don't have a POS system yet? Use our POS system directory to find a machine that supports gift card acceptance.
Do you sell gift cards at your small business? Tell us your tips for success in the comments!