Micro merchants and businesses that need to accept credit card payments while on the go have several smartphone credit card processing options to choose from. In addition to Square and Clover Go, one of the big players is PayPal Here, a service that allows iPhone, iPad and Android users to accept credit card payments through their mobile device.
NOTE: As of April 2023, PayPal Here is no longer available by that name; it will be converted to PayPal Zettle. We're leaving this article for historical accuracy.
With the Here mobile option PayPal takes direct aim at Square — the market leader in the smartphone credit card processing space. Square has a few things to worry about, too, not the least of which is PayPal Here's slightly lower pricing and the more accessible phone support for prospective and existing customers.
---
PayPal Here Pricing
Similar to Square, pricing for PayPal Here falls into two different categories: a swiped rate, and a keyed rate. You don't need to choose one or the other; PayPal allows flexibility to swipe if you have the reader, but key cards if you misplace or forget your reader.
Swiped Rate
PayPal Here charges a flat 2.70% of the transaction volume for all swiped credit and debit cards, including the often more expensive American Express cards. PayPal Here does not have a credit card transaction fee like many other smartphone processing solutions that utilize a traditional merchant account.
Keyed Rate
The cost to manually enter a transaction by keying numbers or by using PayPal Here's Scan Card feature increases to a flat 3.50% of volume plus a $0.15 transaction fee.
PayPal Here also offers check processing and settlement free of charge.
Fees for Refunds
PayPal will not charge fees when you process a refund for a customer, but they also will not return the fees you originally paid on that transaction. That means that businesses that process lots of refunds (such as clothing stores) will pay more than they would with a processor that does refund.
Fortunately, some processors do return the fees you originally paid on a transaction that you refund. It's worth seeking out such a processor if you regularly offer refunds to customers. You can easily find a processor that will do that using your CardFellow account. All processors that place quotes in the CardFellow marketplace are under contract to issue refunds of processing fees for returns. Not a member yet? It's free and private. Fill out our short business profile to get started.
Reader Options
PayPal offers four readers – a basic headphone jack reader and three Bluetooth readers. The basic headphone reader (pictured below top right) only accepts traditional magnetic stripe credit and signature debit cards.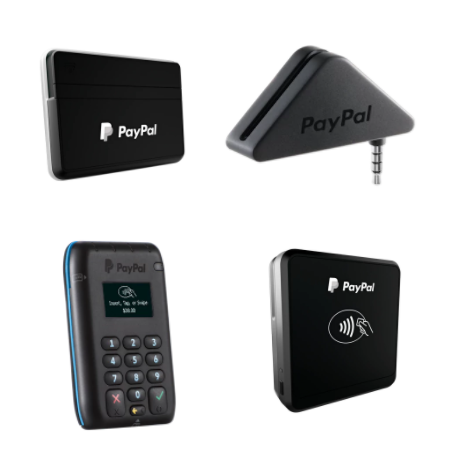 As of October 2015, if you accept a chip card and swipe it through a magstripe reader instead of "dipping" it into an EMV chip capable reader, you're liable for fraudulent transactions. It's worthwhile to consider purchasing an EMV capable reader instead.
The PayPal Here EMV chip with PIN reader (pictured above, bottom left) accepts multiple types of cards: traditional magnetic stripe, EMV chip, signature and PIN debit, and contactless payments like Apple Pay.
Note that the chip reader and PIN pad does not connect via headphone jack. You'll need Bluetooth connectivity in order to use the reader on the go.
While the chip reader is more expensive than the traditional reader, the benefits of added security are worth the cost. As of 2018, the basic reader costs $14.99 while the chip reader comes in at $79. Both readers work with Android and Apple devices, but be sure to check for compatibility with your specific smartphone or tablet.
If you don't need the PIN capabilities offered by the chip with PIN reader, PayPal also offers a two models (pictured above) that accept both magstripe cards and chip cards. One reader also accepts contactless payments.
Like the chip and PIN model, these readers connect via Bluetooth. As of 2018, the magstripe/chip combo reader costs $24.99 while the magstripe/chip/contactless combo reader costs $59.99. A "bundle" for the chip and tap reader is available for $79.99. It includes a charging stand that can be attached to a desk or counter.
Related Article: Mobile Wallets: Intro to Apple Pay, Samsung Pay, Chase Pay, and More.
---
PayPal Here Features
Smartphone card readers aren't known for being feature-rich, but for mobile needs, they can be quite beneficial. PayPal Here offers the ability to accept multiple types of payments, email receipts to customers, and more.
Multiple Payment Types
PayPal Here ups the stakes in the mobile market by allowing users to accept multiple types of payments including credit cards, debit cards, checks, and PayPal's own electronic funds. If you use the more robust EMV and contactless PIN pad reader, you can accept EMV chip cards, PIN debit, and contactless mobile wallet transactions, like Apple Pay.
The PayPal Here app registers nearby customers that have active PayPal accounts without the customers needing to present their phone or electronic device. Vendors can charge customers through PayPal simply select the customer by name and picture to process a transaction.
Along with tracking credit card, debit card, check, and PayPal transactions, PayPal Here also tracks cash purchases and offers a handy automated change calculator.
Email Receipts
Like most other smartphone processing services, PayPal Here will send customer receipts via email or text message (SMS), eliminating the need to carry around a printer.
Immediate Funds Availability
As outlined in more detail below, a benefit to PayPal Here over other credit card processing services is the immediate access to funds. Granted, a PayPal debit card is required to withdraw funds immediately, but the option exists for users with tight cash flow.
Additional Features
PayPal Here offers a host of additional important features. That includes multiple item checkout, multiple tax rates, discount support, and inventory item set up for popular items. Visit the PayPal web site for additional information on PayPal Here FAQs.
PayPal Here Deposit Time
Funds from sales are settled to a user's PayPal account immediately. Users with a PayPal debit card will be able to use the card to access funds immediately either by using the card to make a purchase, or by using the card to withdraw money from an ATM.
However, users without a PayPal debit card still have access to funds immediately to make purchases from their PayPal account.
Users that would prefer to withdraw funds from their PayPal account can transfer funds to their bank account in about three business days.
PayPal Here Set Up
To get started with PayPal Here simply download the app via the Apple App Store or Google Play store.
PayPal will ship the card reader once you complete the account registration process and choose the reader you'd like to purchase. However, you can run transactions in the meantime by manually entering card numbers or by using the Scan Card feature. Some retailers (like Staples) carry the EMV/PIN reader in stores, so if you'd like to use that one and want it faster, be sure to check around locally.
Customers don't need a PayPal account in order to make a purchase from a vendor using PayPal Here.
PayPal Here Customer Service
Poor customer service is a well know sticking point with other smartphone processing services such as Square. PayPal Here is positioning itself above the competition with expanded customer service contact options that include telephone support, e-mail support, and also an in-app help feature.