Rhombus is a company that enables payments through SMS (160 character) text messaging.
Note: As of 2023, Rhombus appears to no longer be in business. We're leaving this article for historical purposes, but it will no longer be updated.
Powered by Stripe, it offers a dedicated number for accepting text payments at both for-profit businesses and non-profit organizations. Additionally, it provides a messaging platform for customer feedback and analytics/reporting for easily managing your conversations, sales, and more.
---
Using Rhombus
Calling itself a "conversational commerce platform", Rhombus pairs real-time customer texting with convenient pay by text and appointment booking options.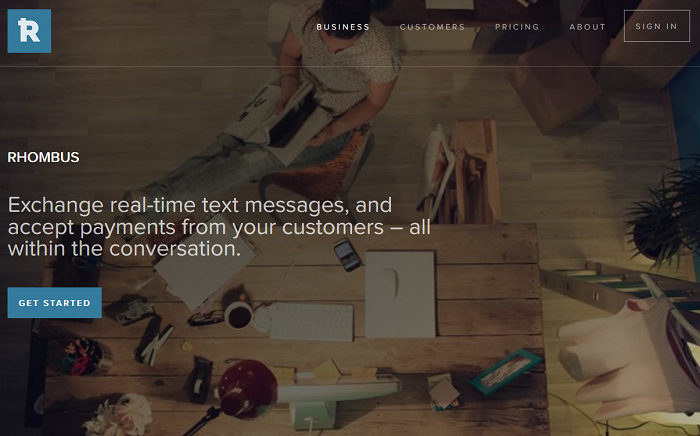 You can accept reservations, set up appointments for on-site services or services at clients' homes, and more. The Rhombus dashboard lets you communicate with clients, and they'll receive your messages as texts.
How it Works for Businesses and Non-Profits
Rhombus is web-based and doesn't require you to download an app to use it. You'll be able to access transactions and messages from any device, including smartphones, computers, and tablets.
Rhombus lists multiple business types that it claims can benefit from its platform, including restauarants, coffee shops, salons, delivery businesses, health and fitness services, non-profits, cleaning services, and more. It allows you to take food orders, accept reservations, book appointments for beauty services or personal trainer sessions, and more, all through many customers' preferred method of communicating: text.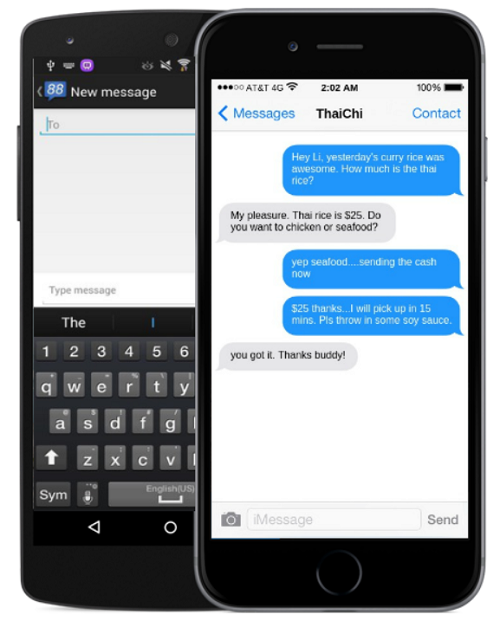 You can also accept payments (Visa, Mastercard, American Express, and Discover) directly through text and get feedback in real-time, improving customer engagement and satisfaction.
Additionally, Rhombus offers reporting on individual transactions, sales, profits, and customers. Specific reports may vary depending on the package you choose.
Related Article: Taking Credit Cards for Non-Profits.
---
How it Works for Customers
In order to use Rhombus, customers link a credit card, debit card, or bank account to their Rhombus account. Then they can text any business with a Rhombus number to make a purchase or a donation. Customers will enter the dollar amount followed by a description. For example, if a customer wants to make a $25 donation to the World Wildlife Fund, they would text, "$25 World Wildlife Fund donation" to the organization's Rhombus number. The minimum payment for text purchases and donations is $5. The maximum is $15,000.
If a customer loses their phone, they can log in to their Rhombus account remotely to deactivate the account and prevent unauthorized text purchases.
Security
Rhombus utilizes encryption and tokenization technologies to prevent unauthorized access to data or card detail theft. In the event of a lost or stolen phone, customers can log in to their Rhombus account remotely to deactivate it and prevent unauthorized purchases.
Rhombus Costs and Contracts
Rhombus offers 4 packages – Free, Starter, Business, and Enterprise – and boasts no contracts. As you can see from the image below, each package has a limit on the number of text messages per month, starting with 500 in the free package, going to 2,500 in the starter package, and 7,000 in the business package.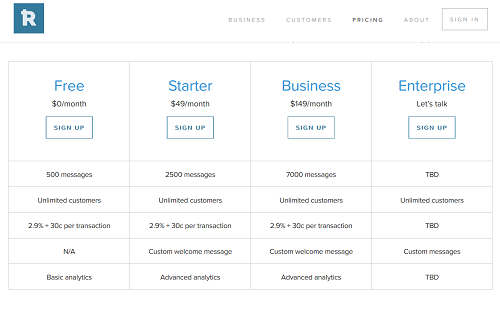 As the name implies, the "Free" package doesn't have a monthly fee (though there is still a cost for accepting card payments through text) while the "Starter" package costs $49/month and the "Business" package costs $149/month. Costs for the Enterprise package are determined on a business-by-business basis, and you'll need to contact Rhombus for a quote.
In all packages except the Enterprise, Rhombus charges businesses and non-profits 2.9% of the total plus a 30 cent fee per transaction. It also costs 25 cents per payout to receive deposits of your transaction funds on a rolling 2-day basis.
There is no cost to customers to use Rhombus for purchases or donations.
Free Trial
Rhombus offers a 14-day free trial for organizations that want to test drive the platform. You'll have 500 messages and no payment information is required for the sign up. At the conclusion of the free trial, if you wish to continue using Rhombus, the company will automatically debit your bank account each month. If you'd prefer to pay annually, you can set that up with Rhombus.
Rhombus Reviews
Rhombus is a fairly new service (founded in 2015) and while it has been featured in TechCrunch and is powered by media-darling Stripe, it hasn't gained a lot of reviews from customers or from businesses. As of January 2017, there doesn't appear to be a Better Business Bureau profile for the company, nor are there Yelp or Google reviews.
See also: Stripe Review.
---
Capterra, the popular business software review site, does have a profile for Rhombus that gives an overview of the company's services, but doesn't have any customer testimonials and therefore no star rating for Rhombus.
With so little firsthand information available, it's even more important to hear from you. If you've used Rhombus (either as a customer or at your business) let us know in the comments below!