Every time a new card is issued, the information and security credentials change slightly. Whether it's the card number, expiration date, or the card security code, these differences matter.
If consumers don't update their details, it becomes very difficult for businesses to collect payment. This is especially true of online businesses and subscription services, where the card is not present. Without valid card details, requests for payment will be denied and chasing down consumers can be time-consuming and expensive. If you've already granted access to products or services and don't get payment, you can end up with real business losses. Enter the Automatic Card Updater.
---
CardSavr Automatic Card Updater
Originally called Switch, Strivve is a relatively new business that aims to take the pain out of updating credit and debit cards. They provide an Application Programming Interface (API) that allows businesses to automatically update their customer records with the latest card information. The API, known as CardSavr, works as follows:
A customer gets a new card from their provider.
They activate the card using the issuer's app.
The card provider automatically notifies Switch about the change in card details.
Strivve contacts the customer and asks them if they want to update their card details with the websites they visit.
If the customer chooses to do so, Strivve automatically updates card details with linked businesses.
Those businesses can then use the new card details for billing and payments.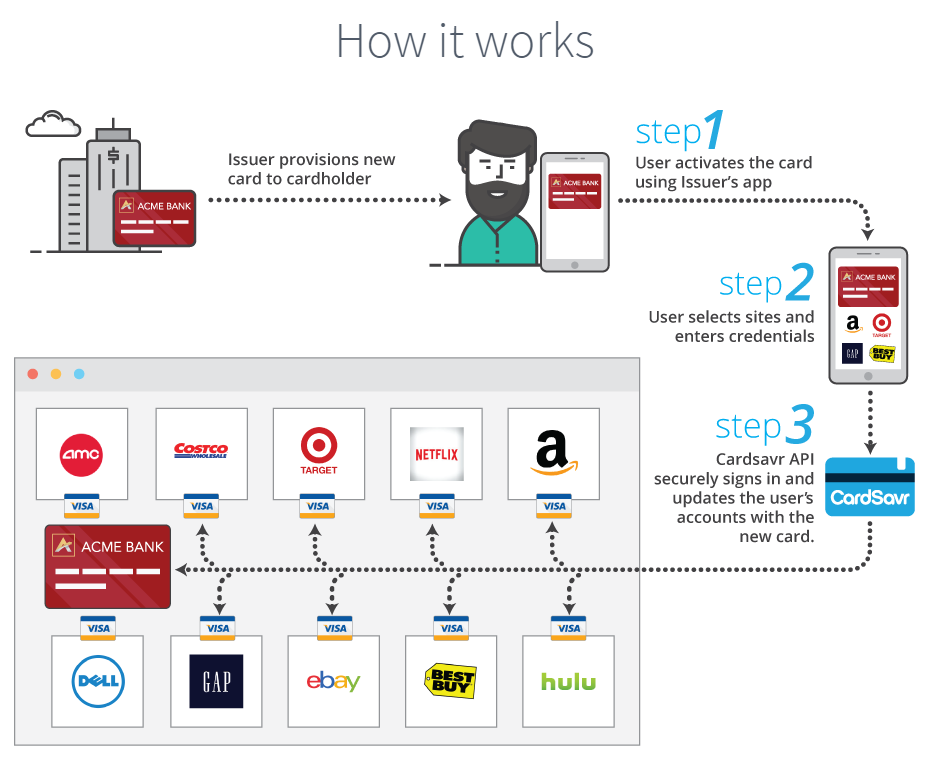 Source: CardSavr
Benefits for Consumers
The primary consumer benefit is time savings. They can activate their card once and choose to have their details securely updated across multiple eCommerce websites. Thus they don't have to enter separate security details at each website each time they get a new card. There also won't be any interruptions to receiving products or services due to the merchant not being able to receive payment.
The API features robust security and encryption to reduce any risk of stolen card details or other issues.
Benefits for Businesses
Businesses also benefit from Strivve's CardSavr. They can continue to take payments seamlessly, without worrying about updated card details. In turn, they don't need to spend time chasing down customers for updated card details. Additionally, they don't need to worry about sending out products or services that won't be paid for.
The CardSavr API works automatically. The business won't need to do anything, thus making implementation simple.
This all helps businesses to increase or recapture revenue throughout the card issuance and update process for their consumers. CardSavr already supports over 12,000 eCommerce websites.
Reducing Costs
The move to chip cards means that many issuers are sending customers new cards with updated card numbers and security details. As a result, the influx of new plastic is having an impact on online retailers and other businesses and can result in significant lost earnings. A service like Strivve and CardSavr has the potential to reduce losses.
Additionally, increased competition between card providers means users are switching to new cards, so a more seamless update process is good for everyone.
Future Plans for CardSavr
Although CardSavr currently allows for automatic card updating, Strivve has big plans for the service. In the future, they hope it will allow users to automatically manage passwords, autofill forms, and select which card to use at each eCommerce website. It also provides security to consumers and businesses by allowing users to deactivate cards that are lost, stolen, no longer in use, or otherwise compromised.
Overall, Strivve and CardSavr will improve functionality throughout the card payment ecosystem. Automatic updates, increased security, reduced rejections, and enhanced revenue are good for everyone.
Have you tried Strivve or another automatic card updater? Let us know your thoughts in the comments below!