Jeff Oakes founded Niche Soft, a small software company in Dallas, Texas to address a need in the tanning salon software market. He built TanTrack as a simple to use POS salon management software solution. Over the years, TanTrack has advanced to include social media and accounting integrations, advanced ID verification capabilities, and much more.
In this TanTrack review, we'll cover features, pricing, and more to help you decide if TanTrack is the right solution for your tanning salon.
What You'll Need
TanTrack is POS salon management software. You'll need hardware with the minimum compatible system requirements.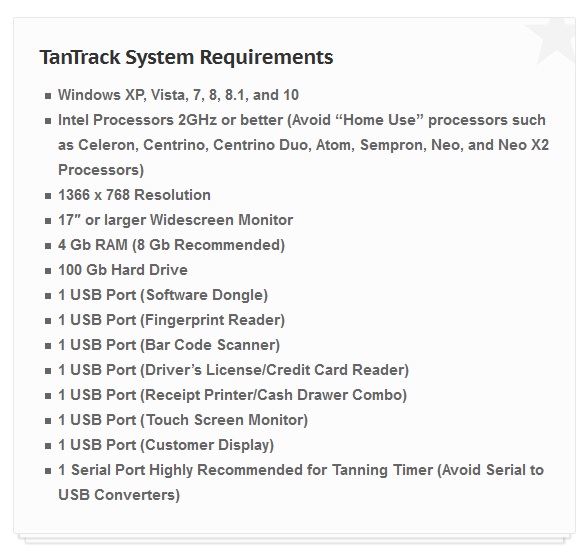 To use the basic features of TanTrack, you'll need tanning bed timers, cash drawers and receipt printers. You can also purchase finger scanners and key tags to provide additional security and easy access for existing clients.
To accept credit cards, you'll need card readers and a merchant account with a credit card processing company. Most credit card processing companies are compatible with TanTrack, although some require additional software. The solution offers easy integration with its credit card processing partner, Vantiv (formerly Mercury Payments Systems).
TanTrack Features
Designed specifically for salons, TanTrack bills itself as an all-in-one software solution to salon management. Its features include tanning bed management and maintenance; easy customer and employee scheduling integrations; gift card and coupon creation and tracking; automated email marketing and alerts; Facebook and Twitter integration; inventory and sales tracking; and a QuickBooks integration.
The company offers this introduction video about its services:
Sales and Refunds
Sales and refund software integrates with QuickBooks and generates separate sales reports. The sales software supports up to three different sales tax rates including the federal tan tax. Refunds are kept secure, if needed, with password protection and refunds are restricted to the specified client who bought the item.
Gift Cards and Coupons
With TanTrack's software you can create, edit, and track gift cards. The interface makes it easy to apply gift cards to purchases and track balances. You can also create coupons by dollar or percentage amounts while also specifying which coupons can be used for which items.
Product Inventory
TanTrack gives you control of sale pricing and timing on various services, packages, and products. The product inventory features give you the ability to track inventory levels, and the service inventory supports additional salon services such as hair, nail, and massage.
Appointment Manager
TanTrack provides a convenient interface to track and manage appointment times. Drag and drop capability allows for easy rescheduling. Additionally, with the click of a mouse, you can see more detailed information on the client such as contact info.
Client Info
Stores lots of information about clients including rewards status, contact info, purchase history, and referral sources. It's easy to print release forms for new clients with the built-in feature that TanTrack provides. Marketing options are also available which can send automatic invites on Facebook or Twitter for new clients. Automated email marketing helps entice clients to visit with coupons or sales promotions.
Client records can be created with a swipe of a driver's license, but this feature is only available in 25 states. Additionally, Fingerprint ID can be configured for regular clients.
Employee Info Tracking
TanTrack provides customizable security settings for specific employees. The employee info tracking lets you store employee info such as contact information and time clock data. The time clock data can be integrated with QuickBooks. Lastly, you can track training and certifications so you know when the certifications or training will expire.
Bed Management—Send to Tan and Waiting List
The bed management system, in addition to providing updates on bed maintenance needs, tracks the usage status of each bed. Client packages are also tracked with automatic charges for upgrades. You can configure beds to require client fingerprints for ease of access and added security.
Reporting
Reports are crucial for small businesses. TanTrack offers reports for every feature in the software package. It also supplies detailed information from payment methods in the Sales Reports to bed visit details in the Bed Reports.
TanTrack Pricing for Credit Card Processing
Because TanTrack develops the software and is not a credit card processor, it does not publish credit card processing costs. However, most credit card processing companies are compatible with TanTrack, and they will set the pricing for credit card processing. The fees for processing will be due in addition to TanTrack's software and any other hardware you need.
To get an instant quote for free with no obligation you can request a quote from processors that support TanTrack.
TanTrack Pricing
TanTrack doesn't publish the cost of its software on its website. The cost of the software is in addition to the cost of purchasing hardware and credit card processing fees. We've reached out to TanTrack for more information on the costs for software, and will update this profile when details become available.
TanTrack Accessories
TanTrack sells almost all the compatible accessories you might need to implement their software. You can view their page on optional hardware to learn more about purchasing finger print scanners, key tags, credit card readers, and more.