Mobile point-of-sale systems are becoming more popular, with 54 million units expected to be installed in businesses by 2019. Using a tablet for a POS system provides mobility and a seamless platform for both sales and inventory management. You can take it with you on the go, or use it in a restaurant to take orders or payments tableside.
Note that some tablet POS system makers offer bundles that include a tablet and the POS software, but many don't. If you're considering using tablet-based POS system that doesn't include a tablet, you'll need to buy one separately. For those situations, here are the best tablets for mobile POS systems. Each is best-suited for different work environments, so which one works best for you depends on how it will be used.
---
Operating Systems
The first thing to consider is that software for your chosen POS system may require a certain operating system. Be sure to check on any requirements before purchasing your tablet. Below are some popular POS systems and what operating systems are compatible.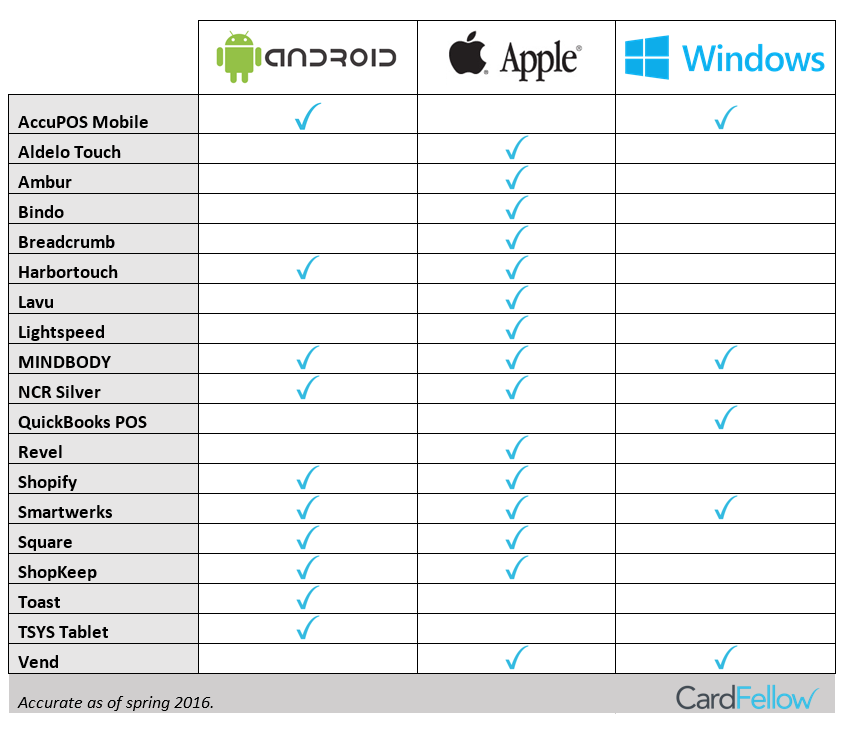 If you're using one of the POS systems listed, make sure you're purchasing a tablet with a compatible operating system.
Quick Comparison
There are many different things to take into account when choosing the right tablet for your mobile POS system. We'll dig into each tablet in depth, but if you just want the quick comparison, this chart gives the basics.

Sony Xperia Tablet Z – Good for festivals and outdoor settings
The Sony Xperia Tablet Z has one of the brightest and most vibrant screens available in a mobile POS solution. This makes it an ideal choice for businesses taking place in areas with a lot of natural light, especially outdoors at festivals, fairs, and other events, as the sun can make it difficult to see the screens on many tablets. It also has a water-resistant design that allows you to use it in the rain. That's great for those times when the weather changes unexpectedly.
The Qualcomm Snapdragon S4 1.5 GHz processor with integrated LTE and 64-bit Octa-core CPU gives this tablet the power to process complicated orders and connect to remote inventory systems quickly and easily. Available in 16 GB and 32 GB versions, it also features an SD card slot that can expand the memory up to another 64 GB
The Xperia Tablet Z runs Android 4.1 Jelly Bean, and the battery lasts up to 9 hours, so business doesn't need to shut down if access to electricity isn't available.
Data stored on internal memory is protected with 256-bit AES encryption, and if the tablet is lost or stolen the 'my Xperia' service allows a remote wipe to protect proprietary business data.
HTC Google Nexus 9 – Good "intro" tablet for the budget-conscious
HTC and Google's Nexus 9 tablet is one of the fastest tablets available under $300, making it a great option for budget-conscious small businesses or solo entrepreneurs seeking an all-in-one business tablet that can also be used as a mobile POS.
Nexus 9 runs Android 5.0 Lollipop and has an 8.9-inch LCD screen capable of displaying resolutions up to 2048×1536. It runs on a 2.3 GHz 64-bit NVIDIA Tegra K1 processor.
Weighing less than 1 lb (15 ounces to be exact) and featuring a Gorilla Glass 3 screen, the Nexus 9 is both portable and durable. The multitasking capabilities of this tablet allow you to use it not only as a mobile POS, but as a full-time business and communication device.
The downside to the Nexus 9 is the lack of an SD expansion slot. Because of that, it's limited to 16 GB and 32 GB flash memory. It requires a separate magnetic stripe reader to accept credit card payments.
Samsung Galaxy Tab Active – Good for heavy use environments
Samsung's Galaxy Tab Active is one of the most rugged WiFi tablets on the market. Busy restaurants with servers running back and forth will appreciate this tablet's ability to take a beating without damaging the internal electronics.
The 16 GB Galaxy Tab Active runs Android 4.4 KitKat on a 1.2 GHz Apple A4 processor and the SD slot accepts up to 64 GB memory. Unlike most tablets, the 10-hour battery is removable, allowing you to replace it if it dies, making it a great enterprise option that will outlast more expensive tablets.
Not only is it rugged, but the Galaxy Tab Active is also equipped with an NFC chip, so your customers can pay with contactless technologies using their smartphones. As with all Samsung mobile products, the Galaxy Tab Active supports both Samsung Pay and Android Pay, along with PayPal, giving customers a wide variety of mobile payment options. The Galaxy Tab is also compatible with Square and other companies if you'd like to add a headphone jack card reader to swipe credit cards.
Apple iPad Pro – Good for those already familiar with Apple products
The iPad Pro is from Apple's business tablet line and can run any application in the App Store. It has a 12.9" Retina display capable of 2732×2048 resolution and a dual-core A9X chip with quad-core graphics.
Starting at 32 GB capacity, the iPad Pro is also available at 128 GB and 256 GB and supports WiFi and Bluetooth. The iPad does not feature an external SD slot, but many accessories are available to expand its capabilities.
Apple's App Store features a wide variety of mobile POS options, including Square, ShopKeep, Revel, Clover, and Vend. In addition, third-party POS stands, cash registers, keyboards, and other accessories are available to transform the iPad Pro into a full-fledged retail POS system.
If you're seeking a sleek, modern, and easy-to-use POS, you'll appreciate the simplicity of iOS 9 on the iPad Pro, which is available in gold, silver, and space gray. Built-in integration with OS X makes the iPad Pro an easy choice for organizations already using Apple products.
The iPad Pro also supports Apple Pay, Apple's proprietary mobile payment option for iPhone and iPad users.
Microsoft Surface Pro 4 – good for changing environments
If you're the kind of business that needs to be outside with your tablet POS one day and in the office the next, you might want to take a look at Microsoft's Surface Pro 4. It's a tablet designed to function like a mobile computer. Running Windows 10 Pro on a 3 GHz Intel Core processor, it works as both a tablet and a laptop computer (provided you purchase the optional dock).
The 12.3" PixelSense screen is capable of displaying HD resolutions up to 2736×1824 and has high contrast and low glare, making it perfect for usage in both high- and low-light environments. Despite its size, the Surface Pro 4 weighs only 1.69 pounds, so it is highly portable.
You can use the touchscreen or a stylus or even pair it with an external keyboard. The Surface Pro 4 features a microSD slot, Mini DisplayPort, and a full-size USB 3.0 port, allowing the connection of external POS systems.
The Surface Pro 4 is the most complete all-in-one mobile computing solution that is capable of running Windows 10-compatable software. If you're looking for a POS system that can run both POS systems and virtual terminals, the full Office suite (including SQL and Access databases), and any Windows programs on the go, you'll love this tablet.
Taking Credit Cards with Your Tablet
Remember that to take credit and debit cards with your tablet POS, you'll need a merchant account. CardFellow offers free tools to compare quotes from leading processors. Try our no-obligation quote request tool today.
Conclusion
With so many tablet options, it can be difficult to find the right one to use. Although each tablet above is a solid device, each one fits different business needs and budgets.
The perfect solution for your business depends on how and where the POS will be used. Whether you're looking for a rugged device, extreme portability, ease of use, or an all-in-one business productivity device, mobile POS solutions are available to fit your needs.