The holidays bring increased sales, but also increased expenses.
With so much cash changing hands this holiday season, one can easily assume this means more profits for the average business owner. However, for some businesses, this will not be the case. Holiday deals, increased staff, and a host of other factors all contribute to a hefty sum – a sum that a lot of small businesses struggle with every year.
Below are a few ways small business owners can save money this holiday season while maintaining the holiday cheer.
---
Keep Promotions Easy
You'll be surprised by how easy it is to leave an impression on your customers. Most do not need (or expect) grand gestures and promotions. Often the smaller, more thoughtful offers are what keep people coming back. If you have an online component to your business, including handwritten, personalized thank you notes with your shipments makes your customers feel appreciated. Kick it up a notch by including a small offer to get people back to your website, like a 10% off discount code or free gift with next purchase.
If you are a brick-and-mortar business, offering a gift-wrapping service in-store relieves stress on your customers and shows that you have their needs in mind. Partnering with a local non-profit and accepting donations for the service will bring a sense of community to your efforts.
Gain a Better Understanding of Your Expenses
It is easy to fall into habits when it comes to monthly bills. After a while, you come to expect certain charges for certain things that help keep your company afloat. Remember to always be critical of these charges, and continuously keep an eye on where your money is going.
Related Article: Providing Great Customer Service While Lowering Costs.
---
At the start of your holiday season, it is a good idea to do a quick audit of your expenses. A lot of the time, there are savings hiding in plain sight that you simply aren't taking advantage of. One example is with your credit card processing. The majority of processing companies out there follow the same pricing model – a percentage markup on each transaction run plus additional fees for statements and other services. Other companies offer subscription-based credit card processing, which can mean big savings for many companies. As a business owner, it pays to do your research to see if there are savings out there for you. CardFellow has made it easy to compare pricing using a simple, private quote comparison tool.
If you've already used CardFellow to find the most competitive processing solution, there are still places you can save money. Automating administrative tasks, streamlining customer service, or joining a group purchasing organization are a few options.
Pay Attention to Utilities
This might sound obvious, but especially if you live in a colder climate, pay attention to your heating costs. Often, if there is a long line or crowded store, the front door can accidentally be left open for long periods of time. Make sure you put up a kind reminder to patrons to close the door behind them, or ensure that automatic-closing doors are working properly.
Also keep in mind that if your store is more crowded than usual during the holiday season, you may not need to turn your heat up as high as you usually do. The more crowded the store, the warmer it naturally becomes. Make sure your patrons are comfortable while they browse while saving money at the same time.
Organize a Secret Santa for Employees
Many businesses feel that it's important around the holidays to do something special for employees. They are busy as well, so making an effort to show your appreciation increases morale and improves the mood at this hectic time. This can get costly, so a good way to save money without being a Scrooge is to organize a Secret Santa. Include yourself in the pool, and that way every employee is just buying one gift – saving yourself and your employees time and money while bringing cheer!
In addition to saving money, be sure to put strategies in place to capitalize on holiday spending. One study suggests that boutiques, restaurants, clothing stores, and toy stores can expect the lion's share of shoppers. If that's you, make plans now for how to capture more of those sales.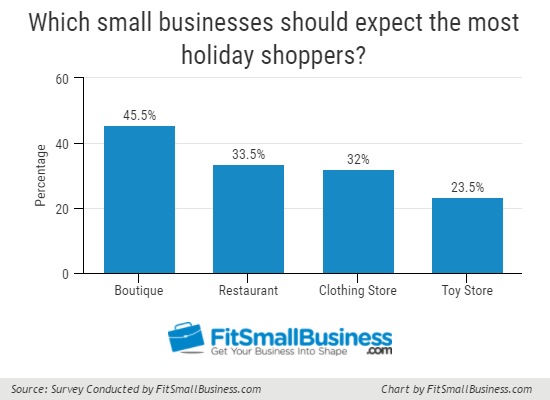 All in all, the holiday season should be a time of celebration and profits for business owners – not headaches! By taking these simple steps, you could be seeing savings and sales this holiday season like never before.