Many Americans want to maintain a healthy lifestyle. If you're in the exercise and fitness business, no doubt you're delighted that gym memberships have been on an upward trend since 2000. In 2015, there were 55 million gym subscriptions, just in the US!
Opening and managing a gym can be difficult, but Wodify gym management software aims to change all that. It's a complete solution for managing every aspect of gym membership, programs, trainers, customers, equipment, and much more. We'll explore how the software works, key features, and how it can help you as a gym owner or manager. Read on, for the complete CardFellow Wodify review.
Wodify Overview
Wodify is gym management software that allows you, your staff, contractors, and gym members (known as athletes) to access and manage the parts of your gym that are important to them. This includes athlete management, gym management, website management, and other services.
Wodify in its Own Words
"At Wodify, we want your gym to succeed. Our tools are proven to save time, cut costs and grow memberships, making us the best solution on the market for gyms around the globe. Together, we can build a stronger gym."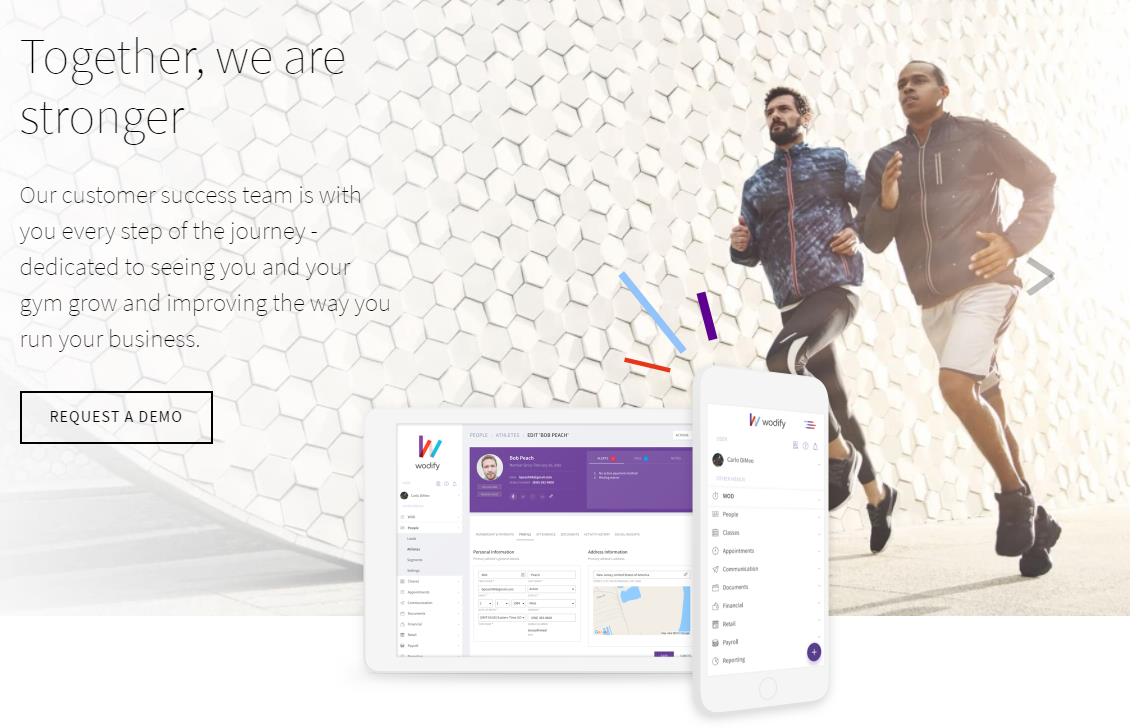 Wodify by the Numbers
Used in over 4,000 gyms around the world.
100,000 performance results logged by gym members every day.
Performance tracking has almost a 100% adoption rate for members.
Over 125 million performance results logged overall.
Wodify Features and Benefits
Wodify is packed with features that will benefit you, your staff, and your clients. We've broken down the features into two main categories: athlete management and gym management and explained the key benefits in sections below.
Athlete Management
Features in the athlete management category are designed to put your athletes in control of their fitness, allowing them to track and monitor progress.
Athlete Profiles
You, your personal trainers, coaches, and individual athletes can track every aspect of an athlete's progress, performance, membership, classes, and more from a central location. Additionally, you can set up digital contracts and waivers and allow for e-signing to make onboarding new athletes fast and easy. Need to track member info? You can also tag athletes to track injuries or other factors so you can manage their fitness needs more easily.
Performance Tracking
Individual athletes can use the Wodify app to track their performance — for example, the weight of their bench press, the speed they ran 5 miles, or their heart rate after 10 minutes on the cross-trainer. Athletes can then work to improve over time.
Food Profiles
Athletes can log their eating habits and nutrition against their profiles. Your nutrition coaches can review athlete meals to provide personalized diet advice to help them meet their weight loss, weight gain or other nutritional goals.
Interactive Kiosk
Athletes can access all of their information from interactive kiosks in your gym. They can easily login and view their profile, historic performance data, and more. This information is also available to coaches and personal trainers so they can effectively set a training regimen.
Leaderboards
You can promote friendly competition in the gym by showing daily and all-time leaderboards based on athlete performance.
Class Scheduling and Reservations
Athletes can book and amend classes via interactive kiosks in your gym or via your gym website. They can also find out when personal trainers are available and schedule an appointment with them.
Gym Management
On the gym management side, features are designed to give you insight and control for every aspect of running your gym. You can take advantage of reporting, automated billing, and more.
Dashboards, Reporting, and Analytics
Wodify gives you insight into the health of your gym, including memberships, sign-ups, attendance, real-time dashboards, revenue, and daily reports. You can even see when your gym members' birthdays are and surprise them.
Attendance tracking and other reporting allows you to manage staff levels, the  need for coaches / personal trainers, equipment, rooms, and more. You can optimize your class schedule to make the most of the resources you have available.
Automated Billing and Payments
Wodify collects payments from your members using an automated, monthly billing process. You can choose to encourage your athletes to attend the classes they've signed up for by charging fees if they don't show or cancel outside your cancellation period.
Lead Management
Wodify has built in customer relationship management (CRM), helping you track, manage, and communicate with potential members. This can help you convert interested people into fully paid up athletes and grow your clientele.
Customer Relationship Management
Wodify's CRM solution lets you send out customized emails or text messages to athletes with special offers or gym news. You can also celebrate birthdays, milestones, personal accomplishments, or anything else you want to share.
Time Tracking and Payroll
Wodify has built-in time tracking for your employees, contractors, and other people who provide services on your gym's behalf. Wodify also allows you to run payroll so you can compensate everyone appropriately.
Other Services
In addition to athlete and gym management, Wodify offers features designed for other aspects of staff, gym, and website management. The company offers this video about its product:
Online Options and Website Integration
Wodify integrates with your gym website, allowing potential members to view and book trial sessions and trial classes. They can also purchase a membership, improving your conversion rates. Wodify can automatically publish your workout schedule, calendar, athlete leaderboard, inquiry form, and online sales portal to your website.
Class Management, Scheduling, and Coaching
Your athletes can view and book their place in fitness classes. This helps you plan for attendance and ensure you have enough trainers and coaches to meet your members' needs. Coaches and personal trainers can modify classes based on athlete attendance, needs, and performance levels.
Sell Merchandise
If you have gym-branded or other merchandise, Wodify allows you to sell it in-person or online. It will manage your product inventory and allow you to make sales. It also integrates with Shopify to provide a high-quality, online experience. Coaches can even use the app to sell their own gear directly to athletes.
Exercise and Workout Planning
Wodify has built-in workout and exercise planning features. Coaches can build customized workouts quickly using a built-in exercise database, and an easy-to-use training creator.
Social Insights into Your Athletes
Wodify scans your athlete's social media profiles to give you insights into their social media habits. This makes it easier to create a rapport and speak to their interests. It also allows athletes to share their news and achievements directly into their social media profiles to help foster a sense of community and connect with other members.
Wodify Pricing
In the past, Wodify utilized a pricing structure based on the number of members of your gym that use the product, known as "athletes." However, the company eventually switched to a model that offers a choice of different monthly pricing plans.
As of late 2018, Wodify offers three plans: Engage, Grow, and Promote.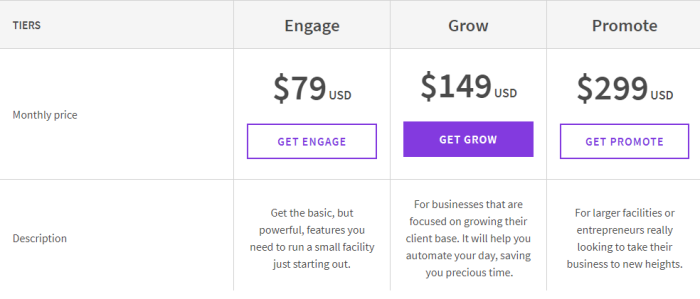 The Engage plan, suggested for small facilities who need basic features, will cost $79/month. Grow, designed for businesses that are, well, growing, costs $149/month. Promote, the plan designed for larger facilities, costs $299/month.
You can optionally add on packages like Wodify Pulse heart rate training system for $99/month or Wodify Perform member performance tracking for $49/month.
The plan you choose will also determine your credit card processing rates if you utilize the integrated Wodify Payments solution.
Credit Card Processing and Equipment
Wodify offers an integrated credit card processing solution powered by Stripe. You'll receive flat rate pricing and can accept major credit and debit cards or ACH payments.
Credit and debit card processing costs vary depending on the plan you choose. Engage plan members will pay 3% + 30 cents per transaction, Grow plan members will pay 2.8% + 30 cents and Promote plan members pay 2.6% + 25 cents. ACH payments will cost 1.5% of the total plus 30 cents per transaction.
If you'd prefer not to use the Stripe solution, you can use GoEMerchant or Paysafe for payment processing and connect the gateway to Wodify. In that case, your pricing for accepting cards will be set by GoEMerchant or Paysafe, with the exception of a $20 monthly charge from Wodify for using an alternate payment processing system.
Wodify sells computers, interactive kiosks, and more for your reception area, back office, or exercise space. They also provide USB and mobile credit card swipers for payment processing. Swipers cost $89.99.
Wodify Support
Wodify has several options for customer service and support, including a knowledge base with information on every aspect of the software, including all of its functions, features, and integrations. The company maintains a YouTube channel for how-to videos, as well as an ideas forum, blog for gym management tips, and a Facebook community for gym owners to interact and share ideas.
You can also contact Wodify by phone for immediate support.
Wodify is a fully-featured gym and athlete management program. If you're an established gym, or you're just thinking of starting one, Wodify could provide you with many of the features you need to make it a success. However, the pricing may be cost-prohibitive for some gyms, especially given the availability of competitors with flat rates.
Looking for gym management software and great pricing for credit card processing? Get free quotes from multiple processors using CardFellow.