With corporate dentistry becoming a threat to smaller dental practices, the need to optimize administration and effectively manage dental procedures has never been more important.
One way that dental practices can become more efficient is through using good dental practice management software.
Carestream Dental provides several dental practice management solutions. In this review, we'll take a look at some of the options, explore features and functionality, and help you decide if it's a good fit for your dental practice.
Carestream Dental Services
Carestream Dental divides its software solutions into four main areas: practice management software, eservices, mobile dental management, and electronic health records.
The practice management software component is designed to make customer management, procedures, billing, scheduling, and administration much easier. Eservices including marketing, payments, statements, claims, and prescriptions. The Pearl mobile dental management for smartphones solution allows for practice management on the move. Electronic health records to get all of your patient's dental care records integrated and available electronically.
Carestream Dental Practice Management Software in its Own Words
"Simplify daily tasks and improve productivity with our easy-to-use practice management software. Unlike other programs, our software is specifically designed to meet the needs of your particular specialty—whether you practice traditional dentistry, orthodontics, or oral and maxillofacial surgery."
Carestream Dental Practice Management Software
Carestream Dental provides a variety of dental practice management software solutions, depending on your exact needs. They have eight different software packages, so in this area of the review we'll focus on the main one — "CS PracticeWorks Practice Management Software." This is suitable for general dentists, implantologists, pedodontists, periodontists, and prosthodontists.
Appointments and Scheduling
Anyone can schedule patients and procedures. You can search and filter schedules according to certain criteria, find schedule gaps and open appointments, and put a patient into a "pending" state so they automatically fill an appointment when the schedule opens up.
Additionally, you can view all of your upcoming appointments and other tasks on one simple screen. Need to keep staff updated? You can update your whole team on what's expected for the day, allowing everyone to plan and resource effectively. Additionally, you can customize views for each role and team member so everyone knows exactly where they need to be and when.
Prioritize Patients and Procedures
The system has built-in, automatic prioritization so you can easily see the most important tasks for each patient and throughout the day. You can easily get a management level summary of each procedure and patient so you can stay on top of their dental care and needs. The software will identify any problems that need immediate attention and make suggestions for resolving them.
Patient Tasks and Information
Easily access dental and medical information about each patient and track tasks and actions to do with their dental procedures, following up, appointments, and more.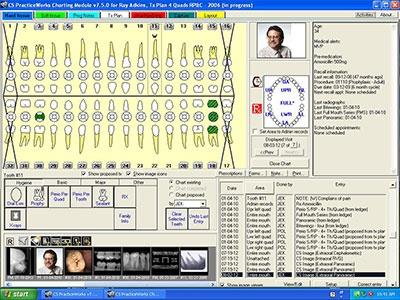 Prescription Filing and Management
You can automatically send prescription requests to local pharmacies, making things more convenient for your patient. Carestream Dental lists many nationwide and local pharmacies in its software. You can send prescriptions directly to your patient's preferred pharmacy even if they don't have electronic RX submissions.
An integration with First Databank lets you check for drug interactions, and you can also file prescriptions for controlled substances via DEA regulations.
Analytics and Reporting
Track procedures, profitability, revenue, and accounting details through the software. You can consolidate information from many different reports to get a single view to help you make financial decisions. Monthly reporting makes it easy to see the most profitable procedures and discover trends in revenue and other areas. If you work with a dental consultant, this information can help you focus on the most important aspects of your practice.
Eservices
In addition to the services above, you'll benefit from several "eservices" like automated statements, online backups, patient registration, an eClaims process for insurance claims, insurance verification, and email marketing.
Automated Statements
Carestream Dental can generate, print out, and mail statements directly to your patients on your behalf. This can reduce your admin time and let your staff focus on more valuable tasks. Sending out statements promptly is a good way to increase cashflow and manage accounts receivable.
Online Backup
Carestream Dental will back up all of your patient records, notes, image files, and reports into a safe, secure, online storage system. Carestream Dental's online backup is fully HIPAA-compliant and offers a reliable data backup and recovery service.
All of your information will be encrypted, uploaded, and safely stored at a remote location. You can easily access and download your data whenever you need it.
Patient Registration
Patients can easily complete their medical and personal information quickly using an electronic forms system. You don't need to waste time manually entering information, reducing the risk of introducing errors.
Patient information and signatures will update across your system. The eForm registration system is fully HIPAA compliant.
Insurance Verification
You can easily check and verify a patient's insurance status and see exactly what they're covered for. This can help you avoid cost leakage and ensure you bill appropriately. Keep up to date with their eligibility, claim history, and benefits.
Insurance Claims
Carestream Dental's eClaims process allows you to create and file dental insurance claims directly with insurance companies. This reduces your administrative burden and ensures quick payment. You can easily run confirmation reports to ensure the appropriate party has received your claims. If you need to provide more information, the software lets you attach notes, images, and records to ease the claims process.
Insurance billing can be complex, so the ability to get faster reimbursements and file claims electronically can reduce the administrative headache.
Online and Email Marketing
The PracticeWorks eConnections service is a fully featured marketing system. You can create email marketing campaigns for new or existing patients, track analytics, boost search engine optimization, create more conversions, and see your return on investment. You can also reduce no-shows by sending out email reminders to patients about upcoming appointments.
The software will also track and report on "mentions" about your dental practice online so you can stay on top of your brand and customer perceptions.
Third-Party Integrations
PracticeWorks integrates with several other online services and dental offerings including CareCredit, Demandforce, Lighthouse 360, RR Donnelley, Solution Reach, Televox, and Trojan Professional Services.
Carestream Dental Pearl Mobile Solution
The Pearl mobile solution is designed for Apple iPhones and other iOS devices. It gives you access to many of PracticeWork's key functions so you can manage your dental practice from anywhere. It provides real-time information and two-way data synchronization.
Electronic Health Records (EHR)
EHRs are an electronic version of a patient's medical details — doctor and dentist notes, images, test results, charts, and more. EHRs are designed to allow easy capturing of important medical information and to enable sharing of that information with other medical and dental service providers. Carestream Dental creates EHR ready data to allow you to integrate your records with those of other providers.
Other Types of Carestream Dental Practice Management Software
Carestream Dental offers choices like a cloud-based version of PracticeWorks and software for particular specialties, including OrthoTrac for orthodontists and WinOMS for oral and maxillofacial surgeons. Additionally, a CS SoftDent software option is available for multi-dentist practices.
It includes in-depth reporting abilities, and provides additional billing options for offices that participate in capitation or managed care insurance plans, perform medical cross-coding, need multiple fee schedules, or subscribe to PPO insurance plans. A cloud-based version is also available.
Security Features
It's vital to keep medical and dental records secure. The software accomplishes this through individual passwords, audit trails for changes, and a user rights access system, so you control who gets to view and edit information. The software also features biometrics, with the option to login with a fingerprint.
Taking Payments
Carestream Dental's PracticeWorks can take credit and debit card payments online, reducing waiting time for money and enhancing your dental practice cash flow. With ePostings, the system notifies you when patients pay. Additionally, the system tracks their payments directly in their account.
This can help to reduce fraud, increase visibility of transactions, remove accounts receivable errors, and enhance your financial management and efficiency. Carestream Dental will provide you and the patient with an explanation of benefits (EOBs) electronically and post payment information automatically.
Payment processing is provided through payment processor TSYS. Unfortunately, you cannot use comparison services (like CardFellow) to sign up for TSYS Carestream processing.
---
Pricing for Credit Card Processing
TSYS, the credit card processor that's compatible with Carestream, sets the rates and fees for credit card processing using Carestream Dental.
While TSYS is a member of CardFellow's marketplace, you'll need to go directly to TSYS if you want to accept credit cards through the Carestream system.
Carestream Dental Practice Management Software Pricing
Carestream Dental does not provide any pricing for any of its software products. We've reached out to the company for more information and will update this review as details become available.
Carestream Dental Reviews
Customer reviews of Carestream Dental's various offerings are poor. Reviewers on Software Advice gave them an average of 1.5 out of 5 stars across ten reviews. Complaints about the software stated that it was very slow to use, taking a long time to update patient details. Many people also complained about long waits for customer service, and bad experiences when they were connected. Customers who ran into issues with the software stated they had to wait a long time for resolution and that communications from Carestream Dental were very poor.
Customer support is a vital part of providing effective services, and we could not find one positive review of Carestream Dental's CS process. This, combined with a lack of online support materials, may indicate difficulties for practices that expect assistance with their software.
Does your experience with Carestream Dental match the negative reviews, or did you find the software effective for your practice? Let us know in the comments, below!