Chargify offers subscription billing services, allowing you to easily automate recurring payments if you can't do so through your existing credit card processor.
When it comes to managing your business's finances, fully-featured, reliable software is vital. This in-depth review of Chargify gives you all the information you need to make an informed choice about whether it's right for you.
A Brief Overview of Chargify
As mentioned above, Chargify allows you to manage all your recurring and subscription payments with your customers. It integrates with many payment providers to make setup and repeat billing simple and easy.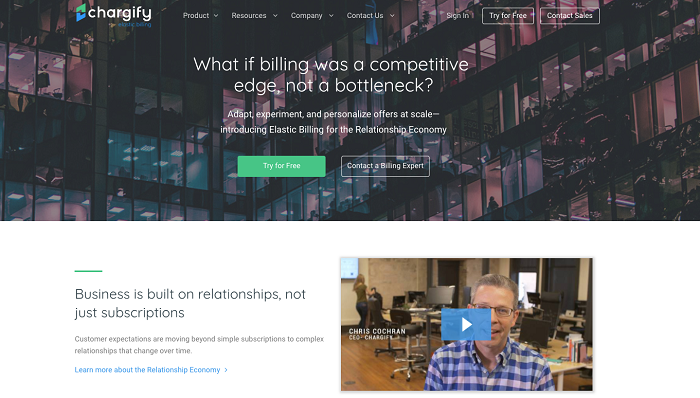 The system is almost completely automated, meaning that once a customer has been added, they'll continue to be billed on a regular basis, without any input from you.
Related Article: Options for Recurring and Subscription Billing.
---
Chargify In Its Own Words
"Your relationships with recurring billing customers last for years. Chargify keeps all subscriber activity—and your cash flow—running smoothly!"
Key Stats
5 million+ subscriptions managed.
25 million+ transactions processed.
$1.5 billion+ revenue collected.
30 employees.
Chargify Features
Chargify has plenty of features for its users. Here are some of the areas where it can help.
Payments
Charge any amount at a frequency that works for you and your customers
You can create a variety of repeat prices, setup fees, trial periods, and one-off charges.
Accurate charging
Chargify adds together all of the subscription costs, upgrades, add-ons, and features to charge accurately for your services.
Taking payments — Chargify integrates with many payment providers and allows charging via credit / debit card, PayPal, ACH, eCheck, and offline payments.
Incentivizing customers
Create incentives through coupons and discount pricing, with automatically adjusting billing amounts and discount periods.
Taxes and regulations — Chargify handles all of the tax collections on your behalf, including sales tax. You can define taxes by state, province, country, or other geographical areas.
---
Subscription Plans
Recurring plans and subscriptions
Specify how often you want to charge (yearly, monthly, biweekly, or custom periods) and how much you want to charge.
Pricing add-ons
You can easily provide tiered pricing and optional add-ons for your customers, including one-off charges.
On demand and metered usage
Charge as customers consume products or services based on their usage.
Intelligent pricing
You can define business rules to intelligently apply different pricing and discounts based on your customer profiles and usage. For example, you could offer a discount for high-volume users.
Trial periods
You can offer free and discounted trial periods or incentivize customers with special discounts and offers.
Setup fees
If there's an onboarding cost for your products or services you can pass this onto the customer.
Prorating and snap billing
Chargify can provide pro-rated plans for partial usage, or charge everyone on the same day of the month.
---
Customer Relationship Features
Simple signup
Onboard your customers quickly and easily. Chargify's signup process is designed to be friction-free.
CRM
Chargify has customer communications built in, including statements, billing, customer notes, and marketing.
Automatic subscription management
Customers can upgrade downgrade, sign up, and leave plans, all without any manual work from you.
Manual operations
Employees can make one-time charges, refunds, debits, and credits.
Referral marketing
Referrals are a very powerful way to build your customer base. You can easily offer incentives for signing up other people via Chargify.
Coupons and discounts
Offer one-off or recurring coupon codes based on percentages or fixed amounts.
Statements and invoices
Chargify can automatically email invoices and statements to your customers.
Managing churn
Reduce churn by setting up customer reminder and retention emails and combine that with discounts and incentives.
---
Data Management and Reporting
At-a-glance dashboard
Quickly see your most popular plans, sign ups, revenue, lifetime value, upgrades, churn, and other analytics.
Export to CSV
Extract your data in "Comma Separated Value" format so you can carry out bespoke, in-depth analysis.
Third-party integrations
Chargify offers native integration with over 25 apps and services including Salesforce, Xero, Shopify, Zendesk, WordPress, and more.
---
Developer Features
RESTful API
Chargify has a full RESTful API. The API lets you integrate with and manage everything in your Chargify account including subscribers, billing, and more.
Documentation and Libraries
Complete documentation is available to developers on every aspect of using Chargify and its integrations. Users have developed client libraries for Ruby .Net, PHP, Python, Java, and more.
Webhooks
Chargify's webhooks notify your website, database, and apps when events happen in your account (e.g. new users signing up, revenue thresholds, leavers etc.)
Other Features
International customers
Chargify allows you to accept payments in multiple currencies.
Multiple businesses
Chargify lets you setup multiple businesses, all with different subscription and billing plans, and access everything through the one portal.
Smartphone apps
You can access your Chargify information on the go.
Signing Up Your Customers through Chargify
There are a few different ways you can sign up and manage customers with Chargify:
When you create a product in Chargify, you automatically get a white label customer signup page where your customers can submit their information and payment details.
Customers have access to a self-service billing portal where they can update all of their billing, shipping, contact, and other information. They can also look at their statements, services, and make changes to their plans.
You can integrate your website, apps, and forms directly into Chargify and transfer data using Chargify's API and webhooks. Customers can complete their signups directly from your website.
You can enter customer details directly into Chargify yourself.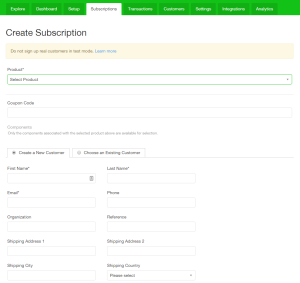 Chargify Pricing
*** Chargify underwent a website update and currently does not have a public pricing page. The information below represents previous pricing plans and costs, which may no longer be accurate. For the most up-to-date pricing for your business, contact Chargify directly. ***
Chargify offers four billing plans, each with different included features. The available plans are Basic, Plus, Pro, and Enterprise.
Chargify Basic: $149 a month
With the Basic plan, you can manage 500 paying customers, with a fee of $0.69 for each additional customer. The plan includes:
1,000 non-paying users
Credit Card Billing Options
PayPal Billing Options
E-check Billing Options
Customer Self-Serve Portal
API Tech Support
Tier 2 Phone Support
Chargify Plus: $199 a month
With the Plus plan, you can manage 500 paying customers, with a fee of $0.69 for each additional customer. You also get everything in the Basic plan, plus:
Invoicing/Net Terms Billing
Analytics (Churn & LTV)
Webhooks Replay
com Connection
Xero Accounting Integration
MailChimp Integration
Chargify Pro: $499 a month
With the Pro plan, you can manage 2,000 paying customers, with a fee of $0.49 for each additional customer. You get everything in the Basic and Plus plans, as well as:
Team Member Access Controls
High Priority Support
Chargify Enterprise: Pricing Varies
The Enterprise plan is for businesses with 3,000+ paying customers to manage, and can support millions of customers. The plan includes:
Everything in Basic, Plus, and Pro plans
NDA & Uptime SLA
Component Subcodes
Per Product Component Pricing
Vendor Approval Documentation
Dedicated Support Contact
Note that these prices don't necessarily include all of your fees, such as the costs of actually processing the credit cards, or any costs associated with your payment gateway. Depending on your chosen processor and gateway services, you can expect monthly fees and per-transaction fees every time you process a payment by credit card from a client.
Be sure to check with your processor or request quotes for full pricing details.
Chargify Payment Gateways
To use Chargify to accept payments (both one-time and recurring) you'll need a payment gateway. Fortunately, Chargify works with many different gateways, so you're not limited to a specific one. If you already have a gateway, you may be able to integrate Chargify without switching, as long as it's a supported gateway. If you don't yet have a gateway, be sure to choose a compatible one if you intend to use Chargify.
As of 2016, Chargify supports the following gateways:
Authorize.net
Beanstream
Braintree
Chase Paymentech
CyberSource
Elavon
First Data
Moneris Solutions
Stripe
Vantiv
Related Article: Braintree vs. Stripe.
---
Chargify will work in any country where there's a payment provider they link with and can support. The company doesn't restrict its services to only one processing company, meaning you can shop around to find the best deal and the right solution for your specific business.
You can get quotes from processors that can integrate with Chargify right here through CardFellow, using our free quote request form. (It's completely free, private, and there's no obligation, so give it a try for instant quotes.)
Chargify Clients
Chargify boasts some big-name clients, including Rackspace, Citrix (owners of the GoToMeeting suite of webinar and online meeting hosting products), NCR, Vend, Newsweek, and more.

Chargify is a white label solution. You can customize Chargify with your logo and color scheme to match your branding and provide a seamless, cohesive look and feel for your customers.
Chargify Security and Compliance
Chargify features high levels of security and strong encryption. The company is rated as a Level 1 PCI service provider and follows all security best practices laid out by the PCI standards. Chargify regularly scans and patches internal and external networks, infrastructure, and codebases, and enforces SSL encryption for any communications with the Chargify service.
Additionally, Chargify conducts "penetration testing" from ethical hackers to ensure safe systems, and runs across three Amazon datacenters, ensuring that it's fully resilient.
However, any business that takes credit cards must be aware of and comply with PCI and other security regulations. Contact your processor if you have questions.
Related Article: Who's Responsible for PCI Compliance?
---
Chargify Reviews
Now that we've gone over the features, what do other businesses think? We've hunted out some reviews of Chargify from across the web to give you an idea of the company's reputation. Overall, many clients are happy with the services provided, but there is a common thread among complaints. Most notably, clients aren't thrilled with the "basic" reporting offered, and many express the desire for more detailed reports. A few also mention that while most of the API documentation is helpful and clear, some parts aren't as easily understandable or seem to be missing completely. However, many of the reviews praise Chargify customer support, so if you have questions, it should be possible to get assistance quickly.
G2 Crowd — 17 ratings, average of 4.4 out of 5 stars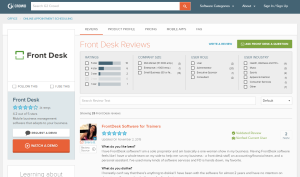 Reviewers like that Chargify handles the finicky parts of business, like coupons, trials, and recurring billing. Some praise customer support and consider Chargify integral to their business. The few complaints reference some missing documentation for the API and lack of detailed reports for some lower tier accounts.
GetApp – 4 ratings, 4.5 out of 5 stars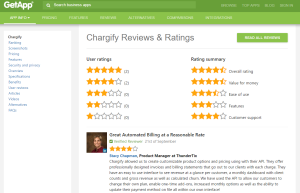 GetApp reviews also praise Chargify's recurring billing options and some clients reference good APIs. However, the complaint about limited or basic reporting mentioned at G2 is echoed here. Businesses that are looking for robust reporting may want to consider an add-on reporting system or look at other options with more in-depth analysis tools.
Trustradius — 5 ratings, 8.2 out of 10
Trustradius reviews also find plenty of positive comments about Chargify, including helpful documentation and great support. Like the other sites, though, a few negatives and "wish list" items come up. Reviewers again mention the relative lack of reporting options, and several mention that Chargify doesn't make it easy to process one-time payments. One customer expresses the need for a multiple-delete option for both subscriptions and customers.
We hope this has given you a comprehensive overview of what Chargify offers. It's a feature-rich app, and although it does have some minor issues with reporting and one-off payments, most customers seem happy with the service. If you're still not sure, Chargify provides a free "sandbox" where you can sign up and play around with subscriptions, products, plans, billing, and more.
Remember, if you already have a payment processor, you can check with them first to see what options (if any) they offer for recurring and subscription billing.
If you've used Chargify yourself, let us know in the comments below!