"CPS Restaurant" is the beginning part of several fee categories that relate to what restaurants will pay to accept Visa consumer credit, debit, and prepaid cards.
There are technically 4 categories: CPS Restaurant, CPS Restaurant Debit, CPS Restaurant Debit Regulated, and CPS Restaurant Prepaid. However, those aren't the only categories that might apply to a restaurant. Let's take a look at when the different categories apply, the costs, and other categories you might see as a restaurant owner.
---
CPS Restaurant Rates
If you're just looking for the CPS Restaurant interchange fees, here's a quick table. However, qualifying for these rates requirements meeting specific criteria. If you don't meet the criteria, you'll pay different rates, possibly including downgrades.
| | | |
| --- | --- | --- |
| | Volume Rate | Per-Transaction Fee |
| CPS Restaurant | 1.54% | $0.10 |
| CPS Restaurant Debit | 1.19% | $0.10 |
| CPS Restaurant Debit Regulated | 0.05% | $0.22 |
| CPS Restaurant Prepaid | 1.15% | $0.10 |
These rates come directly from Visa's website. We update this information as we learn of fee changes, but rates are subject to change at any time.
CPS Restaurant Criteria
There are five primary requirements for CPS restaurant categories.
Eligible Business
First and foremost, your business must be a restaurant to qualify for CPS Restaurant rates. (Makes sense, right?) For the purposes of interchange, "restaurant" includes various sit-down, quick serve, and fast food businesses. Your business must have a merchant category code (MCC) for a restaurant or QSR.
Eligible MCCs include:
Businesses that don't have an eligible MCC will not receive CPS Restaurant interchange, even if they consider themselves a food service business. If your MCC code is incorrect, you'll need to work with your processor.
Eligible Card
For CPS Restaurant, the card must be a consumer credit card that doesn't earn rewards. Any rewards credit cards will either receive CPS Rewards 2, EIRF, or Signature Preferred interchange rates.
For both of the CPS Restaurant Debit categories, it must be a debit card. CPS Restaurant prepaid must be a prepaid card.
Card Present
The transaction must be "card-present." Swiping a magnetic stripe, "dipping" a chip card, or "tapping" a contactless payment device (such as a smartphone with Apple Pay enabled) are all valid "card-present" methods. A customer handing you a card and you keying in the card information is not considered card present. Such a transaction will not be eligible.
Electronic Authorization
CPS Restaurant requires you to obtain and pass one valid electronic authorization. That means you'll need to receive an "approved" authorization response when the transaction is processed through the machine and include that authorization response with the settled transaction.
Settlement Timeframe
You'll also need to settle the authorized transaction within 1 day. This is where batching transactions correctly comes into play. When you accept credit cards, you'll typically "hold" a group of transactions to send to a processor at one time rather than individually. That group of transactions is a batch, and "batching" (or "batch processing," "batching out," etc.) refers to sending the batch to be settled.
Many POS systems and credit card machines are set to automatically batch transactions and send them to the processor at the end of the day for settlement. However, some businesses prefer to manually batch. If that's how you do it, be sure that you're batching in the correct timeframes so that your transactions don't downgrade to more expensive interchange categories.
CPS Restaurant Debit
The two "restaurant debit" categories refer to debit cards authorized with a signature. Some people refer to signature debit transaction as running the debit card "as credit." In reality, a debit card is always a debit card, even when "run as credit." However, when the customer signs for the debit purchase (instead of entering their PIN) the transaction will take place on the credit network, not the debit network.
The fees noted earlier in this article are the interchange fees for unregulated signature ("run as credit") debit transactions. PIN debit transactions incur PIN debit network fees, not these interchange fees. Regulated debit cards also incur different fees.
Regulated Debit
In 2010, the Durbin Amendment to the Wall Street Reform Act imposed a cap on certain debit rates. Regulated debit cards are subject to the cap. The Amendment defines "regulated debit cards" as cards issued by a bank with $10 billion or more in assets. (For example, Bank of America, Wells Fargo, SunTrust, etc.)
Rates for a regulated debit card, no matter PIN or signature, are capped at 0.05% + 22 cents per transaction. That is the most that can be charged at the interchange level or PIN debit network level. However, that cap does not apply to processors' markups. That means that while the bank or PIN network only gets 0.05% + 22 cents, your processor can charge more than that.
Other Interchange Fees for Restaurants
Keep in mind that just because there is a specific "restaurant" interchange category doesn't mean that your restaurant will only be charged those rates. As noted earlier, only non-rewards consumer credit cards are eligible for CPS Restaurant. Rewards cards will incur additional fees. Furthermore, if you don't meet criteria noted above, even non-rewards cards can "downgrade" to more expensive categories.
This screenshot comes from Visa's published interchange table. We've greyed out the interchange categories and rates that we're not focusing on in this article, just leaving the CPS Restaurant name and rates.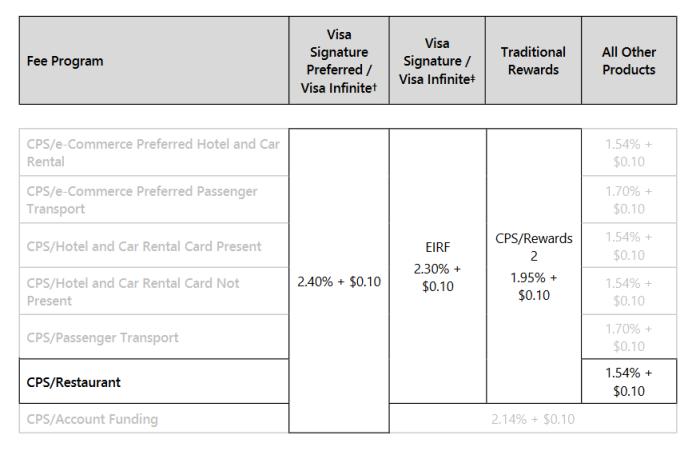 The columns start with the most expensive consumer rewards credit cards (leftmost column) to basic consumer credit cards (rightmost column.)
As you can see from the table, basic consumer credit cards receive a rate of 1.54% + 10 cents per transaction. However, the middle two columns of rewards cards don't have separate rates for CPS Restaurant. Rather, they'll incur the rates associated with two other categories: CPS Rewards 2 and EIRF. The left-hand column, the most expensive rewards cards, will receive the 2.40% + $0.10 Signature Preferred rates.
CPS Restaurant on Statements
On your statements, you'll only see CPS Restaurant for consumer non-rewards cards and only if the transaction meets the criteria noted above. You'll see CPS Restaurant Debit (or Debit Regulated) if you meet the criteria but it's a debit card instead of a consumer credit card. You'll see CPS Prepaid if the transaction meets the criteria but it's a prepaid card.
However, if you meet the criteria but accept a rewards card, you'll see categories such as CPS Rewards 2 or EIRF.