Bars and restaurants are enjoying a renaissance in the U.S. and around the world — craft beer, delicious wine, and exciting cocktails are once again enticing people out of their homes. If you're a brewer, bar manager, brewpub owner, or restaurateur, it's important to create, brew, and sell the styles of drinks your customers really want. Additionally, you'll need to be able to track your sales and manage inventory. That's where bar management software comes in.
Read on to find out all about Digital Pour, what it can do for you, and discover if it's the right solution for your business.
Digital Pour Overview
Digital Pour is software that directly integrates with your point of sale system to make the tracking, management, and promotion of the drinks you've got on tap very easy.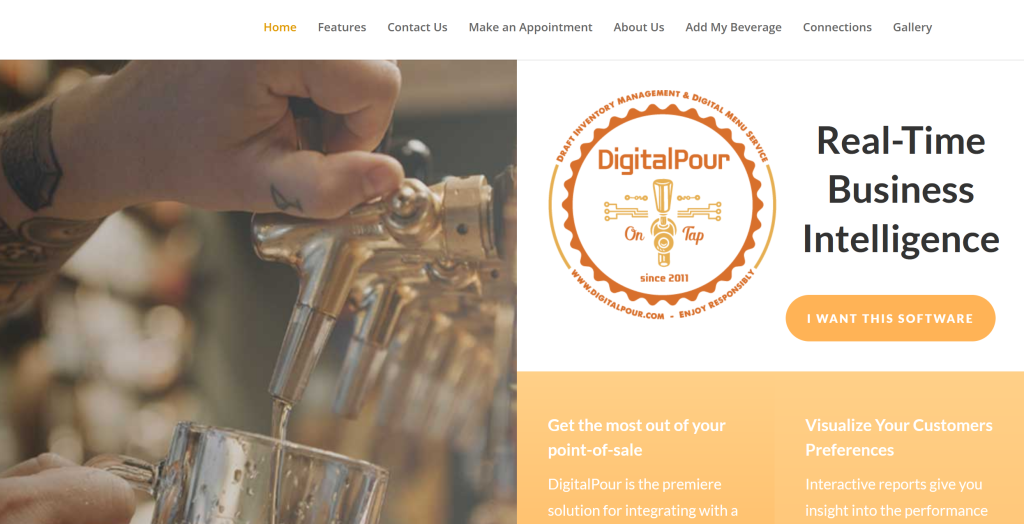 Although it's mainly used for craft beers and drafts, it can also be used with wine and other drinks. One of the main benefits of Digital Pour is its digital menu system, which allows you to easily show customers all the beers you have on tap including styles, prices, breweries, and more.
Digital Pour helps you promote your beer outside the brewery with strong social media integration including automatic posts to Twitter and Facebook. A mobile app lets users install Digital Pour on their smartphones and tablets so they can find out exactly what's being served at Digital Pour-enabled breweries like yours.
Perhaps one of the most useful functions is the detailed analytics and sales reports. You can see at a glance which drinks are most popular and generating a good profit, so you can ask your suppliers and brewers to make beer that pleases your customers and drives up your sales.
Digital Pour Features and Benefits
As a bar management system, Digital Pour offers features that you'll love at your brewpub or bar, like the interactive menu, social media integration, and detailed reporting capabilities. Let's take a closer look at these and more features.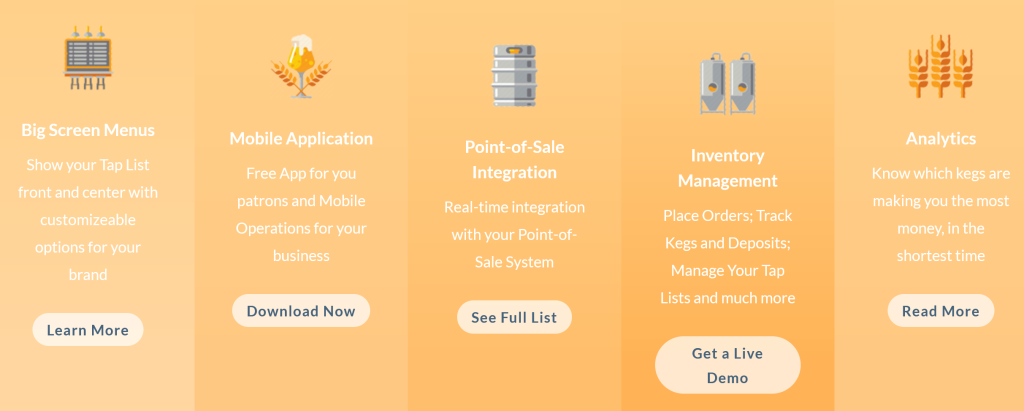 Digital Pour Menu
The most visible feature of Digital Pour is its menu system. It allows you to display all sorts of interactive information about the drinks you've got on tap. Simply install a TV, display, or monitor in your bar and Digital Pour will automatically show all the information your customers need.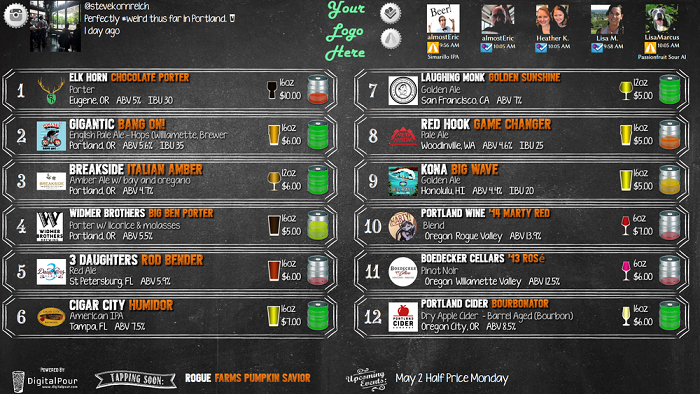 The digital menu system can display the beverage name, price, style, where it's brewed, alcohol by volume (ABV) and International Bitterness Units (IBU). It will also show how the beverage is served together with as real-time display of how much beer is left in the keg. You can show the color of the beverage and indicate if it has just been tapped and will therefore be deliciously fresh. You can add the logo of the brewery for quick identification of favorite brewers.
Another part of the menu can display beers you're going to be tapping soon along with advertising and images to promote upcoming events or special offers. Users who have checked into the brewery on social media can also be displayed here.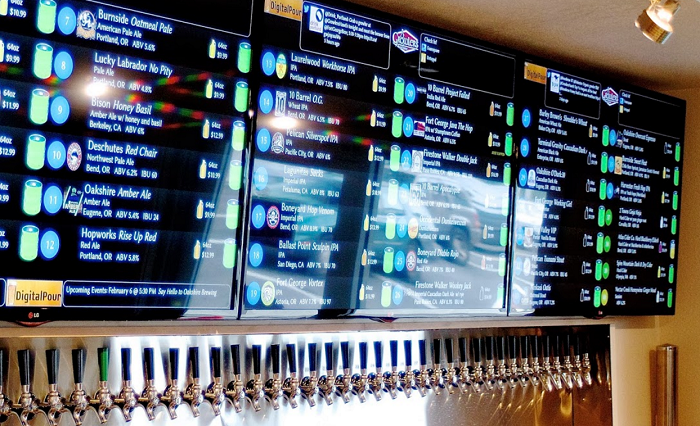 Digital Pour Social Media Integration
Digital Pour integrates with popular social media networks including Facebook, Twitter, Untappd, and Instagram. It will automatically update your beverage lists in real-time onto your Facebook page. When you tap a new keg, Digital Pour can tweet to your followers about the new offering. Check-ins to social media can be shown on your digital menu, creating a sense of community. Tweets that Digital Pour sends out can be tagged with the brewery's Twitter handle or and other Twitter handles to make retweeting and cross-promotion more likely.
Digital Pour Integration with Point of Sale
Digital Pour integrates with most point of sale (POS) solutions for restaurant and bar services. It works with Micros, Aloha, Clover, Future POS, Talech, Lavu, and more.
Digital Pour features full two-way integration with POS applications. As kegs are tapped on Digital Pour, they are automatically added to your POS. As drinks are sold, sales details, inventory remaining, and more are updated back into Digital Pour.
See also: POS System Directory.
---
Digital Pour Sales and Customer Preferences Reports
One especially powerful feature is Digital Pour's reporting capabilities. You can view interactive reports segmented by beverage types, income, how long a drink has been on tap, profits over time, and other information.
You can group the information by beer styles, brewers, and more. It allows you to work closely with your brewers and suppliers to brew and sell drinks that are tailored to your customer's tastes, increasing your profits and giving your customers exactly what they want. Now you'll know if your session IPA is better in the summer months and whether you want to expand your range of stouts and porters as the seasons turn.
Digital Pour Wireless Integration
Digital Pour works over the cloud, so all you need to do is plug an HDMI dongle into your TV or monitor. Your POS application works with the Digital Pour online app so you can easily setup and track everything you need to from one central location.
Digital Pour Mobile Apps for Customers
Digital Pour also provides mobile applications for smartphone and tablet owners. Once they've installed the app they can see any local bars and restaurants that have Digital Pour installed, see what's on tap, how much you have left, and prices.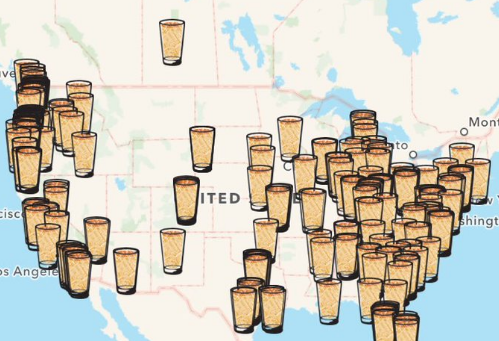 They can also keep track of their favorite beers and see who is currently pouring them, potentially bringing you a new customer that sees you have something they like.
How Digital Pour Works
Here's how the Digital Pour system works.
You order drinks from your supplier or ask your brewer to create the perfect draft.
Once the drink is ready and onsite you add it to the Digital Pour system as "inventory."
When a drink is tapped, staff can easily mark it as "tapped" in the Digital Pour system.
Digital Pour updates the menu board and POS software.
Digital Pour then updates your Facebook page, tweets about the drink being on tap and mentions relevant Twitter accounts, like the brewery that made the beer.
As beer is sold through the POS, Digital Pour is automatically updated.
Digital Pour Pricing
Digital Pour doesn't list pricing on its website, but we contacted them for further details. They tell us that their pricing works out to "less than a keg of beer a month!" Depending on the type of POS you use, most installations of Digital Pour cost around $99 a month.
The cost for the Digital Pour software is in addition to any costs you pay for your POS system, which are not set by Digital pour.
Testimonials
While Digital Pour doesn't have many reviews online, the company does provide a testimonials section on its website. Reviewers praise the system for helping them keep track of keg levels, assisting with social media, and integrating well with POS systems. Some reviewers also liked that the system updates pricing and makes it easy on the staff, while others add that customer service is helpful and the user interface for the software is beautiful.
Conclusion
If you're in the growing world of craft brewing, opening up an artisan restaurant, or just want to give your customers more information, Digital Pour could be a great solution for you. Its combination of interactive, constantly updating menus, social media promotion, and POS integration makes managing and promoting your business just that little bit easier.
Have you used Digital Pour at your bar or restaurant? Let us know what you think in the comments!