The Clover station, a sleek point of sale system available on the Fiserv (formerly First Data) platform, is an increasingly popular choice for businesses that need the functions and features of a full POS system.
The original Clover cash register is brushed aluminum with white accents, and a matching tablet display and receipt printer complete the basic POS hardware package.
Many processors offer the Clover POS for $1,000 or less. While not cheap, the attractive design and convenient features have some businesses deciding that it's worth the expense, while other businesses prefer the lower cost and smaller Clover Mini.
However, the Clover comes with a big "but" and here it is: It looks nice and works well, but if you purchase a Clover POS through your processor, you can only use it with that processor. Since the average business switches processors every couple years (or less) this fact cannot be stressed enough.
It's also important to note that there are two models of the full POS system – Clover Station and Clover Station 2018. In winter of 2018, Clover announced that the original station is now considered "end of life." Software upgrades and support were available on the original Station through December 2022. If you're thinking of buying a Clover, go with the 2018. You may continue to see older Clover Stations sold used, but they won't be eligible for support or maintenance if you have any issues.
---
Wait, so the Clover station can't be reprogrammed?
Correct.
Processors cannot reprogram Clovers like they can with other machines. While the Clover POS can work with many different credit card processing companies, you can only accept payments through Clover with the company from whom you purchase it.
So if you buy a Clover station from Processor A, and then want to switch to Processor B, you can't use the payment functions of the Clover you bought from Processor A once you switch. Annoying right? You'd need to purchase a new Clover Station (or other equipment) from Processor B.
What do I do if I bought a Clover POS but want to change processors?
Owning a Clover Station doesn't prevent you from switching processors, it just prevents you from continuing to use your existing Clover POS with a different processor. Unfortunately, you'll need to decide if changing processors is worth purchasing another point of sale system. In many cases, if your processor is gouging you on fees, the answer is a resounding yes.
The amount you could save on processing by switching to a competitive solution such as those available through the CardFellow marketplace could quickly exceed the initial expense of purchasing a new POS system. Alternately, you can continue to use your existing processor until you decide it's time to purchase a new POS anyway and then switch, or you could decide if you'd be able to use a less expensive countertop terminal or smaller tablet-based system instead of purchasing another full-fledged POS.
Your other option is to consider non-integrated processing, available from some processors.
Non-Integrated Processing
Some credit card processors (like Heartland) can offer "non-integrated" processing with the Clover. Instead of accepting payments through the Clover POS, you'll take cards using a connect countertop terminal. (With Heartland, an Ingenico iCT220.) Essentially, you'll use the Clover station for your point of sale functions such as order entry and reporting, and use the countertop terminal to actually accept payments.
Some businesses may find non-integrated processing a little clunky, but it can be a great option for businesses that can't or don't want to switch POS systems while still taking advantage of lower processing rates.
Why isn't it reprogrammable?
Your guess is as good as ours.
We reached out to First Data for an explanation, but that attempt proved futile through both First Data's customer service live chat and the Clover support phone number. In the case of the live chat, the representative confirmed that the Clover cannot be reprogrammed, but couldn't offer an explanation as to why and referred me to Clover phone support.
When contacting phone support, the rep made vague references to "security reasons" and wouldn't go into further detail. First Data's press department did not reply to my email asking for clarification. If we receive a definitive answer from First Data, we'll update this article to include its response.
While reprogramming equipment does require a little work on your processor's side, the fact that it's a common practice for other equipment suggests that First Data didn't want the systems to be reprogrammed or doesn't permit it rather than it can't be done. Whether this is for vague undisclosed "security reasons" or it's simply a money grab is up to you to decide.
About the Clover POS System
The Clover POS system, also known as the Clover station or Clover cash register, is a full-featured system. Retailers, restaurants, and other businesses that need something more than a countertop credit card terminal can benefit from Clover. The cloud-based Clover provides POS functions such as credit card processing, voids and refunds, adding tips, and reporting.
Additionally, Clover stations can be "personalized" by adding apps from the Clover app market.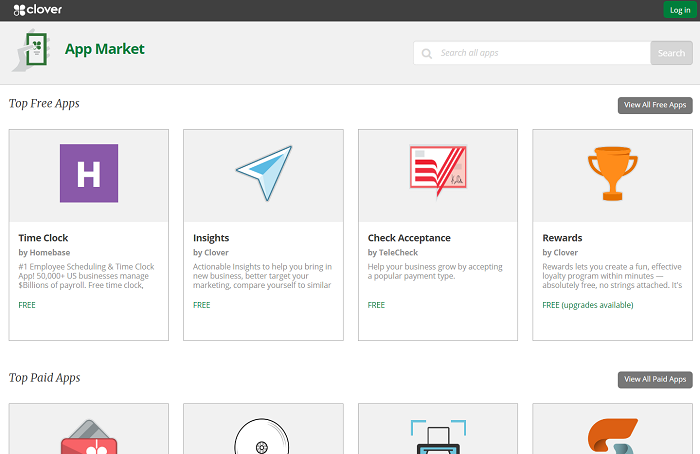 Apps provide the ability to add more functions. You can add "buy one get one" promos, invoicing options, HR resources, delivery management, and trivia night hosting options. The apps allow you to choose modules you need without adding unnecessary clutter from services you don't use.
Clover Equipment
The Clover Station is one choice in the larger family of Clover processing equipment options. There are actually two different Clover Stations, the original Clover POS and the Clover Station 2018. Both stations offer enhanced point of sale functionality, such as inventory management, payment acceptance, employee tracking, and more.
Other equipment choices include:
Clover Mini
The Clover Mini, as its name implies, is smaller than the full Clover Station, but is still designed for use in a fixed location. (Looking for portability in-store or at a restaurant? Go with Flex.) It includes many of the same functions as the full POS, and can scan barcodes and QR codes. It also has a built-in printer can be tethered to the Clover Station for use as a customer-facing display and card swiper.
Clover Mobile ***discontinued***
The Clover Mobile machine has been discontinued. 
The Clover Mobile combined POS features with portability. Situations where you may want a Clover Mobile include tableside payments at a restaurant, line busting in a retail store, or selling products at a tradeshow. If you do want to keep it in a fixed location, an optional dock is available. With the Mobile being discontinued, the Flex is your best option for portability and POS features.
Clover Flex 
Closer in size and functions to a traditional countertop credit card machine, the Clover Flex offers card acceptance and a built-in printer. However, the Flex supports fewer apps, so if you need specific functions, be sure to check for app compatibility first. Weighing just 1 pound and featuring a 5″ screen, the Clover Flex is the smallest of the screen-based options.
Clover Go
The Clover Go is a smartphone/tablet card reader for on-the-go credit card processing. It's similar to options from competitors Square and PayPal Here, and doesn't have a screen of its own. Rather, the reader connects to a compatible smartphone or tablet, which functions as the screen.
The Clover POS supports optional accessories to customize your hardware solution. Available accessories include produce/weight scales, barcode scanners, PIN pads, additional receipt printers, and more. As with apps, you can pick and choose which accessories you want to create your perfect system.
Clover Features
We cover the features of the various systems in a comprehensive set of reviews for each product in the Clover family. No matter which Clover equipment you choose, you'll need to sign up for a monthly software plan, which is one factor that will dictate which features you'll be able to use. For example, advanced inventory functionality or restaurant modifier capabilities are only available with certain restaurant plans.
In addition to the software plan, the system itself will affect features somewhat. While all of the Clover devices let you accept credit and debit cards, other features will vary. For example, the Clover Go doesn't offer inventory management capabilities. On the flip side, it's the device that supports multi-MID capabilities so that multiple 'businesses' can use the same machine. This is common for situations like salons where stylists rent a chair and aren't employed directly by the main salon, thus having their own merchant account.
Read all about the features of the different Clover equipment, as well as the available Clover software plans.
Researching and Choosing POS Systems
When deciding on a POS system, there are two ways to go about it.
1) You can decide on a system and then choose a processor who can support it, or…
2) You can find your processor first and then pick from the POS systems that processor can work with.
If you require specialty features or have a particular function in mind only available with certain systems, you should choose your POS system first. However, if you don't need special features and want to ensure the lowest cost for processing, you should choose your processor first. Many processors support a range of different systems, so you'll still have multiple POS systems to choose from.
If you're not sure you want to be locked into a processor by purchasing a Clover station that can't be reprogrammed, check out our extensive product directory to get factual information on other models and see POS system reviews.
If you're ready to see competitive pricing from multiple processors and then choose a POS system from supported options, try our credit card processor comparison tool.
Have questions about POS systems? Ask us in the comments!