HealthFusion is a company that offers MediTouch electronic health records and practice management software for doctors' offices and other medical practices. Founded by physicians, the company's website boasts more than 33,000 satisfied users in the fields of podiatry, pediatrics, cardiology, family medicine, neurology, obstetrics, orthopedics, sports medicine, surgical centers, urgent care, and more.
MediTouch has partnerships with major organizations in the medical field, including the American Academy of Family Physicians and the American Osteopathic Association, and boasts awards like the Surescripts White Coat of Quality.
Let's take a look at what Healt Fusion's MediTouch software can offer your practice and what others have to say about the system.
---
Medical Features
HealthFusion touts its all-in-one MediTouch program as the solution for almost any medical practice. The software handles everything from front office schedules to sending claims. The company offers this introduction video about its system:
The system is cloud-based and secure, meaning you can access it anywhere you have an internet connection, and helps you save time by not having to fax or print medical data. Below are some of the features of the MediTouch system. It works with Apple iPads. HealthFusion is an Apple partner, and conducts demonstrations of its software in Apple Stores around the United States.
History of Present Illness
MediTouch lists its History of Present Illness (HPI) system as a main benefit. The system includes Q&A forms that help a specialist put together information related to a specialty that allows assistances to ask questions and get the answers needed. You can even include the forms in a patient portal so your patients can fill them out prior to a scheduled appointment. You can also build custom forms if the one you need isn't in the MediTouch library.
Integrated Patient Portal
You can give patients access to their medical records via a private, secure portal, allowing them to keep track of their health history, request medication refills, ask questions, and more. HealthFusion claims that EHR systems increase engagement when a patient portal is used, helping ensure patient satisfaction with their care plan and establishing rapport.
Medical Charting
The cloud-based MediTouch system helps you save time by giving you the ability to chart from anywhere. In addition to preloaded templates specific to a variety of medical specialties, the interface is designed for user friendliness.
Surgery Plans
For surgery, MediTouch offers pre and post-procedure care plans with quick access to patient information and pre-loaded templates specific to your specialty and needs. The interface is completely customizable, allowing you to document specific objectives or goals for diagnosis and treatment.
Meaningful Use Certified
MediTouch is Meaninful Use certified, as is the patient portal it includes. The program utilizes a Meaningful Use Report Card built-in, which can help you demonstrate meaningful use of an EHR system and in turn may help you avoid penalties from the government. The company claims there is almost no extra work required to meet Meaningful Use standards. You'll simply need to register for the Meaningful Use program and follow the steps to enter your report card results into the website.
Related Article: Taking Credit Cards at a Medical Practice.
---
MediTouch Cost
MediTouch doesn't publish costs, and a request for more information has so far gone unanswered. What the company does say is that there are no startup fees, no training fees, and no cost for system updates. We'll continue to update this profile with fee information as we get more details from HealthFusion.
Payment Processing with HealthFusion
HealthFusion is contracted with TransFirst for payment processing. Users of the HealthFusion software have to obtain a merchant account through HealthFusion's relationship with TransFirst if you want to use the integrated payment processing option.
Integrated payment processing can streamline your billing system, but may also come at a higher cost since you have a limited choice of processors. If costs are important to you, be sure to compare pricing with other processing companies before making a decision.
Costs for Processing
Since TransFirst is HealthFusion's integrated payment processor, TransFirst sets the pricing for credit card processing. You'll need to request a quote from TransFirst in order to get pricing for accepting credit cards with the integrated payment processing option.
Alternately, you can secure processing from another company, but you will not be able to integrate it directly with MediTouch, and will need a separate credit card reader or machine. If you'd like to see costs for processing, use this free quote comparison tool.
Keep in mind that HIPAA regulations apply differently depending on the services offered by the credit card processor you work with. Check out HIPAA-Compliant Credit Card Processing for more info.
HealthFusion Reviews
HealthFusion is not currently accredited with the Better Business Bureau, but does have a profile boasting an A+ rating. There are also 2 negative reviews for the company, claiming that the implementation team's assistance was lacking, and that customer service seems to have gone downhill. However, positive reviews on Capterra indicate a general satisfaction with the product.
On the HealthFusion Website
HealthFusion includes a section for MediTouch reviews on its website. All testimonials include the reviewer's name, medical qualification, and location. Some additionally include the reviewer's practice name or employer.
Reviews praise the system for being less expensive than competitors while offering a helpful customizable system. Some reviewers praised the remote access capabilities, while others like the ease of use and helpful staff.
At Capterra
455 reviews are available on Capterra, giving the company an ultimate 4-star rating out of 5.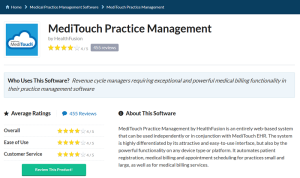 Reviewers praise the customization options, ease of use, low cost, quick setup, and free updated. Overall, most users find the software to be very user-friendly and able to be tailored to their specific practice and needs. Additionally, reviewers liked that the software is improved upon regularly.
Some users did mention minor drawbacks like an inability to handle hospital billing and not enough reporting capabilities.
Have you used HealthFusion's MediTouch EHR system at your practice? Let us know what you think in the comments section, below!