Kareo provides dedicated practice management software, designed to make running your practice simple, easy, and efficient.
If you're running a medical practice or other healthcare clinic, there's a lot to keep track of. It's vital to stay on top of medical records, appointments, billing, consultations, and all the other administrative tasks needed to provide first-class medical service.
In this review, we'll explore Kareo's various features, look into how it can help you, delve into their pricing, and let you know what other users are saying. You'll get a complete view of whether Kareo's practice management software is the right solution for your needs.
Kareo in Its Own Words
"The only complete technology platform for your independent practice. Kareo helps you deliver outstanding patient care while building a healthy practice."
Kareo states that it provides three main benefits to users — It's built for your independent practice, not a hospital, it's designed to be friendly and flexible, and the company is committed to your success. Kareo currently works with over 35,000 providers and has over 500 employees.
Kareo also offers an introduction video, providing an overview of services:
Kareo Features
The Kareo platform is designed around several key areas, called modules.
Clinical services for every aspect of seeing, treating, and managing patients, including practice management.
Billing services for managing patient bills, billing insurance companies, tracking finances, capturing charges, and analyzing billing trends.
Marketing to help enhance online reputations, get found in local search, and enhance the customer experience.
The modules can be purchased individually so you can mix and match to design the right system for your needs.
Kareo also provides mobile apps for the Apple platform, and integrates with other software to transfer information and make practice management easier.
Related Article: Taking Credit Cards at a Doctor's Office.
---
Kareo Clinical Services
The Kareo clinical services software is designed by doctors to provide an easy, powerful, and understandable way to manage patients and practices. The software itself (like all of Kareo's services) is cloud-based, so it doesn't need to be downloaded and is available through a web browser. In particular, Kareo has created the software to be easily customizable and configurable to the way your practice works. It also connects with the other Kareo modules — billing and marketing. Finally, it's easy-to-use, with a flexible interface and intuitive functions.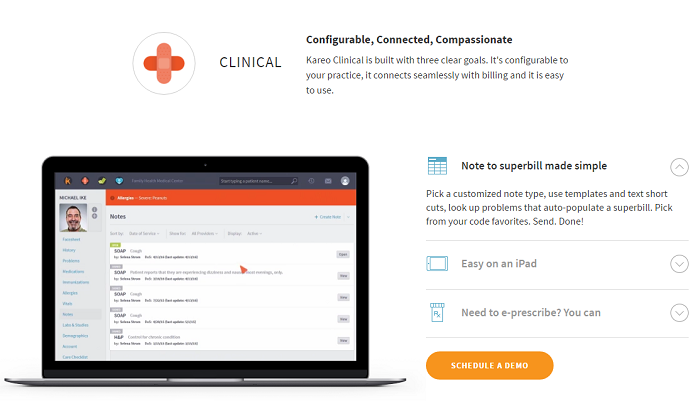 The aim of Kareo clinical services is to allow doctors and other medical professionals to focus on providing care, rather than administration.
Features of Kareo Clinical Services Software
The clinical services software comes with multiple helpful features. It includes a dashboard so you can see exactly what's happening in your practice that day, as well as a task list, calendar, and key notifications. Charting to make it easier to capture customer encounters and medical notes while e-prescribing makes for easy, time-saving prescription of medications.
It also includes eLabs for incorporating lab results and diagnostics and an integrated patient portal so patients can securely login, get their information, request appointments, and communicate with doctors and medical professionals.
Additionally, it includes secure messaging to colleagues, providers, and patients, documentation tools for all the common documents your practice creates as well as scheduling, appointment, and reminder options. Clinical services software also integrates with Kareo billing and marketing modules.
Pricing
The pricing varies slightly, depending on if you are a physician or non-physician provider. Pricing for 2017 is as follows:
Physician providers (MD, DO, DDS, DC, DMD, DPM, ND, NMD, or OD): $300 per month, per provider.
Non-physician providers (PA, NP, PT, OT, SLP, or RN): $150 per month, per provider.
Additionally, you can receive 50% off billing and marketing modules if you purchase this module and a 10% discount when you pay quarterly in advance.
Kareo Billing Services
The Kareo billing services software is designed to make billing patients and insurance providers quick and easy. It helps you send bills, match claims, reconcile payments, and chase money owed. The software is intended to help you go paperless by using electronic charting, diagnostics, billing, and invoicing.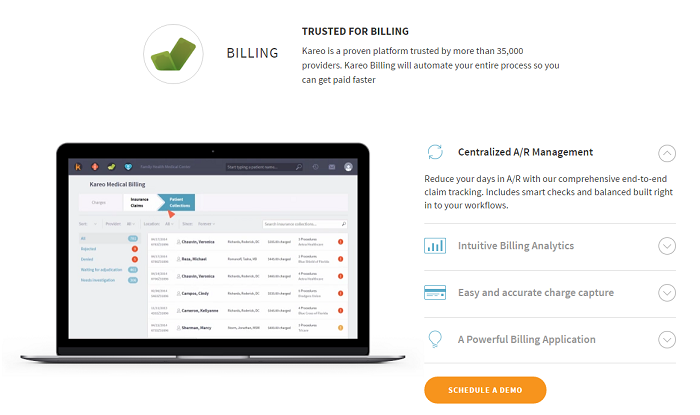 It helps you get paid faster by automating billing and reducing time and effort spent chasing payments. You can accurately capture all charges to reduce cost leakage. Additionally, you can get reports on all aspects of your charging to simplify financial management of your practice.
Kareo aims to significantly cut the costs of billing and reduce the amount of time it takes you to get paid. Kareo manages over $15 billion in claims every year.
Features of Kareo Billing Services
With Kareo billing, you can accurately capture charges and fees and assign them to specific patients, insurers, and treatment plans. It helps simplify patient collections with up-front charging, automatic payment reminders, and reconciliation to reduce time you spend chasing payments.
It also includes reporting and analytics so you can identify key trends, cost centers, profitable areas, and other insights to make financial management easier.
Pricing for Kareo Billing
As with other Kareo services, the pricing varies for physician and non-physician providers as well as the number of claims per month:
Physician providers (MD, DO, DDS, DC, DMD, DPM, ND, NMD, or OD) – unlimited claims: $300 per month, per provider for unlimited claims.
Physician providers – up to 50 monthly claims: $150 per month, per provider.
Non-physician providers (PA, NP, PT, OT, SLP, or RN) – unlimited claims: $150 per month, per provider.
Non-physician providers – up to 50 monthly claims: $75 per month, per provider
You'll receive 50% off clinical and marketing modules if you purchase this module, and a 10% discount when you pay quarterly in advance.
Other Kareo Billing Options
Kareo provides a complete managed billing service, where you can outsource your entire billing operation. They also offer specialized billing services for medical payment processors and platforms, known as Billco.
Kareo Marketing Services
The Kareo marketing services software is designed to help promote and grow your practice, connect with patients, improve your reputation, and enhance your brand and local presence. It helps you improve your local visibility through search engine optimization and using third-party review sites like Yelp.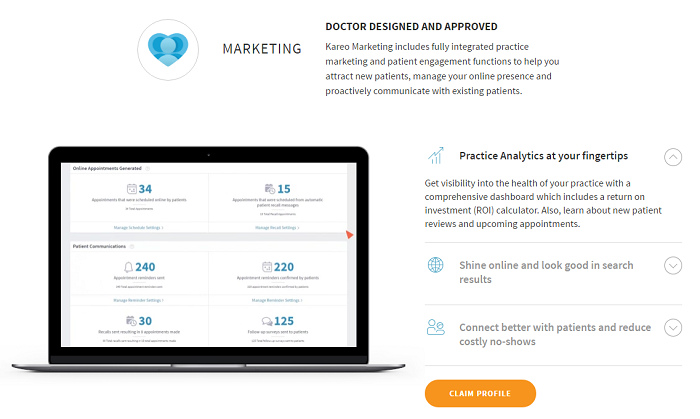 You can easily connect with patients through surveys, newsletters, and scheduling. Learn about your marketing analytics so you know where your marketing dollars are being spent and track return on investment. Reduce expensive "no shows" from patients through flexible scheduling and reminders. It also lets you provide accurate data to search engines to enhance placement in local search results.
Features of Kareo Marketing Services
The Kareo marketing services are designed to help enhance your online presence through better placement in local, organic search results, through search engine optimization. You'll also be able to build your reputation through managing reviews and encouraging patients to review your practice online. You'll also have access to helpful practice analytics so you can see how marketing is performing and the impact on patient numbers.
Pricing for Kareo Marketing Services
Pricing varies depending on the type of provider:
Physician providers (MD, DO, DDS, DC, DMD, DPM, ND, NMD, or OD): $300 per month, per provider.
Non-physician providers (PA, NP, PT, OT, SLP, or RN): $150 per month, per provider.
As with the other services, you'll 50% off billing and clinical modules if you purchase this module, and a 10% discount when you pay quarterly in advance.
Optional Pricing Add-ons
Kareo provides several add-ons for additional fees.
Patient payment feature: Take credit and debit card payments from customers at a fee of between 2.3% and 3.9% of the transaction amount, plus 30 cents per transaction.
Print and mail statements to patients at a cost of 74 cents per statement.
Import patient demographic data for a one-time fee between $299 and $1,500.
Credit Card Processing with Kareo
Kareo offers seamless integration with InstaMed payment processing, a company that focuses solely on medical payments. However, it's not required that you use InstaMed if you want to take credit cards. Other credit card processors may be able to support the Kareo practice management software, or you can take payments separately from the software.
You can get quotes for credit card processing at your practice quickly and easily with our free quote comparison tool.
Note that the costs for credit card processing will be set by the processing company and are in addition to the pricing for the Kareo billing, clinical services, or marketing modules.
Related Article: Credit Cards on File for Healthcare Professionals.
---
Example of Total Cost of Kareo Modules
Here are some examples of how much it would cost to use Kareo's suite of services.
Example 1 — A solo practice
One physician, one nurse.
Using the Kareo clinical module only.
Paying month to month.
Total cost: $450/month.
Example 2 — A small practice
Three physicians, one physician's assistant, two nurses.
Using the Kareo clinical and billing modules.
Not using the Kareo marketing module.
Paying month to month.
Total cost: $2,025/month.
Example 3 – A medium-sized practice
Six physicians, three physician's assistants, four nurses.
Using all three Kareo modules.
Paying quarterly.
Total cost: $5,130/month.
Extra Services
In addition to the services and features listed for the billing, marketing, and clinical services modules, Kareo offers professional services, some at no additional cost and others for an additional fee.
Services at No Additional Cost
Kareo provides several services for free to users of its software including a success coach who can provide training, support, guidance, advice, and information on getting the most out of the software. They can also help with migrating your files, either physical records or electronic health records, into Kareo. They also provide support through email, telephone, or live chat.
Professional Services for Additional Fees
Kareo provides several professional services for a fee.
Electronic health records templates — Kareo can customize the electronic health record templates for your patients so you can capture bespoke information.
Training — Kareo provides online and classroom-based training to ensure all your employees know how to use the software.
Implementation services — A Kareo consultant will review and audit how you're using Kareo and provide specialized recommendations on how to get more out of the platform.
Integration with Applications
Kareo has an "open API" which allows it to seamlessly integrate with many other medical and healthcare applications. Some of the integrations include clinical specialty software like Elation, Chiron Health, Integrity Digital Solutions, and Falcon, e-prescribers like Surescript, Goodrx, and DrFirst, and billing software like Zirmed, Patiently Speaking, and Change Healthcare, as well as lab providers.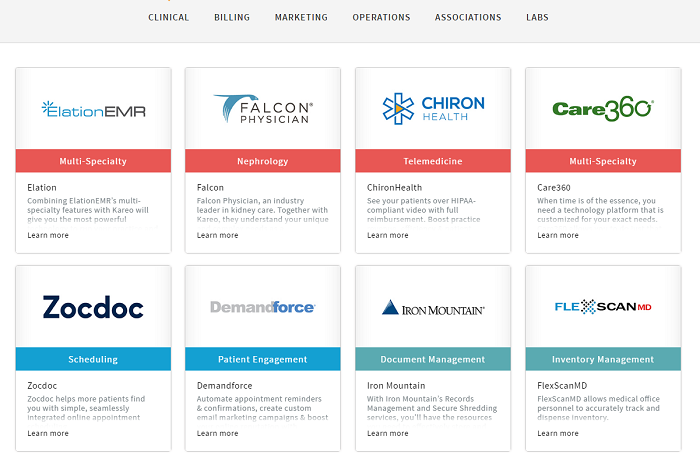 Mobile Applications for Kareo
Kareo provides applications for Apple products including iPads, iPhones, and iWatches. For example, you can carry out, track, and note medical encounters on the iPad, easily hand over information to other providers in your practice, and track everything at a glance. Features of Kareo that are easily usable through their mobile app include:
Awards for Kareo
Kareo has won a number of awards and accolades including:
Glassdoor's Top 50 best places to work in the US
America's 100 most promising companies for the second consecutive year by Forbes
One of Medical Economics top 50 EHRs
Ranked number one by Black Book for the last four years.
Kareo Reviews
As specialty software for the medical field, Kareo reviews are found readily at software sites like SoftwareAdvice.com, where it gets a 4-star rating out of 5. Capterra users also rate Kareo 4 starts out of 5 possible.
Kareo is often praised for its ease of use, with reviewers saying that the software is user-friendly and customer service is great at walking through problems if you do have one. Others praise Kareo for the affordable pricing and find it to be a good value.
However, there are some minor complaints and frustrations with reporting, which some users say is limited or requires running several reports to get a total picture of the data.
Other users complain about minor technical issues and problems like correcting billing errors. It should be noted that these types of complaint were in the minority though.
Overall, Kareo offers a customizable, modular system for managing small to medium-sized, independent practices. The combination of EHR, practice management, billing, and marketing should be more than sufficient for the needs of most practices. Their pricing seems reasonable for what you get, and although there are minor issues, most customer reviews highlight ease of use and how simple Kareo makes practice management.
Do you use Kareo for your medical practice? Let us know what you think in the comments section below!