By now, most people have heard of Apple Pay, a contactless option to pay using a credit or debit card through your iPhone or Apple Watch. But how does a business accept Apple Pay?
Since it's launch in 2014, Apple Pay has been gaining traction as a payment method for consumers. More businesses are switching to contactless terminals, meaning there will be even more locations that can accept Apple Pay in the future.
---
What is Apple Pay?
Apple Pay is a digital wallet that allows consumers to pay for purchases without using cash or a physical card. Customers add their credit or debit card to their Apple account and then pay for purchases using their Apple device. Apple Pay uses contactless payment technology to allow payments from some iPhones, iPads, and Apple Watches in store. Apple Pay is currently available on iPhone 6 and iPhone 6 Plus models. Both iPhones and Apple Watches can be used to make payments in a store, while the iPad can only be used to make purchases within an app.
Related Article: Intro to Digital Wallets. 
---
Apple Pay works with major credit cards, including Visa, Mastercard, Discover, and American Express, as well as many major debit cards. Apple boasts compatibility with banks including Chase, Citi, Bank of America, CapitalOne, Fifth Third Bank, Key Bank, SunTrust, TD Bank, Wells Fargo, and more.
Apple Card
In 2019, Apple partnered with Goldman Sachs to offer the Apple Card, a Mastercard. The card can be loaded into Apple Pay for contactless use. However, if you prefer a physical card (or shop at a location that doesn't accept Apple Pay) you can still use a physical Apple Card.
Apple Pay Online
The luxury of contactless payments has only been afforded to in-person or in-app transactions – until now. Apple has recently released a feature that allows users to use their Apple Pay accounts to pay for purchases online.
Here's how it works. The Apple Pay icon appears on the payments page. Once the customer clicks the icon to pay, they can authenticate the transaction with their Touch ID fingerprint on their iPhone, Apple Watch, or iPad.
Companies like Etsy, Lululemon, Target, Expedia, The New York Times and others have already committed to hosting this technology on their websites.
In addition to releasing this new feature, Apple has announced plans to expand Apple Pay even further for developers, allowing for the anticipated ability to make purchases through a variety of applications like iMessenger and Maps.
This new feature is a game changer not only for ease-of-use, but for security as well. With the rollout of stricter card present security measures such as EMV, thieves have migrated to online transactions as their main way to steal credit card information. The ability to use the secure Apple Pay network for online payments will bring that extra level of protection to the process that consumers crave.
With nearly 1 million new Apple Pay users every week, business owners both online and in store should take this rising trend seriously. Physical terminal companies have already been adopting the Apple Pay NFC technology, but it is now up to the ecommerce business owner to make sure their online payments page has the ability to adopt this technology to meet the needs of their customers.
How does it work?
Certain Apple devices are equipped with technology to allow contactless payments using "tap-to-pay." When a customer wants to pay using Apple Pay in your store, they simply "tap" their compatible iPhone or Apple Watch to your contactless reader and authenticate their purchase. Apple Pay handles the details of the transaction, and the payment is processed as a card-present transaction through your existing processor.
Apple Pay on Websites
Customers wishing to use Apple Pay on websites will need to use the Safari web browser on an iPhone or iPad that is equipped with Apple's TouchID fingerprint technology. Scanning your fingerprint will authorize transactions from your linked cards, eliminating the need to enter payment information into a mobile website to make a purchase. Customers can only use Apple Pay on websites that have enabled the service. Apple maintains a page on its website that includes a list of companies that allow for Apple Pay to be used on their site. A sample of that list is available below: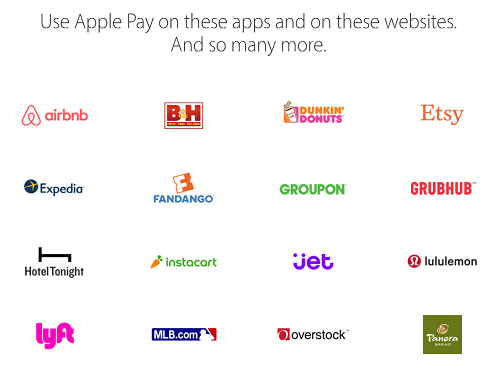 Security
Apple Pay utilizes several security features. Every transaction requires authentication from your customer by fingerprint ID or passcode. Some higher cost transactions may also require a signature. Additionally, a customer's card information is never transmitted during a transaction. Instead, Apple Pay uses a unique device account number and encrypts it for added protection. Device numbers and transaction codes are used in place of account numbers, meaning more security for you and your customers.
Note that even though security features are in place, your current fraud liability applies to Apple Pay transactions in addition to traditional card-present transactions.
How much does it cost?
As of 2023, there is no additional fee to accept Apple Pay beyond your current credit card processing rates and fees. Payments made with Apple Pay in a store setting are considered "card-present" transactions and should be charged accordingly by your processor.
How does Apple Pay make money?
Apple currently charges card issuers 15 basis points per transaction. The company does not charge businesses directly, nor does it impose fees on consumers for using Apple Pay in store or online.
Competitors and Limitations
Digital wallets have been around for several years now, so there are several major competitors. Apple Pay faces competition from PayPal, Samsung Pay, and Android Pay.
Apple Pay has a few limitations. As is common with Apple apps and products, it can only be used on Apple smartphones. If you have an Android phone, you can't use Apple Pay and would need to use an Android-compatible digital wallet instead.
Additionally, Apple Pay has struggled to be accepted at many major retailers in the beginning due to an exclusivity agreement with a different wallet. The retailer group MCX (which is made up of businesses like Walmart, Target, Dunkin' Donuts, CVS, Chili's, Banana Republic, Best Buy, and more) planned to launch its own wallet, called CurrentC. When Apple Pay started, MCX retailers were under an agreement to only accept CurrentC or the Chase Pay wallet. However, once the MCX and CurrentC exclusivity agreement expired, MCX retailers were able to begin accepting Apple Pay.
How can I accept Apple Pay in my store?
In order to accept Apple Pay for purchases at your store, you first must be able to accept contactless payments using your point-of-sale terminal. If you don't currently have contactless payment equipment, you'll need to upgrade before you can accept Apple Pay.
If you have a contactless payment terminal, contact your payment processor to request that they enable Apple Pay acceptance. Many processors are compatible with Apple Pay, including First Data, TSYS, Chase Paymentech, Elavon, Heartland Payment Systems, Vantiv, and more.
Businesses who accept Apple Pay can also print a logo or order stickers to let customers know that Apple Pay is accepted at your store.
Julia Olson also contributed to this article.