Note: Samsung Pay is now part of Samsung Wallet. You may still see it referred to as Samsung Pay, but the company website prompts customers to upgrade to Samsung Wallet, where Pay is one 'module' or option within the wallet.
---
What is Samsung Pay?
Samsung Pay is a digital wallet that can be used with Samsung Galaxy phones in models S6 and later. (A full list of compatible devices is available on Samsung's website.)
Users can add supported debit and credit cards to their Samsung Pay account and then pay for purchases using their Galaxy smartphone.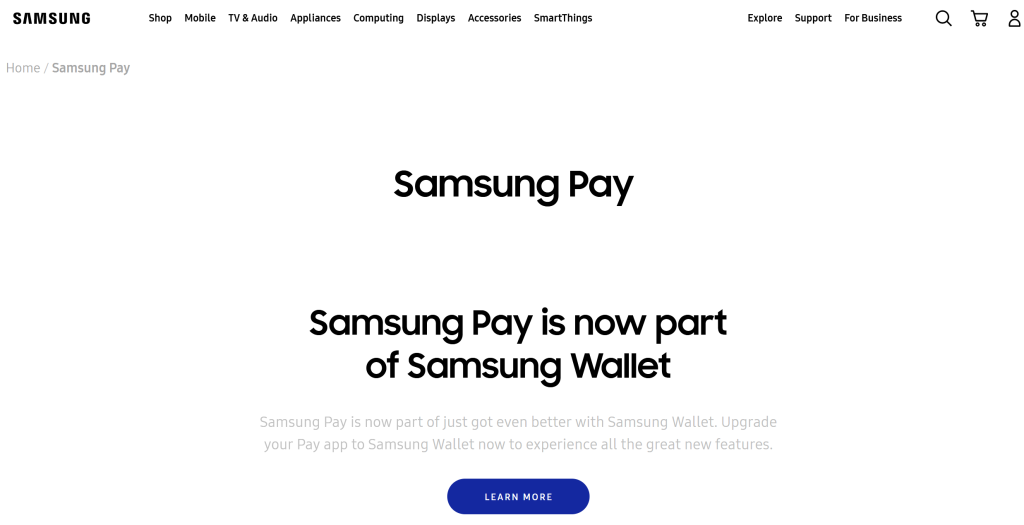 When launched, Samsung Pay was compatible with Visa and Mastercard but has since expanded compatibility to include American Express and Discover.
How does it work?
Samsung Pay utilizes both near field communication (NFC) technology and a proprietary technology called Magnetic Secure Transmission (MST). If a payment terminal is unable to accept NFC or contactless payments, Samsung Pay will use magnetic stripe terminals as a backup.
NFC, also known as contactless technology, allows customers to pay for purchases by waving their compatible phone near a contactless payment reader. Not all businesses currently have payment terminals that support contactless payments.
MST technology emits a magnetic signal from the user's smartphone, allowing the transaction to be processed through a traditional magnetic stripe terminal. The customer slides their phone over the magnetic stripe reader to pay. Almost all businesses that accept physical credit cards have terminals that support magnetic stripe payments.
The combination of NFC and MST technology means Samsung Pay can be accepted at virtually all businesses. This is in direct contrast to Apple Pay, which only uses NFC technology and can only be accepted at certain contactless terminals. However, many businesses are already upgraded terminals for the October 2015 EMV liability shift, and many of these upgraded terminals will also support contactless payments.
Whether Samsung Pay is used as NFC or MST, the payment is processed as a card-present transaction through your existing processor.
Related Article: Does the EMV liability shift affect your business?
---
Samsung Rewards
In November 2016, Samsung announced the launch of Samsung Rewards, a program with a goal of increasing Samsung Pay usage. With Samsung Rewards, customers that use Samsung Pay to make purchases will earn rewards points that can be redeemed for gift cards, Samsung products, and other items.
What cards work with Samsung Pay?
Mastercard, Discover, American Express, and Visa all work with Samsung Pay. Many debit cards do as well, but it depends on the bank that issues the cards. Samsung Pay added Chase Bank cards and Navy Federal Credit Union credit and debit cards.
In March 2016, Samsung Pay has added support for Wells Fargo credit and debit cards.
In 2017, PayPal announced that customers would be able to pay with PayPal in store through the Samsung Pay app.
Note: Due to the rapid updates with this emerging technology, this list of supported cards and banks is subject to change and may not be the full list of Samsung Pay-compatible cards. You can view the list of supported cards at Samsung's website.
Security
For consumer and business security, Samsung Pay utilizes tokenization, a process of protecting credit card information by creating a unique "token" that doesn't reveal sensitive data. Additionally, customers will be required to authenticate purchases with a fingerprint scan on their smartphone.
Remember that as with all payments, businesses are liable for Samsung Pay fraud according to your existing fraud liability.
How much does it cost?
Using Samsung Pay in a store will be considered a "card present" transaction, and you will be charged according to your current credit card processing rates and fees. There is no additional fee beyond your processing rates and fees.
How can I accept Samsung Pay in my store?
Unlike Apple Pay, Samsung Pay works with both contactless and traditional magnetic stripe payment terminals. Samsung Pay defaults to contactless payment, but if a contactless terminal isn't available or isn't working correctly, Samsung Pay will switch to the backup MST technology.
If you currently have a traditional magnetic stripe terminal or a contactless terminal, you can contact your processor to ensure that you can accept Samsung Pay. Need a processor? Sign up for a free CardFellow account to find the right processor for your business.