These days, there are more choices than ever when it comes to financing your business. Everything from merchant cash advances through your credit card processor to alternative loans to peer-to-peer lending make it easy to find the right funding solution.
Two popular online lending options are Kabbage and OnDeck. Both established in the late 2000s, the companies offer similar loan products with fast applications and deposit times, but also have some key differences. Let's take a look at what you can expect when seeking funding.
---
Kabbage vs. OnDeck at a Glance
Kabbage and OnDeck offer similar loan products, but there are some differences.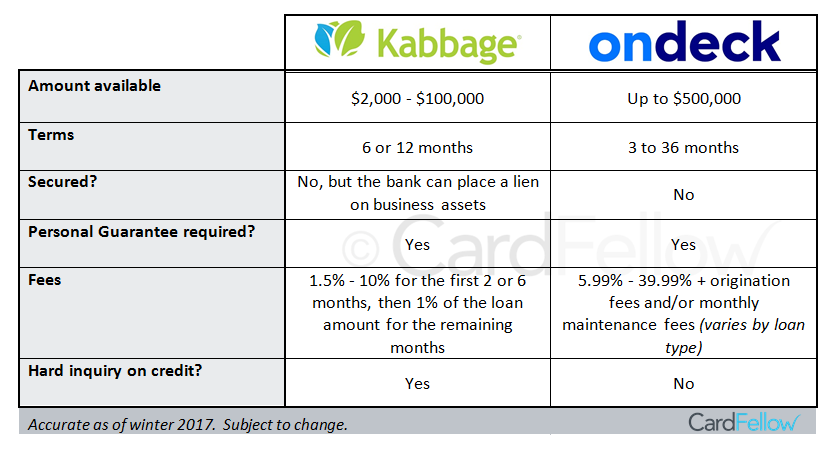 Kabbage Overview
Founded in 2009, Kabbage offers financing to small businesses through Celtic Bank. Loans are unsecured, though the bank can place a lien on your business assets and a personal guarantee is required. Kabbage offers an introduction video explaining its services:
In late spring of 2018, Kabbage announced that it plans to offer credit card processing services by the end of that year. OnDeck has not announced similar plans.
Loan Amounts and Eligibility
Kabbage offers lines of credit between $2,000 and $100,000. Every draw against the line of credit is considered an installment loan with either a 6- or 12-month term. Funds can be deposited into business bank accounts or PayPal accounts.
Application time: 10 minutes (according to Kabbage)
Minimum criteria: In business for 1 year. Revenue of at least $50,000/year or $4,200 per month for the previous 3 months.
Note that applying for a Kabbage loan will result in a hard inquiry on your credit report.
Repayment
Kabbage automatically withdraws payments each month. You can also make additional payments by initiating them manually.
The amount of repayment varies depending on the amount borrowed and the terms you're offered. There will be a monthly loan fee between 1.5% and 10% of the loan total for the first 2 months of a 6-month loan, or the first 6 months of a 12-month loan. After that, you'll pay 1% of the loan amount each month for the remainder of the loan term. The monthly fees are on top of the portion of the loan you'll be repaying each month. For example, if you borrow $12,000 for a 12-month period, you'll pay back $1,000 month plus the monthly fees.
Note that the monthly loan fee is not the annual percentage rate (APR).
Kabbage Reviews
Kabbage has a mixed reputation online. While Credit Karma reviewers are largely unhappy, giving the company a mere 2-star rating (out of 5), TrustPilot reviewers praise the company and reward it with a 9.2 rating (out of 10.) The Better Business Bureau's official grade for Kabbage aligns more with TrustPilot, as the company boasts an A+ rating, but does have complaints and a negative customer review. Let's look at each of these review channels in detail.
Better Business Bureau
As mentioned above, Kabbage has an A+ rating (the highest available) with the Better Business Bureau, where it has been accredited since 2014.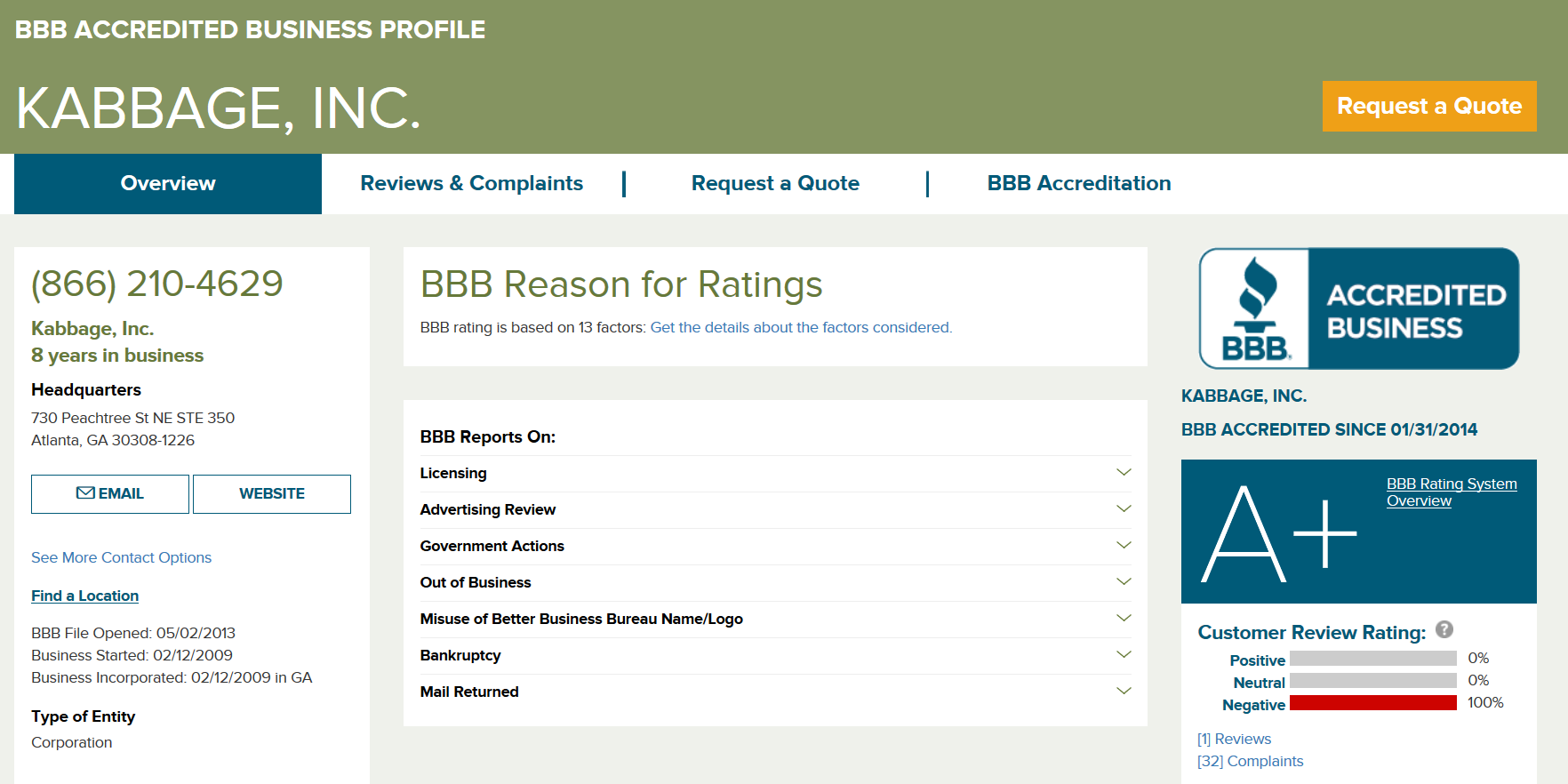 Despite that, the company has had 33 complaints lodged with the BBB in the past 3 years and a negative review. The BBB complaints allege that Kabbage uses deceptive sales practices, charges hidden fees, makes changes to policies with no warning to customers, and charges customers after completion of loan repayment. Kabbage responds to complaints on the BBB site, which is likely a factor that contributes to its perfect score.
The one negative BBB review refers to issues with the Kabbage website and not to fees or other situations described in the complaints.
Credit Karma
Kabbage doesn't fair very well at Credit Karma, where it currently has a 2-star rating out of 5, from 32 reviews.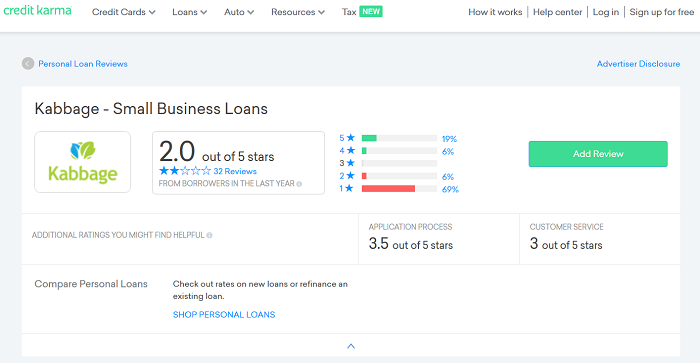 The negative reviews complain that Kabbage is expensive and inflexible, with some customers reporting the company was unwilling to work with them on payment plans to pay off the loan after their businesses closed or that Kabbage tried to take payments from linked accounts. Some accuse the company of being a rip off and equate them to payday loan companies due to high rates. Others cite aggressive litigation from Kabbage. However, it should be noted that in reviews mentioning litigation, the reviewer mentioned defaulting on the loan.
The positive reviews tend to say that Kabbage is excellent "if you know how to use it" or if you know what you're getting into. Reviewers clarify that to get value from a Kabbage loan, you need to be aware that it's a short term loan, not intended for long repayment with low interest, and should consider it in times temporary cash flow disruptions. Some reviewers praise the quickness of the application and approval, while others mention that they were declined for traditional loans but were able to receive funding through Kabbage.
TrustPilot
Where Credit Karma users largely give Kabbage negative reviews, TrustPilot users give positive ones.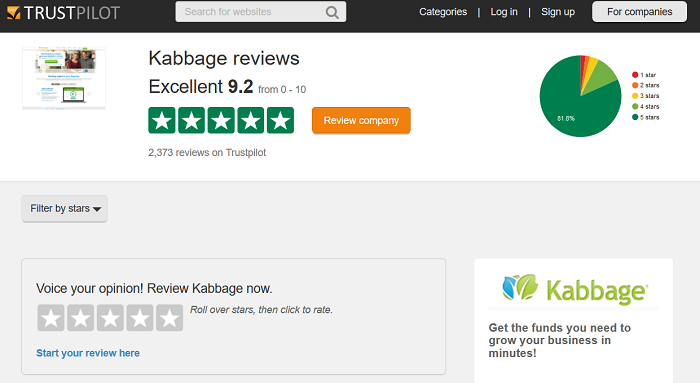 The company has a 9.2 rating (out of 10) with users praising the easy process, fast application, quick transfer of funds, and great customer service.
The negative reviews complain of high rates, being approved and having approvals rescinded, not disclosing up front that non-profits are ineligible, a difficult and frustrating process, and misleading information.
Kabbage According to Kabbage
On its website, Kabbage includes a section for testimonials and customer stories. Reviewers praise Kabbage for its ease of use and simple loan process, expressing their happiness at being able to access funds for slower months or for needed business purchases.
Reviews include the client's first name and business name.
Related Article: Refinancing Business Debt with a Term Loan.
---
OnDeck Capital Overview
Founded in 2007, OnDeck Capital claims to be the largest small business lender online. Like Kabbage, it offers funding through Celtic Bank. The company provides a choice of two different funding options: term loans and lines of credit. Term loans include a specific repayment period while lines of credit are considered revolving. Here's a video introduction from OnDeck:
Loan Amounts and Eligibility
The amount of money available depends on which loan product you choose. Term loans are available for amounts up to $500,000 while lines of credit are available for amounts up to $100,000. The actual amount you'll qualify for varies depending on your business specifics, credit score, and more.
Application time: Minutes (according to OnDeck website)
Minimum criteria: In business for at least 9 months with at least $75,000/year in revenue and a personal credit score of 500.
Note that this is the minimum for some OnDeck products. OnDeck specifies that its average client has a credit score of 660 or higher and has been in business for about 7 years. Many clients also have revenues upwards of $450,000/year. Certain loan products may have more stringent minimum requirements.
Repayment
You'll repay loans automatically through fixed daily or weekly payments from your linked business checking account.
Interest rate or percentage rate varies depending on your business and the loan product you select. OnDeck states that annual interest rates (excludes fees) start at 5.99% for term loans, while annual percentage rates (includes fees) start at 13.99% for lines of credit. Not all businesses will qualify for the lowest rates, and OnDeck further clarifies that the average annual interest rate for term loans is 38% and the average annual percentage rate for lines of credit is 29.99%.
Additionally, term loans require a one-time origination fee of 2.5% – 4% of the total loan amount. Lines of credit include a monthly maintenance fee of $20/month. This monthly fee is waived for 6 months if you draw $5,000 from your line of credit within 5 days of opening your OnDeck account.
OnDeck offers discounts on fees for loans you take out after you've repaid your first loan. Origination fees drop to 1.25% – 3% of your loan amount when you take a second loan, and 0% – 3% of the loan amount for your third loan and beyond.
Term loans have repayment terms of 3 to 36 months while lines of credit are a revolving line without a specific term.
OnDeck Reviews
For consistency, we looked at OnDeck reviews in the same locations as Kabbage: the Better Business Bureau, Credit Karma, and TrustPilot. OnDeck does as well or better than Kabbage on all three sites, boasting an A+ rating at the BBB, a 5-star rating on Credit Karma, and a 9.6 rating at TrustPilot.
Better Business Bureau
The Better Business Bureau website shows 50 reviews (39 positive, 11 negative) and 37 complaints for OnDeck.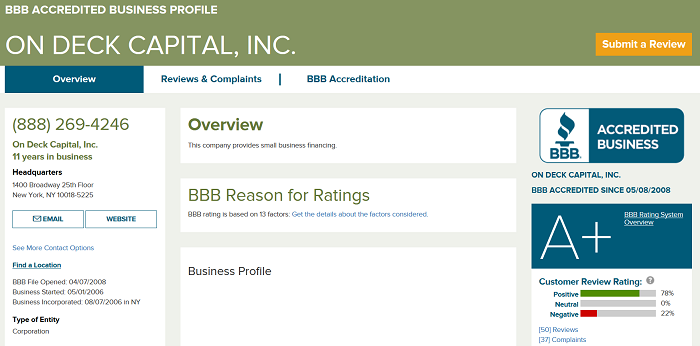 The positive reviews praise the company for excellent service, quick deposits, and for providing funding to businesses that may not otherwise have loan options. The negative reviews complain that OnDeck is inflexible if your business runs into problems, has very high rates and fees, and charging interest until the loan's end date even if the customer repays early. The official complaints with the BBB allege that OnDeck was difficult to work with regarding early repayments, charges an undisclosed prepayment penalty, and unwillingness to uphold verbal agreements. OnDeck replies to complaints through the BBB website, contributing to its high score.
OnDeck currently has an A+ rating with the BBB.
Credit Karma
At Credit Karma, OnDeck has a 5-star rating, the highest available. It has 43 perfect reviews, though it's worth noting that some reviews have nearly identical text except for customer service rep name changes and title changes. An example, from a screenshot taken in January 2017, is available below: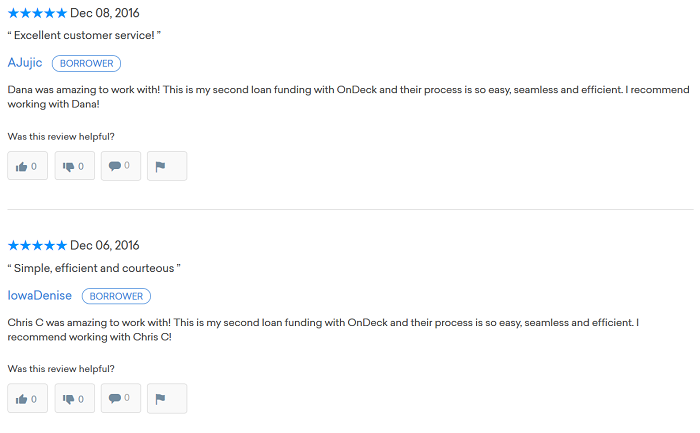 Most reviews say similar things – that the customer service rep (often named) was very helpful, and that the process is fast and easy. Others say that there are no hidden fees and that the company is fair and helpful.
Trust Pilot
OnDeck has a 9.6 rating (out of 10) with 731 reviews on TrustPilot.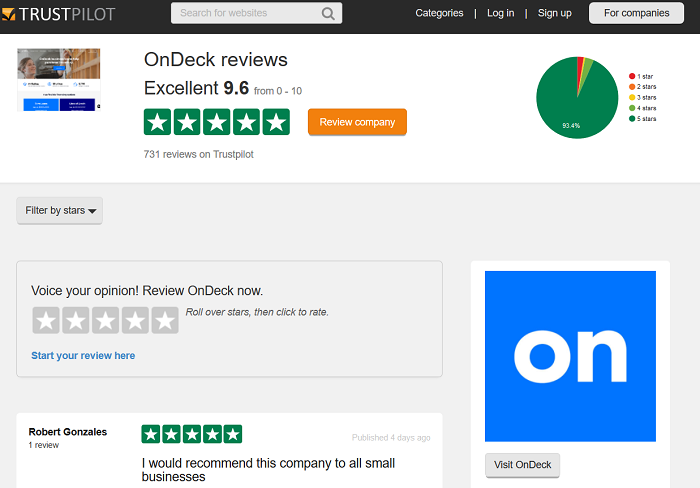 Reviewers claim the company has friendly and helpful staff, reasonable rates, easy application, and convenient renewal process. While most reviews are positive, some negatives complain of excessive rates, poor customer service, and difficult paperwork for loan approval.
OnDeck According to OnDeck
OnDeck offers testimonials on its website. Reviewers praise the company's streamlined process and excellent service reps, saying that the loans made it possible to expand their businesses. The company also includes a "case studies" section with more detailed examples of how businesses have successfully used OnDeck's services.
Other Alternatives
Kabbage and OnDeck aren't your only choices for business funding. You can explore traditional loan options from your bank or credit union, or look into working capital funding. If you're part of a small business group, don't be afraid to ask them for advice on loans and capital.
Additionally, many processors work with merchant cash advance companies to provide funding. Some, like PayPal working capital and Square capital, offer quick funding through your current account. Be aware that cash advances can also have very high rates and fees, and may not be the best option if you can qualify for a low-interest business loan instead.
Related Article: Square Capital Funding.
---
Just remember that no matter what type of funding you choose, it's a financial obligation. Quick applications and fast deposits can sometimes mask the serious financial commitment you're making. Be sure to look into all the rates and fees, as non-traditional loan options are usually more expensive than small business loans. Additionally, many loans will still require payment even if you close your business. Take note of any personal guarantees, collateral requirements, or other stipulations.
If you have questions, ask before going through with the application, and be sure to read all contracts carefully.
Have you used Kabbage or OnDeck? Let us know about your experience in the comments section, below!