However, Zettle isn't only for businesses that take cards in various locations. The readers can also be paired with an iPad and accessories to create a sleek, modern point of sale system in a fixed location. In this PayPal Zettle overview, we'll go through the features, hardware options, and costs to help you determine if it's the right fit for your business.
---
Features
The Zettle POS app is the core of the PayPal Zettle solution. It requires hardware (either a mobile reader or terminal) to accept payments. The mobile reader, as the name implies, is designed to take payments with a mobile device, such as a smartphone or tablet. It can be used for line busting or for taking payments in various locations, such as at tradeshows, client sites, and more. The terminal is intended more for use in a fixed location, such as a checkout or countertop in a store. Zettle is a good fit for businesses that don't need the more expensive or heavyweight POS systems but prefer something with more functionality than a basic cash register.
Both the terminal and the card reader can accept cards via inserting or tapping. They are also both capable of key-entering card numbers, though this option is more expensive.
To use either reader, you'll need the Zettle app, which can be downloaded from your mobile device's app store. In some cases, the reader can be paired with other POS software that Zettle integrates with, but these options are more limited.
The app allows you to streamline the checkout experience by adding products and barcodes to allow for quick manual entry or barcode scanning. On the back end, you can set pricing (including cost and selling prices) and apply discounts. You'll also be able to view reports of best-selling items and sales activity, get notifications for low inventory levels, manage your staff's schedules, and more.
If you're using spreadsheets to track inventory currently, you can import your products from spreadsheets for quicker addition to your product database. From there, you can choose to organize products in groups as well as add photos and descriptions so staff can easily find items.
Using other software that you'd like to integrate? Zettle supports several key business tools, including QuickBooks, WooCommerce, BigCommerce, and more.
Hardware
PayPal Zettle hardware is available in two formats: as a reader designed (pictured below) to pair with a mobile device or as a stand-alone terminal that doesn't requiring pairing to a mobile device.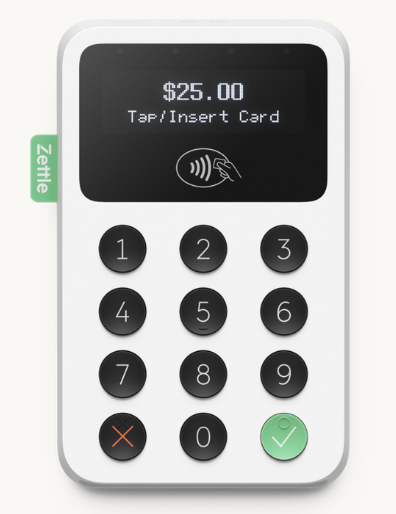 With the mobile reader, you'll need to download the Zettle app on a compatible mobile device (both Apple and Android devices are compatible) and use that device with the reader to accept cards. The reader connects via Bluetooth, so no wires are necessary. You can print receipts with an optional printer or send them to your customers via text.
With the terminal, you won't need to pair with a mobile device, and the Zettle app is built in to the terminal. It's also wifi-enabled and has 4G network connectivity when wifi is not available. The terminal solution optionally includes a printer/charger dock.
Accessories
In addition to the card readers, PayPal offers a range of accessories to enhance the functionality of your solution. Receipt printers and barcode scanners are common options, but you can also choose docks, cash drawers, and more. PayPal also offers "Store Kits" that provide a bundle of accessories. Currently, the company offers kits designed for brick and mortar locations and for businesses on the go. The brick and mortar kits always include an iPad and the card reader (with dock) and then the accessories vary depending on the kit you choose.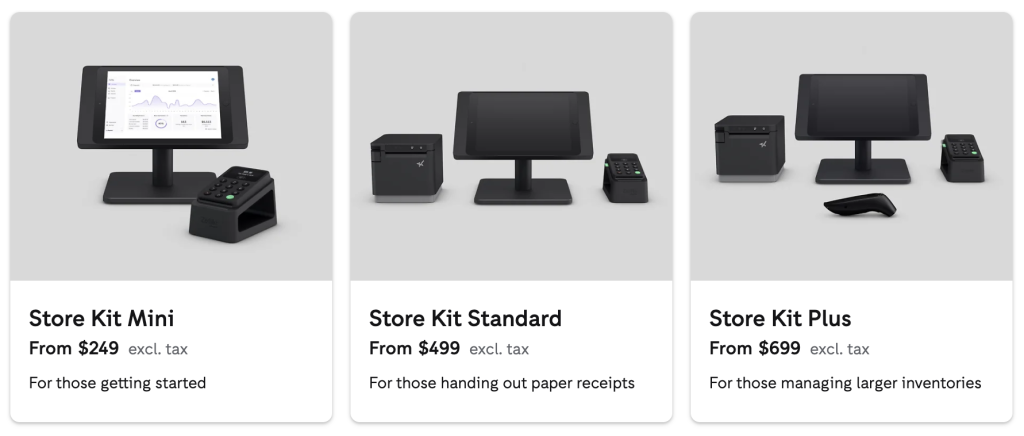 As you can see in the screenshot above, one kit adds a receipt printer while another adds a receipt printer and a barcode scanner. Store Kits start at $249 and go up to $699. (Prices subject to change at PayPal's discretion.)
PayPal Zettle Pricing
The costs for PayPal Zettle can be grouped into two buckets: hardware and transaction fees.
Hardware costs will depend on which option you need. The basic card reader, intended to be used with a mobile device, currently costs $29 for the first reader. Additional readers are available for $79 each. Pricing may vary if you purchase the devices from a source other than PayPal.
The Terminal option costs $199 for the terminal only or $239 for the terminal with a built-in barcode scanner. (Pictured below.)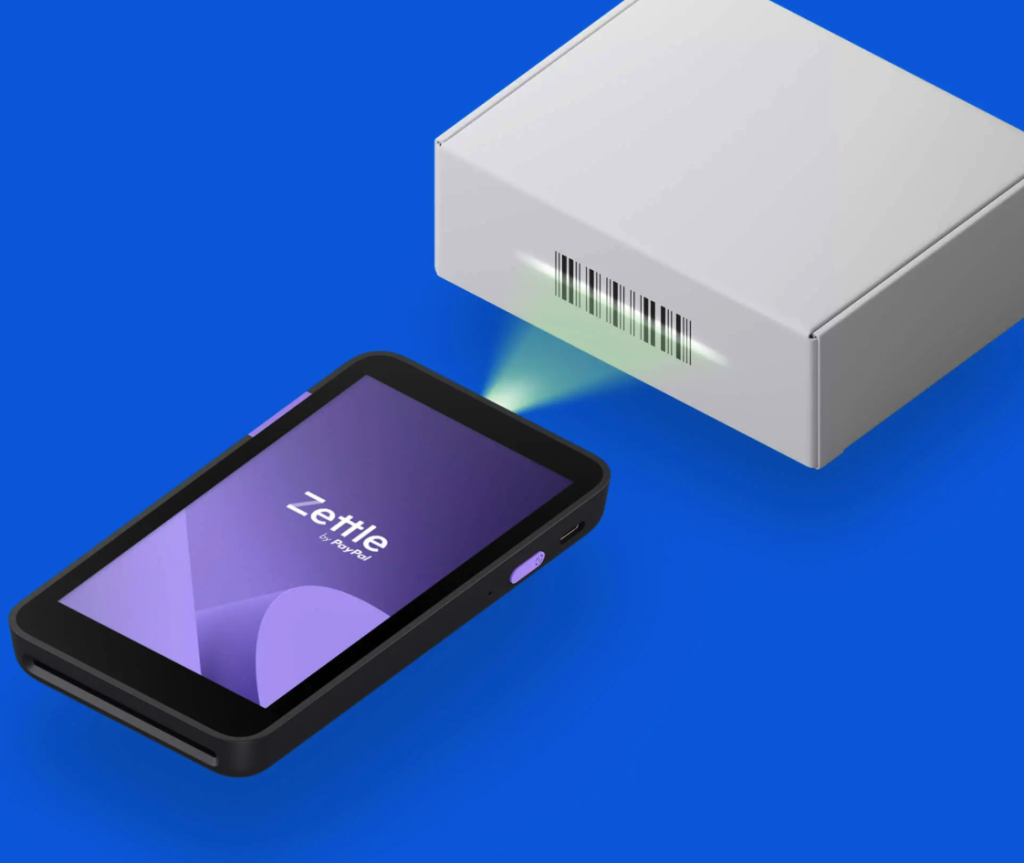 If your business plans to enter products using a scanner, you can potentially save money and streamline the process by choosing the terminal with the built-in scanner. Barcode scanning is a good idea for businesses that sell many items in a single transaction, as hand-entering items (even when choosing from a visual product database) significantly slows down the checkout process.
As for transaction fees, PayPal Zettle uses the same model as PayPal Here did: flat rate pricing. This means that your costs don't change depending on the card type. Pricing does vary based on how you accept the card. Current pricing, subject to change at PayPal's discretion, is as follows:
For card-present (swiped) transactions: 2.29% + $0.09 per transaction
QR code transactions also receive this rate.
For manual (key entered) transactions: 3.49% + 0.09 per transaction
Invoice transactions using PayPal Payments also receive this rate.
There is no monthly fee for using PayPal Zettle.
Keep in mind that flat rate pricing looks simple, but is often not the most competitive solution available. For more details, check out our article on flat rate pricing.
PayPal Here End of Life
You may be wondering if you can just keep using PayPal Here instead of switching to Zettle. You can for now, but may experience disruptions. Additionally, the end of Here is fast approaching: the company deprecated PayPal Here on April 3, 2023 and devices will cease to work as of September 30, 2023.
If you need to refund a customer's purchase after September 30, 2023, you will need to initiate it from your PayPal.com account.
Note that PayPal Here's discontinuation does not affect your PayPal account1.
You can read more about PayPal Here deprecation and FAQ about it on PayPal's website here.
Have you used PayPal Zettle as your business's POS system? What do you think about it? Leave a comment below!