Software and payment services geared to home improvement and repair – whether that's lawn and yard care, field services, tradesmen, plumbing, carpentry, electricians, house cleaning, or snow removal – can help you run your business more efficiently.
There's a lot that goes into running a home services business, and one piece of software that promises to make everything easier is Service Autopilot. In this review, we'll dig into what Service Autopilot does, how it works, and its benefits and features to help you decide if it's right for your home services business.
Overview of Service Autopilot
Service Autopilot is cloud-based software designed to provide a variety of important features to home improvement, home service, and field engineer businesses. It makes scheduling, managing, tracking, operations, and financial management quicker and easier.
Service Autopilot in its Own Words
"Upgrade your business with growth-focused scheduling software. Build the service business you've always dreamed of…"
The company offers this introduction video:
Service Autopilot Features and Benefits
Service Autopilot has many features custom-built for small, home service businesses. We've divided the features into four categories: Business Management, Customer Relations, Crew Management, and Payments.
Business Management Features
Within the Business Management category, Service Autopilot offers reporting with a daily dashboard, online measurements, and daily job verification.
Reporting and Daily Dashboard
Service Autopilot provides detailed reports and analysis of your clients, costs, revenue, services, advertising campaigns, and more. This helps you stay on top of your business operations, helping you to reduce inefficiency and remove wasted time, effort, and costs.
The reports section of the tool helps you ensure your business is growing — you can look at historic trends, see how things are changing over time, and get greater insight into your revenue, costs, and margins.
Service Autopilot's daily dashboard summarizes everything you and your crewmembers need to do on a daily basis. It includes your calendar, schedule, calls, to-do's, and other important notifications, so you know exactly what the day will bring.
Online Measurement Tool
Service Autopilot integrates with Google Maps satellite imagery to allow you to see aerial photos of customer properties. You can then use the integrated online measurement tool to get estimated square footage, making it easier to provide realistic quotes.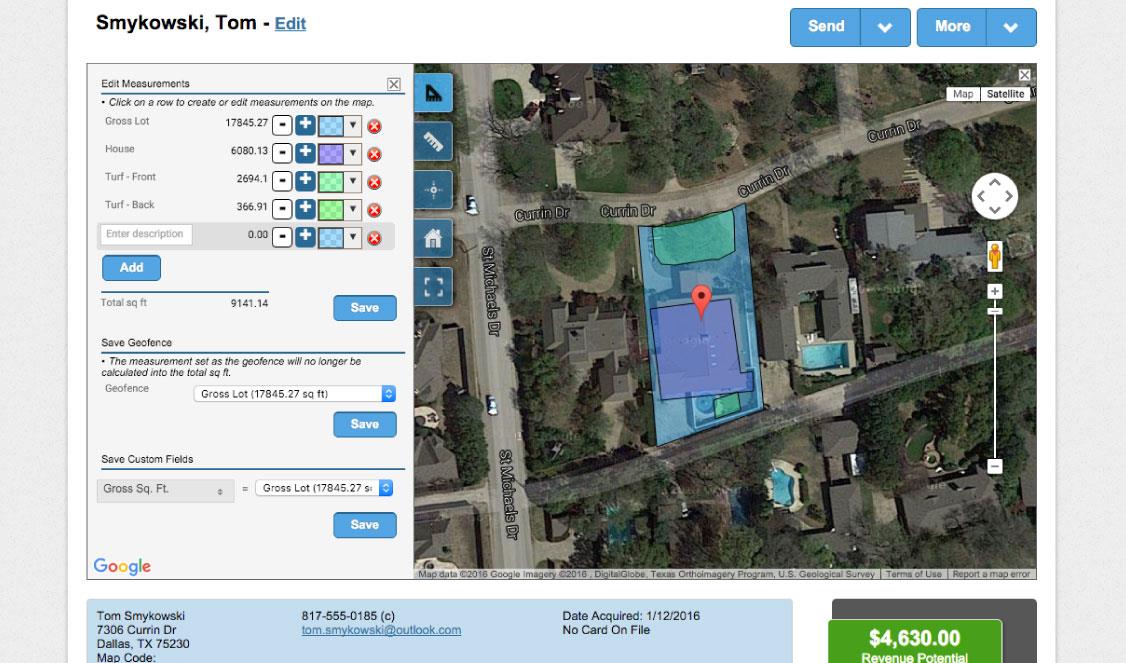 Verify Daily Jobs
Once the workday is over you can use the app to review and verify all the jobs completed that day. Additionally, field notes will help you keep up-to-date and reschedule appointments or schedule follow-up visits.
Customer Relations
Under Customer Relations, you'll find relationship management, client messaging, and bid features.
Customer Relationship Management (CRM)
Service Autopilot has built-in CRM, so you can track and manage client details, profiles, contacts, and calls. You can make notes against each client so you can provide more personalized communications and services. When customers call in you can easily retrieve and amend their details, log information about the latest contact, and confirm with an email.
Client Messaging
You can send messages and reminders directly to clients via email or text message. Email and text message templates allow you to optimize communications to save you time and effort. Both email and SMS are available from the cloud or mobile application.
Service Autopilot also has built-in email marketing tools to help you manage promotional communications with leads and clients. You can use this to help bring in more work and fill your schedule in quiet times.
Website Integration
Service Autopilot completely integrates with your website, allowing potential customers to contact you, request quotes, look at your schedule, and pay for services.
Bidding For Jobs
Service Autopilot can automatically collect details of jobs from a specialized form on your website. You can then consolidate this information to quickly provide a comprehensive quote to your prospective customer.
Once you have worked out a bid or proposal you can send an estimate through to your potential customer. You can break down every aspect of the job to give your customer complete awareness and transparency.
Crew Management Features
Of course, managing your crew is just as important. You'll need to be able to schedule employees, create to-do's, view progress, and more. Fortunately, Service Autopilot has you covered with a range of crew management features.
Create Appointments and To-Do's
Easily create To-Do's (actions, tasks, and jobs) and customer appointments. You can add details, comments, and follow-up with an email or text message.
Scheduling and Time Management Services
Just enter your jobs and expected appointment durations into the app and it will automatically schedule them for you. If you enter address details, it will also work out the most efficient route, saving you time and fuel expenses.
Once Service Autopilot has helped you plan schedules for your crews, you can easily dispatch them. Each crewmember gets a customized schedule, map, to-do list, pictures, and other important customer and job information.
Service Autopilot's built-in time tracking feature allows you and your crews to easily log time worked, clock-in and clock-out, and manage payroll. Additionally, mobile workers can enter all their time details via the mobile app.
GPS Tracking via Mobile App
Service Autopilot's mobile app lets you track the whereabouts and timings of team members and service crews. It also provides complete navigation functionality so you can easily locate and travel to client addresses. Or, if one of your crews is behind schedule, you can automatically assign a job to a different crew. The schedules, maps, appointment details, and notes for each team will update in real time on their mobile devices.
Crew Progress Tool
You can get one view of how all your crews are doing with the crew progress tool. An interactive map provides details of where your crews are, what they are working on, the status of each job, and any notes or to-do's.
Field Photographs
Service Autopilot integrates with a smart device's camera to capture images from a customer's location. You can use these photos to troubleshoot and diagnose issues, publish examples of work on your website, upsell services, and show before / after pictures.
Resource Planning for Vacations and Time Off
Team members can manage and schedule their vacations within Service Autopilot. You can easily see what resources you have available when, helping you to effectively schedule workloads and appointments.
Payments Features
For businesses, getting paid in a timely manner is crucial. With Service Autopilot, you can generate and send invoices automatically, set up reminders for past-due invoices, integrate with QuickBooks, and accept payment via credit card.
Automatic Invoicing Services
Service Autopilot will automatically generate and send invoices to your customers, allowing you to stay on top of business finances. You can also setup past-due invoice reminders to encourage people to pay their overdue invoices.
Related Article: How to Send Electronic Invoices.
---
QuickBooks Integration
QuickBooks is one of the most popular online accounting solutions. Service Autopilot integrates with QuickBooks, meaning you can synchronize invoices, expenses, payments, and more between the two applications so you will always have an up-to-date snapshot of how your business is doing financially.
Payments
The Service Autopilot mobile app lets you and your employees create invoices, accept credit cards, and take payment while on the move. Customers can easily pay as soon as services are provided, helping you manage business cash flow more effectively.
Alternatively, you can take payments over the phone, or help customers save time by letting them pay their invoice online.
Service Autopilot Credit Card Processing
Service Autopilot confirmed to CardFellow that it gives a choice of credit card integration options. You can use BluePay (the company's recommended service), OpenEdge, or the Authorize.Net gateway. If you use Authorize.Net, you'll have a much wider pool of processors to choose from, which in turn provides you with greater ability to secure more competitive pricing.
The processor you work with will set your pricing for credit card transactions. To get started finding an Authorize.Net-compatible processor, check out CardFellow's free price comparison tool.
Tools and Support
In addition to the software tools, Service Autopilot provides learning and support through the Service Autopilot "academy," designed to help home services businesses get started, operate efficiently, and maximize their profits. It contains a mix of webinars, forums, communities, online courses, video tutorials, interactive exercises and more, all designed to help maximize success.
Service Autopilot also has a complete blog covering many of the challenging aspects of running a successful home services business.
Service Autopilot Pricing
One of the most complicated aspects of Service Autopilot is its pricing structure. It works as follows:
There are two "plans" — "Startup" at $47/month, and "Pro" at $79.97/month.
Each plan allows for one master user of the software.
You can add additional office (cloud software) users at $25/month per user.
You can add additional mobile users at $15 each/month.
There is a one-time setup fee of $97.
The startup plan includes fewer features than the pro plan; however, there are additional services in both plans that you will need to pay for if you want to use them. This includes:
Client portal integration to line Service Autopilot with your website — $19.97/month.
QuickBooks synchronization — $25/month (Pro plan only).
Online measurement tool — $47/month (Pro plan only).
In order to understand what you can expect to pay, you'll need to calculate your base plan rate, additional users, and any add-on features.
For example, a small business on the starter package with one master user and three people on mobile apps and no other services would pay $92 a month. A medium-sized business with three master users, ten people on support teams, with an integrated client portal, QuickBooks sync, and online measurement would be $372 a month.
If you're running a home services business, Service Autopilot provides a wide range of essential features to make business operations much easier. You will need to make sure you properly understand their pricing plans though so you know exactly how much you will be charged.