There are few products in life that provide more luxury, status, or celebration than a beautiful piece of jewelry. Since ancient times, precious metals and gems have been crafted into items designed to catch the eye. If you're involved in jewelry retail, you know how important it is to provide the products, services, and ambiance that jewelry buyers demand.
One piece of software that's designed to help you get the most out of your jewelry business is The Edge, a point of sale (POS) app designed specifically for jewelry retailers. In this review, we'll explore exactly how The Edge can help your jewelry business, including its main features, functions, and benefits.
The Edge is designed specifically for owner-operated, independent jewelers. The company doesn't work with chain stores, jewelry manufacturers, or distributors. It is primarily meant as a retail software application.
The Edge Jewelry POS Overview
The Edge Jewelry POS is a fully-featured, locally installed software application designed to make running a jewelry business easier and more profitable. Key features of the software include point of sale, customer relationship management, inventory and stock management, ordering, repairs and customer orders, and financial management. We cover each of these in detail below.
Unlike many other modern software applications, The Edge is not cloud-based, so it is not accessible outside the business or through a web browser. Instead, it is installed and operated locally. This is not inherently good or bad, but it's worth reading up on the differences.
Related Article: Pros and Cons of Cloud-Based POS Systems.
---
In its Own Words
"The Edge offers all the functionality an independent retail jeweler needs to grow and prosper: an eloquent POS module, a powerful customer management module with features unlike any other software, the best inventory management system for retail jewelry stores you can find, a direct interface with QuickBooks, and a back room module for managing repairs, special orders and custom jobs."
By The Numbers
Deployed to over 2,500 jewelers in North America
The most popular retail system for independent jewelers.
Top ratings from INSTORE Magazine.
The Edge Jewelry POS Features and Benefits
The Edge system has a wide range of features from point of sale software with inventory management to ordering, accounting, and repair tracking.
Point of Sale Software
The Edge is a complete jewelry point of sale. It features total product integration, inventory and stock management, sales and returns, appraisals, special orders, layaways, and repairs. The software also allows you to trade and buy items, sell gift certificates, print or email receipts.
The POS will also compute commissions for your salespeople and tracks any incentives that may have bought a customer into your store.
Customer Relationship Management (CRM)
The Edge has built-in CRM functionality. You can capture customer details, add information like birthdays and anniversaries, track communications, and ensure you keep up-to-date with customer needs and marketing. The software automatically tracks and records every transaction, repair, appraisal, layaway, payment, and images of items they have purchased.
The CRM also lets you conduct queries of all your customers to identify people you can target with customized marketing. This can help you target your promotions and generate a better return on investment. You can then send out targeted mailing and postcards to customers with special offers to incentivize them. You can set up postcards for birthdays, anniversaries, Mother's Day, Valentine's Day, Christmas, special events, sales, and promotions.
Inventory Management
The Edge has a built-in stock and inventory management system. This makes it easier to optimize your inventory to maximize sales. You can easily identify top-selling items and ensure they are always available. Jewelry inventory is often complex, so the inventory system lets you manage multiple vendors, product lines, individual products, categories, and more. You can track products by barcode or RFID chips.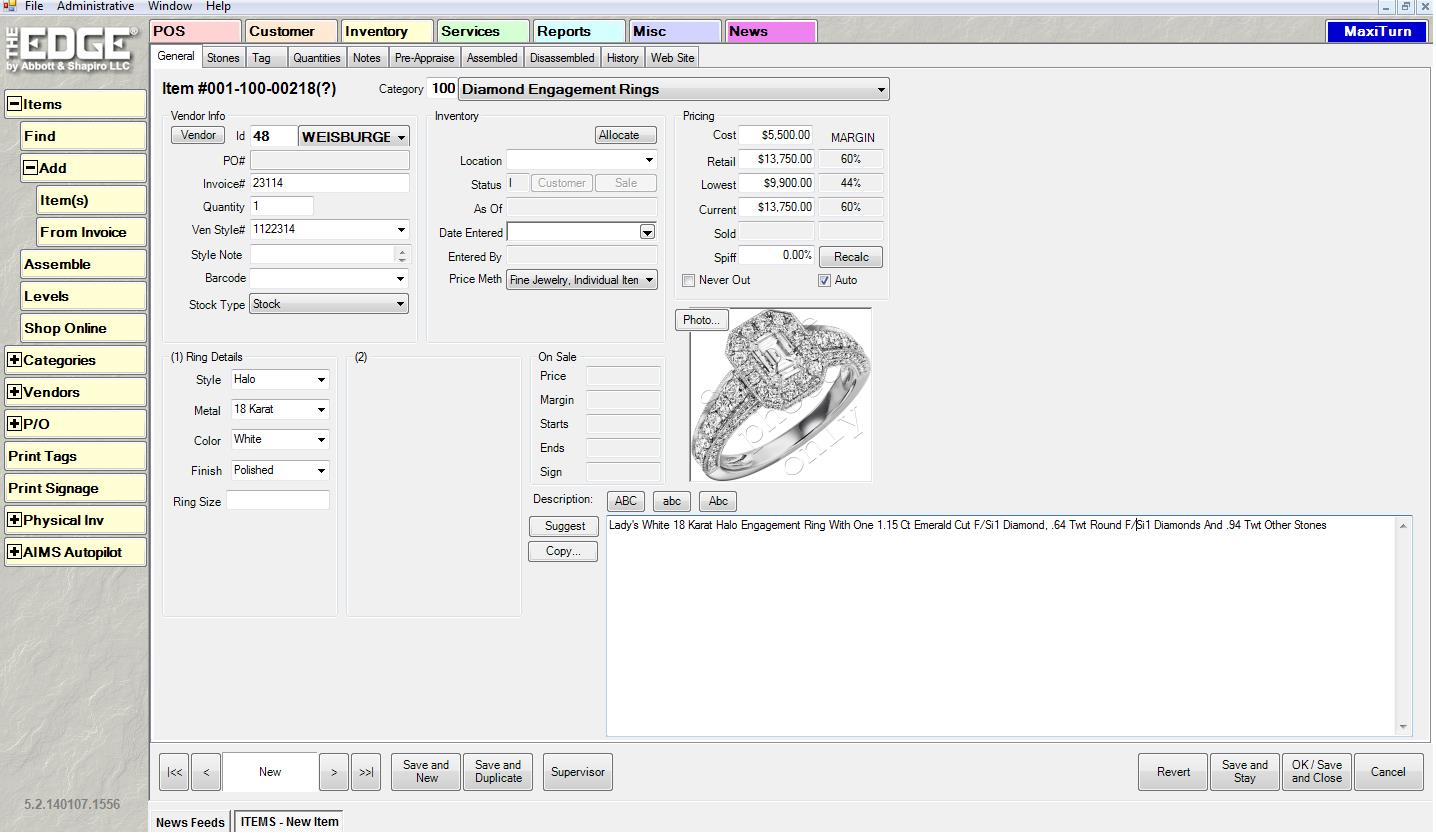 You can easily see cost and sale prices for each item including margins, and the lowest price you can accept if a customer wants to try to drive the price down. Detailed reports show how your products and inventory are doing over time, so you can plan for trends and seasonal variations. The Edge lets you tune your stock management to your unique marketplace, location, and customers. The Edge also features a "just-in-time" inventory system to make it fast and easy to order and meet customer needs.
Easy Ordering
The Edge uses a built-in ordering system called "MaxiTurn." It allows you to order from vendors online, directly through the software. MaxiTurn is designed to reduce the time you spend ordering, allowing you to easily browse, find, select, and order the products your customers want. The tool really comes into its own for special orders — you can get information on what the customer wants, such as type of item, metal, gem, size, price range, etc. The software will then filter all available items according to their criteria, making it easy for the customer to select the perfect piece of jewelry.
Repairs, Custom Orders, and Special Jobs
The Edge has custom modules for many of the dedicated, bespoke services that jewelers provide. These help you stay on top of specific customer requests, ensuring you can complete the services quickly and effectively, improving customer relations. Special requests are input using the POS, which then generates a barcoded envelope to make it easy to track specific items.
The repair module makes it easy to setup repair jobs and provides accurate pricing information for fixes. The system will also text customers as repairs are marked complete. The appraisal module allows jewelers to easily provide valuations for insurance, estate, or other purposes. Custom jobs and special orders allow you to easily track and provide one-of-a-kind items or products you don't currently hold in stock. The system will automatically text customers when their items are ready for collection.
Accounting, Reporting, and Financial Management
The Edge helps you stay on top of your business finances. You can easily see your revenue, profits, number of customers, outstanding orders, and other important aspects of your business. Detailed reports allow you to see how you're doing over time including stock levels, reordering, product sales and trends, sales analysis, profitability, and special order information.
The Edge also integrates with the popular QuickBooks accounting software so you can easily track every financial aspect of your business.
Related Article: Integrating with QuickBooks.
---
Hardware for Running The Edge Jewelry POS
The Edge is designed to work with specific types of hardware:
A modern PC or laptop.
A server, if you're running a server-client system (necessary if you use multiple registers.)
Tag printers for creating jewelry tags.
A barcode scanner designed to read the more compact barcodes on jewelry tags.
RFID readers to scan RFID chips attached to products.
A touch-screen interface if you prefer to use that compared to a mouse and keyboard setup.
Receipt printer for providing customer receipts.
Credit card reader for taking credit card payments via swipe or chip and PIN.
Cash drawer for holding money and providing change.
The Edge Jewelry POS Support
The Edge has a number of support features designed to make it easy to install, manage, and use. You'll benefit from a support team and training. The company is so confident in its service that it guarantees to refund your money if it doesn't meet expectations in the first year.
Support Team
The Edge has a large, dedicated, well-trained support team, designed to get users up and running fast, and quickly identifying and resolving any issues. You can get support by phone or email, and support staff can automatically connect to your Edge installation to solve problems.
Training
The Edge provides training tailored to each individual retailer. 24 hours of free training is available via a webinar, and they also provide face-to-face training at their Connecticut location. They can also provide dedicated in-store training at your retail location.
Another part of The Edge business, the retail academy provides dedicated consulting to help independent jewelers understand and optimize their business.
The Edge Jewelry POS Pricing
The cost to license and use The Edge is as follows:
$4,600 for a single license to operate the software on a single workstation.
$5,700 for a license to operate the software on three workstations.
$550 for additional workstations.
$5,100 for an additional store, including one workstation.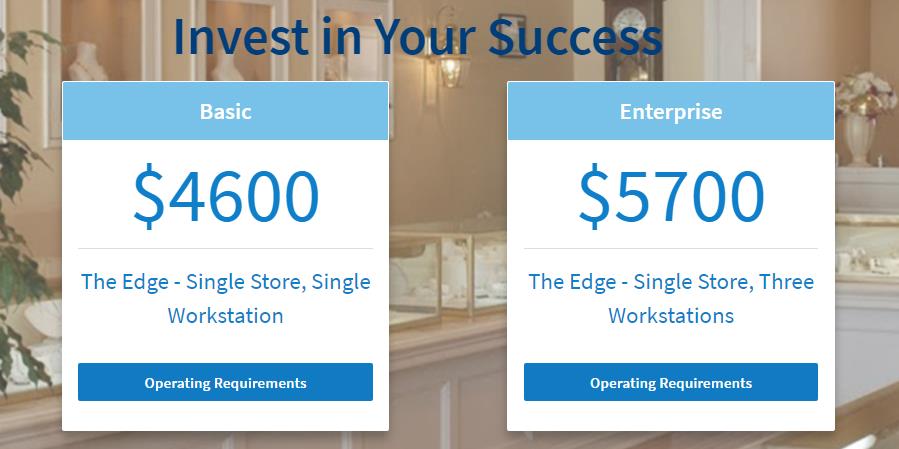 The Edge charges an additional amount between 15% and 20% offor ongoing software support and upgrades. Additionally, certain education and training attracts extra fees.
Note that these prices do not include any hardware.
The Edge POS Credit Card Processing
The company's website provides almost no information about credit card processing other than to say it offers an integrated option. We've reached out to The Edge for more details, and will update this review as information becomes available.
Customer Reviews of The Edge Jewelry POS
The Edge includes a section for customer testimonials on its website. Users claim that The Edge is the best software they'ved used, that staff picked it up quickly, and that it provides lots of helpful information. Some say it was the best investment they've made for their business. Testimonials include the reviewers' names and business name, as well as location.
External customer reviews of The Edge are largely positive. Users on Capterra praised its intuitive design and fully-featured offerings, stating that it's intuitive. However, there were concerns with how long and labor-intensive it was to set up the software. The wide range of functions and features mean that training is very important, and users recommended introducing employees to the software slowly so they can understand how every part of it works.
The Edge Jewelry POS is a complete software solution for running a jewelry store. It has a number of key features that are a big benefit to any jeweler business. However, some say that The Edge has steep learning curve. Additionally, it's not cloud-based, meaning it's not accessible outside the workstations on which it's installed. The pricing could also be a sticking point for some jewelry shop owners, although the money back guarantee could help resolve that issue.
Have you used The Edge Jewelry POS? What did you think? Leave a comment below!