With bill splitting apps like Venmo rising in popularity, especially among younger demographics, many businesses are wondering about accepting those payment methods directly. While Venmo does allow for business use, there are limitations – as well as some concerns – to be aware of.
In this article, we'll take a look at what Venmo is, current acceptance options, and the company's plans for business acceptance to answer the question, "Can I take Venmo at my business?"
---
What is Venmo?
Venmo is perhaps the best-known app in the payments splitting space. Venmo was acquired by PayPal as part of Braintree. Users can link a bank account, credit card, or debit card to the app to make and receive payments easily. It allows money to be moved quickly between other people, the app, bank accounts, and attached credit or debit cards. It's a popular option among parties that know each other – such as friends and family members – to reimburse costs when one person pays. It's a common option when one person doesn't have cash on them to reimburse a friend for a purchase, or a group doesn't want to cause the hassle of providing multiple credit cards to split a check at a restaurant. Instead, one person will pay and the other(s) will send money via Venmo to cover their own portion.
Using the app to collect payments from others is free — Venmo makes money by charging a 3% fee if users want to send money to another person using a credit card. (There is no fee to the user for sending money from a Venmo balance, bank account, or debit card.)
In 2016, Venmo began allowing some businesses to accept Venmo for payment. Using Venmo for business transactions incurs processing fees that follow your Discover processing fees. That means that the rates you pay may be different than the rates other businesses pay, depending on your merchant agreement.
Venmo and Business
While it was originally a peer-to-peer payment app, businesses can choose to accept payments via Venmo. The service is one of the most popular ways for millennials to pay for goods and services, so integrating with Venmo will make the purchasing experience easier for many consumers.
Instead of paying by cash or card, consumers can choose to pay a business with Venmo, the same as they would pay a friend. The business will need a business profile with Venmo in order to accept the payment. (A business profile is connected to your personal profile, allowing you to switch between the two.) Businesses can optionally choose to enable tipping through Venmo as well.
Costs
Venmo pricing can be a little confusing.
As of 2023, Venmo lists two different rates. On its page about accepting payments through your Venmo business profile, it states transaction fees start at 1.9% + 10 cents per transaction, though it also states that other fees may apply and that pricing is subject to change.
On its page about accepting payments in-app and online, it references pricing of 3.49% + 0.49 cents per transaction.
The difference between the two appears to be where the payment is initiated. If it's on a mobile phone / app without going through a website, the lower pricing applies. If the customer makes a Venmo payment by clicking a button on your website and completing payment through their Venmo account, the higher pricing applies.
Venmo links to its parent company PayPal's fees page, which shows an example of the Venmo button on a website alongside the pay with PayPal button.

Consumers can click the button, finish the transaction through Venmo, and be directed back to the website.
Business Limitations
PayPal's fees and terms website specifies some requirements for using Venmo for Business. Those include:
US-based transactions (US businesses and customers)
Transactions in US dollars
Mobile devices must use Safari (Apple) or Chrome (Android) for browsers (Desktop users can use any major web browser)
The transaction must be an online purchase (buying "online" but paying in store / at pickup is not an accepted use case)
Venmo Through PayPal
Businesses that accept PayPal can choose to accept Venmo through the PayPal online checkout. Venmo users will be able to select "Venmo" after choosing the PayPal payment option. Some users may not be aware of this option, as there will not be a separate Venmo button at checkout. It's up to you to educate your customers that want to use Venmo about the option to do so through PayPal.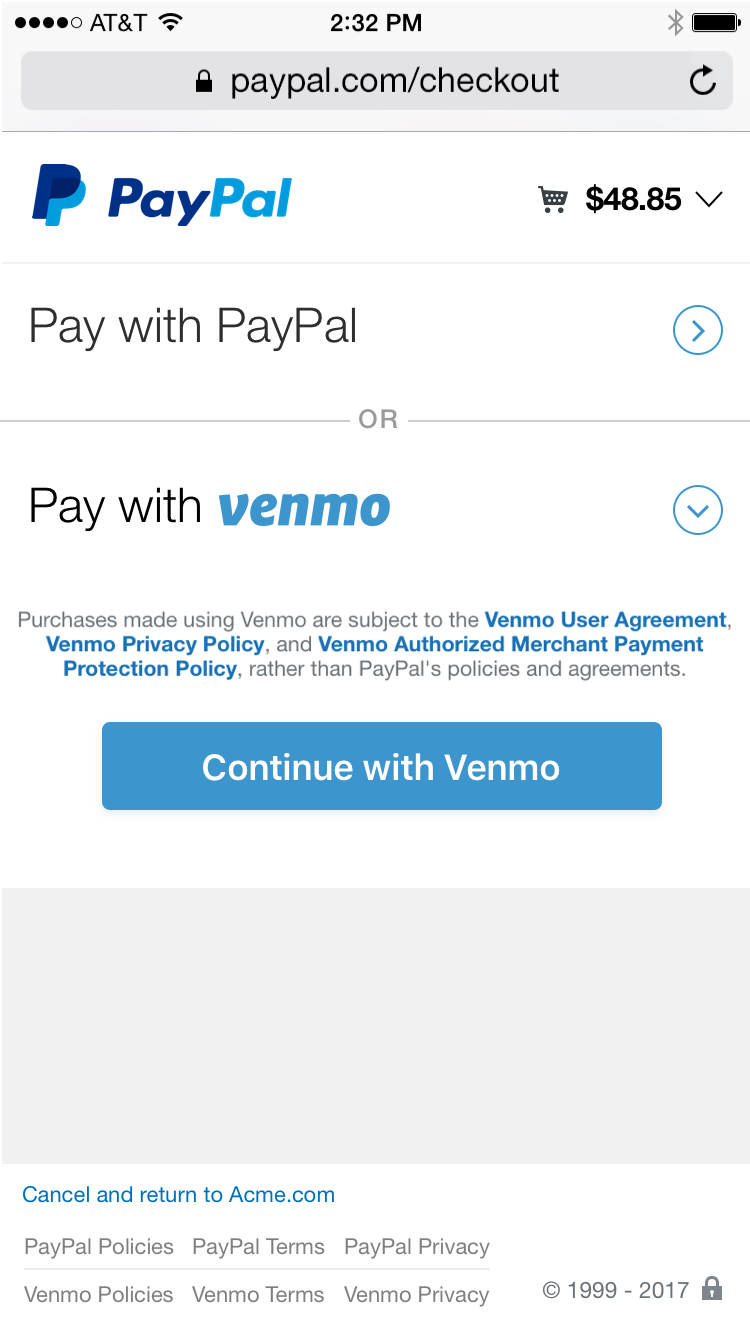 Customers using Venmo will receive the Venmo branded receipt in addition to any other receipts you provide.
Related Article: Taking PayPal at Your Business.
---
Issues with Venmo for Commercial Transactions
Unfortunately, all is not roses in the world of Venmo payments, as an article on Slate highlighted.
It used to be that Venmo could not be used for business transactions, and at the time that article was written (2015), there was a line in the Venmo terms of service that read, "Business, commercial, or merchant transactions may not be conducted using personal accounts." That has now changed, and Venmo does allow for business use.
The issue in 2015 is that scammers could use Venmo to defraud people out of thousands of dollars, and if it was deemed a "business transaction," the users had absolutely no recourse. Indeed, the security page of Venmo's website currently states:
"Venmo is designed for payments between friends and people who trust each other. Avoid payments to people you don't know, especially if it involves a sale for goods and services (like event tickets and Craigslist items). These payments are potentially high risk, and you could lose your money without getting what you paid for. Venmo does not offer buyer or seller protection. Business usage of Venmo requires an application and explicit authorization."
That will create some raised eyebrows from business users. There were regular issues with payments reversed without authorization, accounts frozen, and money removed without recourse. Although Venmo's TOS does now allow for business transactions, the fact there is no protection for buyers and sellers is a big red flag. There's no real separation between the ease of logging into Venmo and paying $7 for your share of a bar bill as there is in sending $1,500 for your share of buying a data server.
Post-2015
Since the Slate story came out, Venmo has apologized for these issues and taken on more staff for customer service and security. Despite those efforts, Venmo remains an app primarily for exchanging money between users who know each other. However, as long as you're following the terms for Business use, Venmo can be a convenient way to accept payment from your customers, especially in younger or more tech-savvy industries.
Venmo has taken hold as a convenient payment app, and the company has expanded its business acceptance. But costs to use it for business are steep; accepting credit / debit cards using traditional processors will almost always be lower cost. However, micro businesses or those that don't want to enter into formal processing agreements may be interested in trialing Venmo as an alternative to only accepting cash.
On the other hand, if you're looking for ways to lower the cost of accepting cards, make sure you're not overpaying on traditional processing acceptance, regardless of whether you decide to accept Venmo.
Need help finding a competitively priced payment processor to accept cards at your business? Try CardFellow's free quote comparison tool.