That means you can protect your cash flow, ensure you have enough money to meet your obligations, and grow your business. This in-depth review of Wave Accounting will tell you everything you need to know about the software, so you can decide if it's right for your business.
Wave's account software is free, but if you want to use services like credit card processing (for accepting payments by invoice) or payroll management, you'll be charged for those services.
A Brief Overview of Wave Accounting
Wave Accounting is software as a service (SaaS.) That means it's an online accounting app that runs in your web browser, and that you don't need to install any software locally. Instead, you just login and use the software online to manage your business finances.
Wave Accounting offers several key features designed to help small businesses:
Invoicing — Create and send invoices for products provided and services rendered.
Payments — Receive payments for your invoices online, via debit or credit card.
Tracking — Track payments of your invoices.
Payroll — Run payroll and pay employees.
Receipts — Capture receipts and pay expenses.
Accounting — Produce reports, track taxes, and financially manage your business.
Together, this suite of services provides everything a small business owner needs to take care of the money in a company. We'll cover all of these areas in detail below.
Related Article: Accounting Software Comparison – QuickBooks, Xero, Freshbooks, and Zipbooks.
---
Wave Accounting in its Own Words
"Running a small business is different. We get it. The more successful you get, the more distractions you have: chasing payments, tracking expenses, managing employees and taxes. At each step, Wave makes it easy."
Key Stats
Wave Accounting states the following:
Established in 2010
More than 100 employees
315 million transactions tracked
$175 billion invoiced or expensed
2.2 million customers
Operating in 200+ countries
64,000 invoices sent a day
43,000 receipts scanned a week
Invoicing Through Wave Accounting
Generating revenue is the main aim of your business, and that means invoicing customers. With Wave, you can amend, customize, and style invoices to reflect your brand and present a professional image.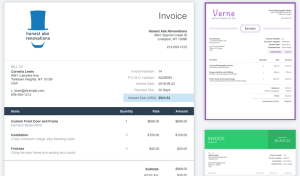 You can also provide details on the products or services so your customers understand what
they're paying for. Columns and lines on invoices can be customized, allowing you to present the most important information.
Related Article: 4 Free Invoice Template Creators.
---
Invoice Creation and Payments
When it comes to accepting payments, Wave allows you to:
Turn estimates into invoices — Create and send estimates. When they're accepted, turn the estimate into an invoice.
Accept credit and debit cards for invoice payments — Card payment is fully integrated when invoices are sent to customers, making it easier for them to pay.
Set automatic payment reminders — Send invoice payment reminders to customers when invoices are due or overdue, including statements on late accounts.
Accept multiple currencies — Invoice clients and accept payments in any currency. (Ideal for international business.)
Calculate sales tax — Apply sales tax to invoices where relevant.
Provide receipts for payment — Send professional payment receipts to customers.
Create payment terms — Set customizable payment terms and see which invoices have been paid or partially paid.
Set recurring invoices — Setup recurring invoices for regular work on a schedule of your choosing to bill for services you provide on an ongoing basis.
Invoice Management
In addition to creating invoices, Wave offers a number of features designed to make tracking and managing invoices easy.
Integrate invoicing with accounting — All invoices and payments are synced and integrated with your accounting and financial reports so you get a complete, up-to-date picture.
Track invoice status — See which invoices are due, overdue, paid, or in draft.
Customer statements — Get summary information on the accounts for each customer (monies invoiced and received).
See when your invoices are viewed — You can track when customers have sight of your invoice.
Duplicate invoices — Make copies of invoices for clients and services you frequently bill.
Invoicing Costs and Funding
Wave Accounting charges a flat 2.9% + 60 cents per transaction for credit / debit card processing for invoice payments using Visa, Mastercard, or Discover or 3.4% + 60 cents per transaction for American Express.
Wave is PCI compliant, helping you process payments securely in accordance with regulations. You'll also benefit from:
Fast transfer to bank account — Money received from invoice payments will be transferred to your bank account in two working days.
Credit card information storage — Card details can be stored so it's easier for repeat customers to continue paying.
Accept payments in any currency — Dozens of currencies are accepted and will be automatically converted into your home currency.
Exchange rate calculations — All exchange rates are automatically calculated and applied.
Payroll with Wave
Wave Accounting features full payroll services so you can ensure your employees get paid properly and promptly. You'll be able to record salary and other payroll expenses, track tax liability, offer direct deposit or have checks printed and mailed to employees, and set reminders for important payroll dates. Additionally, employees can print their paystubs and W2 forms.
Currently, the payroll module costs $40/month as a base fee (in 14 states where Wave handles payroll taxes) plus $6 per active employee or independent contractor. In states where you can file your own payroll taxes, the monthly base fee drops to $20, with other fees remaining the same.
Expenses and Receipts Through Wave Accounting
Invoicing and payroll is only part of the story — You also need to track the expenses your business makes. Wave makes it easy. You can upload electronic or scanned receipts to the accounting app or take a photo of a receipt with your smartphone to add it. You can also forward bills to an email address to record them and reimburse yourself for expenses.
Reporting
Staying on top of your business finance is essential, and that means having access to all the information and reports you need to make informed decisions. Wave offers:
Integration with your bank account — Reconcile all of your business income, payments, receipts, and other transactions with Wave Accounting's software so everything is in step.
Simplification for tax reporting — Capture all of your income and expenditure to make tax filing much easier.
Dashboards — Get a snapshot of your business including money taken, expenses, invoice statements, balances, and cash flow.
Reports — Access profit and loss, balance sheet, sales tax, expense reports, and more.
Financial categorization — See where your business is making and spending money.
Related Article: Beginner's Guide to Profit and Loss Statements.
---
Other Functions
Wave software features some other functionality, including smartphone invoice creation, collaboration within apps, journal transactions, multiple business support from one account, and third party integrations with other solutions like PayPal and Etsy.
Wave Accounting Pricing
As mentioned in the beginning of this Wave review, Wave's actual accounting software is free to use. Their pricing and fees model applies to services, including payroll and credit card processing. I already covered the costs for the payroll module, above.
Wave Credit Card Processing Pricing
Wave charges a fee for accepting credit and debit payments for invoices. The cost is 2.9% of the transaction amount plus a flat fee of 60 cents. For example, if you have one hundred transactions for $30 each, you'd pay $117 in fees. This applies to Visa, Mastercard, and Discover transactions. For American Express transactions, you'll pay more: 3.4% + 60 cents per transaction.
Both of these rates are on the high side. Depending on your monthly volume and average transaction size, it may be cheaper to seek processing elsewhere.
Note that whatever accounting app you use, you would still have to pay processing fees. Some may be even higher, but others may be lower. Similar "flat rate" processors, such as PayPal or Stripe, come in around 2.9% + 30 cents per transaction – a 30 cent difference that can really add up when you have many transactions. Non flat-rate processors may come in even lower.
However, businesses with higher monthly volumes may be able to save significantly over flat rate-style pricing. Use a credit card processing comparison site to see what rates and fees your business is eligible for.
Wave Security
Wave Accounting features high levels of security and strong encryption. The company is rated as a Level 1 PCI service provider and follows all security best practices laid out by the PCI standards.
Wave Reviews
Now that we've gone over the features, what do users think? We've explored reviews of Wave from across the web to get an idea of how the product is used and rated.
Generally speaking, people really like the suite of tools Wave accounting provides as it gives a good basis for running a business. However, reviewers did point out that the built in reporting leaves something to be desired. They wanted a way to customize reports and get more detailed information out of the app. There were also several comments about the "Journal" feature and the ability to add specialized transactions.
Despite this, people were pleased with how easy it was to set up and use Wave, and said the software is very intuitive and quick to learn. The support team was also praised for responding to issues quickly and comprehensively.
Some users did complain about Wave being slow to respond and use, including reports of crashing. It's not known if this was an isolated incident or if it's an ongoing problem. Additionally, other users complained that it took them longer than two days for money to be processed and transferred to their bank accounts.
Trustradius
6.8 out of 10; 167 reviews
Reviewers at Trustradius gave Wave an average 6.8 rating out of 10. Reviewers state that the payroll module is helpful, saving the reviewer considerable time since the process is automated. Others liked the automatic card transaction download, saving time on data entry into the general ledger. Additionally, reviews felt that the invoicing options were easy to use and that dashboards were easy to read.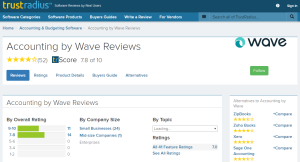 The minor complaints that some mentioned are that more customization is needed for reports, and the journal entry feature needs improvement by allowing billable expenses to be posted to a customer account. Some reviewers also want project accounting so they can individually track revenue and expenses for various events or projects.
GetApp
4.4 out of 5; 1,000+ ratings
On the whole, GetApp users were also pleased with the features but several reviews complained that the app is slow, and freezes or crashes frequently. Other reviewers felt the app is user-friendly and had a great-looking dashboard layout.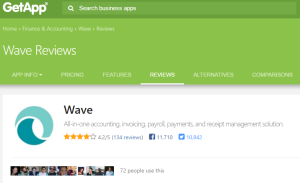 On the cons side, some reviewers felt that while the platform overall is good, customer service is very slow, with no phone number. Some reviewers expressed that they wouldn't use Wave again, and that the lack of responsive customer service is a con that currently outweighs the rest of the pros of the system.
Software Advice
4.4 out of 5; 1,400 reviews
Software Advice users echoed reviewers in the previous two sites. They liked the features of Wave accounting but complain about lack of integration and slow performance. Some like that it's free and easy to use – ideal for a small business even if it only offers basic functions. Others compliment the customer service team.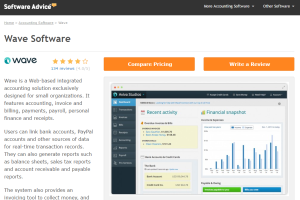 Some reviews mention that there's no easy integration with other popular software and that there's a lack of migration support. Some also expressed a need to be able to tag and organize transactions.
Related Article: How to Send Electronic Invoices.
---
Conclusion
We hope this has given you a good overall understanding of the functions Wave can provide to your small business. It's a feature-rich app, and although some reviewers do have issues with reports and response times, overall their experience is positive.
If you're still not sure, you can setup a Wave login and try the app out to see how it could work for you. If you've used Wave Accounting yourself, let us know in the comments below!