What your business pays in processing fees depends on a number of factors, including your industry, the type of card, how you accept cards, if you take PIN or signature debit, and more. It also depends on whether you have a CardFellow wholesale credit card processing membership or if you obtained your merchant account outside of CardFellow. Those with CardFellow memberships will pay about 40% less in fees than businesses that don't, even when using the same processor.
However, we can still provide very rough numbers to give you a starting point. Just remember your actual costs may be a little higher or lower, depending on any number of factors.
---
Average Credit Card Processing Fees
So, what do businesses pay for credit card transactions? If you're looking for quick numbers, here you go: the average credit card processing cost for a retail business where cards are swiped is roughly 1.95% – 2% for Visa, Mastercard, and Discover transactions. The average cost for card-not-present businesses, such as online shops, is roughly 2.30% – 2.50%.
| | | |
| --- | --- | --- |
| | Visa, Mastercard, Discover | American Express OptBlue |
| Swiped Transaction | ~1.95% – 2% | See note on Amex |
| Online or Keyed Transaction | 2.30% – 2.50% | See note on Amex |
Businesses that have CardFellow memberships will pay about 0.20% – 0.50% less than the rates above.
Remember, these costs are general averages. Your particular business may have higher or lower costs. Higher costs don't automatically mean you're getting a bad deal, but can mean it's worth digging deeper.
It's very difficult to assess whether you have competitive pricing by comparing your rates to averages, and going by general numbers can be dangerous, especially if you're figuring processing expense for a new business. Underestimating processing fees at this stage will hurt your new business when it's most vulnerable. The fact is, there are many costs involved, from interchange and assessments to processor's markup, which can include statement fees, monthly fees, PCI fees, and more.
Rather than using averages as your benchmark, try tools that provide you with best-case rates for your specific business, and use that as your measuring stick. CardFellow offers a free quote comparison tool where you can enter basic information about your business and see the best possible pricing. Try it here.
American Express
You'll typically pay more to accept American Express than other types of cards. Whether you pay a lot more or a little more depends on your payment processor and the pricing model you're on.
While Amex has a reputation as the "expensive" card to accept, the company has actively tried to change that. In 2015, Amex rolled out a new pricing model, called OptBlue. The new model offered the possibility of lower costs. Indeed, OptBlue charges can be much closer to Visa and Mastercard charges than they have been in the past. However, some credit card processors used OptBlue to their advantage instead of yours. Rather than pass on the savings to you, they instead pocketed it as additional profit.
It's difficult to give accurate averages for Visa, Mastercard, and Discover, but it's nearly impossible for Amex. In addition to the broad range of processor fees, a high number of commercial credit cards are Amex. Commercial cards incur different rates than consumer cards, and factors like enhanced data play a role as well.
However, if your Amex costs are significantly higher than your Visa or Mastercard charges, you should look into it further. It may be that you're on an old pricing model, that your processor is pocketing savings, or that you're not properly passing level 2 and level 3 date to get better rates on specific card types.
Effective Rate
The amount a business pays in processing fees relative to gross volume is called an effective rate. Estimating the effective rate for your business is the best way to determine average processing expenses. Your effective rate will be expressed as a percentage, but it is not synonymous with a processor's rates. In other words, effective rate isn't a set fee that retailers pay. It's simply a calculation of what you paid in processing fees as a percentage of your total processing volume. The effective rate is what you paid for merchant services.
Instead of relying on rough averages, it's better to get an accurate idea of processing fees for your business by taking a few variables into account. You'll need to know:
Processing Method
Your business's processing method has a large impact on typical credit card processing charges because it affects how many and which types of fees will apply.
Card-present and card-not-present are the two ways that a business can process credit cards. As the names imply, card-present refers to a retail or restaurant business that swipes cards, and card-not-present refers to businesses that process transactions remotely, such as e-commerce or mail order businesses. (However, it's important to note that any "keyed" transactions – where a cashier enters a card number by hand into a machine or terminal – counts as card-not-present even if the card was physically with the cashier. Card present only refers to swiped transactions.)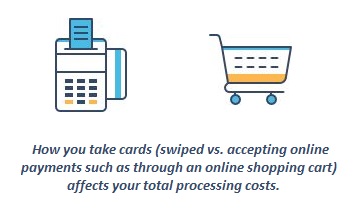 Interchange fees, processing markup, and third-party charges are all affected by your business's processing method. Credit card processing charges are typically less for card-present businesses than they are for card-not-present businesses. Here's why.
Card-Present Businesses
Pay lower interchange fees – roughly 1.60% plus a $0.10 transaction fee.
Have lower monthly fees (roughly $5 – $15) and transaction fees ($0.08 – $0.10)
Are low risk and get lower interchange plus rates from processors here at CardFellow
Have lower occurrences of chargebacks and fraud that contribute to overall cost
Card-Not-Present Businesses
Pay higher interchange fees – roughly 1.90% plus a $0.10 transaction fee.
Have higher software costs that are usually associated with online gateways (generally $10 – $15 a month plus a $0.01 – $0.08 transaction fee)
Are higher risk and pay higher interchange plus markups from processors
Have higher occurrences of chargebacks and fraud resulting in greater overhead expense
Average Ticket Size
Ticket size has a huge impact on a business's average credit card processing fees. Ticket size refers to the amount of a typical credit or debit card sale. The greater the average ticket size, the higher the average processing costs.
As the ticket size decreases, the number of transaction fees incurred increases. Since transaction fees have a greater impact on smaller transactions, they have a greater impact on overall cost.
For example, let's pretend that two businesses each process $1,000 in transactions. Business A has an average ticket of $10, and Business B has an average ticket of $100. This means that Business A will have 100 transactions, and Business B will have 10 transactions.
Let's assume that both businesses have the exact same rates, including a $0.18 transaction fee. Business A would pay $18 in transaction fees, while Business B would only pay $1.80. Business A pays 1,000% more!
Businesses that have low average tickets sometimes opt to impose a minimum for credit cards. Doing so helps to fend off credit card use on very low transaction amounts.
Read more about Minimum Purchase Amount on Credit Card Transactions. 
---
Accounting for Average Ticket Size
Here's how to account for average ticket size when determining average processing fees for your business.
Divide your business's expected / actual monthly processing volume by the average ticket, and multiply that number by the total transaction fee. (Roughly $0.18 – $0.20 for card-present businesses, or $0.25 – $0.30 for card-not-present businesses.) Divide this number by the processing volume, and multiply it by 100. This will yield the percentage of total volume that goes toward paying transaction fees.
Keep this number handy, because we're going to use it later to figure the total average credit card processing fees for your business.
Debit vs. Credit Card Charges
Average ticket also has an impact on how many of your customers will pay with a debit card vs. a credit card. In many cases, customers use debit cards for small transactions and credit cards for larger transactions. Debit card interchange fees are less than credit card interchange fees.
In 2011, the United States government imposed a cap on interchange for certain debit cards. As part of the Durbin Amendment, regulated debit cards were capped at 0.05% + 22 cents. Regulated debit cards are defined as cards issued by a bank with $10 billion or more in assets. (For example, Wells Fargo, Bank of America, SunTrust, etc.)
However, those fees were only capped at the interchange level – the Amendment said nothing about caps on what processors can charge on top of interchange. As a result, many businesses didn't see much of a reduction on debit transactions.
The Federal Reserve website includes details on debit interchange fee trends over time as a result of the regulation.
In any case, your debit costs will not be the same as credit costs. That means that the percentage of debit vs. credit cards that you take will have an impact on your total processing fees.
Related Article: Which is Cheaper – PIN or Signature Debit?
---
Calculating Average Cost
Now that you know the contributing factors that determine average cost, let's put it all together.
Figure your average monthly processing volume and average ticket amount. I'm going to use $10,000 and $50 as an example.
Select the average interchange cost from the "Processing Method" section above that applies to your business. Use 1.60% for card-present businesses and 1.90% for card-not-present businesses. I'm going to go with card-not-present.
Add the processor's interchange markup to the average interchange cost. I'm going to use 0.25% as the markup, so I'll add 1.90% and 0.25% for a total so far of 2.15%.
Next, figure the impact your average ticket will have on transaction fees by following the steps in the "Average Ticket Size" section, and add that number to your running total. I'm a card-not-present business, so I used the $0.25 transaction fee. Here's how mine works out:
$10,000 / $50 * $0.25 = $50
$50 / $10,000 * 100 = 0.50%
0. 50% + 2.15% = 2.65%
Finally, figure the impact monthly fees will have by using the average monthly charges from the "Processing Method" section, and using the same formula as we did in figuring the average ticket impact. As a card-not-present business, I used monthly fees of $15. Here's how mine works out:
$15 / $10,000 * 100 = 0.15%
0.15% + 2.65% = 2.80%
And there we have it. In this example, the merchant account rates for an online business that processes $10,000 a month with an average ticket of $50 will pay about 2.80% of volume or $280 a month in credit card processing charges.
Lowering Costs
Keep in mind that the quotes you receive through CardFellow are very competitive, and we only allow interchange pass through, which is the most transparent form of pricing. If you're comparing quotes outside of our marketplace, you may want to increase your average a little to be safe.
Curious how CardFellow can help you save? Create a free account!