CardPointe is a processing solution available through CardConnect, designed to make transaction processing easier and safer.
In July of 2016, businesses may have noticed a new fee on statements: the CardPointe fee. Charged by CardConnect, the CardPointe fee is a monthly charge that may be added to existing processing fees.
What is it, does it affect you, and what are your options? Let's take a look.
---
What is the CardPointe fee?
Popular payment provider CardConnect increased their fees for processing cards (known as their "CardPointe" system) by $10/month, starting in July 2016. This monthly fee is in addition to other fees. The fee covers the costs of providing a more robust payment processing system.
Does the CardPointe fee apply to me?
If you're a direct CardConnect/CardPointe customer, yes. This fee began in July 2016.
If you're not a direct CardConnect customer, it may still apply. This is because many smaller processing companies process through CardConnect, so even if you don't think this fee increase will affect you, it might. Unfortunately, there is no exhaustive list of partnerships between payment processing companies, making it impossible for us to provide specific company names to those who are affected.
To find out if you're paying for this, take a look at your processing statement from CardConnect or affiliated processor and look for the CardPointe fee.
You may consider switching processors to one that doesn't go through CardConnect. If you need assistance finding a new processor, we suggest using our quote comparison tool to see what options are available to you.
What does CardPointe do?
Of course, you might decide that the CardPointe service is worth the extra $10/month. Let's take a look at what you actually get for the price.
Real Time Transaction Management
You can see your payments being processed in real time as they come through. You'll also have the ability to void, capture and refund transactions, on any device. Additionally, you can view transaction reports throughout their lifecycle and manage your account as you want to, across multiple locations.
Virtual Terminal
Virtual terminals allow you to turn your computer into a payment processing machine. You can enter card details through your browser and charge your clients accordingly. It's ideally suited to phone and mail order businesses, but can be helpful in any situation where you don't need dedicated processing equipment. You can also set up unique user profiles for individual employees. Note that if you use the virtual terminal option, you cannot use the Catalog inventory system and checkout feature. See the Catalog section below for additional details.
Mobile App and Payments
You can use CardPointe's mobile app to swipe or take chip card payments when you're on the road or not able to use a traditional credit card machine.
Point to Point Encrypted Terminals
CardPointe provides secure, encrypted terminals for you to take payment details at the point of sale. You can take payment via swiping, through a chip enabled card or via contactless payments (NFC). Accepting NFC payments means you can take new technology like Apple Pay.
Hosted Payment Page
For simple, no-developer-needed online payments, you can use the CardPointe hosted payment page (HPP.) CardPointe's HPP offers buy buttons and is customizable so you can tailor it to match your site. Additionally, you can implement reCAPTCHA (for users to verify they're people, not bots) and the page is mobile-friendly for your customers that visit your site on their smartphones.
Recurring Billing with Account Updater
CardPointe allows for recurring billing, so if you run a business that sells memberships or subscriptions, you can easily manage your regular payments. Additionally, the account updater tool automatically updates expiring cards with new credentials. This means your recurring and subscription-based payments won't be interrupted, saving you the time and frustration of calling customers for new card info.
CardPointe Catalog
Introduced in early 2017, the CardPointe Catalog is an inventory management and checkout function available at no additional cost. You can input your products or services, assign prices, and organize items into categories. You'll be able to easily add items from your Catalog when checking out customers, and can optionally provide them with the option to include gratuities. You can use Catalog from your smartphone, tablet, or computer and even apply discounts to items or to entire purchases.
As an included feature, the CardPointe Catalog is available to any CardPointe user, but you'll need to enable it to begin. To enable it, open your CardPointe app, go to the menu in the top corner, then go to settings and find "applications." Toggle the Register button so that it's green, to enable Catalog.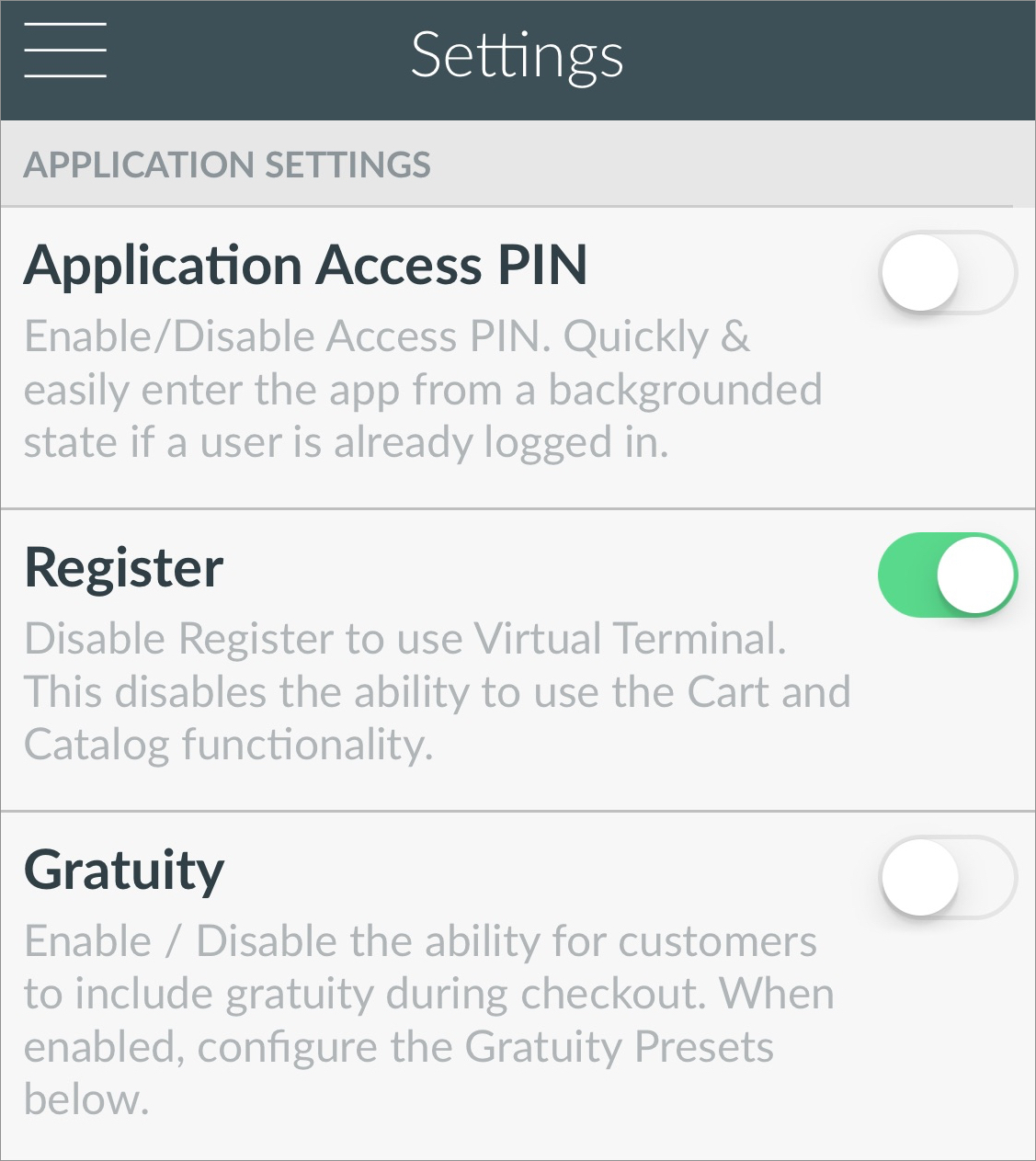 This screen is also where you can optionally enable gratuities. You'll have the option to let customers enter a tip as either a dollar amount or a percentage of the total sale.
It's not necessary to use Catalog if you don't want to. You'll still be able to use the CardPointe virtual terminal to complete purchases for customers, but you can only enable one or the other.
Other Features
CardPointe's other features include:
Custom reporting so you can learn how your customers are shopping
An archive of statements and transactions so you can look back over your transaction history
eCheck and ACH payment options for non-credit card processing
Secure customer profiles
Chargeback management for disputed payments
The CardPointe gateway integrates with Quickbooks Pro, Premier, Enterprise and POS. QB Online integration is coming soon.
CardPointe and Enhanced Data
Probably one of the most interesting and beneficial features of CardPointe is its auto-fill capabilities for enhanced data, or the data required to get the best costs for commercial and government credit cards. Often referred to as Level 2 or Level 3 data, this information can help you get lower costs for those card types. If you process a lot of B2B transactions or accept government cards, CardPointe can make your life easier. Auto-fill is available for all the input methods: swiping with the CardPointe Ingenico terminal, through the CardPointe gateway/virtual terminal, and with CardPointe Mobile.
Related Article: Save Money on Level 2 and Level 3 Transactions.
---
Your Options
The first choice is to stay with your current processor and pay the additional CardPointe fee of $10/month. This may be in your best interest depending on your specific needs. B2B businesses in particular may find CardPointe beneficial. If you're not sure if you should stick with CardPointe, don't hesitate to contact us for assistance reviewing your options.
If you don't want or need the CardPointe features noted, be sure to contact your card processor to find out if you're likely to see increased fees, and consider changing payment providers. CardFellow makes it easy for you to switch to the perfect provider for you. Using our quote comparison tool is free and private, and we're happy to answer any questions you have about switching processors.