One of the most heavily used and under-appreciated fixtures in every retail business today is the credit card processing device.
Today we will discuss the most basic credit card processing device found in a retail business: the standalone credit card terminal. Stand-alone terminals are the simplest and most cost-effective method for accepting card-present transactions (payments where your customer hands you their card) in a retail environment.
Although they are the most basic, there are still a few options to consider when purchasing the device best suited for your business. Unfortunately, many business owners don't receive education from their merchant account providers on the features of different devices. As a result, they don't get the device best suited for their needs or utilize the device they have to its fullest extent.
Let's take a look at factors to consider before purchasing your credit card machine.
---
Processor Compatibility
Standalone credit card terminals can be universal or proprietary. Proprietary terminals are restricted to one processor's platform, while universal terminals can be used on several processor's platforms.
For example, only processors using the First Data (now Fiserv) platform can support First Data FD Series credit card machines. On the other hand, a credit machine machine like an Ingenico iCT Series or a Verifone Vx Series can be used on multiple different processing platforms. A universal machine tends to give you more choices when it comes to picking a payment provider.
Connection Types
An important thing to consider when choosing the right credit card processing terminal is what method is available for the terminal to communicate with your processor. Although credit card terminals are still equipped with modems and able to utilize an analog phone line to transmit transaction information, that is no longer the preferred method. These days, a hardwire internet connection is the suggested connection method due to the speed and reliability it provides.
However, terminals equipped with wireless technology such as WiFi and cellular service also work well and should be considered if a hardwire internet connection is unavailable.
Peripheral Devices
The days of just swiping a credit card through a credit card terminal are all but gone. In the past 10 years, debit transactions have become more popular, and many of those transactions require customers to enter a PIN to complete the sale. In addition, contactless payments (like Apple Pay) are also becoming more popular. Peripheral devices – that is, equipment added to the main terminal – can help.
With these new payment methods, it's important to consider adding a customer-facing PIN entry device that allows customers to use their debit card and PIN, or a contactless "tap" terminal so customers can use their smartphone or smartwatch to make a payment. In the image below, a customer PIN pad is connected to the business' standalone credit card machine.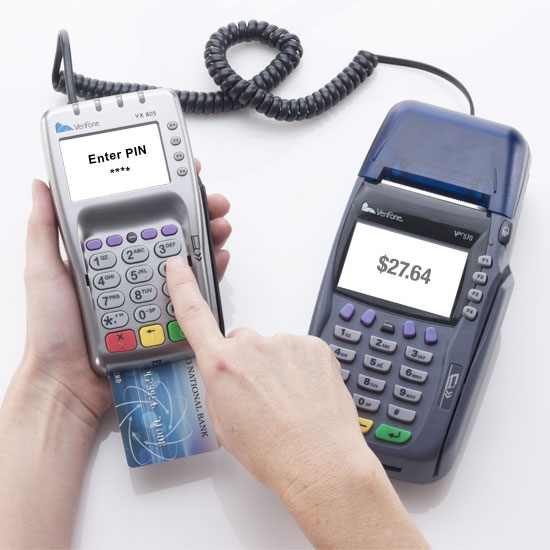 The stretch cord gives the ability to put the standalone machine behind the counter and the customer-facing PIN pad on the counter or in a stand.
Basic stand-alone credit card terminals, even being the most basic way to accept card present transactions, have evolved as well. Many are now compatible with customer-facing PIN entry devices, and some even have built-in contactless capability. This allows business owners to give their clients that same sense of security and convenience that was previously only available in much more expensive point-of-sale systems.
When deciding on the right standalone terminal, decide whether you'll add a PIN pad and check compatibility with the machine you're considering.
Additional Transaction Types
In addition to processing credit and debit transactions, stand-alone terminals are able to incorporate some additional payment methods that a business may require, including:
EBT – EBT in an acronym for electronic benefits transfer. It refers to state-issued benefits such as SNAP or food stamps. Grocery stores commonly accept this method.
Gift Card – An electronic stored-value card that contains a predetermined value at a specified business. Gift Cards are an excellent way to build customer loyalty and introduce a brand to new clients.
Electronic Checks – An electronic check program is a way to convert paper checks to an electronic format for transfer to your banking institution. Most electronic check programs also protect your business from the possibility of a bounced check.
Related Article: How to Sell and Redeem Gift Cards at Your Business.
---
Additional Features
Stand-alone credit card terminals also offer features that some businesses may find extremely useful.  Not all units offer all the features, so be sure to check for the specific features you want in any models you're considering.
Note that stand-alone credit card terminals are becoming increasingly "smart" so it is probably not long before this list grows significantly.
Automatic Updates
The ability for the terminal to automatically download the latest software updates without user intervention. This service adds convenience and limits time spent on the phone with customer support by handling everything from ensuring the software being utilized by the credit card terminal is compliant with the latest card brand security requirements to updating the time for daylight savings.
Signature Capture
Allows the cardholder to sign on the terminal's screen. The machine captures the signature electronically and stores it. This feature reduces the chance of misplaced receipts, cuts down on paper records, and is environmentally friendly.
Note that the card brands no longer require signatures for credit card transactions, so it's not strictly necessary to have an option for signatures. However, if you prefer to request them, this feature is available to you on many machines.
Multi-Merchant
Allows the processing of transactions from multiple merchant accounts through a single credit card terminal. This feature is useful for businesses that typically have multiple independent account holders such as hair salons. Merchant accounts are designed for individual businesses or account holders and shouldn't be shared. However, terminals that can support multiple merchant accounts allow the best of both worlds – individual accounts as required with a shared machine to cut down on costs.
Tip Skip
This feature allows you to skip the tip prompt during a sale. Instead, you'll be able to adjust for a tip after the sale. Europe has used chip technology for many years. However, bringing that technology to the US market created some issues.
In Europe, it is common place for restaurants to use wireless credit card terminals. The server brings the wireless credit card terminal right to the table to allow the client to process the transaction and enter the tip. However, this is not the common practice in the US. Instead, the server brings the customer's card to a centralized location for processing.
When EMV transactions were first brought to the US (and prior to tip skip capability) the only option for accepting a tip was to enter the tip at the time of the transaction, which left the server in the uncomfortable position of asking the customer if he/she would like to leave a tip. Tip skip preserves the familiar practice of tipping after card authorization.
Store and Forward
A mode that allows you to accept cards when your internet is down or you otherwise lose a connection. Transactions will be "stored" and then "forwarded" for processing when connection becomes available. This is an increasingly common and handy feature for all businesses.
Images on Receipt
The ability to add an image to receipt. Businesses use this feature to add a logo to receipts. Many businesses prefer it due to the increased branding and professional image it portrays.
Related Article: Chip Cards Mean Changes for Tipping.
---
Accessories
More often than not, stand-alone terminal accessories are overlooked in the sales process. Business owners aren't aware of these simple things that can make their everyday lives easier, protect their investment and limit the possibility of down time.
The most notable terminal accessories available are a variety of counter and wall mount stands. A stand allows secure mounting and cable management for a credit card terminal. It also protects against accidental drops and banging around the cable management, and prevents stressed connections that could inhibit terminal operation. Stands are also available with a secure key lock that prevents removal of the credit card terminal. A key lock protects against theft and tampering. The image below shows a PIN pad in a stand.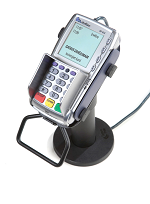 This model also shows a privacy shield – another handy accessory. Privacy shields are plastic or metal guards attached to the PIN pad. They help hide the number pad from other customers, adding another layer of security for since it shields customers' PINs.
Another notable accessory is the terminal spill cover. Spill covers will protect a terminal from liquid, dust and other harmful materials. These prove especially valuable in restaurant environments.
These days, there are a lot of choices when it comes to stand-alone terminals. To find the perfect one for your needs, consider which features are most important for your business. From there, narrow it down using the CardFellow credit card machine directory.
Go to the Credit Card Machine Directory.