If you use Clover credit card processing equipment, you'll need to pick a software plan along with the machine. Which Clover software plan is right for you?
There are several choices, each with different costs and features. In this article, we'll cover the monthly fees for Clover plans, hardware/software compatibility, and what you get with each software plan.
---
Clover Equipment
There are six choices for Clover credit card processing equipment: Go, Flex, Mobile, Mini, Station, and Station 2018.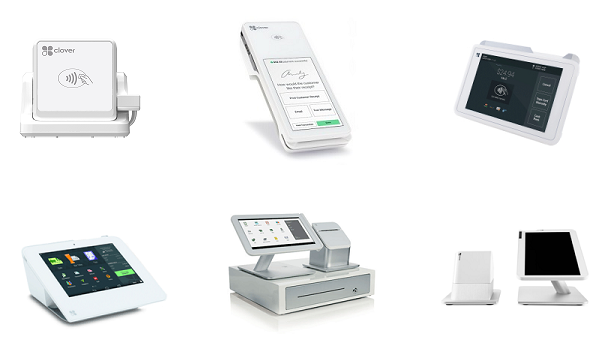 You technically need a Clover software plan to use any of the machines, even if it's just the no-cost basic plan. Some software plans are only compatible with certain machines. For example, the Register plan doesn't work with the Clover Go, and Payments Plus or Register Lite are not available for Clover Stations.
Clover Software Plans
With all plans, you can track sales from anywhere, on a computer or using your smartphone and all plans include cloud backup. All three payment plans come with the ability to accept magstripe, EMV chip, and NFC transactions, as well as recording cash and check sales. (You'll need compatible Clover hardware to accept EMV/NFC transactions and checks. You may also want to connect an optional cash drawer if you accept cash.)
The plans also include basic employee management for tracking shifts and setting role permissions so that employees can only access the functions necessary to complete their jobs. Each plan comes with 24/7 customer service.
Beyond those basics, the plans vary in features.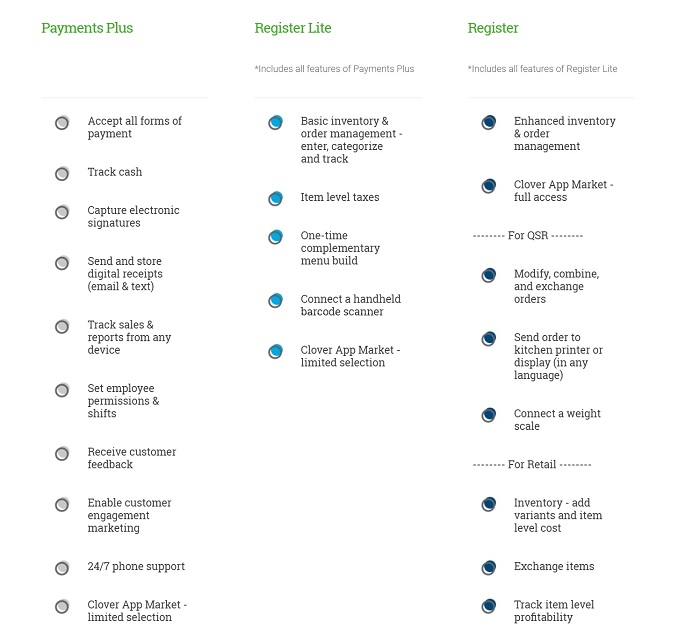 The image above is Clover's comparison of the features of each plan, which we'll also discuss in more detail below.
Note that in some marketing materials, you may see reference to simply "Payments." This is not a Clover plan. Rather, it refers to payment acceptance for use with other First Data devices, such as the FD130 countertop terminal.
Payments Plus
No additional fee.
This entry-level software plan is available for the Clover Mini, Flex, and Go. It offers only the basics: payment acceptance and reports. "Payment acceptance" includes the ability to capture digital signatures and to track cash. Payments Plus does not include inventory capabilities or item-level data, so if you need to track products and manage in-stock inventory, this isn't the right software plan for you.
Choose Payments Plus if: You only want to use your Clover for basic payment acceptance. You don't need to manage inventory and have no need for advanced functions. This plan is ideal for small shops and businesses that are looking for a no-fuss way to take credit cards.
Register Lite
Starts at $9.95/month, or $14/month when bundled with security features.
Register Lite is Clover's 'cash register replacement' plan. It can replace your old low-tech cash register while providing additional functions like basic inventory and order management. The plan is Available for Mini and Flex, and includes all of the features of Payments Plus as well as additional functions.
The plan includes basic inventory management (item level entry and the ability to set and manage categories) but does not allow for more detailed inventory tracking. It also supports connecting an optional handheld barcode scanner if you prefer to scan barcodes to ring up customers. It does not support weight scales for selling items by weight, such as produce or frozen yogurt.
While Register Lite can access the Clover App Market, app selection is more limited than with the full Register plan.
Choose Register Lite if: You're new to using a POS system and don't want the expense of all the advanced features, or if you're familiar with POS systems and just want basic inventory management capabilities along with payment acceptance.
Register
Starts at $29.95/month for Clover Mini and Flex. Pricing for use with the Clover Station is set by individual processors. Clover suggested pricing is $39/month.
Register is Clover's complete POS software with enhanced inventory and full order management. It's available for Mini, Flex, and Station and boasts full access to the hundreds of apps in Clover's App Market. It includes all of the features of Register Lite in addition to advanced functions not available in the lower level plans.
The full inventory management functions include enhanced modifiers, variants, item-level cost and profitability tracking, and the ability to create combinations of items.
Register is the only plan that allows you to connect a weight scale, so if you want to use Clover to sell produce, frozen yogurt, or other weight-based items, this is the plan you'll need. Register also allows you to send orders to a kitchen printer or kitchen display, making it the more feature-rich choice for restaurants.
Choose Register if: You want a full-featured POS system or have more advanced needs, particularly in food service. Register is also a good choice if you plan to customize your POS system using third-party apps.
Register Plan Pricing for Clover Stations
As noted above, the cost for using the Register plan will be set by the processing company you choose. That's not inherently a bad thing, but it's worth noting that the Register plan is the only way that processors would receive a portion of the monthly Clover fee. When you choose the Register Lite or Payments Plus plans, the monthly fee is paid through the Clover App Market (not billed on your monthly processing statement) and goes directly to Clover.
You'll need to use Register if you use a Clover Station or Station 2018, so a processor quoting the Register plan for use with a Station is not a money grab. However, it may or may not be the right fit if you use a Clover Mini or Flex. Be sure you understand the features of the monthly plans before deciding on the right one for your business.
Clover Stations with Additional Machines
Some businesses use Clover Stations with an additional machine, such as a Mini or a Flex for line-busting. In those cases, you'd need to pay for a software plan for both machines. Clover Stations require the Register plan. If there's a Clover Station with Register plan on your account, any additional devices (such as the Mini or Flex) will also need a Register plan.
That means that if you use a Clover Station with a Flex or Mini, you'll pay the Register plan monthly fee twice – once for the Station and once for the second device.
The exception to this is for "tethered" Minis that are not accepting payments. Tethered Minis won't incur a second software fee. Tethering refers to using a Mini as a customer-facing screen along with a Clover Station.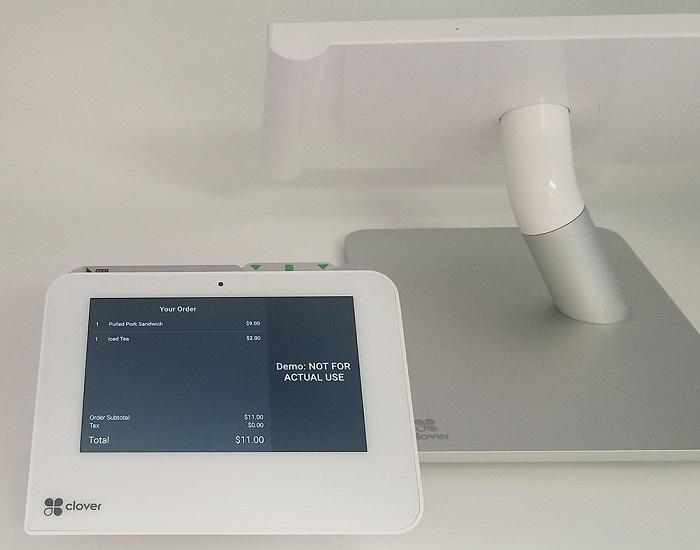 When "tethered," the Mini has less available features, as it is designed for customer use rather than staff use. The tethered mini faces the customer, displays items as they're rung in, displays the order total, and allows for customers to pay on the Mini, eliminating the need to hand their card to a cashier.
Other Clover Fees
The Clover monthly fees for a software plan are not the only costs involved. You'll also pay processing fees to accept credit and debit cards. Those costs vary and are set by your processor. If you go direct to Clover, processing costs start around 2.3% + 10 cents per transaction. Competitive interchange plus pricing may be lower. You can see pricing from multiple processing companies using CardFellow's quote comparison tools.
Additionally, you'll need to purchase Clover hardware. Basic mobile readers cost $59 while full Station bundles start around $1,200.
App Fees
You may also incur fees if you choose to use certain apps for specific functions. The Clover Stations come with access to the robust Clover App Market, a virtual store where you can download various third-party apps to customize your Clover system with the exact functions you need.
While the apps are compatible with Clover, they're not Clover-created. Clover doesn't provide the customer service or set the costs for those apps. The app creator is in charge of costs and support. Some apps are available free of charge while others incur a monthly fee.
How much does a Clover system cost?
As you can tell from this article, the total cost to use a Clover system varies depending on the specific equipment, software plan, processor, and apps that you choose. You can expect the basic Clover Go reader to cost $59 for the hardware while the full Clover Station POS system starts at around $1,200.
From there, software plans start at no additional charge (for basic payment acceptance) and go up to $39/month (for full inventory management and advanced POS features.)
Processing costs vary depending on the processor you choose. Clover is compatible with processors that operate on the First Data platform. If you choose to go direct to Clover, you can expect processing fees starting around 2.3% + 10 cents per transaction. Additional fees may apply. Alternately, you can get quotes to use Clover with competitive interchange plus pricing. CardFellow offers a free quote marketplace where you can see real pricing from multiple processors. Try it now!
Apps are optional, so you may not have any additional costs from apps. If you choose to use apps, you'll pay the monthly cost the app creator sets.
Is Clover cheaper than Square?
Sometimes. Unfortunately, there's no single answer to that question, as it depends on several variables, including your average transaction size, your monthly volume your industry, and the plan(s) you're interested in. Since both Clover and Square have different pricing available for different machines and software plans, which one is cheaper will vary. Check out our full Clover vs Square comparison for more information on the features, equipment, and cost differences between these two popular processing options.
If you still need help comparing costs, fill out a free processing profile at CardFellow and contact us for assistance with the numbers.