Magento is an eCommerce platform that lets you sell products via a website, as an ecommerce shop. It was acquired by Adobe in 2018.
With the acquisition, its name changed to Adobe Commerce, though you may still see it referred to as Magento, even on Adobe's site.
In this review we'll dig into Magento / Adobe Commerce, including its main features, benefits, customizations, integrations, and payment options. You'll get a good overview of what the platform can offer you and the insight you need to choose the right eCommerce solution.
---
Different Types of Ecommerce Platforms
Before we get into what the Adobe offers, it's useful to look into the various ways you can sell online. The platform you choose will largely depend on how much customization you want, whether you need to hire a specialized developer, and several other factors. From least to most complex, your options are:
Third-party marketplace like Amazon, eBay, or Etsy: You typically upload images and price your products to sell through the marketplace, and they take care of payment, inventory management, etc.
Ecommerce service: Websites like Shopify and BigCommerce provide specialized, complete eCommerce solutions. You open a shop, do some background work, upload products, set prices, and go.
Website builder: Websites builders like Squarespace, Wix, and Weebly all have eCommerce addons to allow you to sell products on the platforms.
Ecommerce addon to an existing website: If you have a WordPress website or similar you can use addons like WooCommerce to make things easier.
Specialized Ecommerce integration: This is where Adobe Commerce shines. It's a platform you can integrate into almost any type of website or business, online or off.
Adobe Commerce Review: Pros
There are several pros to the Adobe Commerce system.
Popular Ecommerce Platform
It's a great choice to sell products, as evidenced by the brands who use it. Coca Cola, Burger King, Peets Coffee, and many other household names take advantage of the platform. In the past, the company has claimed that over 250,000 retailers sell on the platform around the world, and that it's supported by over 150,000 developers.
Open Source
Magento started as open source software, meaning it's openly developed by multiple people who provide consolidated releases of the platform, and Adobe Commerce continues that. You can implement it in a couple of ways.
To start with, you can host the platform on your own, or a web hosting company's server. The basic version is free to download and use, although you will need to pay for development to tweak it to your requirements.
If you need a more powerful implementation, you can choose to use a "hosted service." This is where Adobe engineers setup and manage the platform for you. It will be preinstalled and easier to tweak and update, but you will need to pay an ongoing subscription fee, which could be tens of thousands of dollars a year.
Cons
But the service is not without cons.
Customization at a Cost
If there's one thing to know about Adobe Commerce, it's this: It gives you enormous customization options, but you are very likely to need a specialized web or eCommerce developer to make the most of it. This means it's best for entrepreneurs and store owners who have a development budget and want the specialized features that the solution provides.
However, developers get access to a large resource library with all the key information they need to install and customize it.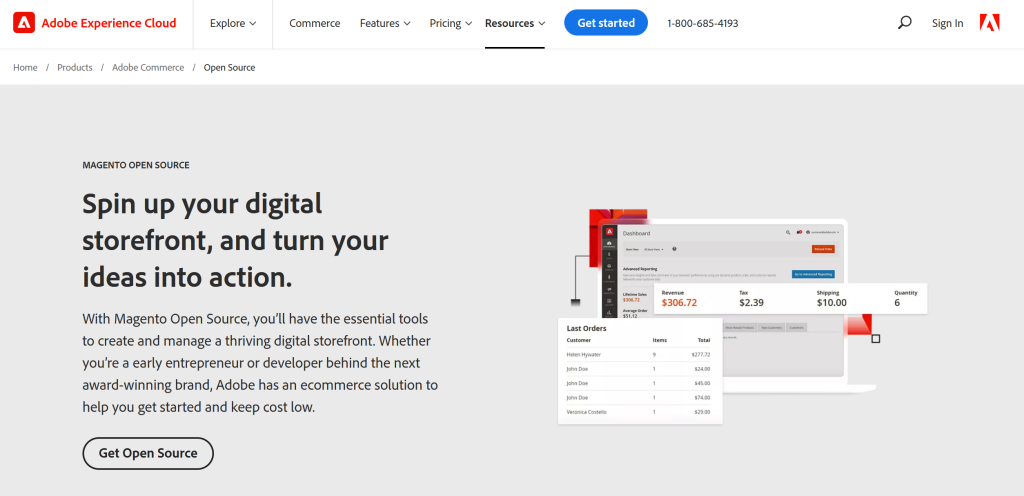 Features
Adobe Commerce provides a complete range of options for selling to customers. This includes everything you would expect from a fully-featured eCommerce platform.
Products
You can upload products, set prices, discounts, categories, and everything else you need. Your customers can browse products, filter and sort in a multitude of ways, leave reviews, and easily manage their shopping carts. They can order online and pickup in stores, will full integration between physical and virtual shopping.
Customers
You can segment customers as you wish and show them unique versions of your shop front, including specialized order flow, coupons, and discounts. The system has an "Instant Purchase" option, where the platform will use the customer's saved information to make checking out quick and easy. The platform is optimized for tablets and smartphones, so customers can shop wherever they are.
Orders
Adobe Commerce provides complete inventory and stock management across physical, "pop up," online, and other stores. This is supported by full replenishment, reordering, and order tracking.
Promotions and Marketing
Adobe Commerce provides complete promotion and pricing features including coupon codes and discounts. It lets you build customer loyalty programs to encourage repeat purchases and brand awareness. You can also create product bundles and cross sell or upsell.
It also provides newsletter and email management to let customers know about special offers and promotions.
Reporting
Modern retailing depends on having accurate customer, business, and product information. This is an area where Adobe Commerce excels. The platform provides access to over 100 "standardized" reports and provides unlimited options for customizing any kind of report you need. It also collates information into datasets that you can query for business intelligence and insights. Additionally, it integrates with third parties to add valuable information and context to reporting.
Marketplace
Adobe Commerce provides extensions to the basic platform. This lets you customize and tweak the service to your exact needs. The marketplace includes multiple options for specialized customer support, payment processing, security, marketing, financial reporting, shipping, fulfillment, and optimization. If you can think of something an eCommerce store should be able to do, the chances are that there is an add-on that can achieve it, with over 5,000 extensions available.
Customer Service
Your customers get complete customer service through the platform with features for returning goods, authorizing returns, and processing refunds. Call center support is fully integrated.
Additionally, Adobe Commerce provides features for international customers including currency conversion, multilingual support, and specialized shipping to other countries.
Payment Processing
It's important to know your options for online credit card processing. Adobe Commerce gives you a dashboard for managing payments, but the integrated payment processing solution is through PayPal. That said, the Adobe Commerce site has a help article on payment gateways and references several; it's unclear from the documentation is those gateways are supported. We've reached out to Adobe Commerce for clarification and will update this section as more information becomes available.
Accepting Payments
Customers can choose to pay in several ways with Adobe Commerce, depending on if they're purchasing online or at a store. The company offers credit and debit card processing, cash and checks, bank transfer, purchase orders, saved credit cards, and more.
The platform handles customer location, shipping costs, currency conversion, and all the necessary supplemental order processing before submitting details for authorization and collection.
Compatible Gateways
While Magento (pre-acquisition) integrated with all the major payment gateways, it's unclear from the Adobe Commerce website if that is still an option. This page on payment gateways lists popular options, but doesn't specify if those are actually available with Adobe Commerce or if the article is merely an explainer. We have reached out to Adobe Commerce for clarification and will update this section if more information becomes available.
In the meantime, be sure to check with your credit card processor if you plan to use Adobe Commerce with their services.
Don't have a processor yet? Sign up at CardFellow to get free, no-obligation quotes from multiple companies to accept credit cards online.
Is Adobe Commerce Right for Your Ecommerce Business?
Adobe Commerce is best for eCommerce businesses that need a powerful platform that can do the heavy lifting. This option is enormously customizable with a vast array of extremely useful features, but it does come at a cost — the time, resources, and money you will need to spend to configure the platform and get the ongoing support you need.
An Adobe Commerce implementation isn't for the faint-hearted! That said, if you have the budget, and need an eCommerce platform focused on customer needs, integrations, extensions, and customization, it's hard to beat.
If you're a smaller retailer, Adobe may be a little more than what you need right now. In those cases, we'd normally recommend a website builder service with a retail add on, or a WordPress and WooCommerce implementation. There's far less of administrative and support overhead, and you'll be able to customize the platform fairly easily. Although you may not get all the customization you need, you can grow your business until you have the resources to move to a more fully-featured platform like Adobe Commerce.