When it comes to selling products online, ecommerce entrepreneurs have never had more choices —  from specialized ecommerce services like Shopify or Volusion through to bespoke ecommerce websites, there are plenty of options for online retailers.
There's also an abundance of online website building services that provide ecommerce options. Services like SquareSpace, Weebly, and Wix provide sophisticated templates, an easy-to-use interface, and integrations that make setting up an online store quick and easy. Finally, you have the ubiquitous WordPress. As the most popular website publishing and content management platform in the world, there are many dedicated WordPress plugins to make ecommerce a breeze.
The sheer volume of choices can make it difficult to pick the right ecommerce solutions for your retail needs. In this review we're going to take a few of the more popular options and compare them to help you make an informed decision. In this face-off, we'll be comparing Wix, an online website building services, and WordPress, using the popular WooCommerce add-on.
We'll start by looking at what each service provides in general before diving into the specific eCommerce features you might need.
---
An Overview of WordPress and Wix
To determine which platform is right for you, it's important to have a general understanding of each option.
WordPress — The Most Popular Content Management System in the World
You've probably used a WordPress site as a consumer. WordPress is the most widely-used content management and web publishing system in the world, and is used to run nearly a third of all websites according to the company's website. WordPress has been around since 2003, meaning it's extremely well-supported by plugins, add-ons, developers, and more.
Wix — An Easy-to-use Website Building Service
Wix is a popular website building service. It uses a drag-and-drop interface to allow anyone to create professional looking websites that they can then publish to the world. You don't need to have coding experience, and you can create and update a website in minutes. It's targeted mainly at individuals and small businesses.
WordPress Vs. Wix — Basics
There are a number of features to discuss and compare, so we've split this review into multiple categories. First, let's take a look at the basics, like the ease of use, plugins, and customization options.
WordPress Customization and Ease of Use
WordPress has an interface that's fairly easy to use, although tweaking page layout and design can be tricky. It's a very well-known application though, and there are plenty of tutorials online to get you up to speed quickly. WordPress is a good choice if you already have some web design experience, or don't mind lots of reading.
WordPress allows wide-ranging customization of practically every part of the website. You can change theme, design, color, typography, navigation, menus, page layout, and much more. Although some of these customizations can easily be made in the WordPress theme editor, other tweaks will require you to get "under the hood" and into the code.
This means that for more subtle or wide-ranging modifications you will need to understand HTML, CSS, or JavaScript, or hire a developer who does. Due to its popularity, WordPress developers are easy to find.
Wix Customization and Ease of Use
Wix features a simple drag-and-drop interface. Effectively, everything that you see in the website builder will appear that way on your final website — it's WYSIWIG: What You See Is What You Get. Wix is easier to pick up and use if you know nothing about web design.
When it comes to customization, you can make site-wide changes fairly easily with Wix. Its editor allows for tweaking many elements of the website, although changing the underlying theme once you have chosen it is challenging.
Like WordPress, you can carry out some further customizations in Wix using CSS and HTML, but these are generally "hidden from view." There are also fewer specialist Wix developers, so you will need to figure out most tweaks on your own.
Themes and Plugins — WordPress
This is where WordPress really shines. As the most popular website publishing platform, it has tens of thousands of plugins available. These massively extend the functionality of WordPress and let it integrate it with hundreds of other online applications. WordPress also has thousands of themes and templates including professional templates you can pay for. This lets you pick and choose the right theme for your website.
The sheer number of options can be overwhelming though, so you need a very clear idea of what you want to accomplish with your website. There's also very little quality control, so you have to be careful in choosing the right tools for your website.
Themes and Plugins — Wix
Wix also has professionally designed templates that come as part of its standard offering. Although not as varied as WordPress, there are some good options for ensuring your website looks great.
Wix also has an "app store" that allows you to link your Wix website with other applications and widgets. Wix doesn't have nearly as wide an ecosystem of apps as WordPress, although you will certainly find some useful tools among the more than 250 apps available.
Other Considerations
There are several other areas to consider when it comes to making your choice.
WordPress has a very big, active development and support community. You can ask questions and get support in the forums.
Generally, if you want to run WordPress, you will need your own web hosting, which typically costs between $5 – $10 a month.
Wix automatically provides hosting for you — there's no need to purchase extra.
Wix features responsive design optimized for mobile.
Many WordPress themes are also optimized for mobile, but you will need to check.
WordPress and its plugins and themes will need to be updated when new versions come out; Wix updates automatically.
Adding too many plugins or addons to WordPress may slow down the speed and performance of the website, which can affect positions in search engine results.
For basic web design and building, Wix is ideal if you're new to web design, want to do everything yourself, and get up and running quickly. WordPress requires more configuration, features greater customization, and is very adaptable, but you may need a developer to get the most out of the platform.
Related Article: Taking Credit Cards through Your Website.
---
WordPress vs. Wix for Ecommerce
Now we understand the basic capabilities of both platforms, it's time to explore what they offer to people who want to setup an online retail store. Ecommerce capabilities are vital to a successful shopping website, but adding in a payments function is a little more complex than setting up a basic website.
While Wix features a fully-integrated ecommerce store on their business plan, WordPress does not come standard with ecommerce. Fortunately, as with everything WordPress, there are plenty of sophisticated ecommerce plugins that will transform a standard install into an online retail powerhouse.
The most popular of these WordPress ecommerce plugins is WooCommerce, so it's a WordPress / WooCommerce combo that we'll be comparing with Wix. We'll also share a few other popular WordPress ecommerce plugins a little later.
Templates, Themes, and Customization
Both Wix and WooCommerce come with built-in ecommerce templates and themes. Wix has over 50 dedicated online store themes, while WooCommerce works with many popular WordPress themes and has over 20 child themes of its own.
Many parts of a Wix store are customizable, although the main influence will be the overall theme you pick. Wix offers a theme gallery (see screenshot below) that can be sorted by type.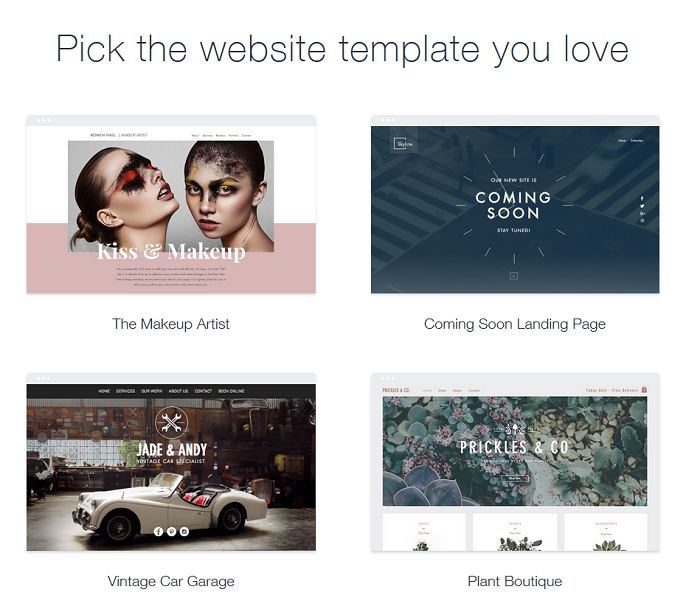 When you choose a theme for your Wix site, you'll need to work within the confines of that theme. In contrast, every single part of WooCommerce can be customized as it is open source, however you may require some programming knowledge to tweak everything in exactly the right way.
Products and Cataloging
Both platforms allow you to sell and ship physical products and provide digital downloads. WooCommerce also lets you sell subscriptions and any other type of content you can think of.
Wix allows you to assign products to specific categories and pages that you can then display in various ways across your store. WooCommerce allows categories, tags, sorting, and filters, which gives customers  a very versatile way to search through your product range.
Product Pages, Galleries, and Photos
Both platforms let you create multiple pages and hierarchies so you can list products in any way you would like. WooCommerce features built-in filtering so customers can sort and filter products by popularity, newness, rating, price, or other factors.
Wix and WooCommerce allow you to create galleries of products. Wix lets you add up to 15 photos to each product, while WooCommerce allows for an unlimited number of photos. Both platforms allow you to add multiple options for colors, sizes, and other similar factors.
Marketing and Promotions
Wix has built-in promotional email newsletter management and also provides you with Google AdWords coupons when you sign up for an eCommerce account. Both services let you apply discounts to individual products, ranges, or across the store.
WooCommerce provides automatic "related items" promotions on the same page as the selected product, so customers can choose something else if the current choice doesn't quite meet their needs.
You can also issue and accept coupons and run special promotions. Wix allows customers to share products to social media directly from your store page. WooCommerce lets you embed products and the checkout page across any page of your store using a "shortcode" plugin. You can even offer affiliate items from other retailers, and when you sell them, you get a commission.
Both services allow you to highlight certain products. Wix lets you add special "ribbon" effects to products to highlight them, while WooCommerce provides several options for highlighting.
Inventory Management
Both platforms feature complete inventory and store management, allowing you to track stock levels and see when you need to reorder. They also allow you to track and fulfill all customer orders.
Localization, Language, and Currency
Both WooCommerce and Wix have complete localization — language, currency, formatting, and more are all covered for multiple languages and countries.
Background Functions
Wix and WooCommerce both come with built-in shopping cart functionality. They both allow you to charge tax and add in shipping costs. WooCommerce will automatically geolocate your customers and charge shipping and tax appropriately, while Wix will assign tracking numbers to orders so customers can track via popular carriers.
Both platforms let you offer free shipping to customers, although WooCommerce lets you limit options based on the customer's location.
Mobile Optimization
Wix stores are automatically optimized for mobile, whereas you would need to select a specially mobile optimized theme on the WooCommerce platform. Many such themes are available. As customers continue to search and shop on mobile devices, it's more important than ever to offer a seamless mobile-friendly website.
Store Development
The open nature and large support community for WooCommerce means that anyone with some relevant programming knowledge can customize your store to your exact desires. With Wix, you are limited by what the website builder offers natively.
Taking Credit Cards with WordPress or Wix
Wix lets you integrate with many popular payment processors, including Stripe, PayPal, Square, 2Checkout, Moolah (Authorize.net), Braintree, Worldpay, and other credit card gateways. The variety of options available means you'll be able to shop around for the lowest cost processor so you don't overpay.
WooCommerce also integrates with plenty of payment providers including Stripe, PayPal, Braintree, Fiserv (formerly First Data), and Elavon. Additionally, the platform works with the Authorize.Net gateway, which means that many processors can integrate payments with WooCommerce. If you're interested in a particular processor, be sure to check with them about WooCommerce integration.
Both platforms also let you take cash and checks, though most customers will expect online payment options for making online purchases and may not want to shop with an ecommerce site that doesn't offer that.
Need to find a processor that can work with Wix or WordPress/WooCommerce? Use CardFellow's free quote request tool to see pricing from compatible processors for your business. Try it!
Pricing
So how much is it going to cost? Generally, Wix is lower cost, though there are factors that can raise the cost of the platform.
Wix Ecommerce Pricing
You can get an ecommerce store on Wix from $22 a month. (The company offers a $16 plan, but it's for personal use, not for selling.)
Higher-priced stores (up to $45/month for the VIP plan) are available with more features, more storage space, included professional logos, and premium support. These costs don't include the pricing for accepting credit cards through your store. Those costs will vary depending on the gateway, shopping cart, and credit card processing company that you integrate with to handle payments.
WordPress eCommerce Pricing
Pricing for WordPress and WooCommerce is a little more complicated. The most basic version is free for personal use, but is limited in functions. A paid personal-use plan starting under $10 offers more features, though still not as many as plans intended for business use. The premium plan (noted as best for freelancers) starts at $8/month if you pay annually ($18/month if you pay monthly) and goes up to $45/monthly if you pay annually ($70 monthly) for the full ecommerce version.
You'll also pay if you purchase addons or extensions — many of these are almost essential for running a store, so you will end up paying something. Costs for these plugins can run anything from $20 to $80/year per plugin, extension, add on, or theme.
You will also need to pay for any specialized development of your WordPress website or WooCommerce store. Finally, you'll want to account for the costs of credit card processing, which may include monthly and per-transaction costs.
Alternative eCommerce Plugins for WordPress
Although WooCommerce is the most popular WordPress ecommerce plugin (they claim it runs nearly 30% of all online stores) there are other options available, including Easy Digital Downloads, Shopp, and Ecwid. If WooCommerce isn't the right fit for your needs with a WordPress site, be sure to check out other options.
Wix or WordPress and WooCommerce?
Roughly speaking, WordPress and WooCommerce is better if you want a higher level of customization and have the time, effort, and desire to tweak every aspect of your store. WordPress offers more control over your final product, but will take more effort to learn or higher costs if you choose to hire a developer.
If you just want a simple and easy ecommerce store setup, and don't mind being slightly limited in your options, Wix is a good choice. The drag-and-drop interface is easier to learn, which can help you get started more quickly with a professional-looking site.
What do you use, Wix or WordPress? Let us know in the comments!