Point of sale (POS) systems enable everything from payment processing to inventory management. But which system is right for you?
There are many factors to consider: price, features, processor compatibility, hardware and accessories and more. In this article, we'll cover common features, popular brands, and other variables to take into account when choosing the right system for your business. We'll address both retail POS systems and restaurant POS systems.
Need a specialty system for a different type of business, such as a rental company or service business? Fill out our short quote form and give us a call.
---
What is a POS System?
POS stands for "point of sale" and refers to software and machines that perform functions for a business. Most companies refer to both the hardware and software as the "POS system" but some mean the software only. This is more common for POS software that doesn't require specialty hardware, such as POS programs that are loaded locally onto a computer.
POS systems are more robust than cash registers, offering more features. Specific features vary, but can include functions such as payment acceptance, inventory management, employee timeclock and scheduling, integration with accounting software, restaurant functions like table management or delivery tracking, and more.
It's not necessary to use a POS system, but it can help streamline processes and make business functions easier on you and your staff. Fortunately, there's no specific time when you need to buy a POS system. You can get one when you start your business or any time after – whenever it makes sense for your eneds.
POS Features
POS systems offer a number of features, and the specifics will vary by system. However, some features are more common than others and will be available with most POS systems. Here are some of the common features you can expect.
Payment Acceptance
Often a core feature, payment acceptances enables payment for the goods or services you provide. Most systems can track multiple forms of payment, including card payments, cash, and checks. Accepting credit cards will require a merchant account, but whether that's with the POS company's processing division or with another processor depends on the system you use.
Inventory Management
Allows you to track stock levels, reorder items to avoid out of stocks, and add new products to your system to lookup or scan a barcode. Inventory management often has search functions and reports that can be run as-needed or scheduled, making it a more robust choice than manual or spreadsheet-based inventory management.
Employee Timeclock
An integrated timeclock means your employees clock in and out directly through the POS system, which records their punches. Some systems may also offer advanced employee functions, such as integration with payroll. Timeclocks may also provide an option to display messages (such as company updates) when employees punch in.
Reporting
POS systems offer sales reports, labor reports, inventory reports, and more. Some systems only offer pre-made reports while others allow you to create custom reports showing specific information and fields that you choose. Custom reporting can be convenient to identify patterns such as busy times and what items are most likely to sell and when.
Accounting Software Integration
Some POS systems integrate with QuickBooks or other accounting software for easier back office management and reconciliation. If you already use another program for accounting, it can make the transition to a POS system smoother if it integrates with that software.
Restaurant-Specific POS Features
Restaurants often seek out additional features, and restaurant-focused POS systems may include options like:
Ingredient Tracking
Similar to inventory management but specifically for ingredients, the ingredient tracking option helps restaurants manage ingredient levels. This is critical to keeping dishes available, especially for any meals that share ingredients.
Customizable Floorplans
POS systems with customizable floorplans allow you to configure the dining room in the POS to match your dining room for at-a-glance understanding of open tables and server assignments. Your staff will have an easier time seating guests and using your new system if it looks like your actual dining room layout.
Tabs
With tab features, you can start and close out tabs for customers, as well as move drinks over to another table. It's particularly important for bars or restaurants with high alcohol sales, as customers expect to be able to use this option to keep the drinks coming.
Happy Hour Pricing
Restaurants that offer happy hour specials prefer a POS system that automatically updates pricing during the set happy hour timeframe. That eliminates the need for servers or bartenders to do the math themselves or override pricing in the system, ensuring faster and more accurate happy hour order entry.
Check Splitting
While check-splitting is a common POS feature, each system's implementation varies. Some systems let you split checks fractionally (in half, 4 ways, etc.) while others let you split it by item or print individual checks for a guest that needs to leave early.
Delivery Management
For restaurants that deliver, accepting and tracking those orders requires special features. Some delivery management features integrate with your website if you accept online delivery orders. Delivery tracking may include automatic route generation and driver assignment capabilities.
Remember, exact features vary by system. For detailed overviews of individual options, be sure to check out our POS system directory.
POS Stations vs. Credit Card Machines
Many people wonder about the difference between POS systems and credit card machines. Both have the ability to accept payments, but credit card machines are much more limited in features beyond that.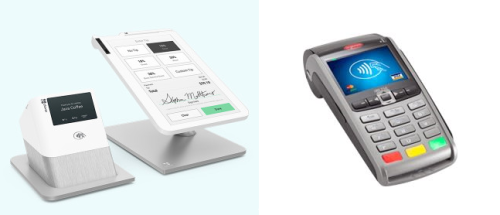 The Clover Station 2018 and an Ingenico credit card machine.
Machines are intended as payment terminals. A credit card machine can accept payments with credit and debit cards, process refunds or voids, and provide basic transaction reports.
A POS system, on the other hand, can do those functions and more. POS systems offer the non-payment business features mentioned above, such as inventory management and employee timeclocks. They typically offer robust reporting not just on daily sales but on labor, inventory levels, and other important metrics.
POS systems also allow you to connect compatible "accessories" to create your own custom solution. Accessories include things like cash drawers, barcode scanners, customer-facing displays, kitchen order printers, and produce scales.
Many POS systems feature integrated credit card readers built into their hardware, but in some cases, you'll need to attach a credit card machine to the POS system if you intend to take cards. In those cases, you'd have both a POS system and a credit card machine.
Credit card machines are lower cost than POS systems. A basic chip-capable credit card machine starts around $300. Full POS systems (the kind that include cash drawers and receipt printers) often start around $1,000.
Best POS System
These days, there are so many choices that's it's hard to narrow it down to call one or two options the best POS system. As with most things, the best system for you will depend on your specific feature needs and your budget. You'll also want to consider whether you should choose a proprietary or universal POS system.
Unlike credit card processing reviews, POS system reviews can give accurate information about the system and its features. However, it's still worth taking "best POS system" lists with a grain of salt. Different reviewers will have different needs and even different costs to use the system, all of which can affect their satisfaction with the machine. When reading reviews, look for details on the features, which won't change from one business to the next.
We'll get into a few specific POS systems in the rest of this article, but remember, a variety of different systems may have the features and price that make it the best for you.
Proprietary vs. Universal POS Systems
A "proprietary" POS system is one that only works with a particular processor or limited number of processors. These are offered by processing companies that want to lock you in to their own processing, and by equipment manufacturers that have cut deals with processors. Those deals stipulate that the equipment manufacturer will restrict the system to one or two compatible processors in exchange for a cut of the profits.
Square's Register and Stand are examples of proprietary POS systems – they only work with Square credit card processing. NCR Silver is an example of a universal system – any processor can choose to support it.
Somewhere in the middle between proprietary and universal systems are systems that work on one processor's platform, but many processing companies offer it. An example is TSYS' Vital Pro system, pictured below.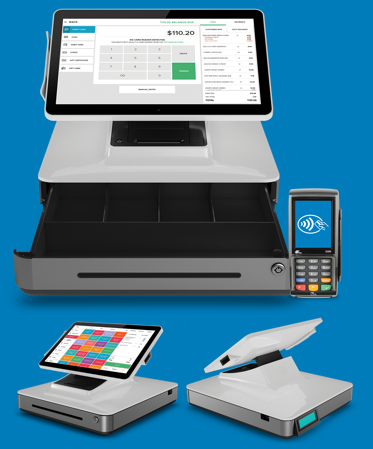 It can only be used on TSYS' platform, but any TSYS-partnered processing company can offer the Vital system.
Clover Stations
The Clover Station is a system that doesn't neatly fit into proprietary or universal for one reason: it can be used with many processing companies, but it's not reprogrammable. Most businesses ask about a system's status to determine if they would be able to use that same system with another processor if necessary.
The Clover Station, which runs on the First Data (now Fiserv) platform and can be provided by any company that works with Fiserv, can't be reprogrammed. That makes it closer to a proprietary system even though there are many companies that can offer it initially.
Popular POS Brands
There are many popular POS brands, including proprietary and universal options. If you've visited a coffee shop recently, you've probably seen Square's POS system. Anyone who has worked in the restaurant business has probably used Micros at some point in their career. But there are far more than just those.
Some popular brands include:
Aloha
Clover POS
Harbortouch
Lightspeed
Micros
NCR Silver
Revel
Shopkeep
Square
Toast
However, that's not an exhaustive list, and just because a POS system doesn't have as much name recognition doesn't mean it's an inferior solution. In some cases, businesses prefer the lesser-known systems if they provide features lacking in a more well-known system or are available at a lower cost.
Additionally, for businesses that don't need specialty features, most POS systems (even lesser known solutions) will offer the same basic features.
Of course, that's not to say that certain systems aren't better than others for particular uses. Let's take a look at two of the most common: businesses seeking POS systems specifically for retail or specifically for restaurants.
Best Retail POS System
Retailers have a lot of choices when it comes to POS systems, in part because they don't usually need special functions. The default options in most POS systems more than suit the needs of traditional brick and mortar retailers. If you're looking to take payments, track inventory, and run reports, you'll find those features readily available.
However, you may still want to narrow down your choices depending on your preference. For example, you may want a tablet POS system or a cloud-based solution. Whenever possible, we suggest considering universal POS systems in case you want to switch credit card processors in the future.
Some popular POS systems that cater to retail include:
BrightPearl
Clover Station
Lightspeed
NCR Silver
RetailEdge
Revel
Shopkeep (now Shopkeep by Lightspeed)
Vital Pro
There are also POS solutions designed for specific types of retail, such as florists and liquor stores. If that's you, you'll want to look into those systems to determine if the specialty features are necessary for your business.
Best Restaurant POS System
Restaurants need different functions that retailers when it comes to POS systems. Full serve restaurants may want a customizable floorplan dining room management option to allow for efficient seating and tracking. You may also want the ability to split checks, start tabs, and transfer tables. Quick serve and delivery restaurants will want features like combo-builders to bundle items into combo meals, or delivery management and tracking.
POS companies know that restaurants need different features, so some POS systems are specifically geared toward restaurants. While you can use a non-restaurant-specific POS system, if you need particular features, you may find them more readily in restaurant-specific systems.
As you can imagine, even within POS systems for restaurants, you'll want to choose a system that has the functions your specific restaurant needs. If you don't accept orders for delivery, for example, you won't need to seek out a system that offers delivery tracking.
At CardFellow, we advise choosing universal systems when possible. That gives you the ability to switch credit card processors in the future without having to purchase a new machine.
Some popular universal restaurant-focused POS systems include:
Aldelo
Aloha
Ambur
Micros
Microsale
MicroWorks
NCR Silver
Paradise
Revel
HungerRush (formerly Revention)
TouchBistro
You can read more about the individual systems or get quotes for credit card processing using that system in CardFellow's POS system directory.
POS Systems and Credit Card Processing
If you plan to take credit cards using your POS system, you'll need a merchant account with a compatible credit card processor. Some POS system companies are also processors and will sign you up directly. This is most common for proprietary POS systems.
For universal systems, you can choose a processor and then set up your POS system with that company. (Either selecting your POS system from their available options, or determining before sign up if they can work with your existing POS system.)
Your credit card processor will set the fees for accepting cards. These fees will be on top of any costs associated with the POS system itself, including hardware costs or monthly fees.
POS System Costs
POS systems range from basic to systems with lots of bells and whistles, so the costs vary accordingly. Tablet-based POS systems have helped reduce costs on some models, but they're still not as cheap as credit card machines.
POS systems typically have a software cost and a hardware cost.
Software Costs
These days, many POS systems have a monthly fee, sometimes referred to as a software fee. The fee typically applies to every POS station at your business. (Some POS companies have a monthly fee for one system with a lower monthly fee for each additional station.)
This software fee is separate from the fees to accept credit cards.
While it's possible to purchase one-time-fee software without monthly charges, it's becoming less common. Typically, one-time-fee software will be an actual program loaded locally onto a machine. Monthly fee 'software' is typically cloud-based.
You can expect software costs to start around $29/month on the lower end, ranging to $149 (or more) for complex systems.
Not sure which is the right fit? Read about cloud-based POS systems.
Hardware Costs
POS hardware costs are typically one-time fees. You'll purchase the equipment (hardware) to run your POS software. This can include a tablet or computer to run the program, as well as any accessories you may wish to use. Accessories are optional and you can choose only what you need. Compatible accessories vary by POS system, but include cash drawers (including locking drawers), barcode scanners, produce scales, receipt printers, kitchen order printers, and more.
Many processors sell POS "bundles" that include the main computer or tablet component as well as a cash drawer and receipt printer.
Basic tablet-based POS systems or small footprint limited-function machines like the Clover Mini start around $500. Full fledged POS systems with cash drawers, barcode scanners, and other accessories range into the thousands.
POS systems can be leased, but it's generally not a good idea. Leasing will cost you exponentially more money, with monthly payments that will far exceed the sale price of the system and non-cancellable contracts. If the cost to buy a POS system outright is prohibitive for your business, consider a lower cost system or alternate solution temporarily while saving up.
Where to Buy
When you're ready to purchase, you have a few choices. You can get a POS system from the credit card processor you plan to use or purchase online from a reputable site. In some cases, businesses ask if they can simply purchase a system from a friend or from a business that is closing. We'll address that scenario as well.
From a Processor
It's easiest to buy a POS system right from your processor. When you do that, you'll know it's compatible and it will arrive programmed and ready to go. However, some businesses prefer to comparison shop online to secure lower costs, as the processor may not always offer the lowest possible price for the system you want.
Businesses that use CardFellow can be assured that processors in our marketplace charge at or near cost for equipment.
Online
Purchasing a POS system online can potentially save some money, but there are two things to be aware of. Firstly, if you plan to use the system to accept credit cards, you'll need to confirm compatibility with your processor before purchasing.
Secondly, some processors sell equipment online at artificially low prices with fine print that the price only applies if you process your transactions with them. In those cases, the low equipment cost is offset by higher processing fees, meaning you pay more in the long run.
If you find a low cost equipment bundle that doesn't lock you in to a particular processor and the processor you want to use confirms compatibility, then that purchase may be a good idea.
From a Friend
Sometimes, a business may have the opportunity to purchase a system from a friend or from a business that's closing or selling off its assets. In those cases, your primary consideration is processor compatibility. You'll need to check with the processor you want to use to ensure that they support the system and that it can be reprogrammed. Some systems, like Clover Stations, may be compatible with a processor, but unless they were the ones that originally sold it to the business, won't be usable with another business.
Free POS Systems
It's less common to see offers of "free" POS systems than "free" credit card machines, but it does happen. However, keep in mind that free processing equipment often has a catch; usually, it means higher processing fees. Since processing fees are ongoing while the purchase of a POS system is a one-time cost, it's not in your best interest to save a little money on the POS system itself if it means you'll pay more every time you take a credit card.
Now that you have the basics down, check our processing equipment directory to read about specific retail POS systems or restaurant POS systems.
Prefer to jump right in to see costs and compatibility with processors? Fill out the free business profile at CardFellow to get instant price quotes from multiple processors. You can browse each processor's "inventory" to see which POS systems they support, read reviews of those systems, and ask questions about features.