Red Carpet Software is a comprehensive reporting solution available from First Touch Payment Solutions and specifically designed to benefit businesses with multiple locations.
The software integrates with processors and POS systems to provide detailed reporting in several categories related to payments. If your current processor's reporting options aren't giving you the information you need, a third-party option can provide greater insight. Let's take a look at Red Carpet's capabilities, costs, and reviews.
---
Red Carpet Software Capabilities
Red Carpet Software provides information about multiple facets of payment processing and can be accessed on tablets, smartphones, and computers. A dashboard provides at-a-glance charts and statistics about average ticket size, swipe fees, and more or allows for drilling down into specific transactions or area of business.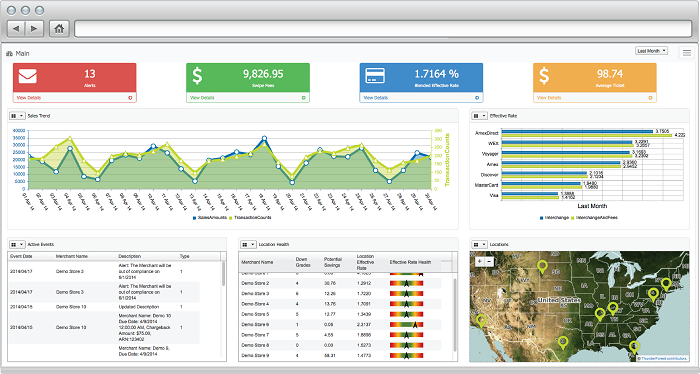 As a comprehensive reporting solution, Red Carpet Software includes reports and alerts in a number of areas, including:
Chargebacks
Unchallenged or unsuccessful chargebacks affect your bottom line. Red Carpet's chargeback alert and automation system helps you quickly manage chargebacks for the best chance of success. In addition to notifying you of chargebacks, the software helps automate the response process to help you provide information to support your case by the chargeback dispute deadlines. Missing deadlines or not providing the correct information can damage your chances of winning a chargeback and cost you more. Get more information on credit card chargebacks.
Interchange Rates and Downgrades
Interchange makes up the bulk of credit card processing transactions, so it's important to ensure that you're paying as little as possible. Interchange is not a negotiable fee, but there are still ways to save. Since interchange is a set of multiple categories and not one single rate or fee, the costs will vary depending on the type of card and other variables. Different factors can cause a transaction to "downgrade" or cost you more than it has to.
Red Carpet software shows you if your transactions are downgrading and highlights the cost difference. You can also set alerts for particular types of downgrades.
Related Article: Avoiding Interchange Downgrades.
---
Processor Fees
Another feature is processor fee tracking, which shows you the fees that your processor charges in addition to the unavoidable interchange and assessment fees. The software also sends alerts when there are increases to the fees charged. Red Carpet states that it can help you track processor fees for all pricing models, including interchange plus and tiered pricing. Additionally, you can set alerts to notify you of thresholds for particular transaction types. For example, you could choose to be notified if your staff hand-keys more than five payments in a week, as keyed cards will likely cost more than swiped transactions.
Check Payments
Many businesses still accept checks, and with RCS businesses can use remote deposit capture options to send a single file of multiple checks to the bank. Additionally, back office file consolidation makes it easy to track income from all payment types, including checks, cutting down on time spent reconciling payments.
File Consolidation
RCS also provides time-saving file consolidation options to allow you to easily reconcile multiple payment types and transactions, including cards, checks, and POS system data. Instead of manually collecting information from multiple sources, like your POS system, processor, and bank, you'll be able to see all of your data conveniently in one place through the Red Carpet system.
The company provides an overview video of the merchant dashboard:
Red Carpet states that the software doesn't require an IT team due to its easy implementation.
Red Carpet Software Reviews
Since Red Carpet Software started as an offering from First Touch Payment Solutions, there aren't many reviews of the software specifically available. Red Carpet does include a testimonial on its website. The reviewer states that the software helped get a better understanding of credit card processing costs as well as provided a user-friendly dashboard and the ability to research specific transactions.
Costs and Sign Up
Red Carpet Software doesn't publish costs on its website, but the company states that it works to keep pricing affordable for businesses. The software works with many different processors and POS systems, and can be obtained through partner processors or by signing up directly with the company.
Have you used Red Carpet Software? Let us know what you think!