There are plenty of accounting solutions out there, and one that's becoming increasingly popular is ZipBooks Accounting.
Successful business owners know that it's vital to stay on top of your finances. Whether it's invoicing, expenses, payroll, bank account reconciliation, or preparing accounts, deep insight into your business's money situation helps you make better decisions.
This in-depth review of ZipBooks Accounting will tell you everything you need to know about the software, so you can decide if it's right for your business.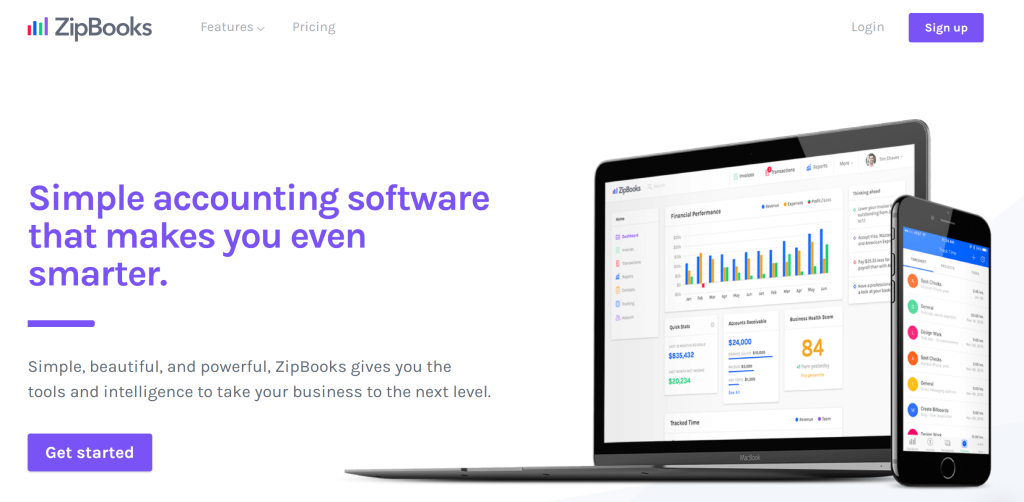 Overview of ZipBooks Accounting
ZipBooks Accounting is an online application that you can access anywhere to help you manage your business finances. ZipBooks is "Software as a Service" (SaaS) and runs in your web browser on your computer, tablet, or smartphone, without installing any software locally. Once you've logged in, you can manage your business finances from anywhere.
ZipBooks has several key areas designed to help small businesses:
Accounting
Dashboard "at-a-glance" overview, accounts receivable, bank account reconciliation, and support for multiple bank accounts. Additionally, an expense tracking option lets you import expenses, turn expenses into invoices, or report on and pay expenses.
Invoicing
Pay invoices directly online, manually record payments, use one-click invoicing, set invoice reminders, and track project invoicing. You can also use invoice financing to get paid early for invoices that have 30, 60, or 90 day payment terms.

Project and Team Management
Record project time by tasks and assign to clients, convert timesheets into invoices, manage your project team. Add people to your team, set custom rates, track work, and optionally use the integrated time tracking software and browser extensions to invoice.
Credit and Debit Card Processing
Process customer credit cards directly on the platform, take international payments, and add online payment options to invoices. ZipBooks utilizes Stripe, Square, or PayPal for credit card processing, and passes through the flat rates published by those companies. (Currently 2.9% + 30 cents per transaction for all three when used by businesses in the United States.)
Customization
Brand the platform, invoices and other customer facing materials with your logo, set payment terms, customize email messages and estimates.
Reviews
Customers can leave reviews when you send them invoices.
This collection of financial and accounting software provides much of what a business owner needs to stay on top of their finances. We'll explore each area in-depth below, but first, let's take a look at how it compares to other options.
ZipBooks vs. QuickBooks, FreshBooks, and Xero
There are several other choices for accounting software, with the most popular being QuickBooks, FreshBooks, and Xero. Zipbooks typically comes in cheapest for monthly costs, offering a free plan. (Though the company also does have paid plans with more features. Integrated payment options are similar, with all of the noted competitors offering integration with flat rate processors, including Stripe.
See also: Comparing ZipBooks, QuickBooks, FreshBooks, and Xero.
---
ZipBooks Accounting Online Software and Reports
It's important to see how your business is doing at a glance, but you also need the ability to drill down into the details of your finances. ZipBooks can help with both. It will:
Provide an online dashboard that tracks all your finances, bank accounts, invoicing, amounts owed, etc.
Reconcile your bank account against your business finances so you always have an up-to-date picture of how your business is performing.
Link multiple accounts (e.g. bank accounts, business credit cards, PayPal etc.) so you can see all of the income and outgoings for your business.
Give you greater awareness, insight, and control over your finances.
Offer full reports to help prepare for tax time including profit and loss, assets, balance sheets, and tax reports.
Related Article: Beginner's Guide to Profit and Loss Statements (P&Ls.)

---
ZipBooks Accounting Online Invoicing
Good invoicing is critical to running a healthy business; after all, it's the way that you get money into the business. ZipBooks provides plenty of features for your invoicing needs. You'll be able to send an unlimited number of invoices to as many customers and clients as you want and customize the template, look, and style of your invoices. You can customize the descriptions of products, services, and expenses or set recurring billing for invoices you send on a regular schedule.
You can also create customized emails for customers when you send an invoice and set up automatic late payment reminders to prompt payment for overdue invoices.
On the business management side, you can easily see which invoices have been paid and when, including any that are in draft or overdue, and choose which projects, team members, and date ranges to include.
ZipBooks Accounting Invoice Financing
One way that ZipBooks accounting software is different from others is in providing integrated invoice financing, essentially a loan against your outstanding invoice. That means that you send an invoice to your client, but choose to have it paid immediately by ZipBooks. Then, ZipBooks credits the amount to your bank account and charges 0.5% of the outstanding amount per week as interest. You pay the amount back over twelve months, although you can repay early. When your client pays you, it goes into your business bank account for you to make repayments.
You free up your cash more quickly, which is useful for your cash flow, but the interest rates are high – around 26% per year, which can be a big dent in your profits. However, if you need access to money quickly, this could be a useful, short-term option. Just remember to pay back any outstanding amounts fast, to minimize your interest payments.
ZipBooks Accounting Online Invoice Payment
ZipBooks provides convenient online payment options for your customers, so you can get your invoices paid as soon as possible. Customers can pay their invoices through an online web billing form, and international currencies are supported.
The online invoicing payment option requires a processing account with a compatible company.
ZipBooks Accounting Expense Tracking
Despite every effort to only pay business costs from your business account, it's inevitable you will run up business expenses on your personal accounts that you need to be reimbursed for. Additionally, you will need to properly categorize all of your business expenses to make tax reporting and payments easier at the end of the year. ZipBooks enables the following:
Categorizing and reporting on expenses so you can track how much you spend and on what.
Easier tax preparation through understanding amounts paid in each category.
Automatically adding expenses to invoices so you can re-charge clients.
One drawback to the expense tracking feature is that ZipBooks does not currently allow you to scan and upload receipts or similar information.
ZipBooks Accounting Project and Team Management
When you're billing by the hour or day, or you have multiple team members working on a project, it's vital to provide accurate information on exactly what the client needs to be charged. ZipBooks lets you easily manage your team, including time, tasks, and progress. You can add unlimited clients and projects, add unlimited team members to each project, and set custom rates for different team members or activities. Additionally, you can reduce errors by ensuring accurate billing and re-charging of expenses, and record time using the built-in timer tracking tool.
ZipBooks Accounting Integrations
ZipBooks integrates with several other popular online applications including:
Google Drive and Google Docs
Google Apps
Slack
Asana
Spiceworks
ZipBooks also features an extensive, fully-featured API so developers can easily transfer information in and out of ZipBooks.
ZipBooks Accounting Extra Services
ZipBooks also provides additional services beyond its application. The company offers bookkeeping, tax preparation, and payroll services for small businesses.
Bookkeeping
This service includes reconciling your bank accounts, preparing income statements, balance sheets and financial reports, providing advice on saving money, and keeping everything up-to-date.
Tax preparation
The tax prep offering includes reporting on taxes, opportunities to reduce tax, quarterly and yearly tax preparation, and providing advice.
Payroll
ZipBooks partners with leading payroll providers to pay employees and contractors promptly and correctly, manage payroll taxes, and keep your information current.
Bookkeeping and tax preparation services are only provided for one business with one bank account and one credit card. Note that these services incur additional fees.
ZipBooks Accounting Fees
Using the ZipBooks software is free for the basic plan. They make money in one of a few ways:
Customers that upgrade to paid monthly plans.
Customers that accept early invoice payment from ZipBooks and then repay with interest.
Customers that pay for their bookkeeping, tax preparation, or payroll services.
Let's break down the costs of those last two scenarios.
Accepting Early Invoice Payments
ZipBooks Accounting offers to lend you money against your invoices that you then pay back over twelve months, at 0.5% interest a week. This can mean you end up paying significant interest back.
Getting $3,000 of invoices credited to you early and paying back over 90 days at 0.5% interest a week means you'd pay back around $3,130, for interest fees of around $130.
Getting $10,000 of invoices credited to you early and paying back over 360 days at 0.5% interest a week means you'd pay back around $11,480, for interest fees of around $1,480.
Of course, you can choose not to finance your invoices at all and simply wait for payment from your customers instead of ZipBooks.
Paying for Services
ZipBooks charges for these services as follows:
Bookkeeping — $100 per month.
Tax preparation and bookkeeping — $170 a month.
Payroll, tax preparation, and bookkeeping — $245 a month.
If you choose not to finance your invoices or use ZipBooks bookkeeping, tax preparation, or payroll software, you can use the software completely free. Be aware, however, that you will still need to pay credit and debit card processing fees, no matter how you accept them.
ZipBooks Credit Card Processing Costs
ZipBooks Accounting charges a per transaction fee for accepting credit and debit payments for invoices. Current rates are set at 2.9% + 30 cents for each transaction, which is the flat fee the processors Zipbooks works with charge.
For example, if you accept one hundred $50 payments in a month, you would pay $175 in fees for that month. (100 x 50) x 0.29 + (100 x 0.3).
Note that whatever accounting app you use, you'll need to pay credit card processing fees if you decide to accept credit or debit cards for your business. However, it is not mandatory for ZipBooks users to use their credit card processing services. You can still use the accounting software without accepting credit/debit cards through invoices.
Related Article: Average Credit Card Processing Fees.
---
ZipBooks Accounting Reviews
Now that we've gone over the features, what do users think? We've explored reviews of ZipBooks from across the web to get an idea of how the product is used and rated.
G2 Crowd
ZipBooks reviews on G2 Crowd were very positive, with 86 reviews adding up to 4.7 stars. Users particularly enjoyed the simplicity and ease of use of the software and the fact that it's a powerful invoicing platform. They cited excellent support, a clean and clear approach, and integration with online payment providers.
The only downside users complained about was the lack of features outside accounting, including basic customer relationship management, native payroll functionality, or a lack of complete customization options. There was also a request for international bank feeds.
Capterra
Capterra reviewers also really liked ZipBooks, giving it an average of 4.5 out of 5 stars over more than 100 reviews. Positive comments included how simple and well laid out the software is, recurring invoice functionality, and integrated payments. Users also praised how easy it was to get up-and-running quickly. However, some users did feel there was room for improvement, like more dynamic reporting features.
If you're still not sure, you can setup a ZipBooks Accounting login and try the app out to see how it could work for you.
If you've used ZipBooks Accounting yourself, let us know in the comments below!