A competitor of services like MindBody and RhinoFit, zingFit is fitness management software to help you run your fitness business.
Unlike some other software choices, zingFit was specifically designed for group fitness businesses, meaning it's particularly suited for yoga and pilates studios, bootcamp-style fitness classes, spinning, and other activities done in a group or on a team. The software does offer recurring billing services, so you could use it for individual-style gyms and fitness business, but group fitness businesses may find the features more beneficial.
Let's look at services, costs, and zingFit reviews to see how it stacks up and if it's the right fit for your business.
---
About zingFit
zingFit calls itself "online scheduling and engagement software for boutique fitness" with a goal to "build genuine connections." The company offers this introduction video:
Features
You'll find an array of features designed to make running a class-based fitness business a smoother and more convenient process. You can expect online scheduling with auto enrolling waitlists, point of sale services or ecommerce options, client management, and reporting. Since it's geared toward group fitness classes and programs, zingFit also offers features specific to groups, such as "spot scheduling."
Scheduling
The online scheduling feature is the core of the service, and lets your clients sign up for one-time or ongoing classes. Credit cards can be stored securely for future purchases, ensuring ease of checkout and reducing the likelihood of abandoned registrations.
Additionally, you can enable an auto-enrollment waitlist for classes that are full. If a student cancels, students on the waitlist can be automatically enrolled.
Point of Sale and Ecommerce Services
Sometimes you need to take payments at the studio or gym. The point of sale options allow for that, whether you're accepting payment for a class or selling a product such as a smoothie or yoga mat. zingFit supports barcode printing and scanning for your retail items, offers inventory tracking to keep tabs on your stock, and calculates tax at the time of sale. It even includes suggested upsells once a booking is confirmed, helping you suggest related products to students.
Or, if you'd prefer, you can sell online with a secure website and full ecommerce functionality. If you want the option to do both, your website can integrate seamlessly with your in-person components for maximum flexibility.
Client Management
Keeping track of customers is easy with integrated customer relationship (CRM) options. You'll be able to create and view client profiles with class details and transaction information, offer discounts, integrate a loyalty program, and more. You can also view attendance and memberships.
Related Article: Starting a Successful Loyalty Program.
---
Reporting
zingFit offers plenty of reports to help you understand what's happening at your business. You can access reports for finances / sales, attendance, marketing, inventory and merchandise, and more. Additionally, if you have multiple studios, you can access reports for all locations.
Spot Scheduling
Spot scheduling allows your clients to book not only a class time, but a specific 'spot' in the class, such as their favorite bike in a spin class. You'll be able to create a "map" of your classroom space so students can choose their "spot" at the time of booking.
Note that only "boutique" or higher subscription plans offer spot scheduling.
zingFit Pricing
There are 4 packages available from zingFit, each with different features and pricing. You can choose from Studio, Boutique, Boutique Plus, and Enterprise packages.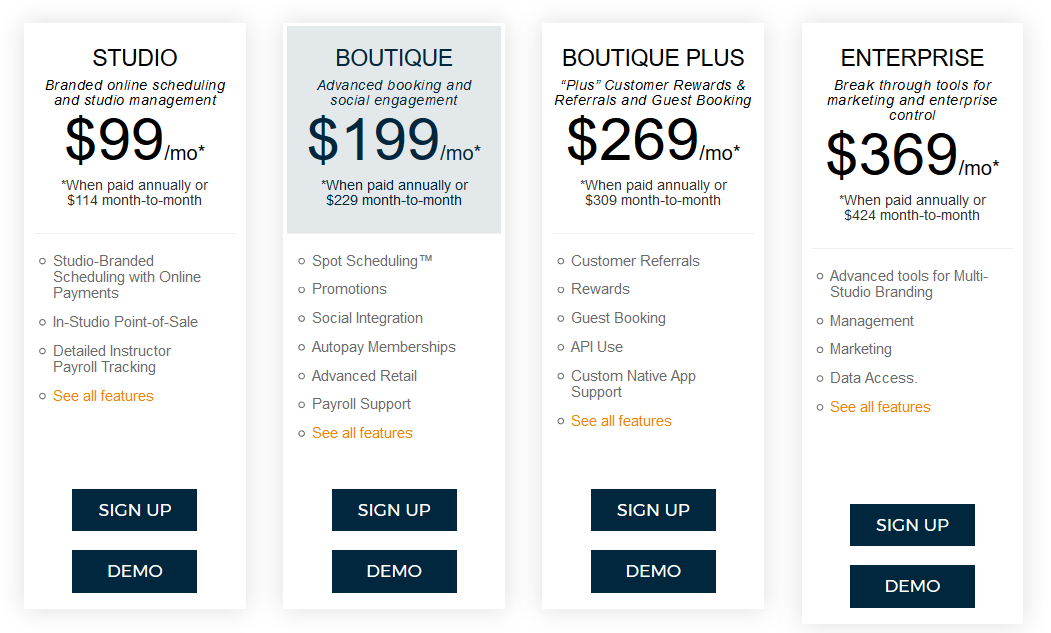 The Studio package features branded class scheduling, a mobile booking app, sign-in kiosk support, gift card capability, time clock and instructor payroll tracking, point of sale options for selling products or classes on-site, integrated marketing with MailChimp, and full reporting capabilities. From there, the plans build off the previous one, offering all of the features of the plan before it plus additional services. You can view the full list of features per package on zingFit's website.
Add-ons are available for all packages except the Studio plan. Add-ons include webosting, ecommerce stores, API marketing and finance integration, and more. All add-ons have an additional monthly cost, with lowest cost add-ons starting at $40/month.
It's convenient to be able to pick and choose which additional features you need, but be aware that ala carte style features can add up quickly.
You can purchase monthly or yearly plans. Annual plan purchases come with a free month of service.
Credit Card Processing with zingFit
zingFit requires you to accept credit cards to use the software. While in the past Zingfit listed integrations with Stripe, First Data, PayPal, and Authorize.Net, giving you options to find the most competitive pricing for your business, the company now requires that you work with Stripe.
Stripe offers "flat rate" style processing, which can be great for smaller businesses or those who are just starting out. Larger or more established businesses should consider looking at competitive interchange plus options and may not find Zingfit's insistence on Stripe to be the best option. The company does say that Stripe and Zingfit can work together to 'match' other rates, but in general, CardFellow suggests avoiding solutions that lock you into a particular processor.
zingFit Reviews
At the time of this review, zingFit doesn't post testimonials on its website and does not have a profile with the Better Business Bureau. However, there is one review on the company's facebook page and a couple of reviews on Capterra.
The facebook review gives zingFit 2 stars, stating that the system itself is easy to use an includes many great features, but that the costs and customer service are lacking. The reviewer says that if those improved, he would more highly recommend zingFit.
The Capterra reviews both give zingFit 4 out of 5 stars, citing that it's easy to use. One reviewer mentions that the staff/backend side of the software is not very attractive but is functional and gets the job done. Another reviewer stated that the more she uses the software, the more she likes it, but would appreciate an app for customers.
How was your experience with zingFit? Let us know in the comments!