RhinoFit offers cloud-based gym management software for fitness businesses.
Here's one of those multiple name/company situations. RhinoFit is a DBA of a company called Gulf Management Systems. Gulf Management Systems is an agent of a company called Strategic Payment Systems. Strategic Payment Systems is a registered independent sales organization (ISO) of Wells Fargo and of First National Bank of Omaha.
Confused yet? Basically, that means that Strategic Payment Systems (SPS) is a payment processing company. Gulf Management Systems is a sales agent for SPS, and RhinoFit is software available through Gulf Management Systems.
Okay, now that we have that straightened out, what can RhinoFit offer your gym, martial arts studio, or fitness boot camp? Let's take a look at features, costs, and reviews for RhinoFit.
---
About RhinoFit
RhinoFit was founded in 2012 and is based in Florida. Check out the company's introduction video that explains the software and how to get set up:
RhinoFit Services
RhinoFit's fitness management software is geared toward businesses that have regular members, including martial arts studios, traditional gyms, CrossFit gyms, and more. It provides features like class scheduling, automatic billing, marketing functions, and belt tracking for martial arts.
Class Scheduling and Attendance
You can set up a class schedule for any of your class offerings, and track attendance for individual classes or gym usage overall. Attendance can be tracked in several ways, including manually entering the info, scanning barcodes, or magnetic swiping. You can also create and store digital liability waivers for members to sign and offer workout of the day tracking.
Automatic or One-Time Billing
Many fitness studios need recurring billing options to conveniently charge members for their monthly or annual dues. RhinoFit offers recurring (subscription) billing to fill this need, but also provides one-time payment options in case you have non-membership payment needs. Perfect for individual classes or workshops, product purchases, and more.
Related Article: Setting Up Recurring Billing.
---
Reminders and App
If they'd like, your clients can download a mobile app to make reservations for classes, track their progress, and more. On your side, you can set up class reminders and custom automated messages sent by email.
Belt Tracking
Martial arts schools need a convenient way to track student belt progress. RhinoFit includes a belt tracker to record information for individual students' belt levels, testing, and more.
Security
RhinoFit is Level 3 PCI compliant and utilizes an approved third-party for verification and penetration testing. However, any business that accepts credit cards must also comply with PCI requirements at their business. If you're new to accepting credit cards or unsure how to get started with PCI, be sure to do your homework to protect yourself and your business.
Related Article: Getting Started with PCI Compliance.
---
RhinoFit Pricing
RhinoFit offers two plans – free and paid – based on your number of members. For businesses that are just starting out and have fewer than 20 members, you can use RhinoFit for free (through the On Ramp program) while you build up your client base. For gyms and studios with more than 20 active members, RhinoFit charges a flat $57/month. (These costs are in addition to transaction fees and any monthly fees charged by your credit card processor.)
On Ramp Program
RhinoFit's On Ramp program is designed to help new gyms and fitness studios. You'll get a free 30-day trial of RhinoFit software and then continued free use of RhinoFIt until you exceed 20 active members OR you process more than $2,500 in payments in one billing period. When you one of those steps, you'll be switched over to the paid option.
Contract and Cancellation Fees
RhinoFit doesn't include information about contracts or cancellation fees on its website; however, in the company's response to a Better Business Bureau complaint, the representative references a 3-year contract and a $375 cancellation fee. Your specific contract term or cancellation fee may vary, so be sure to read all paperwork.
Credit Card Processing with RhinoFit
You can seamlessly integrate credit card processing with RhinoFit software. RhinoFit prefers that you use Gulf Management Systems for processing, but allows other options if you'd prefer. RhinoFit is compatible with popular gateways like Authorize.Net, Beanstream, Braintree, PayPal, PaySimple, Stripe, and more.
Processing Costs
Costs for credit card processing will be set by the processor you choose. RhinoFit offers its own processing through Gulf Management Systems. If you'd like to know the actual costs for your specific business, you can request pricing using CardFellow's free price comparison tool. Try it now!
RhinoFit Reviews
Reviews for RhinoFit are readily available online, and generally show happy customers. Capterra users give it 4 stars, with the Better Business Bureau offering a B+ rating. Additionally, RhinoFit offers customer testimonials on its website.
RhinoFit at Capterra
4 out of 5 stars
Reviewers at Capterra list a number of pros for RhinoFit: low cost, ease of use, patient customer service, and great features for fitness businesses.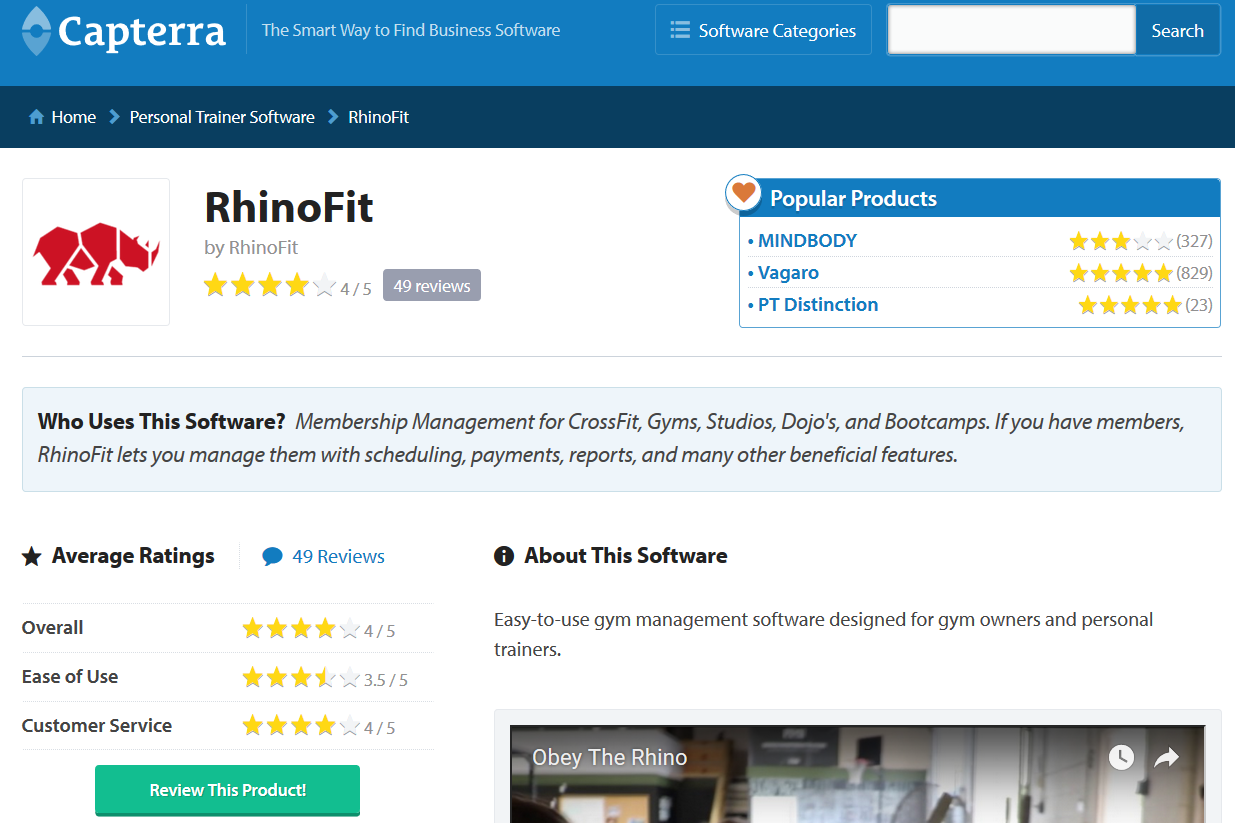 Some reviewers mentioned that the RhinoFit staff was very helpful during setup or when the business had issues. On the complaints side, some reviewers lamented the lack of an "owner" app, and no way to import schedules to Google calendars. Others mention that certain options (like recurring class entry) are "clunky," that reports aren't very comprehensive, and that customers report double billing.
RhinoFit at the Better Business Bureau
While not accredited with the BBB, RhinoFit does have a profile with a B+ rating. There is only one complaint, which states that the customer had difficulty cancelling their service. RhinoFit responded to the complaint, providing details that the customer didn't promptly return necessary documents and was attempting to get out of paying for months that he had used the service.
According to RhinoFit's Website
On its website, RhinoFit includes testimonials from customers. Reviews praise the system for being easy to use, and allowing staff to focus on gym members instead of payments and administrative work. Some reviewers mentioned the helpful features for tracking workouts in addition to simplifying payments. Reviews also praise customer service.
What's your experience with RhinoFit? Would you recommend it over other gym management software? Let us know in the comments!