Booker offers cloud-based spa management software for a variety of health and beauty businesses and bills itself as an all-in-one solution. Booker states that more than 11,000 businesses utilize its software, and has offices in New York, California, Pennsylvania, and Arizona to better serve customers. In this Booker review, we'll go over the popular features, include pricing details, and check out what customers are saying.
Booker Features
Booker offers a number of features designed to make running a spa or salon easier. You can take advantage of booking options, integrated payments, customer management, and business management, as well as an optional customer-facing app. The company offers this video introduction:
Booking Options
A customizable booking page lets your customers book through your website using a "Book Now" button or through your Facebook page. Clients can see the open time slots, view descriptions of services, and more.
On your side, you can view a calendar of appointments by time slot or by staff member, see which time slots are still open, and manage staff, rooms, and equipment to make sure you're prepared for all client appointments.
Integrated Payments
Booker offers the ability to accept payments in person with point-of-sale equipment or through your website. You'll be able to accept cash, gift certificates, and credit cards if you opt for credit card processing at an additional cost. You can even choose to accept payments on smartphones or tablets, capture signatures right on screen, and send receipts to your customers by email.
If your customers prefer paying via PayPal, you can enable PayPal acceptance both in-store and online.
The Booker gift certificate program lets you provide personalized gift cards with your business's logo.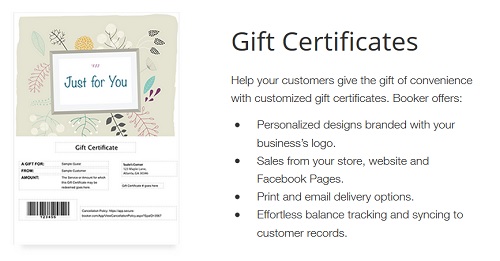 Customer Management
The integrated Customer Relationship Management (CRM) system allows you to easily create customer profiles tracking visits, total sales, appointment history, customer preferences, marketing campaign effectiveness, and more.
Business Management
Booker includes employee scheduling software that syncs with your calendar and can provide shift reminders to your employees.
If you sell products, like hair care items or home tanning supplies, you can use the inventory management system to track inventory, identify purchasing trends, and keep track of purchase orders for restocking.
Additionally, Booker provides robust reporting on daily sales, customer trends, labor/payroll, and more.
Optional App
A customer app lets your customers see your schedule, book appointments, view a map of your business location, check out your social media pages, and more. The customer app is an add-on feature with an additional cost of $30/month.
Marketing and Loyalty
Booker also offers a loyalty program option through partner Frederick that works with your appointment system to help encourage repeat business. You can set up email and text campaigns to promote specials or last minute deals.
You can also send customized emails based on your customers' purchase history or appointment history or request feedback through a customer survey.
Booker Pricing
Booker charges a flat monthly fee with a choice of plans, as well as optional add-ons. Pricing does not change based on the number of staff members using the software.
The Basic plan costs $85/month and includes features like online booking, point-of-sale payments, detailed customer profiles, gift certificates, and unlimited logins. The Standard package costs $135/month and includes the Basic package features plus unlimited document storage and membership management.
Optional add-ons cost extra. The customer app adds an additional $30/month.
Booker mentions that month-to-month contracts may be available. Costs for month-to-month contracts may be different than published pricing.
Credit Card Processing with Booker
One good thing about Booker is that it's compatible with multiple credit card processors, giving you the ability to secure lower costs than if the company required a specific processo. As you can see from the screenshot below, Booker is compatible with First Data, Bank of America, Wells Fargo, PNC, Vantiv, and more.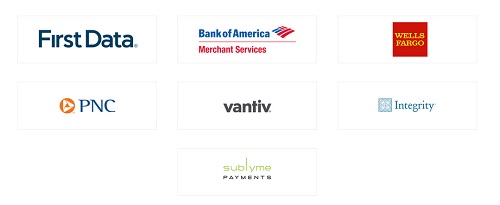 The company also supports PayPal payments in store and online.
Additionally, Booker confirmed to CardFellow that it works with First Data resellers, meaning that smaller processors (ISOs) on the First Data platform may also be able to support Booker. However, the company also mentioned that using Booker with First Data requires using the Clover Mini. We're working to clarify with Booker why the Mini is required and what other machines – if any – may be required when using other processors.
Integrating credit card processing with Booker means that you'll be able to take payments and automatically update inventory.
As Booker is not the credit card processor itself, the company doesn't set your rates and fees for processing. However, it does provide details on starting costs through its partner processors. As of 2017, Booker states a $10 monthly fee and transaction fees starting at 0.99% + $0.25 per transaction.
If you'd like to see pricing for processing credit cards, try CardFellow's free quote comparison tool.
Booker Reviews
On its website, Booker includes a section for customer testimonials. Reviewers praise the simplicity of an all-in-one system. They appreciate integrated credit card processing and the ability to allow customers to purchase products online. The company also offers "success story" videos and case studies. Customer testimonials include the reviewer's name and business name.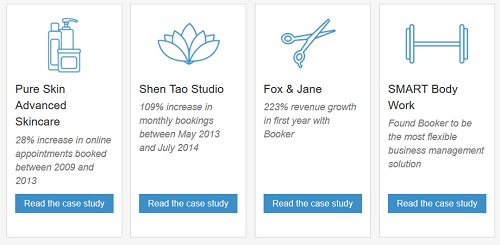 Booker has a Better Business Bureau profile, but is not currently accredited. (Businesses are not obligated to seek BBB accreditation to have a profile.) Booker currently has an A- rating, with one negative review and five formal customer complaints.
The negative review states that the reviewer was told that Booker software would be able to assist with tax prep when it was not. The reviewer claims that they immediately cancelled upon learning the software couldn't handle tax preparation, but that Booker didn't cancel. Instead, Booker charged the customer and the customer requested a refund.
The formal complaints allege that customers had difficulty cancelling service and that fees were charged despite cancelling. One complaint references relentless sales calls.
Booker doesn't have readily available reviews on other review platforms, including Yelp, Google Reviews, or Ripoff Report.
Have you used Booker.com for your salon or spa? What did you think? Let us know in the comments section, below!