Anyone who has ever worked in the restaurant business has likely come across MICROS at some point. The touchscreen systems are ubiquitous. But they're also expensive, and with today's broad range of choices in POS system, many restaurant owners wonder if it's worth the cost.
Unfortunately, no one can answer that question for you. But we can provide the details you need to decide which system is the best fit for your restaurant.
---
Ritty's Incorruptible Cashier
Point-of-sale systems (POS) have come a long way since the earliest NCR cash registers, which in the 1880s were selling for $50. (That's about $13,000 in today's dollars.) The first model, called by the colorful name "Ritty's Incorruptible Cashier", was designed to ensure sales proceeds reached the till without losing their way in employees' pockets. Back then, employee embezzlement was a huge problem, since there really was no way to check that cash receipts matched actual sales.
Naturally, at such a price, few small businesses could afford the machines even though business proprietors knew they would reduce internal theft. There was simply no way the typical establishment – a general store – could fund such a major capital investment. However, as production and competition increased, cash register prices fell to affordable levels. Between 1888 and 1895, there were over 80 companies selling cash registers.
Today, the technology may have changed but business owners must still decide whether the benefits of installing a POS system outweigh the costs. We'll answer that very question by taking a look at MICROS, one of today's top-end POS systems.
The MICROS Family
The suite of MICROS solutions is quite extensive. The flagship line – WorkStation 6 – offers different hardware options and choice of accessories. The solution has a traditional countertop POS as well as mobile options. All use the Simpony POS restaurant management system on a choice of Windows or Linux operating systems.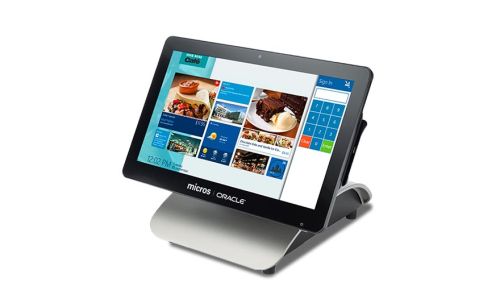 The flagship offering is the Hospitality RES 3700 Point of Sale for Table Service, which is described as "a complete restaurant point-of-sale solution that adapts to the way you run your business with tools for the back office, restaurant operations, and guest services." This system is available with an optional cloud-based back office for reporting, so you can manage your business anywhere at any time.
Optional accessories include receipt printers, kiosk stands, customer-facing displays, weight scales, fingerprint scanners,
In 2014, computer technology company Oracle purchased MICROS, but the POS systems are still sold under the MICROS name.
MICROS Overview
The MICROS 3700 System includes the following hardware:
A host machine running the database server
One or more PCs or "clients" running the 3700 POS modules
Printers for guest checks and remote order printing
The 3700 system's open architecture means it can run on any type of workstation that runs Windows 95 or Windows NT. Consequently, a user workstation (UWS) can be any of these:
MICROS PC Workstation (PCWS)
A desktop computer
A laptop computer
These different workstations can be used individually or in various combinations within the system.
The MICROS PC Workstation
The MICROS PC Workstation (PCWSs) is a touchscreen-based microcomputer, which can function as both a host machine (running the 3700 system software) or as a client (terminal). In addition, a MICROS Workstation will run general application software, such as a word processor or spreadsheet program, as well as the MICROS software. For more information on MICROS' features, see our MICROS Review.
Basic POS operations, such as accepting cash and card payments, are available. In addition to which, the MICROS 3700 also gives you:
Document printing (such as guest checks and kitchen orders)
Sales and cost reporting
Tracking time and attendance
Interfaces to third-party peripheral equipment and software, including property management systems
The 3700 system software is organized into five (5) modules: POS operations, manager procedures, auto sequences and reports, credit card batching, and the POS configurator.
POS Operations
This module handles the basic functions of restaurant operations. Typical POS Operations include entering orders, executing sales transactions, cash drawer tasks, and clock in/out functions. This module will mostly be used by staff members.
Manager Procedures
This module handles the managerial side of restaurant operations, such as creating and monitoring time schedules. Only management-level staff should access this module.
Auto-Sequences and Reports
This module generates sales and other reports that provide information on employee work schedules, production, cash balances, etc.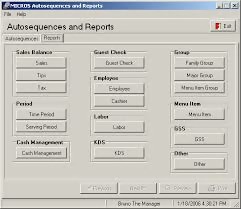 While some non-management employees may need access to this module, it's largely used by management level staff and higher.
Credit Card Batching
Technically part of auto-sequencing by default, this module "batches" your credit card charges before transfer to your processor for settlement. You can also manually batch transactions.
POS Configurator
This is the module to set up your system and to make advanced changes. Any updates to your settings, permissions, and other system functions can be done through the configurator. It's best to only allow administrator-level management access to settings.
Why MICROS Retail Systems
The MICROS homepage is sparse on information that shows restaurant owners how they might benefit from a MICROS POS system, although information on products can be found under POS Solutions.
The header link Why MICROS Retail Systems leads to "Client List" and "Business Partners" suggesting the answer to that question is MICROS' high profile customers and developers. Not a compelling enough reason, one imagines, for a small independent restaurateur.
In some ways, it appears that MICROS skates along on its reputation as the dominant restaurant-industry POS system rather than actively touting the features that make it beneficial. Let's take a look at what those features include.
MICROS Features
It's undeniable that MICROS offers plenty of features that make restaurant order taking easier. CardFellow has a full MICROS POS review, but here's a quick refresher on some of the popular features. Micros offers:
Value / combo meals
One-touch upsizing and item substitution
Serving periods
Configurable "You saved…" calculation that can be displayed during value meal entry and printed on guest receipts
Re-open closed checks
Graphics (logo printing) on receipts and guest checks
Supports up to 32 order devices and up to 64 condiment groups
10 menu levels / 10 menu item prices
Option to count number of menu items on check
Scheduling and staff requirements generation (SRG) support
Auto schedule generation (ASG) available with SRG
Payroll pre-processing
Payroll paid off of schedules, with no need for clock in / out
Employee master reports
Centralized employee / HR setup
Historical reporting of salary and pay rate changes
Source: RES 3700 POS
MICROS POS System Cost Benefit Analysis
To determine if the MICROS 3700 POS System can add value to your business, we've put together a cost benefit analysis. Our features matrix shows the features offered by the MICROS 3700 and four competitive platforms: Toast POS, Lavu, Upserve, and NCR Silver.
Features have been categorized into the following six functional areas, which we believe reflect the range of activities generally performed by advanced POS systems:
Billing and order processing: scanning items, capturing different payment modes; adding discounts; generating invoices; printing receipts, etc.
Sales monitoring and reporting: generating sales report; displaying sales trends; producing sales forecasts, etc.
Inventory management: showing stock on hand; tracking receipts and issues; showing SKU transaction history, etc.
Customer relationship and experience: capturing customer data and purchase history; implementing loyalty programs
Employee management: managing staffing levels; tracking employee hours; monitoring sales performance, etc.
Explaining the Feature Matrix
Each category is given "feature points" based on the prominence. The assumption here is that the most salient selling points of a product will appear most often and prominently in a company's promotional literature. Conversely, if no mention or very little mention is made of a feature, it is either not available or not considered as important. The total of feature points for a category and the distribution of feature points across categories should give an indication of the areas a company thinks it is strongest in.
Total feature points offer a way to compare cost to total benefits. In our Features Matrix ranking of relative value, MICROS 3700 places fourth of the five platforms.
Features Matrix
With those details in mind, let's see where the popular restaurant POS systems stand.
| | | | | | |
| --- | --- | --- | --- | --- | --- |
| | Micros | Toast | Lavu | Upserve | NCR Silver |
| Billing and Order Processing | 4 | 3 | 10 | 5 | 2 |
| Sales Monitoring and Reporting | 5 | 4 | 7 | 6 | 3 |
| Inventory Management | 0 | 2 | 1 | 4 | 1 |
| Customer Relationship Management | 0 | 1 | 1 | 1 | 1 |
| Employee Management | 7 | 2 | 1 | 4 | 1 |
| Loyalty Program Management | 0 | 4 | 0 | 3 | 1 |
| Total Feature Points | 16 | 16 | 20 | 23 | 9 |
|   | | | | | |
| 3-Year Total Cost of Ownership* | $20,000 | $9,633 | $10,060 | $13,537 | $9,490 |
Keep in mind that this is just one way to quantify the potential value of a MICROS system for your restaurant. If specific features are more important to your business, then you may weight the value of the systems differently. Likewise, if there's a feature that received a lot of 'feature points' but you don't need that feature, you can disregard it from the benefit of the system.
*Your total cost of ownership can vary depending on packages chosen, promotions offered, etc.
Choosing a POS System
For today's busy proprietor, choosing a POS system can pose a daunting array of challenges. However, employing a framework will help by offering a structured approach to the decision making process. Follow these steps to finding a POS system.
Step 1: Identify the functions your system must have. This will include the most basic POS functions, such as accepting payments. But, perhaps, you may have other ways of handling inventory or relations with customers, so there's no need for your POS system to do that too.
Step 2: Determine equipment needs. Will your system require the purchase of new hardware or can it be run on a device (such as a desktop, laptop or tablet) that you already have? Obviously, you'll have to spend more if you're purchasing both the hardware and software.
Step 3: Choose a suitable cost model. You'll either pay a one-off license fee or a monthly SaaS fee. There are pros and cons to both arrangements. SaaS contracts can be changed to match your business's growth, while the one-off license way will, typically, require a long-term contract but may not have the flexibility of adding or dropping options like the subscription model.
Step 4: Consider user-friendliness. How easy is it to operate the system? Once you've paid for the POS system and it's installed, you (and your staff) will be using it daily. You don't want to pull your hair out trying to remember complicated processes to complete daily tasks.
Step 5: Do the demo. This is a way of getting to know whether the match between your business and the POS system will be one made in heaven. Getting a demonstration of features often used or having the opportunity to work them yourself can provide a wealth of information on the good, the bad, and the ugly.
Still not sure? For more information on choosing a POS system, read our informative piece on the topic How to Choose a POS System.