The marketplace for products and services is shifting, with more people preferring to spend their money on "experiences" rather than just buying more "stuff." One of the experiences we all enjoy is a good bit of pampering, so how does the software stack up in the world of salons and spas? In this review, we take a deep dive into one popular software option, Millennium.
Overview of Millennium Salon Software
Millennium salon software is designed to make managing a salon or spa as easy as possible. To do so, it features standard appointment booking, inventory management, and reporting, and combines this with client loyalty features, smart incentives, marketing, membership billing, integrations, and several other useful features.
Millennium is designed for salons and spas of many different varieties — from spas offering a full range of treatments to specialist salons including massage, manicure/pedicure, hairdressing, and more. Millennium also provides support to spa and salon educators/trainers, and to medical spas and salons offering alternative and complementary therapies. Unfortunately, all of this functionality is let down by an awkward, difficult to use interface, meaning the software is a victim of its own complexity.
Millennium Salon Software in its Own Words
"Award-Winning Spa & Salon Software Made For You"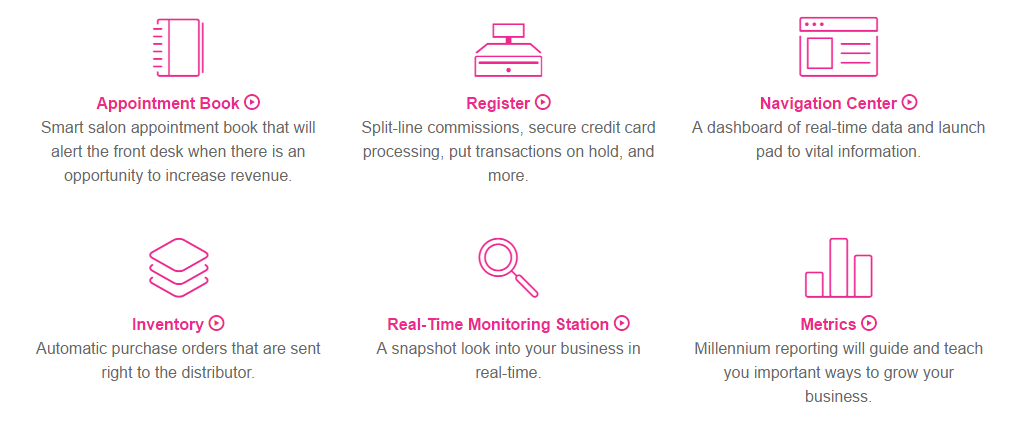 Millennium Salon Software Features and Benefits
Millennium software offers a number of features in different categories, including spa and salon management, client management, payment processing, and reporting.
Spa and Salon Management
For spa and salon management, Millennium offers plenty of features, including appointment booking with room maximization, text message reminders, and multi-location support.
Appointment Booking with Room Maximization
Millennium features a "smart salon" appointment book that lets you book clients, rooms, therapists, and treatments as normal, but also alerts you if you could cross-sell or upsell to increase revenue. For example, it might suggest pre booking a series of therapies, or suggest complementary treatments together with incentives.
Millennium also automatically ensures that your rooms, equipment, and services are available when they need to be. You can view utilization as a whole or for each part of your business on a minute-to-minute basis. This will help you understand how to utilize your services more effectively.
Text Message Reminders and Confirmation of Appointments
Millennium will automatically send reminders and messages to confirm appointments with customers. This helps you avoid lost revenue due to no shows or customers forgetting their bookings, and ensures engagement with your clients.
Works Across Multiple Locations
If you have a chain of salons or spas, Millennium provides real-time data across your whole organization. You can see which locations are performing well, monitor utilization and turnover, and view your key metrics for any part of your business. Or, if you prefer to take bookings over the phone, Millennium can centralize your booking experience, letting you use a call center setup.
Client Management and Marketing
For many salons and spas, repeat clients are a crucial source of business. Millennium helps you ensure that your customers have a positive experience and keep coming back. You can take advantage of a built-in loyalty program, strategic discounting options, and automated email marketing.
Client Loyalty
Another great feature is Millennium's built-in customer loyalty system. Clients earn points when they book appointments. Points can then be exchanged for free treatments, money off products, and other incentives that you can set.
Read more about starting a loyalty program.
---
Strategic Pricing and Smart Discounting
Millennium lets you take advantage of smart pricing and discounting to maximize the amount of time your spa or salon is booked. It does this by analyzing how busy your spa is over time and whether all your rooms, classes, beauty therapists, and services are fully utilized. If they are not, the software can automatically suggest and apply strategic pricing discounts to encourage people to book treatments at quieter times. This helps to ensure all your employees and resources are fully booked.
Automated Email Marketing
Millennium has a built-in customer analysis and email marketing tool. You can drill down into the details of your customers, segment them into audiences and customer types, then send them emails to incentivize them into booking with you again.
Payment Processing, Cross-Selling and Upselling
Payment processing is a big component for any business. Millennium offers the ability to easily accept payments, set up memberships, and integrate with QuickBooks.
Taking Payments
When clients pay, you can process the sale right through Millennium. You can easily split commissions, put transactions on hold, take multiple payments, and process credit and debit cards.
Millennium has built-in credit card processing through Vantiv. Although it's a secure, PCI compliant payment solution, the fact that you don't have the option to choose another processor may result in higher rates since there is no competition. If price is important to you, it may be worthwhile to find a processor first and then choose salon and spa software that the processor can support.
For help finding a processor with great pricing, use this free quote comparison tool.
Membership Billing
Millennium lets you provide subscription and membership services to your customers. Whether this is your main revenue stream or an optional add-on, a monthly or yearly membership fee can be a useful way to smooth out your cash flow. Millennium automatically takes payment and processes ACH, debit, and credit cards. It also updates expired card details so your customers can continue to pay without interruption
Related Article: Setting Up Membership Billing.
---
Integration with Intuit Quickbooks Accounting Software
Accounting and financial management can take up a significant amount of time. Millennium automatically integrates with QuickBooks. All transactions, sales, purchases, and other financial information will be captured in QuickBooks to make bookkeeping faster and easier.
Reporting
In addition to the client management and payment functions, Millennium offers reporting to help you more effectively manage your spa or salon. A navigation center offers quick access to information you need, while inventory management and comprehensive reporting give you further details.
Navigation Center
The navigation center puts all of the key information about your salon or spa front and center, giving you key metrics and reports. You can easily access other parts of the application from the navigation center. A Real Time Monitoring Station gives you a snapshot into how your business is performing right now.
Inventory Management
If you sell retail and manage inventory, Millennium functions as a complete Point of Sale (POS) and inventory management system. It will even automatically reorder stock when your inventory levels are running low. Inventory management functions can be great for salons that sell haircare products like shampoo and conditioner, makeup, nail polish, or other beauty items.
Comprehensive Reporting
Good business management relies on having the right information. Millennium reporting gives you detailed metrics and measures for every part of your business so you can see what you need to improve to maximize customer satisfaction, utilization, revenue, and profit.
Millennium also highlights key growth indicators to help you expand your spa and salon business. You can review and act on areas including:
Frequency of visit.
Encourage clients to come in more often through using pre-booking, incentives, and discounts.
Average client value.
Increase the revenue you get from individual clients by using membership services, cross-selling / upselling, and encouraging purchase of retail items.
Retaining existing clients.
Contact clients who haven't been to see you in a while through providing reminders and incentives. You can also provide extra incentives to regular, repeat clients to increase customer loyalty.
New client retention.
Maximize the value of new clients by automatically pre-booking their treatments and providing discounts and other incentives for your services.
Client churn and turnover.
Measure the number of clients you're losing vs. the number of new and repeat clients to ensure you're focusing your marketing efforts in the right way.
Mobile App
A version of Millennium software, Millennium GO is available as a native app for the iPad. This lets you offer salon services away from your base location, or provides a simple way to interface with the main Millennium software.
The app includes an automatic report scheduler so you can view critical reports on your mobile device. You'll also get full Millennium access to all salon and spa software features on almost any device, anywhere, at any time.
Millennium Salon Software Additional Options and Hardware
Although Millennium is primarily a software product, they do also sell hardware to provide a complete solution for spa and salon owners.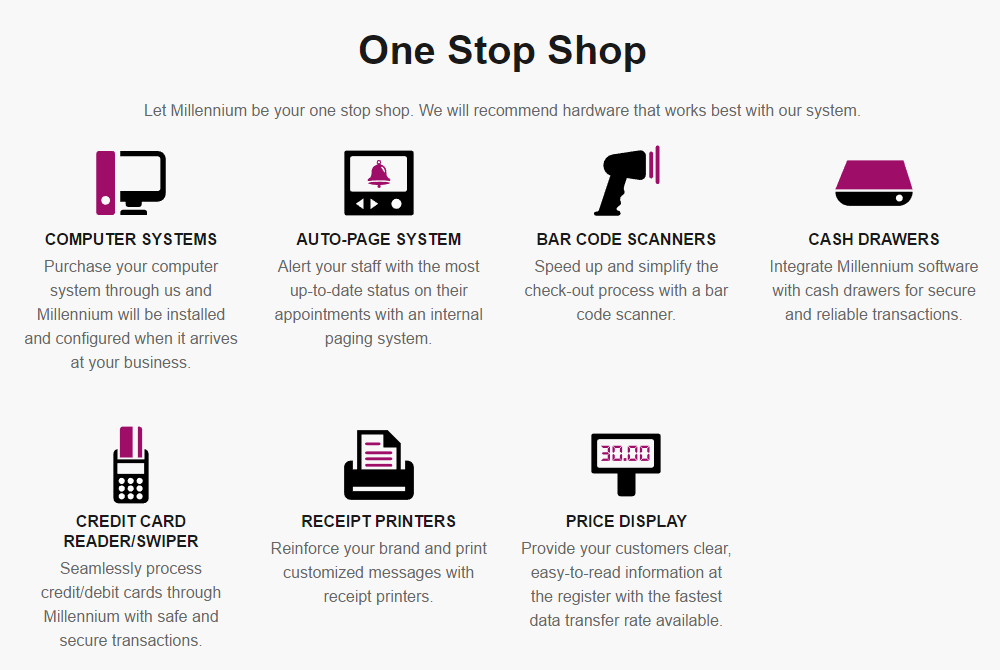 The company offers computer systems with Millennium automatically installed, an auto-page system to alert your staff on appointment status, bar code scanners for speeding up checkout and simplifying retail sales, cash drawers to allow you to take and hold cash, a credit card reader for easy processing of debit and credit cards, receipt printers for printing customized receipts, and a price display so your customer knows what they need to pay.
Millennium Education Edition
In addition to providing a complete range of spa and salon management services, Millennium also has an "Education Edition" specially designed for people who are training therapists, beauty specialists, or other treatment experts.
It includes student grade recording, time-clock information, student information, and curriculum details, as well as growth indicators to show the success of your students and your training or school. You can also take and track student payments.
Millennium Salon Software Pricing
Millennium Salon Software pricing is simple, and comes in several tiers. If you have one to five service providers in your spa or salon organization, the fee is $69 a month. If you have more than five service providers, the fee is $99 a month.
Medical spas or use of the Education Edition come with a $199/month fee.
For all plans, there is also a one-time setup fee of $99.
Millennium Salon Awards
The software has received a number of awards for its innovation, design, ease-of-use, and effectiveness including:
Reader's Choice Launchpad Winner.
American Spa Professional's Choice Winner.
Stylist Choice Award.
American Salon Professional Choice Award.

Millennium Salon Software Support
Millennium provides dedicated support to its customers in several ways. A support team provides advice and support on any issues with the software. They can quickly help you resolve any problems and get you up and running again.
The Millennium education team provides training and education on using the software. They work with your business to identify opportunities for growth and use industry best-practice together with strategy to help you maximize revenue and profits.
Additionally, the conversions team can help you move from other point-of-sale or salon management software to Millennium.
Millenium Reviews from Customers
Despite a wide range of salon and spa features, online reviews of Millennium salon software are mixed. Reviewers on Capterra gave the software an average of four out of five stars across 23 reviews. Although many people enjoyed the extensive options and functionality the software provided, there were a number of issues with its complexity.
On the whole, the support teams were widely praised for their responsiveness and helpfulness. Some reviewers praise exceptional customer service and useful features.
However, a lack of automation in the software caused confusion and frustration for some users. Negative comments also stressed that customizing any of the options expensive and difficult.
Reviews were similarly mixed on G2 Crowd, with the software only getting 3.2 out of five stars across nine reviews. Again, people liked the wide range of features provided, but had significant issues with complexity and doing what they needed to quickly or easily. Some commenters noted that scheduling was simple and that it's convenient that clients can book online. Other reviewers appreciated the automatic text reminder options.
As noted earlier in this review, the built in credit card processing fee is high. Instead, some customers mention that they use other processors rather than integrating processing through Millennium.
Overall, Millennium spa and salon software has a ton of features, however the implementation of those features could make the software difficult and awkward to use.
Have you used Millennium? What was your experience? Let us know in the comments below!