Businesses that are considering switching credit card processors wonder, "Can I use my credit card machine with another processor?"
If you're wondering if your credit card machine can be reprogrammed, here's the scoop: Some credit card machines can be reprogrammed to work with virtually any credit card processing service, while other machines will only work with a specific processor.
Older credit card machines that don't have the proper hardware and memory to support modern programs may not work with any processors at all. Even if a credit card machine can be reprogrammed, it is a good idea to avoid reprogramming older machines that no longer conform to current PCI DSS or that can't accept EMV chip cards.
---
Universal Credit Card Machines
Most credit card machines are manufactured for the open market allowing any credit card processor that is willing to build a program that will allow the machine to function on its platform. These credit card machines afford a business the flexibility to move from one processor to another simply by having the new processor reprogram its existing machine.
This flexibility makes universal credit card machines the preferred and most cost-effective option when compared to proprietary machines.
Machines that are manufactured by Verifone are examples of open market credit card machines that can work with many different processors.
Search our Equipment Directory for credit card processing machines.
---
Proprietary Credit Card Machines
Proprietary credit card machines are manufactured to work only with one specific processor. A business that purchases a proprietary credit card machine will be forced to purchase another machine if and when it decides to switch processors. For this reason, we recommend careful consideration before purchasing proprietary machines and we discourage proprietary machines within the CardFellow marketplace.
First Data (now Fiserv) is the largest distributor of proprietary credit card machines, with its line of FD machines and the Clover family of products. FD machines and Clover Stations will only work on Fiserv's processing platform. However, keep in mind that this doesn't mean your processing account has to be handled directly by Fiserv. You can use any company (called an ISO) that operates on their platform and still use the machines. (But NOT the Clover Stations.)
There are many companies that work with Fiserv. Companies that place certified quotes through CardFellow that fit the bill include GDPay, Netcom PaySystem, MPI, Payhub, Payline, Payment Depot, and more. You can browse our extensive credit card processor directory to check if a particular company works with Fiserv. If it does, you may be able to continue using your FD machine by getting it reprogrammed.
Known Exceptions
Even though it's a First Data machine, reprogramming is NOT available for Clover Stations.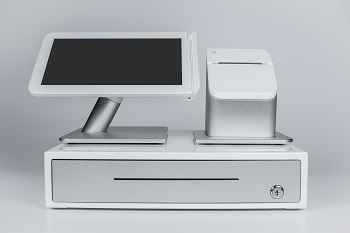 Clover POS systems can only be used with the processing company they're purchased from. This means that even if you move from one ISO that works with Fiserv to another ISO that works with Fiserv, you will not be able to continue using the Clover Station you bought from the first processing company and will need to purchase a new POS system. (Either another Clover Station or other supported option.)
Related Article: Before You Buy a Clover POS System.
---
Platform Compatibility
Even credit card machines that are manufactured for the open market can have limitations. Before a credit card machine can be programmed by a processor, the processor must first have software available that allows the machine to communicate with its network.
Creating this software costs money, and if a machine does not have a large enough market share a processor may not be able to justify the cost of creating the software to support it. So, even though a machine may be capable of being reprogrammed by any processor, not all processors will support every open-market machine.
Machines made by Ingenico are a good example of open-market machines that some processors haven't chosen to support.
If you're interested in using a particular machine, be sure to check with your preferred processor about compatibility before you make the purchase, even if the machine is not proprietary.
Machine Age and Hardware
Technology in the processing industry changes rapidly, and older credit card machines may not have the hardware to support modern programming and features. Even if an older machine is capable of being reprogrammed, the benefits that new machines offers may make the old machine obsolete.
For example, an older dial-up machine that connects via a phone line requires about twenty seconds to process a typical swiped transaction. Newer IP machines that connect via the internet are capable of processing the same type of transaction in just two seconds.
For fast-paced businesses such as restaurants and busy retail store, saving eighteen seconds on each transaction is well worth the cost of purchasing a new machine.
Insufficient memory is another limiting factor of older credit card machines. Generally, machines with less than one megabyte of memory cannot handle the size of most modern day programs.
For example, a Hypercom T7Plus with only 512k of memory will likely be incompatible and thus not able to be reprogrammed, while a Hypercom T7Plus with one megabyte of memory can be reprogrammed by virtually any processor.
PCI DSS Compliance
Additionally, many older machines are not capable of supporting modern day security requirements mandated by PCI DSS (payment card industry data security standard). While it is possible for processors to reprogram these machines, we strongly recommend that a business purchase a newer PCI-compliant machine whenever possible.
Even though they are capable, some processors have stopped reprogramming non-compliant machines even though specific regulations do not (yet) exist that prohibit the practice. Older Verifone Tranz and Verifone Omni machines are examples of machines that are no longer PCI-compliant, and while some processors will reprogram these machines, many will not.
EMV Compatibility
Older credit card machines also frequently lack compatibility with EMV chip cards. Businesses that accept credit cards are liable for fraudulent transactions if they don't use EMV chip card-capable equipment when running customers' cards. Protect yourself and your business: instead of reprogramming a non-EMV terminal, upgrade to a more secure option. Countertop chip card terminals start at around $300, and include a slot for EMV cards to be "dipped" instead of swiped.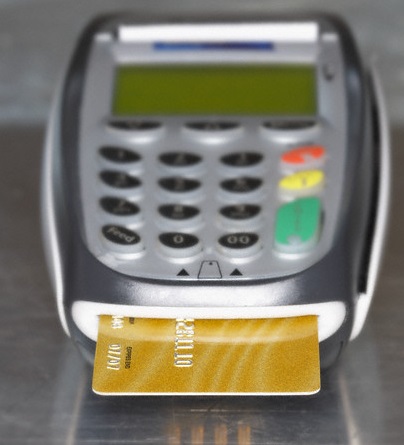 There's still a lot of misinformation out there about chip cards and business requirements. Get the real facts in our article 7 Common Misconceptions About Chip Credit Cards.
How Machines are Reprogrammed
Most standard dial-up and IP credit card machines can be reprogrammed over the phone in a matter of minutes. Wireless credit card machines and other more sophisticated pieces of equipment may need to be physically shipped to a processor for reprogramming. If your processor can reprogram the machine over the phone, be sure to choose a time when your business is slow or closed. Even though reprogramming is usually a quick, smooth process, it's a good idea to do it when you don't have customers waiting.
Reprogramming Fees & Charges
Other than the time spent by an agent or staff member, processors do not incur a cost to reprogram a credit card machine. A fee charged by a processor to reprogram existing equipment is generally profit for the processor, or is kept as a bonus or additional commission by the agent that sources the merchant account.
Businesses should attempt to negotiate to have reprogramming fees waived. In fact, many competitive processors will not attempt to charge such fees in the first place.
Finding a New Processor
If you think you're being overcharged, are unhappy with customer service, or are looking for a new processor for any other reason, check out the CardFellow marketplace. We've created a free, no-obligation service where you can easily compare costs and equipment from any processor you'd like. Here's how it works:
When you choose a processor through CardFellow, you can count on no cancellation fee, a lifetime rate lock, statement monitoring with interchange optimization, and more. If you already have equipment, we'll be happy to talk you through your options for reprogramming or upgrading.