Riskified is a software-as-a-service company that offers chargeback prevention and fraud management for mid-market and enterprise level businesses, specifically online retailers. The company boasts clients such as Aldo, Skullcandy, Burlington Coat Factory, Mattel, Swarovski, Prada, and more.
With fraudsters increasingly turning to the internet as a result of increased in-person security due to chip cards, it's more important than ever for ecommerce businesses to protect themselves.
---
Industries Served
Riskified works with a variety of online retailers, including businesses in fashion, ticketing / events, travel, gift card sales, electronics, and luxury goods. Businesses that have international clientele and those with digital items in particular may benefit from services like Riskified, as foreign transactions and items that are quickly re-sellable are particular targets when it comes to fraud.
Fraud Review
Riskified offers an end-to-end solution that help reduce ecommerce fraud, but also prioritizes not affecting customer experience. The fraud review process utilizes machine learning and comes with instant decisions, as Riskified commits to a "frictionless" fraud review process.
Continual order analysis helps refine fraud detection to ensure not only fraud prevention but also preventing false declines that were actually valid orders. After all, you don't want to lose out on true sales from a false anti-fraud response.
Fraud Detection Process
Of course, fraud prevention companies don't typically go into great detail about how their systems work, as that would make for a less effective system. However, Riskified does provide this image showing the steps: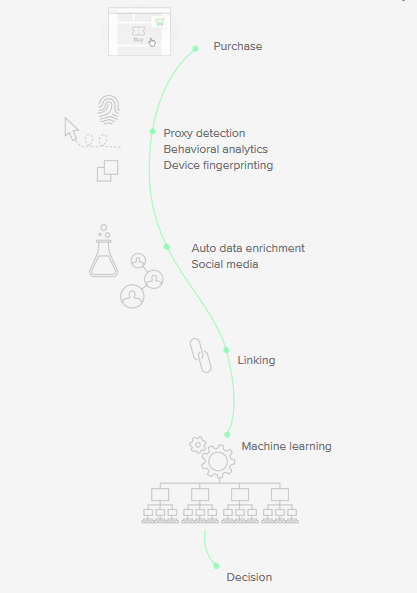 As you can see, fraud detection is a multi-step process. As the purchase is made, the process begins, undergoing several steps before arriving at the 'decision' regarding the transaction.
The company provides some detail about each step, saying that it first engages in device and browser fingerprinting, behavioral analytics, and proxy detection. It states that it then augments that information with additional details from in-house sources, social media, and third parties. It explains the "linking" step as utilizing linking technology to look for connections between the current order and all of the orders placed through the Riskified system. Lastly, the machine learning component analyzes all of the information gathered to make a determination regarding the order's legitimacy. An "approve" means less chance of fraud, while a "decline" indicates a fraudulent transaction.
Chargeback Guarantee
Riskified is confident in its system and offers a 100% chargeback guarantee, stating that they cover every approval 100%. If you process an "approved" transaction that is later subject to a chargeback, Riskified covers the cost associated with that chargeback.
The guarantee covers both unauthorized card use and chargebacks initiated through "friendly fraud." Riskified states that if you receive a chargeback, you'll be reimbursed within 48 hours.
The company also boasts that it has high approval rates for transactions, claiming that it does not implement unnecessarily strict fraud prevention that will result in declines just to avoid being on the hook for a possible chargeback.
Integrations
Despite referencing mid-market and enterprise-level clients, Riskified does have integrations with ecommerce platforms favored even by small businesses. The company integrates with Shopify, Stripe, and Magento, as well as the Authorize.Net gateway.
In the past, only the Shopify integration page includes pricing information, which included three plan options: Monthly, Annual, and Enterprise. Currently, the website does not show the pricing information.
Previously when pricing was available, the Monthly plan cost $3,000/month for approved orders worth up to $300,000. (An extra 1% applied for additional approved orders.) The Annual plan cost $3,000/month, but that's for approved orders worth up to $375,000. (An extra 0.8% applied for additional approved orders.) The enterprise plan required contacting Riskified for a quote.
It's unclear if these prices are still valid.
Riskified Costs
The company sets custom pricing that varies depending on your sales volume and specific needs. Riskified's quote form suggests that there are 4 basic levels of pricing based on annual volume: under $3 million, $3-10 million, $10-100 million, and greater than $100 million. Riskified offers both integrations with existing commerce platforms (Shopify, Stripe, and Magento) or an API solution, and costs vary.
However, Riskified does state that it only charges for transactions that it approves and guarantees.
As noted above, previously the company only provides pricing guidelines for customers that integrate with Shopify and currently even those prices are not readily published. Expect those costs to start around $3,000/month if past pricing is any indication of current costs.
Alternatives to Riskified
Not quite ready to invest in a solution like Riskified? Lower cost alternatives to Riskified for small businesses are available. If chargebacks are more your concern, consider a chargeback management company.
If you're more concerned about general fraud protection, first check to see what security suites your credit card processor offers. The largest processors offer their own security suites, which smaller processing companies also can offer your business. First Data (now Fiserv) offers TransArmor while TSYS provides Guardian Security Suite.
If the tools your processors offers aren't enough for your needs, you can also consider additional protections such as 3D Secure.