These days, restaurants have a choice of many different delivery apps with whom to partner. Uber Eats is among the largest of those apps.
However, it's not without drawbacks. Some restaurants find the commissions (30% or more) to be too steep, while others explain that the delivery app cannibalizes walk-in business. However, plenty of other restaurant owners find that Uber Eats and similar delivery apps do raise sales. Let's take a look at how it works and what you'll pay.
---
Uber Eats for Restaurants
Who hasn't heard of Uber Technologies, Inc. (NYSE: UBER), the ubiquitous ride-sharing service that's becomes a poster child for the gig economy? Founded in 2009, Uber has grown into a colossus, operating now in over 700 metropolises across six continents. The company has moved on from ridesharing and carpooling. Uber is now into freight delivery, electric bikes and scooters, self-driving cars and, with Uber Eats, meal delivery.
Restaurant Delivery App
Its most successful venture after ridesharing, Uber Eats allows is a meal delivery app. Diners search for restaurants, order directly through the app, and get their meal delivered. Uber first offered meal delivery in 2014 in California and launched the Uber Eats App in 2015 ago, says CEO Dara Khosrowshahi.
The company claims the service "has grown to be the largest meal delivery platform in the world outside of China based on Gross Bookings." In the recent S-1 filing (linked above) it declares, "Uber Eats provides restaurants with an instant mobile presence and efficient delivery capability, which we believe generates incremental demand and improves margins for restaurants by enabling them to serve more consumers without increasing their existing front-of-house expenses." Quite a mouthful, as one would expect from a meal delivery service, but investors have swallowed. In its IPO, Uber raised around $8 billion.
Restaurant Partners
Uber partners directly with restaurant chains, such as McDonald's, Subway, and Popeyes, as well as with local restaurants, which can sign up to work with Uber Eats on a self-service basis. The Uber Eats app also provides restaurants with the capability to market directly to consumers with personalized, sponsored advertisements such as "Recommended Dishes." The app reduces friction in the ordering sequence by storing consumer order history and payment information. In 2018, Uber Eats acquired South African startup orderTalk, which provides online ordering software to restaurants that can be seamlessly integrated with a restaurant's point-of-sale system. The company is hoping that linking the Uber Eats platform directly with restaurants' point-of-sale systems will help restaurateurs analyze orders and predict demand.
Increasing Restaurant Revenue Streams
All in all, Uber Eats Appears to offer restaurants a new way to make money, reach new diners, and deliver food to their customers. In some instances, it may actually be the fastest way to get food to customers. But Uber Eats is not the only outfit delivering meals. Restaurants can choose from GrubHub, DoorDash, Deliveroo, Swiggy, Postmates, Zomato, Delivery Hero, Just Eat, Takeaway.com, and until recently Amazon, which has called it quits. (The parent company announced in June 2019 that Amazon Restaurants would close its U.S. business by the end of June 2019.)
How to Use Uber Eats at Your Restaurant
The Uber Eats platform provides options for restaurateurs. But how do you get orders?  How does Uber Eats connect your establishment with diners?
Customers Come First
To use the service, a diner must first create an Uber account, which allows them to place orders online, i.e. through a web browser. Alternatively, they must download the Uber Eats app from the App Store for iOS devices, if they want to use a smart phone or other digital device.
The prospective diner begins their quest for sustenance by tapping the Uber Eats icon on their smartphone, at which point they are confronted by the app screen.
On tapping "Open", the app will request the "delivery location."  Based on the location the diner has entered, they will then be presented with a list of nearby restaurants and eateries. They can select a particular restaurant or cuisine by tapping the search icon and indicating preferences or may simply browse the listings. Tapping a restaurant opens its menu and more detail of what it has to offer that day.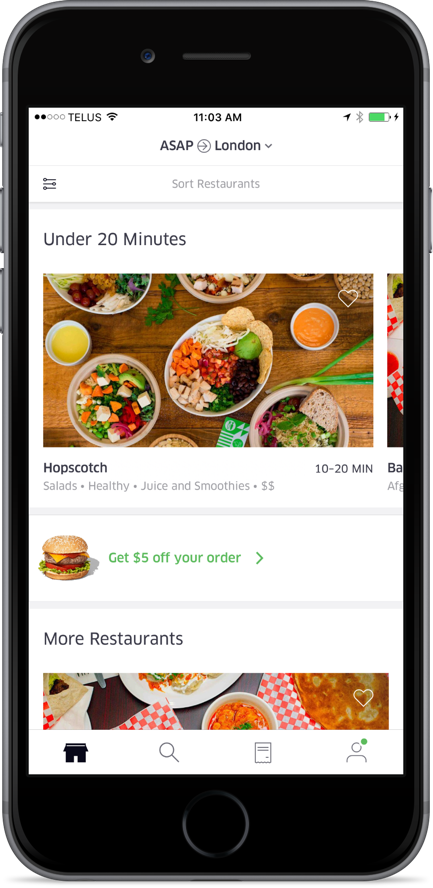 As the diner goes through the selection, they can taps, "Add it to your cart" for the items, then tap "Check Out.' An order confirmation screen appears. Then, after tapping "Check Out", payment options appear. Finally, the diner taps "Place Order", and the order enters cyberspace to your restaurant.
Handling Orders on Uber Eats
There are three basic aspects to an Uber Eats order:
1) accepting an order;
2) managing an order; and
3) tracking an order.
On the App, restaurant owners and managers will use the restaurant dashboard to accept and track orders they receive. To access the dashboard, simply tap the Uber Eats icon on your device.
Accepting Orders
The order from our diner and additional new orders appear on the left sidebar. New orders announce their arrival with a sound and a green light flashing the words "New Order."
Tap on the lighted area to accept and you'll see the details, including special instructions from the customer, such as extra napkins. These details appear on the right in the main screen area, e.g. one Best Cheese Burger $11.70.
Managing Orders
Each order will display an estimated pickup time. This is when you can expect a delivery partner to arrive. If the order is set for delivery hours or days ahead it will be signaled with an amber light flashing the words "Scheduled Order" rather than a green one that highlights the words "New Order." However, accepting the order is done the same way – by tapping on the lighted area. The order will then move down to the "Scheduled Order" section of your dashboard. When it's time for the food to be packed and delivered, the order will reappear at the top of your queue.
You can start to prepare the order when the delivery time approaches. You'll see a "Ready by" time, which will give some idea of how long you have to prepare the order before a delivery partner arrives to take it to the customer. As the delivery time approaches, Uber Eats will match you with the nearest delivery partner. If you finish preparing an order ahead of schedule, you can tap "Food is Done" and the delivery partner will come earlier.
Delaying, Cancelling, and Pausing
If you need to cancel or delay an order, tap the "Arrow" button, and you'll see "Delay Order" or "Cancel Order." If you need just a few more minutes, press "Delay Order" and state how much more time you need. If you are no longer able to fulfil the order, press "Cancel Order." Uber Eats will notify the customer.
Need a break from accepting orders? Press the "Accepting Orders" button in the bottom left and select "Pause New Orders." This will mark your restaurant as unavailable in the Uber Eats App until you're ready to accept orders again.
Once you've been matched with the closest delivery partner, you can always tap the "Arrow" button to track or contact him or her and view their name and photo. When your delivery partner arrives, they will show you the order number, usually on their phone.
Tracking the Order
As soon as the delivery partner leaves, the order will move to the outward delivery section in the left panel. You can track it on the map all the way to the customer. When the delivery is complete, tap the three lines in the upper left hand corner. There, you can see your delivery history complete with price breakdown and other information. You can also rate your delivery partner and contact support.
A Buffet of Other Features
Other features available on the left panel include marking a menu item as "sold out." To do so, tap on the "Hamburger" button and navigate to the menu tab. Tap on the "Sold Out" item, find the icon that looks like an eye and select "Unavailable Today" or "Unavailable Indefinitely." The icon will turn from grey to yellow, indicating that the item is sold out. The left hand panel also shows your account info and the Uber Eats support number.
The Uber Eats Restaurant Manager
The Uber Eats Restaurant Manager (RM) provides decision making data for your business. The Uber Eats Restaurant Manager has four sections: 1) Restaurant Analytics; 2) The Payment Section; 3) Menu Editor; and 4) Preparation Time Editor.
Restaurant Analytics
The first page you see after logging in is the "Sales" Page in the Restaurant Analytics section. Here, you can view your sales for the week, as well as your top selling menu items. To see your overall sales for the past month, click on 30 days in the upper right corner to change your view. On the bottom left, the drop down arrow menu provides options for the bestselling items: 1) past month; 2) past week; or 3) yesterday. Data on your service quality is also provided and includes metrics such as accepted orders and menu availability, with more details that will help you improve speed and convenience on the right. Scroll down to see customer satisfaction and ratings. This is useful information to help you improve customer service.
Payments Section
Click on the credit card icon on the left side of the screen to see payments. Payments are directly deposited to your account on a weekly schedule. You'll be able to view a weekly summary of all your earnings or earnings broken down by day. You can also click on the "Download" icon to download a CSV of your order history for that week. This is a great tool to utilize for accounting purposes.
Menu Editor
The Menu Editor tool allows you to update your service hours, add, remove or edit menu categories or items, and create modifiers for your items. Changes can take up to 48 hours to take effect.
Preparation Time Editor
The Preparation Time Editor is accessed by selecting the time watch icon in the left panel. In this section, you can update your average prep time, which provides your clientele with useful information. You can adjust the average prep time by time of day. Busy lunch periods will require longer prep times than mid-afternoon, for example.
How Much does Uber Eats Cost Restaurants?
In answer to that question, this Uber Eats FAQS simply says: "We collect a service fee, which is calculated as a percentage of your sales on Uber Eats."
A Forbes article Why Uber Eats Will Eat You into Bankruptcy is more forthcoming:
"Uber Eats charges a restaurant 30% of their listed prices for the privilege of delivering their food. For example, Bob's Deli charges $10 for a burger. Uber Eats would take $3 dollars as a fee for delivering their food. Also, Uber Eats does not permit restaurants to increase their prices to "cover" Uber's cost. Thus, Uber is telling restaurants that they must eat the cost and lose money or we won't deliver for you."
In the low margin (15% or less) restaurant business, paying 30% for delivery may break the bank.
Uber Eats App: Caveat Emptor
The Uber Eats platform appears at first sight to be a boon to restaurants. But there's more to this scenario than meets the eye, when costs and customer behavior are taken into account. Uber Eats promotes its platform by arguing that orders made through it are "on top" of a restaurant's regular business. However, according to investment bank Morgan Stanley that may be misleading. Rather than adding on, orders through platforms like Uber Eats are more likely to cannibalize regular walk-in business. Since the margin on delivered food is less, any shift to more online sales means less profit for restaurants. This will be a growing problem for restaurants that are partnering with Uber Eats to remain competitive. Morgan Stanley estimates that "40% of total restaurant sales—or $220 billion could be up for grabs by 2020, compared with current (2017) sales of around $30 billion…"
But Can 220,000 Restaurants Be Wrong?
Despite such caveats, Uber Eats has garnered widespread acceptance from eating establishments. Indeed, Uber's 2018 prospectus claims that "15 million received a meal using Uber Eats in the quarter ended December 31, 2018, tapping into our network of more than 220,000 restaurants in over 500 cities globally."
A series of promotional videos entitled "Restaurant Profiles" features restaurant owners all waxing enthusiastically about the virtues of the Uber Eats platform. One believes Uber Eats is the ideal vehicle "to extend our dining room into people's living rooms." He says that after signup, his establishment enjoyed increased volume, with the order tablet "ringing and buzzing." He also likes Uber Eats because of its capability as a marketing platform. When listing their menus, restaurants have the opportunity to do so in a way that catches customers' eyes. The "one picture" of a meal on someone's phone is worth more than a thousand words on a menu card. The Uber Eats App started as a logistical tool but already is morphing into a marketing one.
Another attractive feature is geo-tracking, which allows the restaurant, as well as the diner, to see, at any given moment, where the driver and food is.
In enterprise terms, Uber Eats has grown to the point where the unit is contributing roughly 18 percent of the company's business. Industry-wise, Uber Eats commands a market share of 25.2 percent, according to data from Edison Trends reported by Fortune. This places Uber Eats in third place, after GrubHub, with 26.7 percent, and market leader, DoorDash, which has now taken the top spot with 27.6 percent.
Meals on Wings
Uber Eats may soon be airborne. In summer, the company plans to start delivering food by drones in San Diego. What happens in San Diego is unlikely to stay in San Diego. If those trials are successful, Uber Eats drones may soon be flying to a restaurant near you. Could it be yours?