Delivery apps have taken the dining world by storm, leaving many restaurateurs wondering, "Should I use Grubhub?"
While you may only be familiar with the main Grubhub name, the restaurant delivery app actually owns many other delivery apps. It purchased Seamless, Eat24, and others. Grubhub claims that you can boost revenue by up to 30% when you offer delivery through its app. But how does it all work, and is it really worth it? In this article, we'll take a look at the how and why of using Grubhub at your restaurants.
Related Article: Credit Card Processing for Restaurants.
---
How does Grubhub work for Restaurants?
The restaurant side of using Grubhub is fairly straightforward:
Sign up with Grubhub.
Set up your menu, delivery boundaries, and other details.
Confirm orders sent from Grubhub.
Prepare food and package it securely.
Coordinate with your in-house delivery staff or Grubhub's on-demand delivery drivers.
Ensure all items are given to the driver.
Collect funds (less Grubhub commissions) for the order.
You'll sign up with Grubhub and determine your marketing participation level. (More on this in the costs section later in this article.) You can also set your delivery fees and minimum order.
Once you're set up, a customer places their order either on the Grubhub website or mobile app. (Grubhub also provides a convenient order online link for your site.) The company then sends that order to your restaurant for preparation. You'll confirm receipt of the order and prepare the food. From there, you can deliver the order using your in-house delivery staff or use Grubhub's on-demand delivery drivers.
When you make changes to your menu in your connected POS system, it will automatically update your menu on Grubhub. Compatible POS systems include NCR Silver, Oracle systems, RPower, Toast, and Upserve.
Otherwise, you can log in to Grubhub to update your menu, as well as upload photos of your food. Photos should be of the actual dishes you serve at your restaurant, and be clear and enticing. Grubhub recommends images of food on plates (as opposed to food in takeout containers) photographed with natural light. Photos must be approved by Grubhub before they will appear on the online menu.

Grubhub has an FAQ page, but at the time of this publication, questions don't expand to show answers.
Beverages, Soups, Ice cream
When selling anything that may spill or melt (such as drinks, soups, and ice cream) for delivery, Grubhub requires that you provide containers and / or carrying trays to safely hold and transport those items.
Grubhub explicitly prohibits:
Fountain sodas
Open alcohol
Uncapped liquids that don't have "travel-appropriate" packaging
Grubhub allows:
Coffee or tea with spill-proof lids (no holes) in carrying trays
Smoothies (must be wrapped or bagged separately from other items)
Ice cream (must be wrapped or bagged separately from other items)
Soup
Uncapped liquids that have "travel-appropriate" packaging
Note that even for allowed beverages and items, Grubhub reserves the right to remove "problematic" items from the menu on its site. (You can still serve those items at your restaurant, but they will not be eligible for delivery through Grubhub.)
Grubhub Direct
For businesses looking to set up an online ordering website for their restaurant, Grubhub offers Grubhub Direct, a platform for online ordering and delivery. Existing Grubhub Marketplace restaurant owners can set up the site for free. Others may be able to join with a one-time setup fee of $99 and a monthly per-location fee of $49, making it a relatively low cost option for getting a customizable online ordering site.
The ordering platform integrates with your existing website and includes features like automatic menu updating and customizable branding to match your business's look. You'll have access to your customers' data, including order history, and can market to your customers.
Note: Marketing commission isn't charged on orders that come through your Grubhub Direct site. You will still pay order processing fees. If you utilize Grubhub drivers to make deliveries, you will also pay the delivery fees.
Grubhub for Work
Restaurants that cater to the business lunchtime crowd will appreciate the Grubhub for Work component of the service. It allows a business to place an order and assign items to particular people for easy distribution at the office or store.
If the order is for a group with items assigned to individuals, Grubhub requires you to package the items for the individual and label them. In the example below, you can see that Brooke ordered two items. You would need to pack Brooke's soup and salad individually and label that order as Brooke's.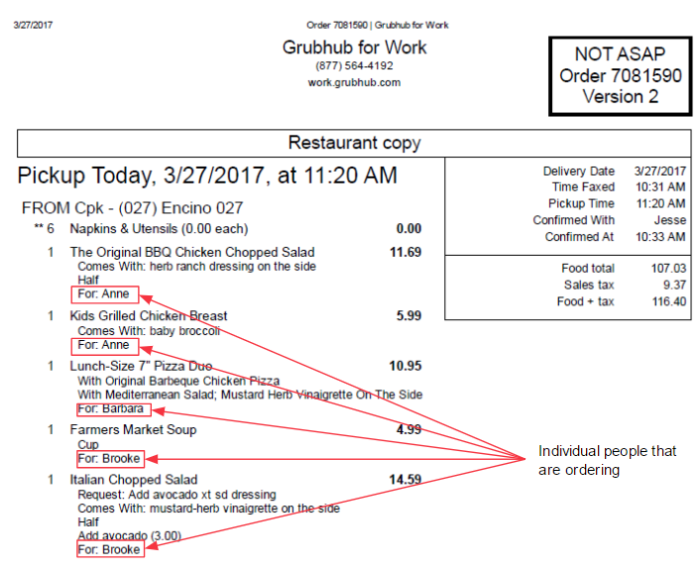 As with any order, you'll still confirm that you received it. You can confirm by email (using the confirmation link in the order) or by fax. If you don't confirm within a few minutes, you can expect an automated call reminding you to confirm.
ASAP vs. Specific Time
Customers have the option of selecting whether they want their order completed ASAP or for a particular time. However, if an ASAP order exceeds $300, a Grubhub corporate representative will call you to get a better understanding of the time the order will be completed and confirm it with the business.
On the flip side, Grubhub for Work orders may be set for a specific time, rather than ASAP. In those cases, the order will clearly note that it's for a specific time. For example, in the image below, the order specifies "not ASAP" and lists the pickup time in several locations.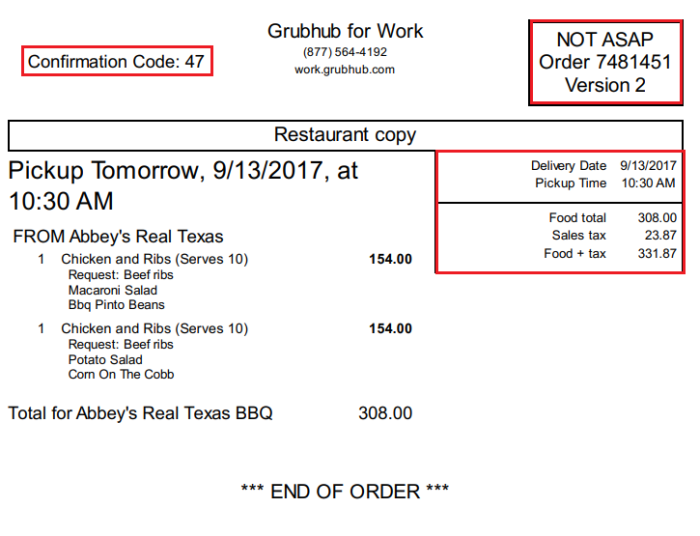 In either case, the procedure is the same: You'll need to confirm that your restaurant has received the order, prepare it either as soon as possible or for the time specified, and provide the food to the delivery driver. You and the driver should go over the items and remember to have the driver initial the order.
Grubhub Cost for Restaurants
Delivery app participation isn't cheap. However, neither is hiring a delivery driver and managing deliveries in house. You'll need to weigh the costs and benefits for your own restaurant.
Grubhub costs for restaurants can include several separate fees, such as:
Prepaid order commission
Delivery commission
Marketing commission
Phone order commission
Order processing fee
"Pay Me Now" fee
Some of these fees will apply to the same order placed through the Grubhub app. All in all, most restaurants should expect to pay somewhere around 30% commission on Grubhub orders, in line with most food delivery apps.
The company's website provides an example of how these costs may play out for a restaurant accepting orders through the app: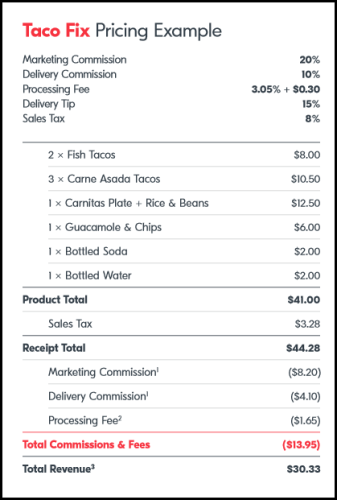 As you can see in this example, on a $44.28 order, the restaurant ends up paying Grubhub marketing commission, delivery commission, and a processing fee. Those three fees add up to $13.95, leaving the restaurant with $30.33.
Grubhub's fees can be a little confusion. Let's take a closer look at what these fees are and when they apply.
Prepaid Order Commission
The "prepaid order" commission applies when a customer places their order through Grubhub's website or app as opposed to your site or by calling. It's charged on the food and beverage total, unless you offer your own delivery. In that case, it will apply on the total of food, beverage, and the delivery fee you charge customers.
Delivery Commission
As the name implies, delivery commission is the fee you'll pay Grubhub to deliver to your customers.
While many restaurants prefer the simplicity of utilizing Grubhub's delivery option, it's not strictly necessary. Meaning, you can take orders through Grubhub but handle delivery yourself. If you already have a delivery driver and system in place, you can simply use Grubhub to increase your reach while handling the actual delivery in-house.
Otherwise, Grubhub provides drivers on demand and charges the delivery commission fee. At the time of this article, Grubhub charges a full 10% as a delivery fee, which may be bundled in with the marketing commission, depending on the marketing level you choose. The commission is calculated pre-tax.
There are actually two options for using Grubhub for delivery – you can choose to use the company for all deliveries or you can use it to supplement your in-house deliveries. (For example, to deliver orders beyond your current delivery radius or handle more orders during busy times.)
If you choose to utilize the supplemental delivery option, you only pay when you use Grubhub drivers.
If you use Grubhub's delivery options, you cannot charge a delivery fee to customers separately. If you use your in-house delivery staff, you can charge delivery fees.
Marketing Commission
Grubhub's marketing commission is a tiered percentage fee for having your restaurant marketed through Grubhub channels. The company states that the commission level you choose has a direct effect on your restaurant's exposure on the Grubhub site. Higher marketing commission levels = more exposure and allegedly greater access to customers.
The lowest level plan starts at 5% and does not include the delivery fee commission. Beyond that, tiered pricing levels apply. The company publishes information for three tiers: basic, plus, and premium. The basic currently starts at 15%, while the plus starts at 20%, and the premium at 25%. All three tiers state the delivery commission of 10% is included in this pricing.
Note that these marketing commission fees won't apply if you use the Grubhub Direct website platform to build your online ordering / delivery site. Instead, Grubhub charges a one-time setup fee of $99 and a $49/month per-location fee, in addition to the processing fees detailed below.
Phone Order Commission
The phone order commission applies to orders that a customer places using the routing phone number for your restaurant listed on the Grubhub site. This is different than the prepaid commission fee, which applies to orders placed through Grubhub directly. (Either on the company's website or its app.)
Grubhub does not list commission rates for phone orders (and it's not in the example receipt on the company's website) so we can't say for sure what that cost will be. We've reached out to Grubhub for this information.
Order Processing Fee
As the name implies, the order processing fee is the amount Grubhub charges to process an order. It covers the costs of accepting a card payment. The current rate is 3.05% + 30 cents per order.
For most restaurants, that's a fairly hefty credit card processing fee. Restaurants that currently have lower processing fees and in-house delivery will need to consider whether the higher costs for processing in addition to the marketing and order commissions are cost-effective.
"Pay Me Now" Fee
If you request your deposits to be released same day, Grubhub imposes a $1 fee per transaction. Otherwise, you'll receive your funds within a few days.
Tax Information
The IRS considers Grubhub to be a third-party settlement organization, meaning it's required to send you a form 1099-k for your settled transactions each year.
You'll receive a 1099-k per taxpayer ID. If you run multiple locations under one taxpayer ID, your 1099-k will aggregate the amounts for all restaurant locations under that ID. On the other hand, if every one of your restaurant locations operates under a separate taxpayer ID, you'll receive an individual 1099-k for each location.
Grubhub mails 1099-k forms to the address on file for your restaurant.
Is Grubhub Worth It?
When deciding if a delivery app is right for your restaurant, there are several factors to consider.
If you're wondering if you should use Grubhub, ask yourself these questions.
Is delivery popular enough for your restaurant type and location?
Do you already have delivery staff, or will you take a 10% commission hit to use Grubhub drivers?
Are diners already familiar with your restaurant by name (and thus could search for you by name on Grubhub) or are you hoping to increase exposure through the app?
If increasing exposure is your goal, you may need to plan for a higher marketing commission tier in order to come up in more general searches and more prominent locations on the Grubhub site. That, in turn, will raise your costs to use the service.
Ultimately, it's up to you to determine if the benefits of Grubhub offset the relatively high commissions. In busy locations, diners may expect you to be on Grubhub, so you may miss out if you're not. If you do choose a delivery app service, be sure to carefully monitor your app orders to determine if it's cost effective for your restaurant.
Have you used Grubhub at your food service business? Let us know what you think in the comments section!