"Restaurant" is a broad category of business types. It can include fine dining, family dining, quick serve, delivery, pizzerias, cafes, pubs, and more. What's great for a fine dining business might not accommodate the specialty needs of a pizza parlor.
In this article, we'll point you in the direction of quality POS systems for your restaurant no matter what type it is. But more importantly, we'll cover features specific to different types of restaurants, and teach you what to look for so you don't get burned by a generic list that doesn't take your needs into account. You can also jump to the end of this article to read about how we chose the systems for our list.
Best Restaurant POS Systems
| | | | | | |
| --- | --- | --- | --- | --- | --- |
| | Clover | Microworks Prism | NCR Silver | Rezku | Vital |
| Best for | General dining, pubs, quick serve | Pizzerias | Fine dining, general dining, pubs, quick serve | Fine dining, general dining, pizzerias, pubs, quick serve | General dining, quick serve |
| Compatible processors | Fiserve (formerly First Data) and compatible resellers | All processors | Elavon, Global Payments, or Vantiv preferred, but others allowed | All processors | TSYS and compatible resellers |
| Operating system | Android | Windows | Apple iOS or Android | Apple iOS | Android |
| Menu image capabilities | No | Yes | No | Yes | No |
Is your favorite system missing from our list? Let us know in the comments!
---
How We Chose POS Systems for This List
For a POS system to make the cut in our best restaurant POS systems list, we look at several things:
Features
Ease of Use
Processor Compatibility
Consumer Opinion
As a wholesale credit card processing club, we're the experts on low cost merchant accounts. The best way to get a good merchant account is to not limit yourself to one specific processor. Unfortunately, many POS companies do exactly that – they make deals with a specific processor, restricting your choice. If you want to use their POS system with integrated credit card processing, you have to use the processor that they require. That eliminates your competitive leverage to negotiate pricing and makes it impossible to take your POS system to another processor in the future.
While there are good features and positive consumer opinion on some single-processor POS systems, we have not included any of them here for those reasons.
One other note: You'll see the Rezku POS come up a lot on this list. Rezku is the only POS company that CardFellow currently partners with. (Read more about our partnerships and how we make money.) We're not listing them here because we've partnered with them – we partnered with them because their features and services are so outstanding that they land themselves on lists like this. Additionally, Rezku is one of a dwindling list of POS companies that allows you to use any processor you like.
Let's get to the POS systems!
Best POS Systems for Restaurants and Quick Serve
Before we get into the best POS for specific types of restaurants, let's take a look at the top systems geared toward the food service industry in general, including quick serve restaurants. Our picks for the best restaurant POS systems:
Clover
NCR Silver
Rezku
Vital
---
Clover
When Clover was launched several years ago, it immediately caught attention for its sleek design and user-friendly features. The white and glass hardware looks nice and the system is available in multiple configurations. There's the full Clover Station POS system or the smaller footprint Clover Mini POS. Both are compatible with cash drawers, receipt printers, and other accessories.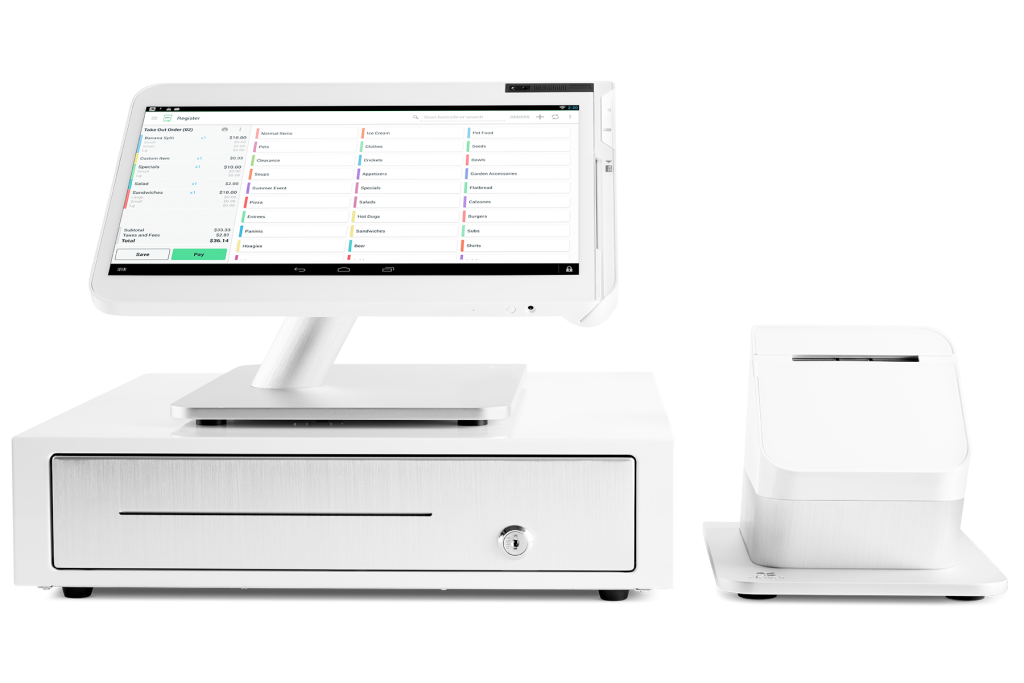 Clover Stations also have access to the Clover App Market, an app store that allows you to customize your POS system with the exact functions you need. However, it's worth noting that some apps carry an additional fee.
We had the chance to try out the Clover systems for ourselves in a test mode and were happy to find that it's very intuitive and feature-rich. It's no surprise that many business owners that purchase a Clover rave about the positives of the system.
The drawback: Clover systems cannot be reprogrammed. They work with multiple processors (any processor on the Fiserv/First Data platform can support Clover) but only the processor from whom you purchase it. While you get the upfront benefit of being able to search for the most competitive merchant account, once you buy the system, you can't take it with you to a different processor.
Overcoming the drawback: Choose a credit card processor that you'll be happy with for the long haul. That means finding one that provides great customer service and offers a rate lock so your rates won't go up. You can get both of those benefits (and more) with your free CardFellow processing club membership.
Read our full Clover Station review.
NCR Silver
One of the oldest POS companies still around today, NCR Silver makes useful restaurant POS systems. You can use their software on iPads, or, if you prefer Android, purchase the NCR Silver Quantum register.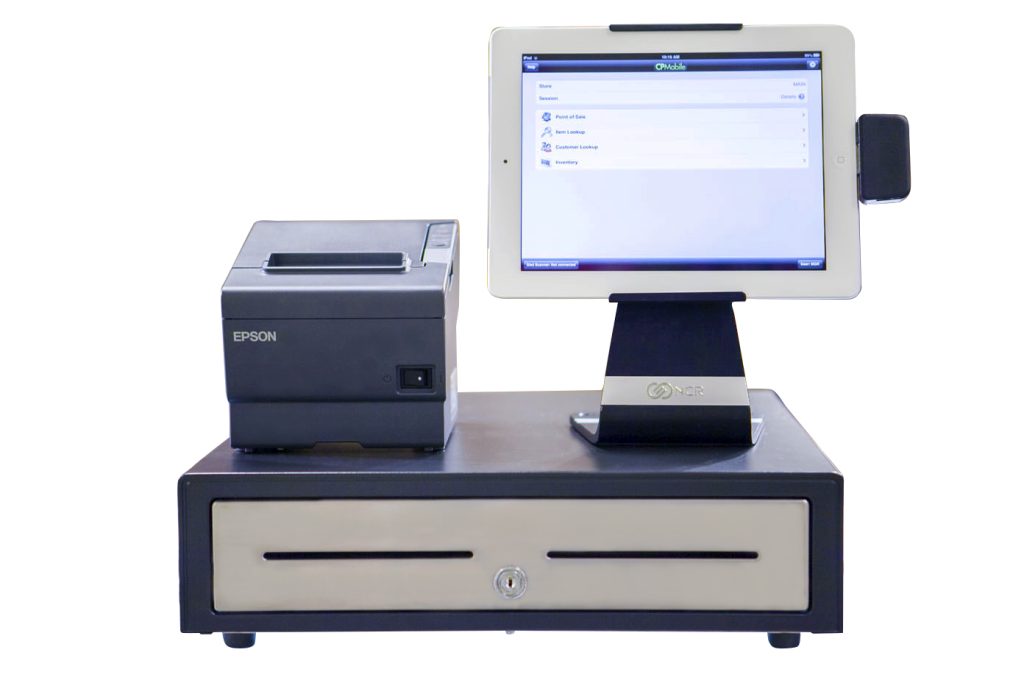 NCR Silver has so many options for hardware bundles and POS software (including optional add-ons) that you'll be hard-pressed to find a function it can't handle.
The drawback: Some features are "add-ons" with additional costs. This includes the Silver Console, NCR's enhanced back office suite with detailed reporting. While you'll still get sales reports without Silver Console, you'll get a more complete picture when you use it.
How to solve it: Add-ons can be a blessing or a curse. On the one hand, you won't have to pay for anything you don't actually use. On the other, if you need a lot of the add-on features, the costs can add up quick. To make sure you're not getting hosed, be sure to choose your add-ons carefully, and review usage on occasion to make sure you still need particular functions. If you don't use a feature you thought you would, drop it so you're not paying more than necessary.
Read our full NCR Silver review.
Rezku for Restaurants
As noted at the beginning of this article, Rezku is the only POS company that CardFellow currently partners with directly. After testing the system, we were impressed with Rezku's features and – just as importantly – with the fact that the company doesn't lock you in to one specific processor. Instead, you can use almost any processor you want.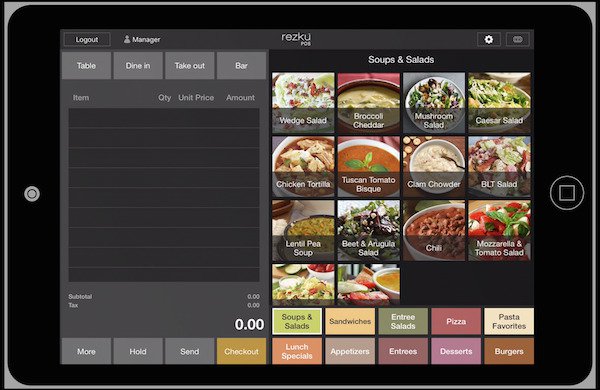 Feature-wise, Rezku has all the functions a traditional restaurant needs. From check-splitting to happy hour pricing, the system is packed with features to make running your restaurant easier. The app runs on iPads, which can be set in stands at fixed locations or carried to tables for tableside ordering and payment. It's also one of the restaurant POS systems that offers menu item image uploading, an often-requested feature in systems that lack it.
Rezku is one of the few restaurant POS systems that truly has functions for multiple types of restaurants. That includes delivery and pizza order capabilities for pizzerias to coursing for fine dining establishments.
The drawback? It's hard to find one! The only "downside" we've seen so far is that it's not available for Android devices. If you don't want to use an iPad, you'll need to look elsewhere for your POS.
Read our full Rezku review.
Vital POS
While TSYS's Vital POS system is not solely marketed as a restaurant POS, it serves that function quite well for all basic requirements. It's a newer system and doesn't have quite as many available consumer reviews, but we got to try it out for ourselves here at CardFellow. It's easy to use and Vital staff is on hand for optional phone training if you'd like assistance in understanding your new system.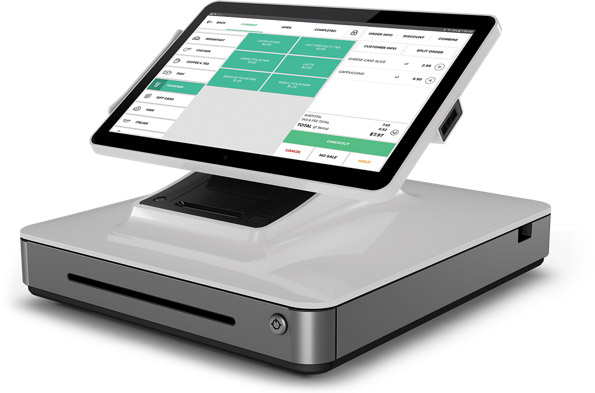 You can create "categories" for items, allowing you to easily group together appetizers, entrees, desserts, and more. Item modifier capabilities ensure that staff can add or remove ingredients per diners' requests for the perfect order every time.
The drawback: Like Clover, Vital systems work with more than one processor (as long as they're on the TSYS platform) but they cannot be reprogrammed. That means the system is more flexible upfront than one that locks you in to a specific processor, allowing you to find the most competitive pricing, but you won't be able to take the system with you to a different processor in the future.
How to solve it: Get the Vital system with a processor through your CardFellow wholesale club membership. Our lifetime rate lock and ongoing statement monitoring ensure you won't need to switch processors.
Read our full Vital POS review.
Share this infographic
by copying and pasting the code below into your site.
POS Systems for Fine Dining
Fine dining restaurants focus more on courses than some other types of food service businesses. Whether it's a prix-fixe menu or simply diners choosing multiple courses, fine dining sees a lot of different dishes delivered to the same table. A POS system that offers coursing can make things easier on staff and ensure that dishes come out at the right times.
Some POS systems (like the Clover Station) don't offer coursing as a feature. While it's still possible for your servers to control when items go to the tables, they can't simply enter all the dishes at once with proper course designations to inform the kitchen. For fine dining establishments where diners expect smooth service across multiple courses, it's a good idea to have a POS system that makes the process easy on your staff.
For fine dining with coursing, the best POS choices are:
NCR Silver lets you easily fire items to the kitchen based on preset timing. Servers won't need to worry about orders going to the kitchen correctly and can focus on providing great service.
Rezku has multiple options for coursing, depending on how your kitchen runs and how you prefer to set it up. You can create courses in the back office and assign items to the course. The course will then show on the kitchen's ticket. Alternately, you can use a "send by course" feature so that only the items in the selected course go to the kitchen at that time. Lastly, you can send by course and use the "fire" command to print out the course for the kitchen. Rezku works with restaurants to determine the method that best fits the current server / kitchen workflow.
Best POS Systems for Bars and Pubs
While many restaurants serve alcohol, it's often a higher priority or focus at a pub and the only focus at a bar. You have to be able to easily start and manage tabs, track pours, and have drink recipes handy.
The top choices for bar and pub POS systems are:
Clover makes the list of POS systems that are good for bars due to its app customization possibilities. While the system doesn't natively offer all the functions a bar might want, you can add most of them through the app marketplace. For example, the happy hour app lets you set the days and times for special deals for happy hour. The Bar Tab Auths app lets you create and manage bar tabs while also ensuring the customer has enough funds to cover the bill.
NCR Silver offers plenty of built-in features that will appeal to bar owners. Bartenders can simply swipe a customer's card to start a tab, and you can be sure proper pricing for time-based events like happy hour. Additionally, NCR offers reporting that helps identify anomalies that can indicate issues like bartenders giving out free drinks.
But NCR isn't the only option good for establishments that focus on alcohol sales. Rezku is loaded with features that make things easier for pubs and bars. Sure, bartenders all know how to make the basics and how to mix up their regulars' favorite drinks. But when someone orders an unusual cocktail, it's helpful to have a drink recipe right at your bartender's fingertips. Rezku offers drink recipe management that can be quickly accessed to ensure the right drink.
The system also lets you set custom pricing and hours for time-based promotions, such as happy hour. Bartenders won't have to fuss with percentages off or calculate prices themselves. And when it comes to bar tabs, your bartenders can pre-authorize and close out tabs without holding on to the customer's card.
Finally, the built-in "pour tracking" provides a convenient baseline to show you just how much liquor was sold.
Point of Sale Solutions for Pizzerias
Pizza parlors have some of the most "specialty" needs of any food service business. Not only is every item customizable, but many pizzerias offer delivery. It won't do you any good to buy a POS system listed as the "best" for restaurants if it can't handle ringing in a large half cheese / half pepperoni or accurately tracking orders across dine-in, takeout, and delivery customers.
Best Pizza POS Systems:
Microworks
Rezku
Runner up: Clover Station
The Microworks POS system is one of the few systems created specifically with pizzerias in mind. It's a favorite with larger pizza chains, no doubt because of its integrated driver dispatch system that creates a trip map. It also integrates with your website for online ordering, and easily handles the custom requirements of pizza orders. Read more in our Microworks POS system review.
Rezku, while not designed solely for pizzerias, nevertheless remembered to include crucial features for the pizza business. Rezku also works directly with pizza parlors at setup to ensure that your staff can enter pizzas exactly as customers want – whether it's toppings on only half of the pizza or subbing out specific toppings.
The system also provides features for delivery tracking, and allows you to store customer addresses for future delivery orders.
We're listing the Clover Station as a "runner up" for a good pizza POS system due to the fact that it can be used that way, but it's a little more finicky to set up. According to several Clover users, correctly setting up the Clover with the proper modifiers to easily create custom pies was not a simple task.
However, there is also a "Pizza Builder" app (for an additional fee) which can help with more quickly customizing orders. It allows you to choose whether to add toppings to one quarter, half, or a whole pizza as well as choosing to add double toppings.
Choosing Your POS System
Selecting a POS system for your business is a big decision. Since most restaurants that want a POS system also want to accept credit cards, there are two ways to approach choosing your system. You can either find the system first, or you can find your credit card processor first.
You should look for a POS system first if you need "specialty" POS features. Specialty features include options like coursing or online ordering and delivery. (Note that common restaurant features like check splitting are not typically specialty features, as most restaurant-specific POS systems offer that. However, if there's a feature you absolutely must have, be sure to specifically look for that feature in the systems you're considering.) Keep in mind that choosing your system first is not usually the best route if you're cost-conscious or on a tight budget for purchasing equipment.
You should look for a credit card processor first if low cost payment processing is a high priority and you don't have any "specialty" needs for your POS system. Choosing your processor first gives you greater leverage when it comes to getting a competitively priced merchant account.
Processors support multiple POS systems, so once you've found your perfect processor, you can choose from the POS systems they offer. The POS systems included in this list will work with virtually any processor, so if one of our top picks jumped out at you, you can find a competitive processor and then use one of these systems.
Regardless of which approach is right for you, there's a perfect fit POS app out there. These restaurant POS systems are our top choices after trying multiple systems and spending years helping restaurant owners put together their perfect processing / POS solution. All of these systems work with multiple processors, offer great features, and are easy to use.
The infographic on the right provides a quick overview of the steps to choose the perfect POS system for your restaurant, as well as a recap of our top choices. (Based on ease of use, processor compatibility, and features beneficial to businesses in the food and beverage industry.)
Need more details on an individual system? Look for it in our directory of POS system reviews.
Did we miss an awesome restaurant POS system? Let us know in the comments!