In this corner, Clover: the point of sale and mobile solutions available from processing giant First Data (now Fiserv). In this corner, Vital: the challenger from major processor TSYS (now part of Global Payments). How do they compare?
As First Data / Fiserv and TSYS / Global Payments are competitors, it's no surprise that TSYS looked to challenge First Data on the equipment front. After First Data's success with the Clover line of processing machines, TSYS had to do something to catch up. Enter the Vital line.
In this article, we'll compare the Clover equipment and the Vital equipment to see what you can expect from the different devices.
Disclaimer: CardFellow has partnership agreements with both First Data and TSYS, as well as with First Data and TSYS resellers. We do not earn money from First Data, TSYS, or resellers for this article; however, we do earn money if CardFellow members elect to work with TSYS or First Data through our quote marketplace. Read more about how CardFellow makes money.
---
First Data / Fiserv vs. TSYS / Global Payments
Before we get into the equipment itself, let's take a quick look at how the companies compare.
| | | |
| --- | --- | --- |
| | | |
| Established | 1969 | 1983 |
| Headquarters | Atlanta, Georgia | Columbus, Georgia |
| Annual Revenue* | $9.5 billion | $4.1 billion |
| Public company | Yes | Yes |
*According to Owler company overviews.
Both TSYS and First Data are direct "backend" processors, meaning they aren't reselling another processor's services. You can obtain a merchant account from either company directly, or from one of their resellers.
In 2019, Fi-Serv announced it would acquire First Data in one of the largest mergers in payment processing history. Later that same year, Global Payments, another large direct backend processor, announced it would acquire TSYS.
As of 2023, both of those mergers have happened and both companies now go by their parent company's name. First Data is now Fiserv and TSYS is now Global Payments. For the purposes of this article, we may still use the names First Data or TSYS to refer to the companies that originally offered the systems we're discussing, but First Data and Fiserv can be considered the same, as can TSYS and Global Payments.
The Equipment
I've had the chance to personally test the entire line of both systems. I have gone through Clover and Vital tutorials, participated in feature update webinars, and extensively reviewed the features of the systems in order to create an accurate comparison.
Both lines of equipment include multiple machines. The Clover line includes the Clover Station Solo and Station Duo POS system, the stationary countertop Clover Mini terminal, the Clover Flex portable / countertop terminal, and the Clover Go smartphone reader.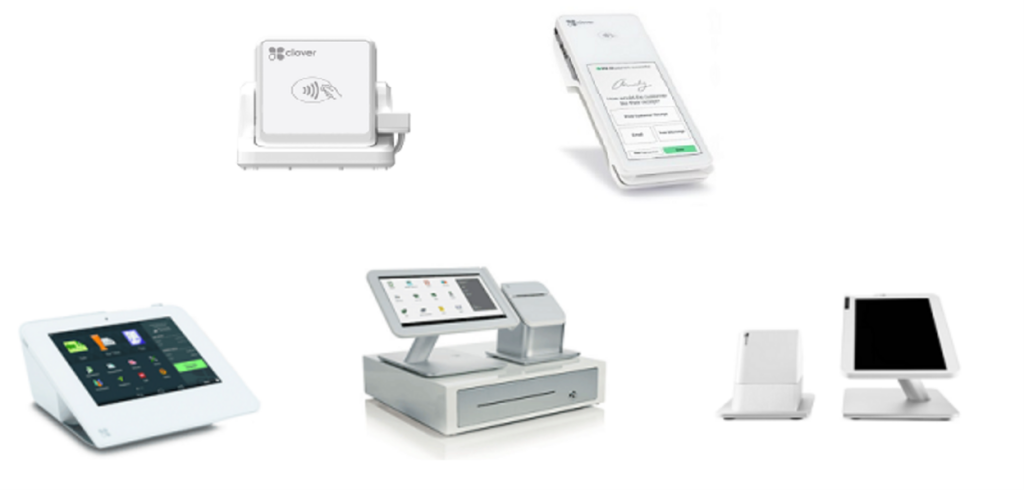 The Vital line includes the Vital Select POS systems, the Vital Plus countertop terminal, and the Vital Mobile smartphone readers, as seen in this screenshot from the Vital website.

Roughly, the Clover Station lines up with the Vital Select full POS, the Mini lines up with a smaller version of the Select not picture, the Flex lines up with the Plus, and the Clover Go lines up with the Vital Mobile. That's how we'll structure this comparison.
Clover vs Vital Features
Both the Clover and Vital systems have features that apply to all the equipment in the line, regardless of the machine model. We'll start with those features and then move into a comparison of the hardware.
Payments
Accepting payments is the core feature of all the machines in both lines. Clover and Vital both have the capability to accept chip cards, magnetic stripe cards, and contactless payments (such as Apple Pay) but, depending on the machine, certain methods may require an accessory device.
Both systems have options for accepting signatures on screen, enabling gratuities, and adding sales tax. The Clover system lets you choose whether to offer a cash-back option for customers that want to get cash at the time of purchase.
Both systems also provide the option to split the total for customers that want to pay separately.
Inventory Management
Another core feature is inventory management. Both systems offer the ability to add individual items to inventory, or to create "categories" and assign related items to a category.
Categories
Both the Clover and Vital handheld systems allow you to create "categories" within the inventory apps and assign individual items to a category. That lets you quickly locate and item by first choosing its category, rather than sorting through every item in your inventory.
For example, if you're looking to ring in a Cobb salad, you can first choose the "Salads" category and then locate the salad. This saves you from having to scroll past a jumble of items like burgers, pasta, drinks, desserts, sandwiches, etc. while you search for the right dish.
Where Clover wins out: Adding more than one item to a category at a time is easier on the Clover. That's great news if you entered items before creating a category, or if you realize later you need to create another or more specific category and move items around.
Where Vital wins out: A nice feature with the Vital categories is the color-coding. When you set a category, you can assign it a color. Subsequently, every item you assign to that category will also have that color, providing a quick visual cue.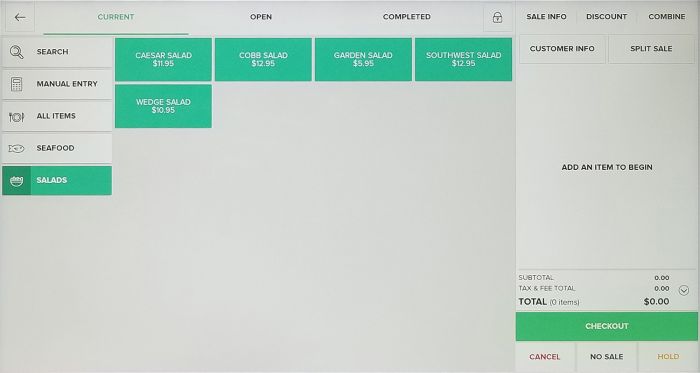 In the image above, the category "salads" has been assigned the color green. Every subsequent item added to the "salad" category also shows as green. The Clover does not offer this capability.
However, the importance of these features comes down to personal preference. The categories function on both devices is still convenient and easy to use.
Reporting
Business owners know the importance of accurate reports. Both the Clover and Vital system include reports on several aspects of business, but the Vital reports are more comprehensive and varied. For example, Vital offers a weather overlay that shows the weather (or forecasted weather) for a particular day. This can offer valuable information about why sales may have been up or down for a business that is affected by weather shifts. For example, an ice cream stand may see a big drop in sales on a rainy, cool day. Retailers in general might see sales go down during a big snowstorm, while grocery stores may see sales spike right before that same storm.
However, both systems offer sales reporting that you can filter by transaction type, employee, date, and other factors.
Receipts
Both Clover and Vital systems provide options when it comes to receipts. You can add a logo and customize the message on the receipt, as well as choose whether to print paper receipts or send them by email or text to the customer.
The Clover system also includes an online link that a customer can visit to view their receipt.
Syncing Across Multiple Devices
Many businesses choose to use multiple devices, but even if you don't, it's important to be aware of syncing. Syncing is the process of ensuring that the most up-to-date information and changes are pushed to your devices. You'll need to ensure machines sync properly whether you make a change from the back office portal / web dashboard for your account, or a machine itself.
Clover syncs automatically. Vital requires you to push a button to sync. It's not a difficult or time-consuming task, but it is something to keep in mind. If you're not seeing the latest item you added to inventory or the latest change you made to a setting, that's likely because you forgot to sync after making the change on another machine or from the back office portal.
Credit Card Processing
As noted earlier, these devices are somewhere between proprietary and universal. The Clover line only works with Fiserv-compatible processors and the Vital line only works with Global Payments-compatible processors. However, there are hundreds of compatible processing companies that work with Fiserv and Global. For that reason, you'll have a lot of choice in processor.
However, it's important to note that neither system can be reprogrammed, except by the company from whom you originally purchase it. That means that if you buy a Clover through Fiserv Reseller A, you can't use that machine with Fiserv Reseller B. Even though they're both Fiserv-compatible processing companies, the machines can't be reprogrammed.
Rates and Fees
Fiserv's and Global Payments's large reseller networks mean that you'll have plenty of options when it comes to choosing a credit card processing company. That company will set the rates and fees that you'll pay to accept cards using a Clover or Vital system.
Since you can't switch processors later and still keep your system, it's important to get a good deal with a processor you'll stay with for a while.
Credit card processing fees can include per-transaction fees, monthly fees, and other costs. The actual rates will vary depending on a number of factors, including your industry, your monthly volume, your average transaction size, and more.
If you're interested in using a Clover or Vital system, consider a free CardFellow membership. CardFellow members receive exclusive low pricing and our special rate guard that protects you from sneaky fee increases over time. That means you won't have to worry about your rates going up once you're committed to your Clover or Vital system. Become a member to see credit card processing rates instantly.
Monthly Costs
Both the Clover and Vital require a monthly subscription, which they both call a software plan or software fees. The main difference is that Clover has multiple software plans, by industry and machine, while Vital just has one per device.
For example, if you purchase a Clover Flex, you'll choose from several plans based on your business type or needs. By contrast, if you purchase the comparable Vital machine (the X5 terminal) you'll need the X5 software plan.
The Global Payments method (one software plan per device) is simpler, but it doesn't give you a choice regarding the costs or features. When you get a Vital system and pay for the required software plan, you'll have access to all of the functions of that device. I find that convenient, as it means one price for all the features.
With a Clover device, you'll pick the plan that has the features you want. (Note that certain features require a particular plan.)
Neither option is "better" exactly, it's just personal preference. The Global plan has the benefit of including all features at one price. You pay that cost and you have access to everything that machine can do. With Clover, you may find that some features you want aren't on your plan and you need to upgrade. (You can upgrade your plan at any time.)
Be sure to check out our article on choosing a Clover software plan for more info on those plans.
Lastly, Clover pushes its app marketplace as a way to customize your machine with the features you need. However, some apps have an additional monthly charge beyond the software plan cost.
Note: These monthly costs only refer to the software fees and apps. You may also have a monthly fee to accept credit cards.
Hardware Comparison
With general features, software costs, and details on credit card processing out of the way, let's take a look at how the machines themselves compare.
Clover POS vs. Vital POS Select E15
At this point, there have been mulitple versions of both POS systems. The Clovers are currently on Station Solo and Station Duo (having discontinued the original Clover and the Clover Station 2018.
Vital is on to the E15, with the E13 no longer showing as available on its website. The only difference between the Select E13 and the E15 is the tablet's screen size. (That is, 13" for the E13, and 15" for the E15.) I tested the E13. For the purposes of this comparison, I'll refer to that one. However, know that any features referenced for the E13 apply to the E15 as well.

Image not to scale.
Hardware, Operating Systems, and Power
Clover Stations and Vital both run on Android operating systems and feature color touchscreens. However, the Clover Station can run on battery for a short period, while the Vital must be plugged in to function.
The Vital POS comes with an attached locking cash drawer. The Clover POS is compatible with cash drawers, but the system is not attached to one. The Vital system also features a built-in receipt printer. The Clover system does not. (Though, again, it is compatible with receipt printers.)
Card Readers
While both systems have the ability to accept all types of card payments (magstripe, EMV chip, and contactless) the only one built-in on the Vital is a magstripe reader. If you want to take chip cards and contactless payments, you'll need to connect a PAX PIN pad. By contrast, the Clover Station comes with a built-in reader for all three card types.
Both systems can accept PIN debit, but require an external PIN pad or machine to do so. (For the Clover, it's the Mini. For the Vital, it's a PAX PIN pad.)
Logins and Employee Permissions
Both systems let you set a passcode to sign on, but the Clover POS also allows fingerprint login, which the Vital does not.
Costs
The cost for the machines varies depending on where you buy it, but the MSRP is similar. You can expect to see starting costs as follows.
Clover Station with printer and cash drawer: starts around $1,700
Vital POS E13 with PAX PIN pad: starts around $1,600
Note that these costs may be higher or lower depending on the processor from whom you purchase it. Some processors may also offer free equipment, but keep in mind that "free" machines often come with much higher rates for credit card processing.
Read more about the Clover POS.
Read more about the Vital POS.
Clover Mini vs. Vital Select X8
The Mini and Select X8 are the smaller footprint POS systems. The Mini is short and compact while the Select X8 is taller and narrower.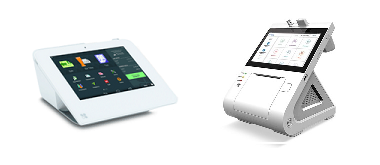 Appearance-wise, the Mini wins out in my opinion. It has a sleeker, more modern look compared to the X8's bulkier frame. However, both devices feature a convenient touchscreen and can accept payments from a variety of methods.
Uses
The Mini can be used as a stand-alone terminal or "tethered" to a Clover Station as a customer-facing display. The X8 is designed to be used as a stand-alone terminal and includes a customer-facing display on the backside of the machine. Both are intended to be stationary, despite their relatively small sizes and light weights.
Both the Mini and X8 have built-in receipt printers, but also offer the option of emailing receipts instead. Neither device come with a cash register, but can connect to one.
Costs
As with all credit card machines, the cost for a Mini or Vital X8 depends on where you purchase it. In general, you can expect starting costs as follows.
Clover Mini: Starts at $499
Vital X8: Starts at $1,199
Pricing subject to change.
Read more about the Clover Mini.
Read more about the Vital Select X8.
Clover Flex vs. Vital Plus X5
Clover's Flex and Vital's Plus X5 are the countertop terminal options of the lines. The two devices look very similar. They're both handheld units with color touchscreens and white / glass styling.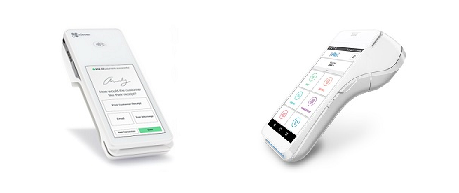 However, the Vital's more compact design makes it look more appealing than the bulkier Flex.
Physical Differences
Between the two, the Vital Plus X5 is the smaller and more portable device. The Flex is longer due to the NFC pad at the top, as opposed to underneath, as it is on the X5. However, like the X5, the Flex is shaped for holding it securely. But it's also heavier.
If you intend to use the machine as a portable device, the Vital is lighter and more comfortable to carry. However, the difference isn't noticeable enough to make or break the decision.
In most cases, the Clover wins out as the better-looking device. But when it comes to the portable options, the Vital X5 simply looks sleeker and offers the same functions in a more compact and lightweight machine.
Operating Systems and Specifications
Both devices run on the Android operating system and function on battery power or plugged in. The Flex includes a charging dock while the X5 just has a power cord to charge directly.
Costs
As credit card machines rather than full POS systems, both the Flex and Plus X5 come in at lower price points than their larger counterparts.
Flex: Starts at $449
Plus X5: Starts at $599
The actual cost you'll pay will vary depending on where you purchase the machine. Keep in mind that processors offering "free equipment" typically charge higher rates or fees elsewhere to make up for it.
Read more about the Clover Flex.
Read more about the Vital Plus X5.
Clover Go vs. Vital Mobile
The Go and Mobile are the smartphone reader options. They're the least versatile, as they're intended for basic on-the-go transactions.
Clover offers one device, the Clover Go reader, which connects via Bluetooth. It accepts magnetic stripe, EMV chip, and contactless payments. Vital offers the C3 and C4 readers, both of which connect via Bluetooth. The  C3 accepts magnetic stripe and EMV chip payments, while the C4 accepts both of those types plus NFC contactless payments.

Both offer an app that includes simple payment acceptance options and the basic item catalogue / inventory management.
Ready to choose your Clover or Vital device? Sign up for a free CardFellow membership to see credit card rates and fees for your business and get pricing for the device of your choice. Try it now!