You're probably already aware that you pay an interchange fee anytime a customer pays with a credit card. Interchange fees are generally the most expensive component of credit card processing costs, and they're non-negotiable.
However, some credit card processors are now offering "zero fee" processing as a way to seemingly get around interchange fees and attract businesses to use their services. These processing options may have different names: zero fee processing, cash discounting, and free credit card processing.
Obviously there's a lot of fine print involved, and it's important to understand these "zero-fee" programs before signing up for one of these services. While they may seem tempting at first, those fees aren't just disappearing. Instead, your customers will pay them. As charging customers more may have an impact on sales and customer satisfaction, it's important to consider whether "free" credit card processing will cost you in the long run.
Let's take a look at surcharging and zero-fee processing solutions for card-present (in person) transactions.
---
What Is Zero-Fee Processing?
Zero-fee processing or "no cost" processing is a processing solution where credit card processing fees are passed to your customers automatically. Instead of your business paying the processing costs, your customers will pay those fees.
Passing your processing costs to customers is known as surcharging credit cards, and is already an option you can choose regardless of your credit card processor. In the United States, surcharging is permissible in all but a few states as long as certain requirements are met.
While no-fee credit card processing is available with traditional processors, some companies are trying to create a business around offering "free" or "no-cost" processing, meaning that the processor will handle the setup of surcharging for you. This type of processor arrangement is primarily what I'll focus on in this article.
Is there really no cost to me?
Not exactly.
With zero-cost processing, the majority of the costs will be covered by your customers, but there may still be costs to you, including monthly fees, PCI compliance fees, and more. For example, one company – Blue Yonder – charges a $65 monthly fee for processing. With some processors, you can choose to bundle the additional fees into the customer surcharge.
Additionally, surcharges can only be applied to credit cards. If your customer chooses to pay with a debit card, you'll still incur the costs of processing that transaction, even if the card is "run as credit." A debit card is always considered a debit card for processing purposes, and so it will incur debit card costs. (Contrary to popular belief, processing debit cards isn't free.)
Lastly, you may have equipment charges. Some zero fee processors offer the option to lease credit card machines, which I strongly suggest not doing. Leasing will add monthly charges that far exceed the costs of purchasing a terminal outright.
Zero Fee Processing Considerations
Credit card processing isn't cheap, and the idea of free processing is appealing. But there are some potential drawbacks to zero fee processing or surcharging. Since the costs are borne by your customers, you should ask yourself:
Are competitors surcharging?
If not, how will you attract and keep customers when they'll be expected to pay 2-3% more at your business? Will your competitors be able to use your surcharge against you?
Can your goods or services be easily obtained elsewhere?
The internet makes it easy for customers to find somewhere else to make their purchases. Can customers purchase the same things you offer with little or no inconvenience? For brick and mortar, remember that major retailers like Walmart and Target don't surcharge.
Is your target market strongly against surcharging?
As shown in this infographic, 64.5% of people surveyed say they would stop using cards if surcharges are applied.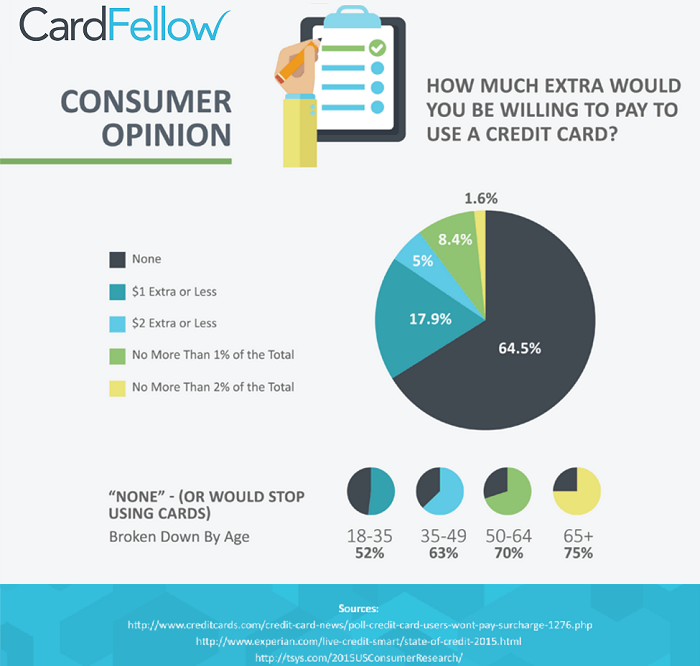 Surcharges can only be applied to credit card transactions, which might make customers consider using their debit card or paying with cash instead, resulting in lower costs than credit card transactions, but not eliminating your fees. It could have a bigger effect: customers may choose to go elsewhere. Some customers use their credit cards to get rewards, while others don't carry cash. In those instances, customers may choose not to shop at your business rather than pay what they see as a penalty for using a credit card.
Differences Between Surcharging and Zero Fee Processors
You can choose to surcharge customers with almost any traditional processor. However, you'll need to work with your processor and you'll each handle parts of the set up. Your processor will need to reprogram your terminal to list surcharges as a separate line item on receipts, as well as ensure that only credit transactions are surcharged, and for the appropriate amount. You'll be responsible for informing Visa and MasterCard of your intent to surcharge, as well as obtaining and displaying appropriate signage stating that your business surcharges.
With a zero fee processor, the company will generally handle all aspects of set up except for physically displaying signage, which will still fall to you. The main difference is that the zero fee processor handles notifying the card brands on your behalf, saving you the effort of filling out their forms yourself. Additionally, equipment is likely pre-programmed for surcharging. Some no-fee processors will even provide pre-printed signage for you to post at points of sale or other locations required by the card brands / state laws.
What does zero fee processing cost customers?
The charges will vary by processor, but cannot be more than 4%.
I reached out to Dynamic Payment Systems, one of the processors advertising free credit card processing. In actuality, the company charges a 3.45% flat fee for each credit card transaction. You're allowed to either charge a 3.45% surcharge to customers or a 3.65% surcharge to cover additional monthly fees. (These monthly fees include a $5.00 admin fee, $6.99 PCI fees, and equipment leasing charges.)
3.45% is a fairly sizable markup for basic card-present transactions. Remember, your customers will see the charge on their receipt, and will be aware of it before a purchase. Adding 3.45% on top of their total may be a deterrent.
Related Article: Credit Card Processing Rates and Fees.
---
Ongoing Legal Issues
The ability to pass interchange fees on to customers as surcharges stemmed from a lawsuit.
Back in 2005, a class-action lawsuit was filed by merchants and trade associations against Visa, Mastercard, and other financial institutions that issue payment cards over interchange fees. The case is formally known as the Payment Card Interchange Fee and Merchant Discount Antitrust Litigation, docket 05-md-01720 in the United States District Court in the Eastern District of New York in Brooklyn.
Although the lawsuit was settled in 2013, lawyers representing big-box retailers like Target, Home Depot, Walmart, and Neiman Marcus have opposed the settlement, and as of September 2015, the case is being litigated in the 2nd U.S. Circuit Court of Appeals, as docket no. 12-4671.
It's perfectly legal to pass these fees for now, but, with the case still sitting in appeal, this could change.
Additionally, as mentioned before, there are some states that prohibit surcharging, which also applies to surcharges passed on through zero-cost processing solutions.
Lowering Credit Card Processing Fees
You can lower your credit card processing fees without resorting to passing them on to customers. The first step is to ensure you price-shop credit card processors before signing up for one. That's why CardFellow was founded.
Sign up for a free account here to receive instant quotes from leading processors and find the best processor for your business's needs. Quotes you receive from CardFellow's member processors are among the lowest you'll ever see.
It's also important to ensure all credit card processing equipment is operational to avoid manually inputting card information, which incurs higher fees. This also reduces the risk of fraud and chargebacks from the issuing bank.
Also, instead of passing fees to customers, you can impose minimum purchase limits for credit card usage. Only allowing credit card payments for purchases above $10 has the benefit of possibly upselling customers who may have spent less. It also saves you from paying fees on low-margin, low-value transactions that could bankrupt your business.