The EMV liability shift brought chip cards to the US, requiring a host of credit card processing equipment changes. For those who take payments on-the-go, rest assured that there are chip-compatible smartphone and tablet readers.
In fact, many credit card processing companies have options for you. Learn how you can start taking chip cards securely with your smartphone or computer.
---
Can I just use a basic magstripe reader to take EMV chip cards?
Technically, yes, you can use a mag stripe reader to take chip cards because the cards have a magnetic stripe on the back that can be used by traditional readers. The magnetic stripe is there as a backup or to allow the card to be used at businesses that haven't yet upgraded to EMV-capable terminals.
But if you run an EMV chip card through a magnetic stripe reader instead of "dipping" it into an EMV chip reader, the transaction is not considered an EMV transaction. Your customer won't get the added security of the chip, and you'll be liable for any fraud. Jump down to consequences for not using EMV equipment at the end of this article for more information.
Smartphone and Tablet Card Readers
If you take credit and debit cards using your smartphone or tablet, you probably use a portable card reader to swipe the cards. The reader is usually small and plugs into the headphone jack, like the one pictured below.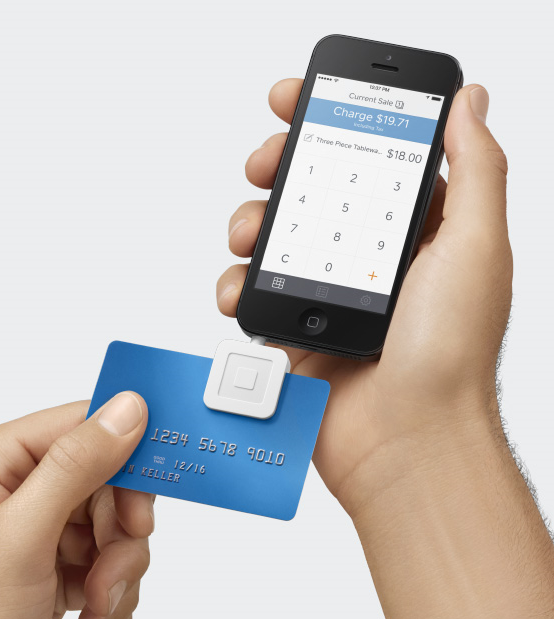 These current headphone jack card swipers aren't EMV-capable. But there are several options available or in the works that will allow you to process EMV chip cards using your smartphone or tablet. Some models are also NFC (contactless) capable, allowing you to accept Apple Pay or other digital wallets.
Here are some popular choices.
AnywhereCommerce
There are actually several offerings for EMV-capable mobile card readers from AnywhereCommerce. The Walker series and Nomad series both support EMV chip transactions. The original reader, the Rambler does not. Here are the current AnywhereCommerce options:
AnywhereCommerce works with many major processors, including Wells Fargo, Transfirst, Elavon, Heartland, Moneris, WorldPay, PaySimple, Fiserv (formerly First Data), Heartland Payment Systems, and more.
Clover Go
The Clover Go EMV card reader is available from Fiserv. Any processors that work on their platform platform may be able to offer or support the Clover Go reader. You'll also need a merchant account with Fiserv or a compatible processor.
IDTech UniPay III
The IDTech UniPay III is a headphone jack card reader for magnetic stripe, EMV, and NFC (contactless) payments. Many major processors that currently support IDTech products will also be able to support the UniPay III.
ePN Pro Mobile EMV Reader
The ePN Pro reader available from ePN is the newer version of the original ePNMobile reader. It lets you take traditional magnetic stripe cards and EMV chip cards. To use it, you need the ePNMobile app and a merchant account with a processor that can support ePNMobile.
Ingenico
There are three EMV-capable mobile card readers available from Ingenico: the RP350x, the RP450c, and the RP750x. What's the difference? The RP350x is not NFC-capable, while the RP450c is. The RP750x is not a small reader, but instead a full PIN pad and reader that connects to your phone via Bluetooth or an audio cable. The RP750x is the only Ingenico mobile reader that allows you to take chip and PIN cards.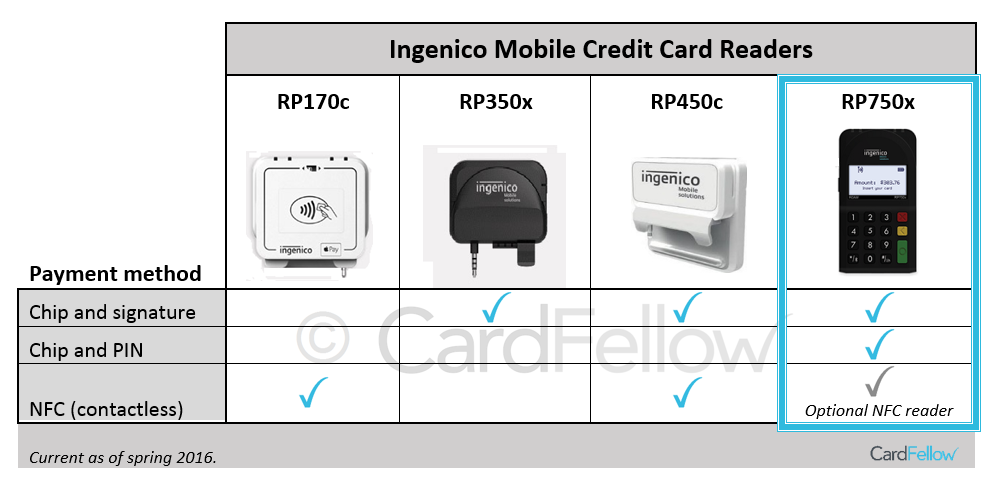 As a major equipment manufacturer, Ingenico products are supported by lots of processors.
Square
The Square reader is probably the most well-known mobile card reader. Square offers two options for chip card acceptance: a combination EMV/magstripe reader, and a combination EMV/NFC reader. Note that the EMV/NFC reader is not a headphone jack device, so if you're looking for that connection, you'll want the EMV/magstripe combo reader. Using the Square reader requires using Square for processing.
SwipeSimple
The SwipeSimple EMV reader works with both Android and Apple devices. You'll need a merchant account with a compatible processor. SwipeSimple works with many major processors, including Elavon, Chase Paymentech, Vantiv, Fiserv, TSYS, WorldPay, Heartland Payment Systems, and more.
The smartphone and mobile processing category in our product directory can help you research available EMV-capable readers and provides more detail than the overviews available in this article.
As new mobile EMV card readers can be added at any time, this list is not exhaustive. Are we missing something? Let us know in the comments!
Virtual Terminal Card Readers
If you use a virtual terminal for credit card processing, meaning you enter payments into your computer instead of a credit card machine, you either key in the card information or use a card swiper, such as a USB swiper like the one pictured below.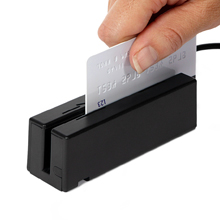 This type of swiper would not be EMV compliant, because there is no way to take an EMV chip card and "dip" it so that the cardholder benefits from the added security of the chip. You can accept EMV cards with this type of reader by swiping them as a magnetic strip card, but that does not count as an EMV transaction, and you will still be liable for fraud.
The good news is that EMV-capable USB card swipers are now available.
MagTek
Popular card reader brand MagTek offers an EMV reader, called the eDynamo. The eDynamo connects via USB or Bluetooth to let you quickly take traditional credit or EMV chip cards.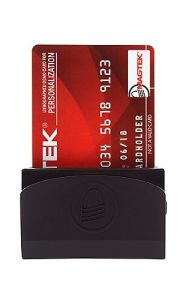 ID Tech
ID Tech also offers an EMV/magstripe combo reader for virtual terminals. It's called the Augusta, and connects via USB port.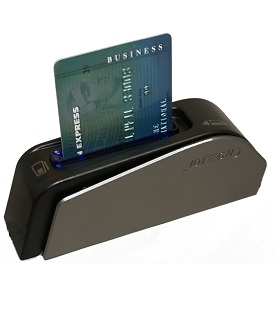 New USB card readers for virtual terminals may be added. Are we missing an option in this list? Let us know in the comments!
What are the costs for EMV-capable readers?
There are two costs to consider when choosing a chip card EMV mobile or USB reader. One is the equipment cost (the price for the reader itself) and the other is the processing costs that you'll be charged when you take cards.
Equipment costs
The cost for the reader itself will depend on which one you choose. When you sign up to get quotes through CardFellow, you can use our "add equipment" feature to find the perfect reader for your needs and the cost to purchase will be clearly stated.
Processing costs
The costs to take cards with your reader will depend on which company you use to process your transactions. For both mobile readers and USB readers for virtual terminals, cards will be subject to the swiped transaction rates you pay to your processor.
You may see pricing on the mobile reader's website (like the Clover Go pricing) – this pricing applies if you process transactions by signing up with that particular company. For example, if you sign up to use the Clover Go through their website, you can expect to pay the pricing listed on the website. However, if you purchase a Clover Go reader through your processor who supports it, you will not have the extra pricing costs listed on the Clover Go page – you will only pay your processing costs with your processor as agreed. Your processor's costs may be higher or lower than the published pricing on the reader's website.
Are there consequences for not using EMV equipment?
Yes. The only current universal consequence is that if you aren't using EMV-capable equipment, you're liable for fraudulent transactions. However, some companies have started imposing EMV non-compliance fees, which can be charged each month that you don't utilize an EMV-capable machine.
EMV Non-Compliance Fees
Additional consequences in the form of fees are here. In January of 2016, the Vantiv-owned processor NPC began imposing what it calls EMV non-enbled fees, or a fee for not using EMV-capable equipment. The fee is assessed as a percentage of your transactions. So the more cards you process without EMV equipment, the more you'll owe in EMV non-compliance fees.
As a word of warning, NPC has many independent sales organizations (ISOs), meaning that a lot of other companies are essentially "reselling" NPC's processing services. It's possible that you process 'through' NPC even if you don't think you do because you have an account with a processor of a different name. If your processor actually does their processing through NPC, you may be subject to the EMV non-compliance fee.
You can avoid EMV non-compliance fees by upgrading to EMV-capable equipment. At this time, if you processor imposes EMV non-compliance fees, you'll only be charged while you're processing with non-EMV equipment.
We'll update this article as more information on mobile EMV processing equipment becomes available. Stay informed by following us on Twitter or Facebook.