The software is designed to scale from small one-person booth rental businesses to multi-location salons. It works with both Apple and Android systems.
Let's take a look at the Vagaro features, equipment, costs, and reviews in more detail.
Vagaro Features
Since it's geared toward appointment and class-based businesses, Vagaro has features to help with booking and time management. You can use a calendar feature, online booking, or notifications and customer tracking. The software also includes limited marketing tools, reports for business management, and a website builder option.
Additionally, if you're already using other software and need to transfer data, Vagaro will import your clients and inventory list at no additional cost. However, some of the other features listed DO have additional costs, as they are optional add-ons vs. core functionality that comes with the basic system.
Calendar
The integrated calendar lets you view staff schedules all at once, on the same screen. You can view the schedule for everyone working on a particular day, or narrow it down to a particular group or type of service. A simple drag-and-drop function lets you move or reschedule appointments and choose to notify or remind customers of changes.
You can also choose to set recurring appointments for customers that come in regularly, and even assign colors to particular services so you know at a glance what customers are coming in for what treatments or services.
If you're booking classes instead of appointments, you can list class times, add a description, and set a cap on the number of students so that if a class books up, it won't show as available in the online booking system.
Online Booking
For your clients' convenience, online booking is available through multiple places: your website, the Vagaro app, Google, Yelp, or Facebook. If you choose booking through Google, customers can book when they find your business through a Google search. Booking with Yelp allows you to accept appointments from your Yelp reviews.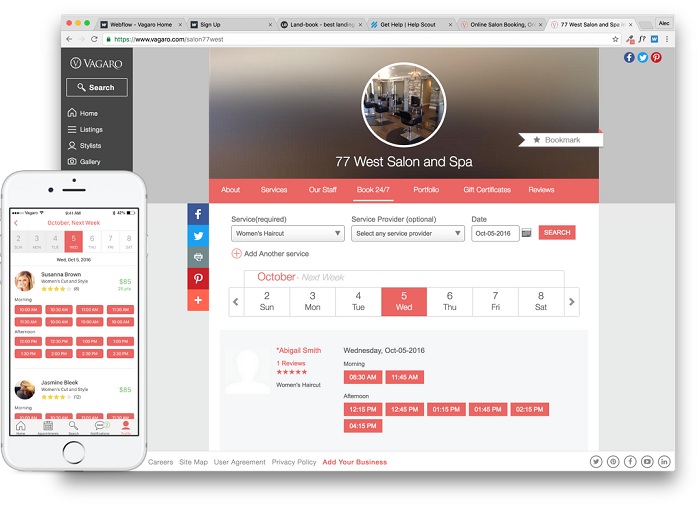 You can also choose whether clients can cancel or reschedule online or set rules to confirm appointments for certain customers, like ones new to your business or those who have "no showed" in the past.
Notifications and Customer Tracking
Cut down on "no shows" with automatic customer email or text reminders. Clients can opt in (or out) of text reminders at any time. Customer tracking features make it easy for you to keep important info straight. You can record customer preferences, allergies, formulas used for services like hair dyeing, and more.
Marketing Tools
Vagaro includes marketing tools to help you increase business. You can use "daily deal" features to promote sales and discounts, upload images to Vagaro, and send automatic emails like birthday wishes with coupons to encourage business. The built-in drag-and-drop email editor provides templates to help you make beautiful, professional emails quickly.
Integrated Time Clock and Payroll
Make it easy to track staff time with integrated timeclock functions. The clock in/clock out system helps you accurately track hourly staff for easy and accurate payroll tracking. The automated payroll system can be set to run payroll weekly, bi-weekly, or monthly. You can also set commission rates for staff.
Reporting
A business dashboard gives you at-a-glance views of sales, appointments, and more. For digging deeper into your business, you can get information on payroll, appointments booked online vs. in-store, run inventory reports, and more. You can also integrate with QuickBooks online for easy reconciliation or export data to Excel or CSV files.
Website Builder
These days, everyone needs a website. With Vagaro, you have two choices: working from a template, or requesting a custom site. Free templates let you quickly get online, and you can optionally choose your own theme to include a logo, your photos, and colors that match your brand.
If you'd prefer a custom site, Vagaro's designers can use your provided logo and photos to create a beautiful website that matches your business' style. Vagaro states that you're only charged once you're pleased with the finished site.
If you don't have a logo yet, Vagaro can make one for you.
Your website can also be created with a shopping cart to allow for online purchases. Integration with FedEx, UPS, and the postal service make shipping calculations easy and accurate.
Note that using the website builder costs $10/month. Additional one-time $100 fees may apply for custom website creation or custom logo creation.
Related Review: Zen Planner for Health and Fitness Businesses.
---
How much is Vagaro software?
Vagaro software starts at $25 per month and goes up to $85 per month. This fee is determined in part by how many "bookable calendars" you offer. 1 bookable calendar will cost $25/month, and it increases by $10 for each additional bookable calendar.
Essentially, the monthly fee varies by how many service providers are in your business. Vagaro defines "service provider" as any person that performs services and requires a calendar. It doesn't include front desk staff.
Vagaro Pricing
The exact costs for Vagaro depend on the features you choose to add in addition to the number of service providers / bookable calendars you have. Vagaro offers multiple add-on services, all with their own monthly fees. Those include:
Text marketing ($20/month) to reach customers
Vagaro drive ($10/month) to securely store files related to customers
Live stream ($10/month) to offer a virtual class
Check-in app ($10/month) so that students can check themselves in
Online store ($10/month) to offer product purchases
Website builder ($10/month) to design a custom page for students to book from
Vagaro does not take a percentage of bookings, instead making money through upfront monthly fees.
POS System
If you'd like a full point of sale system for your business, Vagaro offers the Pay Desk equipment bundle, a dual-screen point of sale system. The customer- and business-facing screens each boast a 15.6" display and HD resolution for clear reading.
The POS works with the Vagaro USB credit card swiper so you can take advantage of lower swiped transaction costs. A wireless receipt printer is also compatible, and employees can optionally clock in and out on the POS system directly.
If you'd prefer to mix and match products or don't need the entire bundle, you can purchase pieces individually. A receipt printer will run you around $200 and the cash drawer or barcode scanner start around $150. A USB credit card reader to connect to your computer or a smartphone reader that connects to your phone are both free when you open a merchant account.
Related Review: SalonTarget POS.
---
Vagaro Credit Card Processing
There are two options for credit card processing with Vagaro but one has more steps. The integrated credit card processing option means that you can swipe cards and automatically record transaction details in the software, but you're limited to Vagaro's processing and pricing.
You can alternately choose a different processing company, but you'll need to check out customers and then manually enter their credit card payment into your software. If you want to use the online shopping cart function or take payments for appointments in advance, you'll need the integrated credit card processing through Vagaro.
Costs for Credit Card Processing
Vagaro's integrated credit card processing is split into categories: small merchants and large merchants.
Small merchants (those with $4,000 or less in charges per month) will pay 2.75% per swiped transaction, and 3.5% + 15 cents per keyed in transaction or per non-qualified transaction. This is on par with flat rate processing companies such as Square.
Large merchants (those with more than $4,000 in charges per month) will pay 2.2% + 19 cents per swiped transaction, and 3% + 19 cents (and card association fees) for keyed in transactions.
It's notable that there may still be "non-qualified" transactions, which means you may pay more for some transactions (such as rewards credit cards) even if you swipe the card.
If you choose to use non-integrated processing, the costs to accept cards will be set by your processor. Quote comparison tools, like this one available for free through CardFellow, can show you the exact pricing for your particular business.
Vagaro Reviews
Reviews for Vagaro are plentiful, and the company has a profile with the Better Business Bureau as well. Let's take a look at what customers have to say about the company and the software.
Vagaro's Better Business Bureau Profile
Vagaro has been accredited with the BBB since 2015 and has a B+ rating. However, the company has 29 complaints lodged with the BBB in the past 3 years and currently only has a 1-star rating out of 5. (From 30+ customer reviews.)
Available details for the complaints state that customer service was rude, that the customer didn't receive services that they were paying for, that Vagaro did not inform customers of additional fees for some services, difficulty cancelling, and wrongful charges. Vagaro responds to complaints, typically rebutting the accusations with its own side of the situation. In many cases, the complainant indicates that they are not satisfied with Vagaro's response.
Many of the negative reviews center on the free trial, stating that it's difficult to cancel, with Vagaro not responding or simply saying they will get back to the customer. Vagaro responded to each of the reviews, stating that they include a countdown until being charged in the admin panel for the free trial and denying wrongdoing in charging customers.
Vagaro at Capterra
Vagaro fares better at Capterra, where it has a 4.7-star rating from thousands of reviews.
Comments praise the customization options, marketing tools, calendar, and booking capabilities. Some reviewers mention that the pricing is great and that the app is simple to use. However, the user-friendliness is challenged by other users, who say it's not intuitive and that it doesn't include many needed functions. Some reviews also echo the complaints on the BBB about rude customer service and slow appointment processing.
A few users mentioned that it's both cheaper and more user-friendly than competitor MindBody.
Vagaro at GetApp
Reviews for Vagaro are similar on GetApp, where the company has a 4.7 rating out of 5 stars, again from thousands of reviews. Comments praise the software for being easy to use, making booking appointments simple, and providing helpful tutorials for using the features. Some reviews praise the helpful customer service team and the low pricing. The few negative comments focus on lackluster reports and wishing there were more robust marketing tools available.
What's your opinion? If you've used Vagaro for your salon or health business, let us know in the comments!