Zen Planner is a scheduling, business management, tracking, and payments suite designed for the health and fitness industry.
The company specifically references affiliate gyms, dance studios, MMA gyms, personal trainers, and yoga studios, but can be a good solution for multiple types of fitness and membership-based businesses.
Zen Planner is a web-based app, so you can use it wherever you have internet access and an updated web browser such as Firefox, Safari, or Chrome. The software works on many types of devices, including laptops, PCs, Macs, tablets, and smartphones. It supports both Android and Apple operating systems.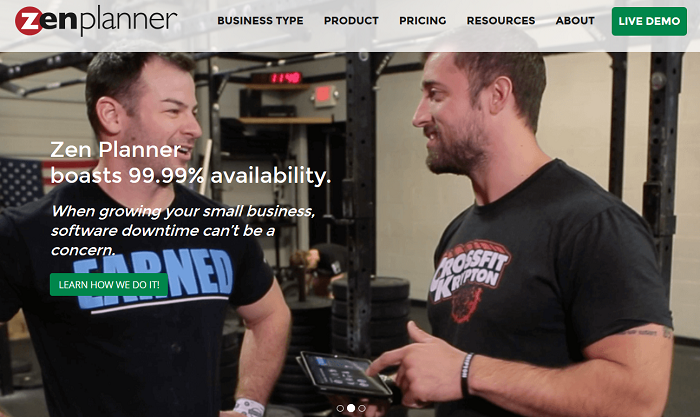 Zen Planner Features
The Zen Planner software offers a number of features designed to minimize time spent on administrative tasks and maximize productivity. You'll be able to take advantage of billing services, marketing tools, integrated website options, workout tracking or martial arts belt tracking, online scheduling and attendance tracking, retail sales options, and business reporting. All features are included with your Zen Planner monthly subscription.
Billing Services
Zen Planner offers an integrated payment processing option through its partner PaySimple, allowing for quick credit and debit card payments. You may be able to use other processors as well, for an additional cost. (See the Credit Card Processing with Zen Planner section later in this review for more information.)
You can choose to set up automated billing to cut down on time spent collecting payments from customers manually. Additionally, your members can view bills online and make payments through a secure member services portal.
Marketing Tools
For marketing your business, Zen Planner offers email automation, Infusionsoft integration, and Facebook integration. You can include your class schedule directly on your Facebook page, track your marketing campaigns, and more. Additionally, Zen Planner can help with search engine optimization through its integrated websites feature.
Integrated Websites
These days, websites are necessary for even the smallest business. With Zen Planner, you can easily integrate your website with your management software. Zen Planner allows you to embed calendars, add posts to a built-in blog, and drive leads to your business. The company builds mobile-responsive sites, meaning your customers will see a clear, beautiful webpage whether they visit from their computer, tablet, or smartphone.
Workout and Belt Tracking
For fitness-specific features, the workout and belt tracking options offer a streamlined solution to clunky spreadsheets. Members can view their workouts, log results, check a "leaderboard" for your gym, or use the built-in lift percentage calculator to determine percentages of maximum lifts. Percentages can even be calculated from previous personal records.
You can also see trends over time to track individual members' progress or record sets and reps for particular programs.
Martial arts studios will find the skills and belts tracking system helpful for tracking students' progress. You can enter belt details, set up belt test requirements, view all belts a student has earned at your gym, and keep track of uniform and belt sizes. You can even see which students are eligible for testing and register them for upcoming tests.
Online Scheduling and Attendance Tracking
The online scheduling feature lets you set class schedules and avoid double-booking your staff and teachers. You can also embed calendars in your website, enable members to sign up for classes from their smartphones, and view class attendees. A staff app lets your teachers see their schedule for the day at a glance.
Attendance tracking includes a quick check-in feature, automated emails to members who have missed several classes or sessions, and staff alerts to let your teachers know of important milestones like a student's eligibility for testing.
Retail Sales
Many health and fitness businesses sell products in addition to services and memberships. If that's you, you'll need a retail sales option in your software, and Zen Planner offers it. You can sell items online with an integrated web store and set up alerts to be notified when you have an order or when item are running low.
Business Reporting
Zen Planner offers plenty of reporting options to help you more effectively manage your business. You'll be able to track expenses, see your sales, and calculate taxes, as well as create custom reports, export them to a spreadsheet or email them to necessary staff, and more.
Zen Planner provides an introductory video that explains these features while walking you through the dashboard:
How much does Zen Planner cost?
Zen Planner charges a monthly fee, which varies depending on how many active members you have. The company offers the software by itself, or a bundle with the software plus a website and digital marketing assistance.
Software only packages start at $117/month for fewer than 50 members, topping out at $227 for 251 members or more. (50-100 members will cost you $157 and 101 – 250 members costs $197.)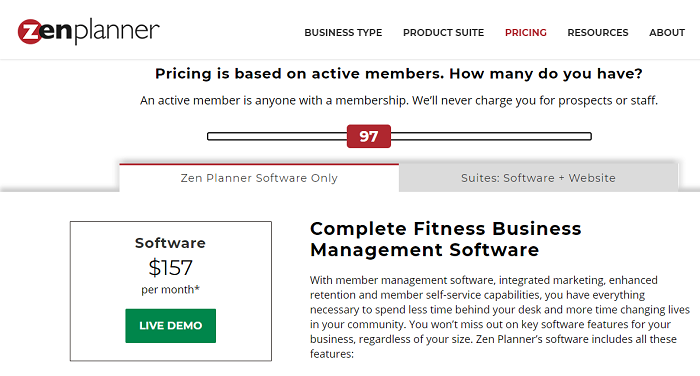 If you want the software + website + marketing bundle, you'll be looking at $414/month for the smallest package (fewer than 50 members), $614/month for 50-100 members, and $964/month for 101-250 members. Anything larger and you'll need to contact Zen Planner for a custom quote.
It should be noted that Zen Planner uses an automatic price adjust system, meaning that your plans will upgrade or downgrade as your business size changes. You'll only pay for active members, which Zen Planner defines as members who have an active membership with your business or have an attended one of your events in the last month.
Additionally, if you choose the integrated websites option, you will need to pay a one-time setup fee of $499, which may be waived if you commit to an annual contract. If you don't commit to an annual contract, you can cancel Zen Planner at any time with 30 days' notice.
Zen Planner states that the monthly costs "includes payment processing" but this claim is a little misleading. What it actually means is that if you choose a preferred processing partner, there is no setup fee or gateway fee. However, the processor will still assess transaction charges in addition to your monthly fees to Zen Planner. If you choose a processor that's not on the preferred processor list, you'll pay an additional $20/month to Zen Planner. We'll explore processing options further in the section on processing, below.
The Zen Planner Guarantee
Zen Planner offers a guarantee: If you don't increase your revenue by 20% after using its software, they'll give you 20% off your subscription. Zen Planner measures revenue growth by comparing your first 3 months' revenue after you complete the onboarding process with the same time period a year later.
There are some stipulations. For example, you'll need to commit to using the full Zen Planner system to actively generate new business. You'll also need to complete the Zen Planner onboarding process within 30 days of signing up for Zen Planner. (Onboarding includes installation, training, and implementation of the system.) Lastly, you'll need to agree that you won't discount more than 5% of your billable revenue.
To help facilitate successful growth, Zen Planner provides up to 3 free Onboarding sessions.
These criteria may change. Stay in touch with Zen Planner to ensure you're meeting your side of the agreement.
Credit Card Processing and Zen Planner
Zen Planner's preferred payment processor is PaySimple. The company publishes pricing starting at 2.49%. That may or may not be competitive, depending on the specifics of your business. Zen Planner's website also states that some cards (like rewards cards) may cost more. Zen Planner explains that it has negotiated pricing and that it's in line with what you could expect for charges from companies like PayPal or Intuit Merchant Services. However, as we've written about before flat rate payment processing (like PayPal) is often not the lowest cost. Additionally, Intuit merchant services is often expensive.
The company also states that it has partnerships with Gulf Management Solutions and Bluefin.
If you don't want to use any of those options, you may be able to choose a different processing company as long as it supports the Authorize.Net gateway. (Good news: almost any processor can work with Authorize.Net.)
Get more details on using Authorize.Net to accept credit cards.
---
The bad news is that if you choose to process through a processor and Authorize.Net, there is an additional monthly charge to use Zen Planner. While previously the company had published costs of $20/month for a non-preferred payment processor, some businesses have told us that they've been quoted higher monthly fees.
You can see the exact costs for credit card processing with Authorize.Net companies by using a quote comparison tool like the one available for free from CardFellow. You'll see complete costs for your specific business with no hidden fees. Try it now.
Zen Planner Reviews
While Zen Planner could be considered specialty software, it's not so limited to a particular niche that it doesn't have available reviews. In fact, clients talking about their experience are plentiful online. Capterra and GetApp have multiple reviews for the program, as does the Zen Planner website itself.
On Zen Planner's Website
There's no shortage of reviews about Zen Planner on the company's website. In fact, it has an entire section dedicated to case studies and another dedicated to video testimonials. The case studies span a range of health and fitness businesses, including body boot camps, dance studios, martial arts academies, CrossFit gyms, yoga studios, and personal training businesses. Reviewers say that Zen Planner helped them grow their business and maximize productivity by cutting down on previously time-consuming management tasks. Many reviewers mention that the software is easy to use and praise the company's helpful customer service team.
In the video testimonials, users mention that Zen Planner was easy to set up, has helped the business retain members, and saved the business money.
Capterra Zen Planner Reviews
Reviews on Capterra give Zen Planner an overall 4.5-star rating out of 5, although some of the text reviews seem to contradict the high ratings. For example, one user that gave the company a 5-star rating also didn't express strong likelihood of recommending the software to others, and commented in the review that customer service was subpar, especially for the monthly fee. The reviewer also complained that the interface is confusing.
Other negative reviews mention that payroll options are complex and switching from MindBody was not a smart decision.
However, positive reviews state that Zen Planner is much better than MindBody for martial arts schools and features an easy-to-use interface. Some reviewers claim that Zen Planner has excellent customer service and that the software saves time and money.
Lukewarm reviewers state that Zen Planner is okay, but not excellent, referencing bugs and slow performance.
Related Review: MindBody.
---
GetApp Zen Planner Reviews
Users on GetApp give Zen Planner a 4.4-star rating out of 5, with positive comments stating that customer service is excellent, the app makes it easy to register for classes, and tracking and reporting functions are very helpful. The most negative review gave Zen Planner 2 stars, but didn't provide any detail in text to explain the poor rating.
Do you agree with reviewers who state that Zen Planner is a great, time-saving option for health and fitness businesses, or do you think it's too expensive and has unhelpful customer service? Let us know in the comments!