Costco may sell some things at wholesale prices, but it's not merchant accounts. In fact, Costco doesn't even provide credit card processing. Instead, they outsource merchant services to a company called Elavon.
Costco's merchant accounts use tiered pricing with bait and switch rates. In short, you will pay through the nose to process credit cards, and you'll likely be stuck doing it until your multi-year contract expires.
Here's a breakdown of why Costco credit card processing services are so horrible.
Note: this article focuses only on Costco's merchant services rates and fees. You can get a full review of Costco's processing services in our Costco credit card processing review.
---
Tiered Pricing
Costco's merchant accounts use tiered pricing. On a tiered pricing scheme a processor (in this case Costco's partner Elavon) groups interchange fees into several tiers called qualified, mid-qualified and non-qualified. By doing so, they're able to mask the true cost of processing while increasing profits.
I'll explain exactly how processors game the system with tiered pricing in just a moment. For now, check out this screenshot taken from Costco's website and I'll show you how to spot tiered pricing.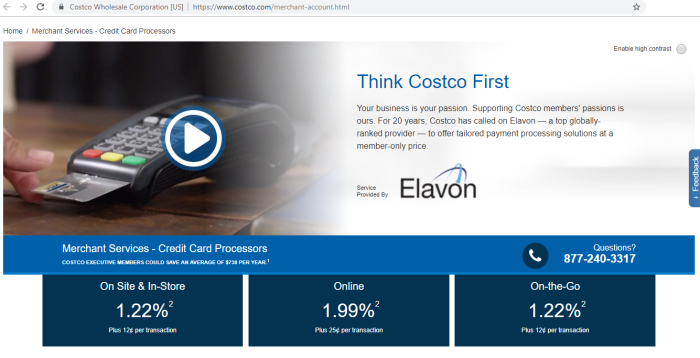 Tiered pricing is always quoted as a percentage and a flat transaction fee, and the qualified rate is typically a little greater than the lowest credit interchange fee. For example, this screen grab from Costco's website shows a qualified rate of 1.22% plus $0.12 for on site and in-store transactions.
This leads us to believe that those transactions should be charged a fee of 1.22% plus $0.12. It seems easy enough, but as I'm about to explain, it's not quite that simple.
Inconsistent Buckets
The real sliminess of tiered pricing is showcased in something called inconsistent buckets. Inconsistent buckets is the processing industry's term that describes why it's impossible to compare tiered rates among processors.
As the name implies, inconsistent buckets refers to a processor's ability to route interchange charges to the pricing tier of their choice. In this case, Costco is advertising a "qualified" rate of 1.22%, but they're not telling you which interchange categories are routed to the "qualified" tier. Costco (or rather, Elavon) won't consider all of your transactions "qualified." They can decide which transactions to charge according to the "qualified" rate published and which to charge according to higher, unpublished, "non-qualified" rates.
Let's pretend that we know Costco's processor is routing only consumer debit cards to the qualified tier, and all other transactions are being routed to the mid-qualified and non-qualified tiers (the rates for which aren't disclosed on their website).
Let's also pretend that we're considering another processor that's advertising 1.69% for a qualified rate, but they're routing consumer debit, credit and rewards card to the qualified tier. Costco's offer appears to be the better deal superficially, but the second processor would actually be less expensive.
We've got an article over here that explains the differences of tiered pricing compared to interchange plus — a more transparent form of pricing.
Costco's Bait-and-Switch Rates
So, Costco is advertising 1.22% plus a $0.12 transaction fee on their website. This seems too good to be true considering that 1.22% is lower than the rate that banks charge processors (interchange rate). That means that Costco would actually lose money, as they would be charging less than wholesale cost.
Here's a screenshot of Visa's current interchange fee schedule (the lowest possible credit card processing fees). As you can see, the lowest standard credit interchange fee is 1.54% plus $0.10. Costco is obviously not losing money on every transaction, so how are they able to offer 1.22%?
The answer lies in the fine print (as always) on Costco's site. After the 1.22% rate there's a footnote (the number 2) that corresponds to the following paragraph:
Visa/MasterCard/Discover service is sponsored through Elavon. Rates listed are for qualified transactions. A monthly minimum charge applies when total transaction fees and per-item charges are less than $20 per month. A $25 Application Fee and $4.95 Monthly Statement Fee apply for Non-Executive Members. Rates and fees may change without notice. Rate and acceptance are subject to underwriting and business approval. Call Elavon at 877-240-3317 for all terms and conditions.
(Emphasis added by CardFellow.)
That paragraph gives Costco the cover to only publish the rates for qualified transactions.
Qualified Transactions
There's a whole lot of bad stuff going on here, but for now, let's focus on the sentence that says, "Rates listed are for qualified transactions."
Okay, so the 1.22% is only for qualified transactions. So where does Costco tell us what's qualified? And since other cards will be processed at a higher rate, what's the higher rate? This is a pretty important detail when considering that reward cards typically account for 50-60% of total credit card volume.
In the interest of transparency, Costco should have phrased their disclaimer paragraph as such:
"The 1.22% rate used to advertise our merchant accounts makes our processing services look way better than they actually are. Realistically, you will pay a mid and non-qualified rate on many of your transactions. However, we've decided not to list those rates because they are a lot higher than the 1.22% qualified rate, and they would make it obvious that we're using bait-and-switch marketing tactics to take advantage of our customers."
Doesn't that read a little more true to form? If you're still considering Costco for a merchant account after reading this, be sure to ask them what the other rates are before signing any agreements.
"Lowered" Pricing
A 2016 screen grab (below) from Costco's site indicates that they've "lowered" the pricing. You'll note that the quoted rate still references "qualified" transactions, which means you can expect the same bait-and-switch tactics.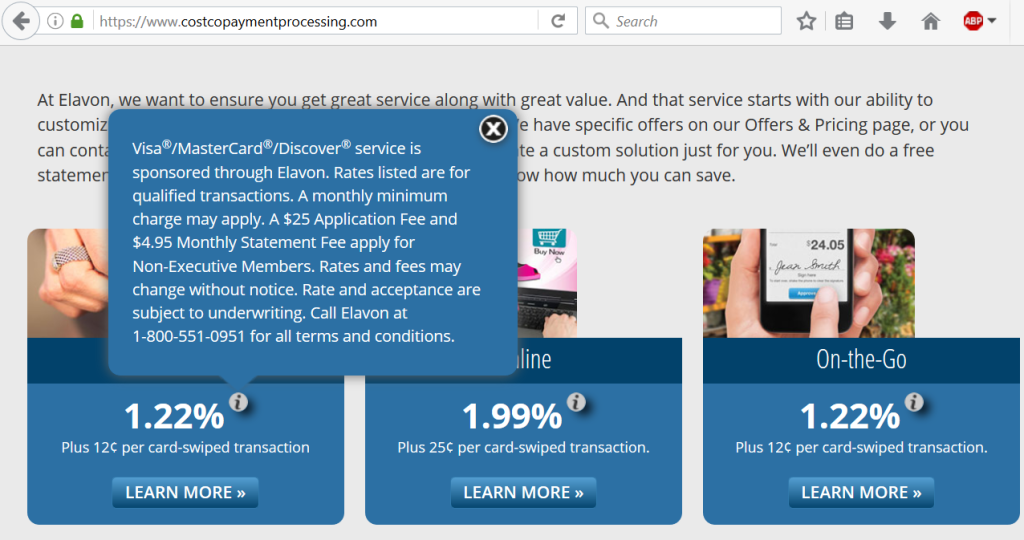 Cancellation Fees
Let's pretend for a moment that, like many people, you signed up for a Costco merchant account before you knew how horrible they are. It's not a big deal, right? You can just cancel the account and find a processor that offers more reputable rates and interchange plus pricing.
Surprise! You could be locked into a three-year contract with a hefty merchant account cancellation fee. Costco's partner, Elavon, isn't stupid. They know they're selling overpriced processing services, so they need a way to keep people around once they realize they've been had.
The perfect solution is a tactic used by many processors — the dreaded cancellation fee. This leaves businesses with two choices — stay and overpay for processing, or leave and pay a hefty cancellation fee. Either way, Elavon profits nicely.
There's no reason for a processor to impose a cancellation fee if they're offering honest, competitive rates.
$300 Cash Giveaway
Wow! You can get a $300 Costco cash card just for opening a new merchant account. Hmm, how much does Costco have to make from a merchant account to justify giving away $300 to every business that signs up? Even with a product markup of 50%, they're still starting off $150 in the hole. That's not even taking into consideration their profit sharing with their partner Elavon.
The point is that Costco is making a lot of money on credit card processing at the expense of small business owners. They're a great big-box retailer, but they should choose their partners more carefully.
Marketing Tactics
Costco actively pushes its credit card processing, including through its customer magazine. The Spring 2016 issue, pictured, includes a full page ad dedicated to telling you that the pricing is competitive and the service excellent. There's a nice anecdote about a happy customer, and a smiling Costco rep. It even includes the great news that Costco and Elavon have lowered pricing even further than in the past. The qualified rate quoted is a mere 1.22% + $0.12 per transaction! But of course, that's not what you're going to pay.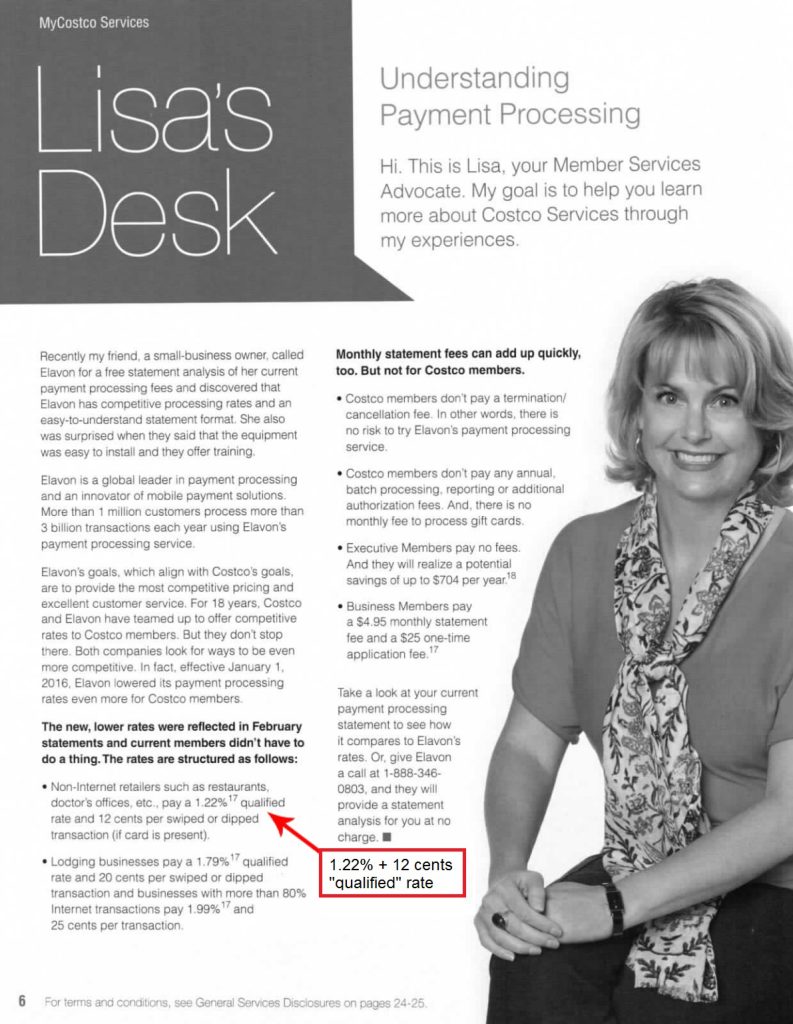 As with disclosures on the website, the ad doesn't provide details about what transactions "qualify" for that low rate. Since the qualified rate is below cost, it's safe to assume that very few transactions will ever qualify. Instead, you'll end up with more expensive "mid-qualified" and "non-qualified" pricing, which is conveniently omitted from the ad and disclosures.
Do yourself a (big) favor and steer clear of Costco's credit card processing catastrophe. Find the best credit card processing here at CardFellow by getting multiple quotes from reputable processors instantly. No cancellation fees, no "qualified" transactions, just competitive pricing.